If you've noticed lately, the vanlife movement has really taken off. This is in part to the #vanlife hashtag on Instagram and other social media platforms that have brought this lifestyle so popular. Couple that with the current status of the world and more people are choosing to live and travel in vans full time. Whatever your reason may be, there is no doubt that getting into a van and seeing the world is a great decision.
So, you've got your mindset on vanlife but don't know which one to choose. If you are reading this, chances are that you are a JDM fan, just like us. We are going to provide you with a detailed list that outlines their features in this article to hopefully make your decision that much easier. Keep in mind that this is only a list of the best vans to convert, but they are the only ones.
Personally, I took a Nissan Trade box truck and converted it myself over the course of 3 months. You can create a tiny house on wheels from pretty much any vehicle starting from a small station wagon and going all the way up to a 50-foot trailer; it all depends on your budget and what you are looking to do with your home.
Our Favorite Japanese Vans & Campers to Import to the US & Canada
Mitsubishi Delica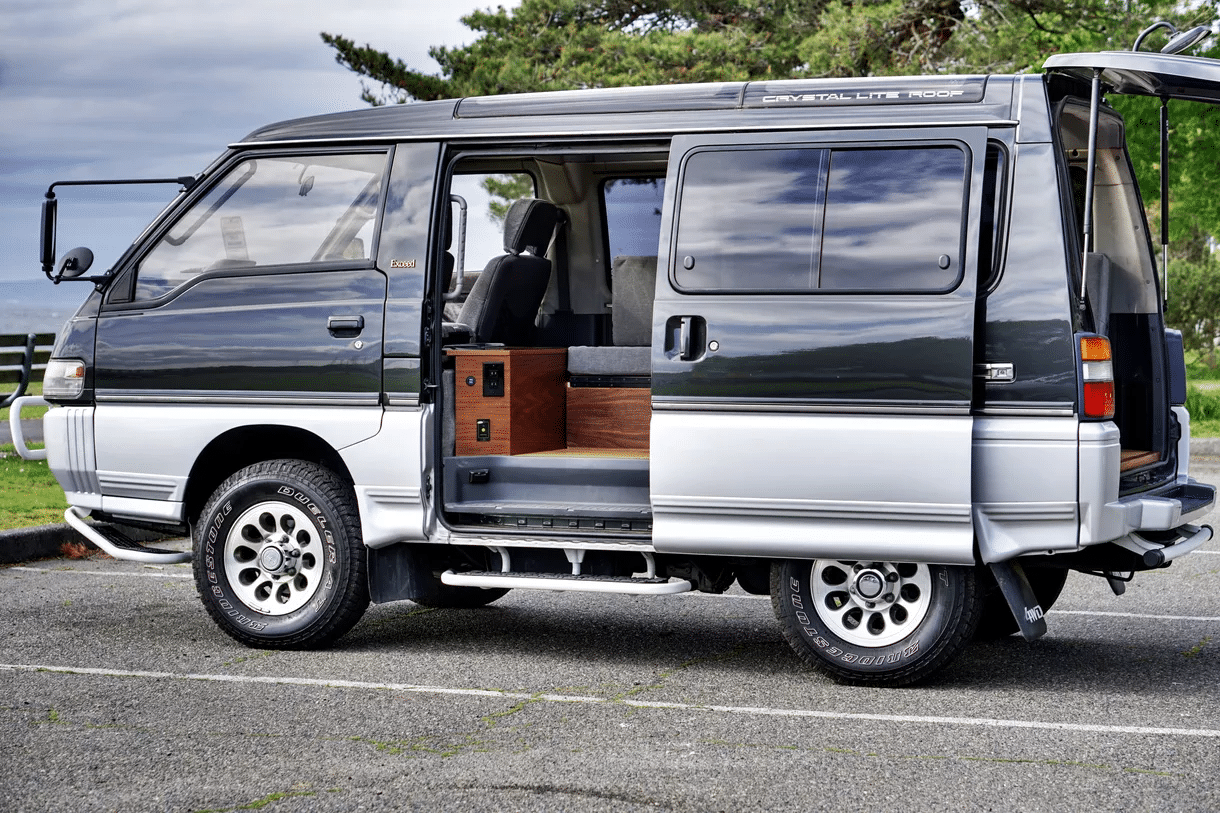 Arguably the most popular JDM van when it comes to camper conversions is the one and only Mitsubishi Delica. The mighty Delica has been in production since 1963 and is still going strong to this day.
They came in several trim levels ranging from a bare-bones model and going all the way up to features such as captain chairs in the back, window shades, added insulation, and even a "crystallite" roof which offers you access to the night sky so you can stargaze!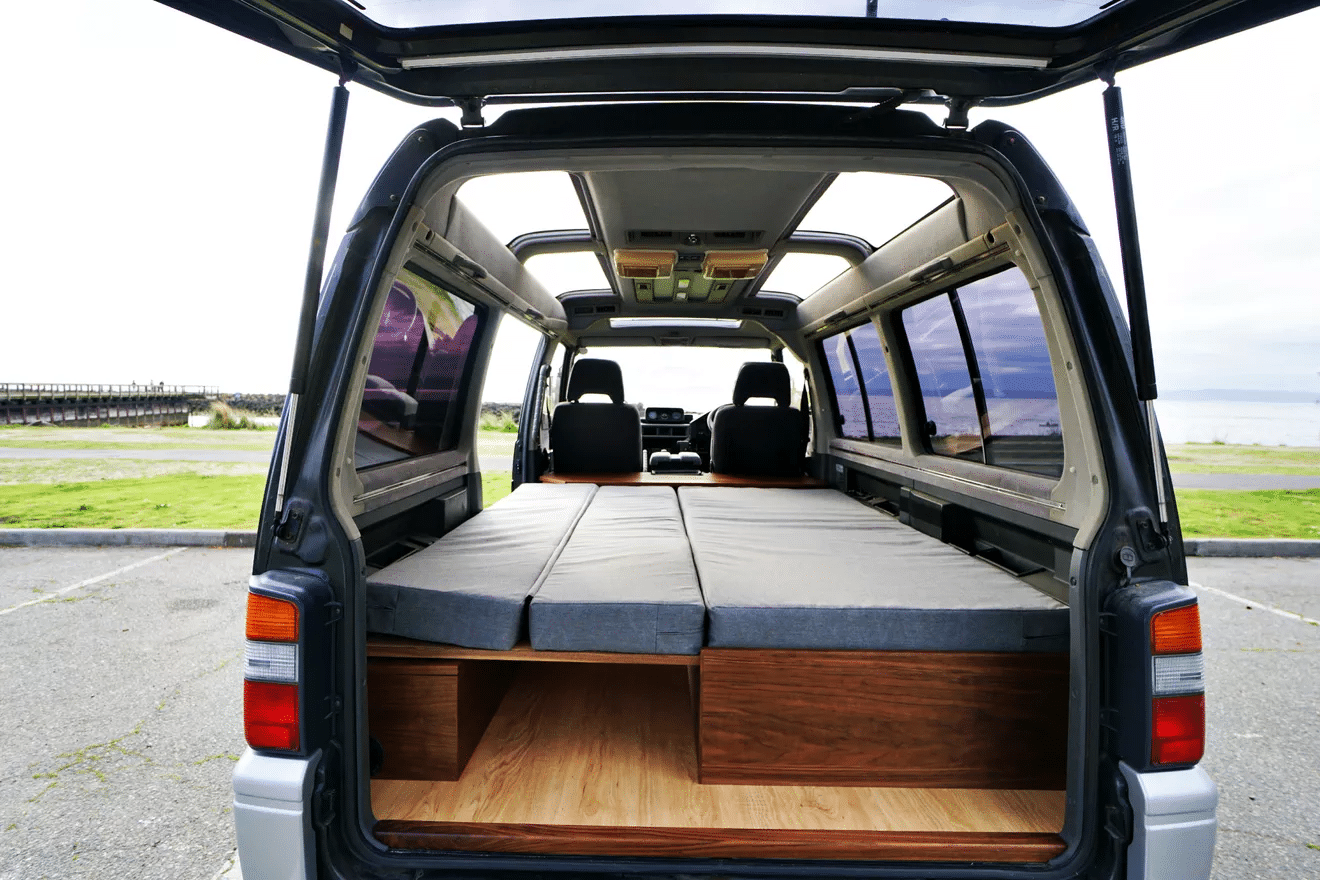 What these little vans lack in size they make up for inaccessibility. Delica's were sold in FWD, RWD, and 4X4 configurations, but of course, the most sought-after ones are 2nd and 3rd gen 4X4 versions. This is mainly because they are available for import and the internet has made them extremely popular with videos of them going virtually everywhere.
Thanks to their popularity, spare parts are easier to come by than other comparable models. That being said, they also don't come cheap, but if you are into boondocking/off-grid camping, the Mitsubishi Delica should definitely be on your shortlist.
Here are some of the best examples currently available on JDMbuysell.com:
View all Mitsubishi Delica listings for sale.
Toyota HiAce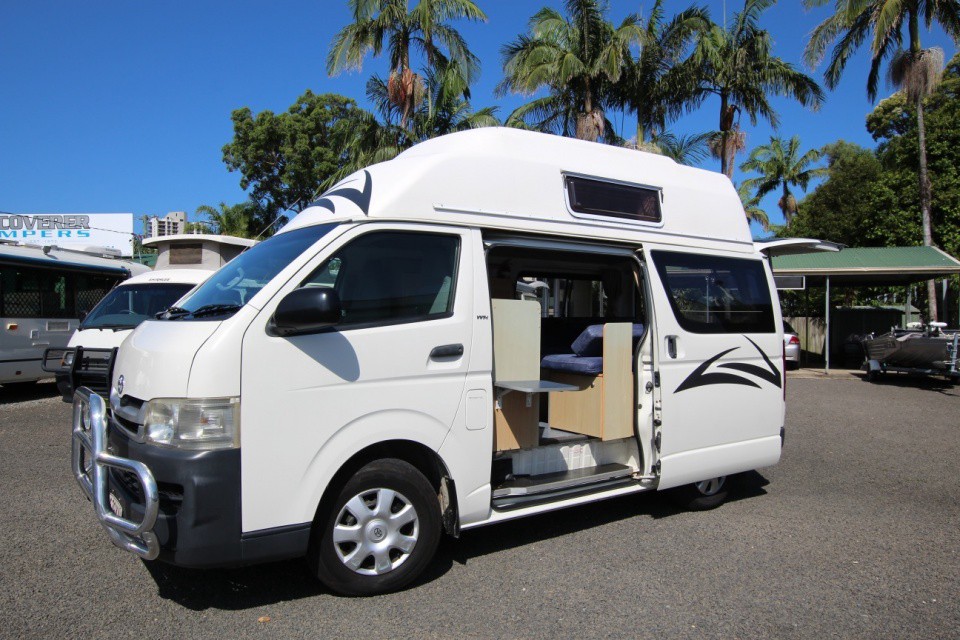 Toyota premiered the HiAce in 1967 and has been in production ever since. A total of 7 generations have been produced since its inception along with several trim levels and body styles. The Japanese automaker even made campers based on the HiAce platform.
The 4th generation (H100) is the one we will be focusing on for this article. It was on sale from 1989-2004 and came with multiple engine choices in both gasoline and diesel variants. On top of that, a 4×4 and high-roof option were available, making it ideal for a camper conversion.
If you know anything about Toyota, it's that they are famous for their reliability. If you are looking for something to give you many trouble-free miles and an unlimited amount of memories, we suggest putting the HiAce on your list.
Here is are some of the Toyota HiAce's currently available on JDMbuysell.com:
View all Toyota Hiace listings for sale.
Subaru Sambar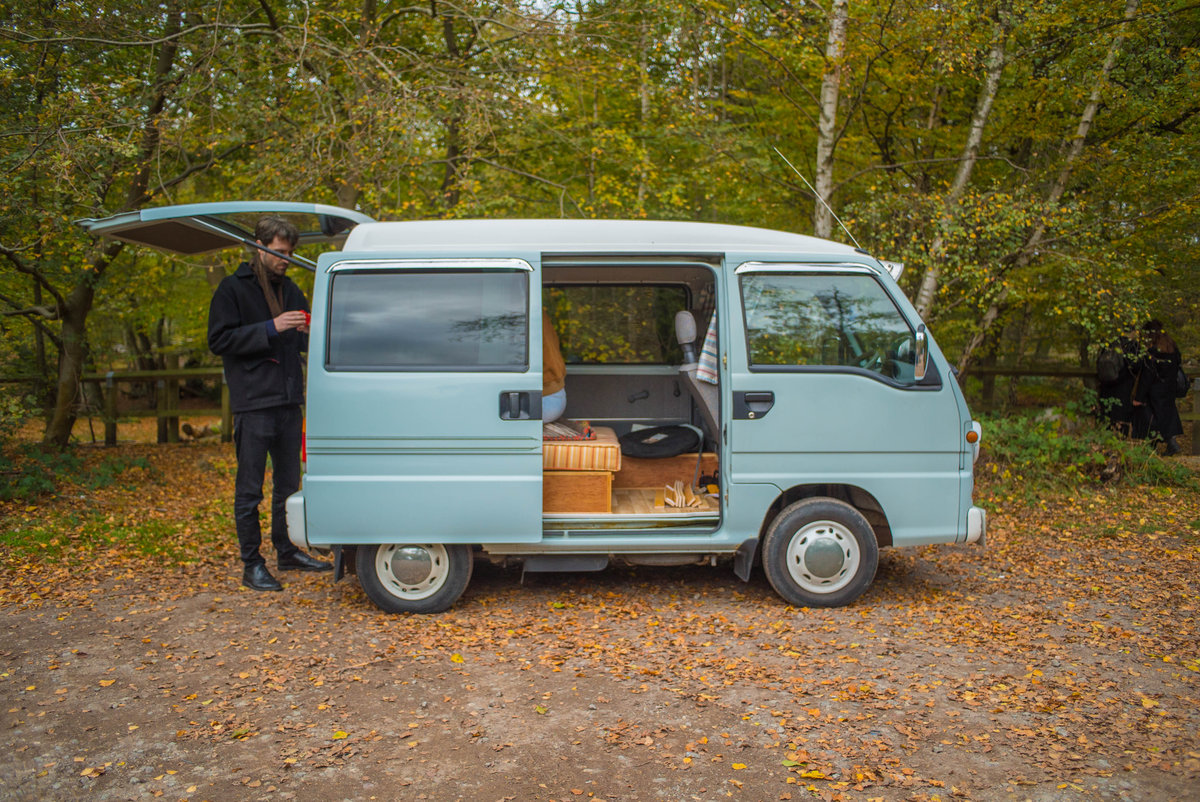 If you are looking for something compact that sips fuel and can be easily parked anywhere, then look no further. The Subaru Sambar is classified as a Kei truck, meaning that it must meet the strict Kei car guidelines. They were in production 1961-2012 and are still produced to this day under the Daihatsu badge.
5th and 6th generation Sambar's are the ones most used by vanlifers, so we will be focusing on those specific generations. Subaru offered the Sambar in either a rear-engine 4WD or rear engine RWD configurations. Sadly, the 6th gen was only available in RWD configurations. One good thing about Kei cars is that they are very fuel-efficient thanks in part to their engine restrictions. For example, the 5th gen came with a small 1,200 c.c. the engine that put our roughly 50 horsepower.
The bulk of the Sambar's came in pickup truck configurations, but vans were offered as well. When we say this van is small, we really mean it. It is barely big enough to fit a full sheet of drywall inside. So, if you are a minimalist or have been backpacking and now want a bit more room, we suggest trying out the Sambar.
JDMbuysell.com has good selection of Sambar's on sale, but most of them are in the pickup configuration.
View all Subaru Sambar listings for sale.
Read our Sambar Buying Guide before you buy.
Honda Acty
In North America, we all know and love the Honda brand. But did you know that they made a great contender for the vanlife lineup? That's right, from 1977-present Honda made this little Kei car in several configurations, out of which the pickup truck version was the most common.
In addition to the van, some Acty's were sent out to certain factories to be outfitted as campers. You'd be surprised how roomy a high-roof Acty can be. And thanks to its smaller size, you won't be spending an arm and a leg converting it.
If you are after something small and fuel-efficient from one of the most prominent JDM auto manufacturers, you should look into a Honda Acty. Additionally, if you are lucky to find the "Street" version that came with a high roof, 4wd, and 5-speed transmission, you should jump on it immediately.
As of this minute, here are some of the Honda Acty vehicles (truck, van, etc.) available:
View all Honda Acty listings for sale.
Check out our Buying Guide: Honda Acty
Nissan Caravan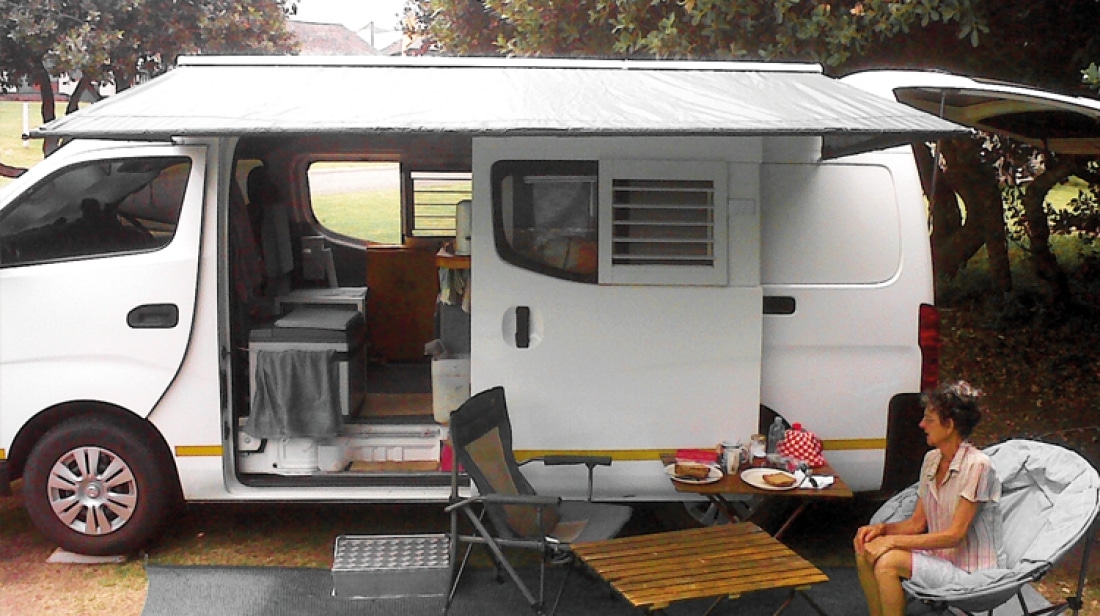 If the name doesn't scream out camper conversion, we don't know what will. The mighty Nissan Caravan has been in production since 1973 and is still going strong today. It was offered in many engine variations over the years, in both gas and diesel configurations.
One thing that makes the Caravan a prime contender for vanlife is that it is quite a bit longer than the competition, adding up to more room. And when we talk about tiny living, every extra bit of room is highly coveted. In addition, they also came in a high-roof version and with several body styles. This will come in handy as not everyone wants a van filled with windows. They tend to lose a lot of heat and don't provide much privacy. If you are planning to travel in colder climates, a panel van is ideal.
Although not many have been converted, a Nissan Caravan would be ideal for someone looking to get the most amount of space from a JDM van. When you couple that with an unbelievably reliable diesel engine, you have an adventure mobile that's just waiting to make memories with you!
Here are a couple of examples currently up for sale at JDMbuysell.com:
View all JDM Nissan Caravan listings for sale.
Mazda Bongo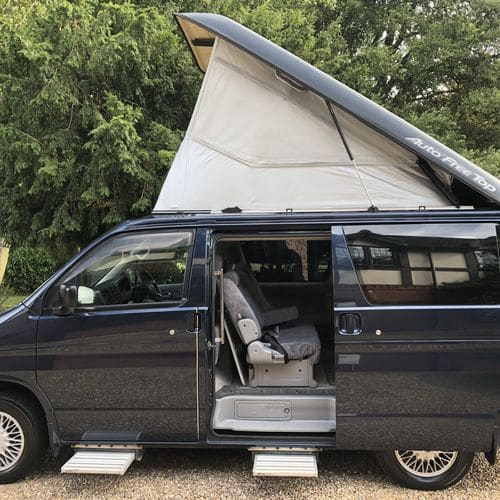 Just like the other manufacturers, Mazda has created the Bongo in one trim or another since the mid-'60s. These minivans were built with front, mid, and rear engine configurations and available in a variety of engine choices. Moreover, there is a 4WD drive version that would make it ideal for anyone looking to go off the beaten path.
By the 5th generation, Mazda introduced a special edition Bongo called the "Friendee". This was specially geared towards the outdoor enthusiasts as it came from a factory with a pop-top roof tent that sleeps two. What's even better is that the bench seat in the back can also be folded flat for an extra sleeping space. The addition of the pop-top allows also makes the main cabin more spacious. Having separate sleeping quarters will give you so much more room to extend a kitchen, entertain, or whatever you choose to do with the additional real estate.
If you can manage to find a diesel pop-top Bongo, we suggest buying it right away as they are becoming more and more sought after every day. Even though this is an extended roof version, it will do nothing for headroom as the extra space up there is take-up by the bed.
Mazda Bongo's available right now:
Browse Mazda Bongo listings for sale.
Honda Stepwgn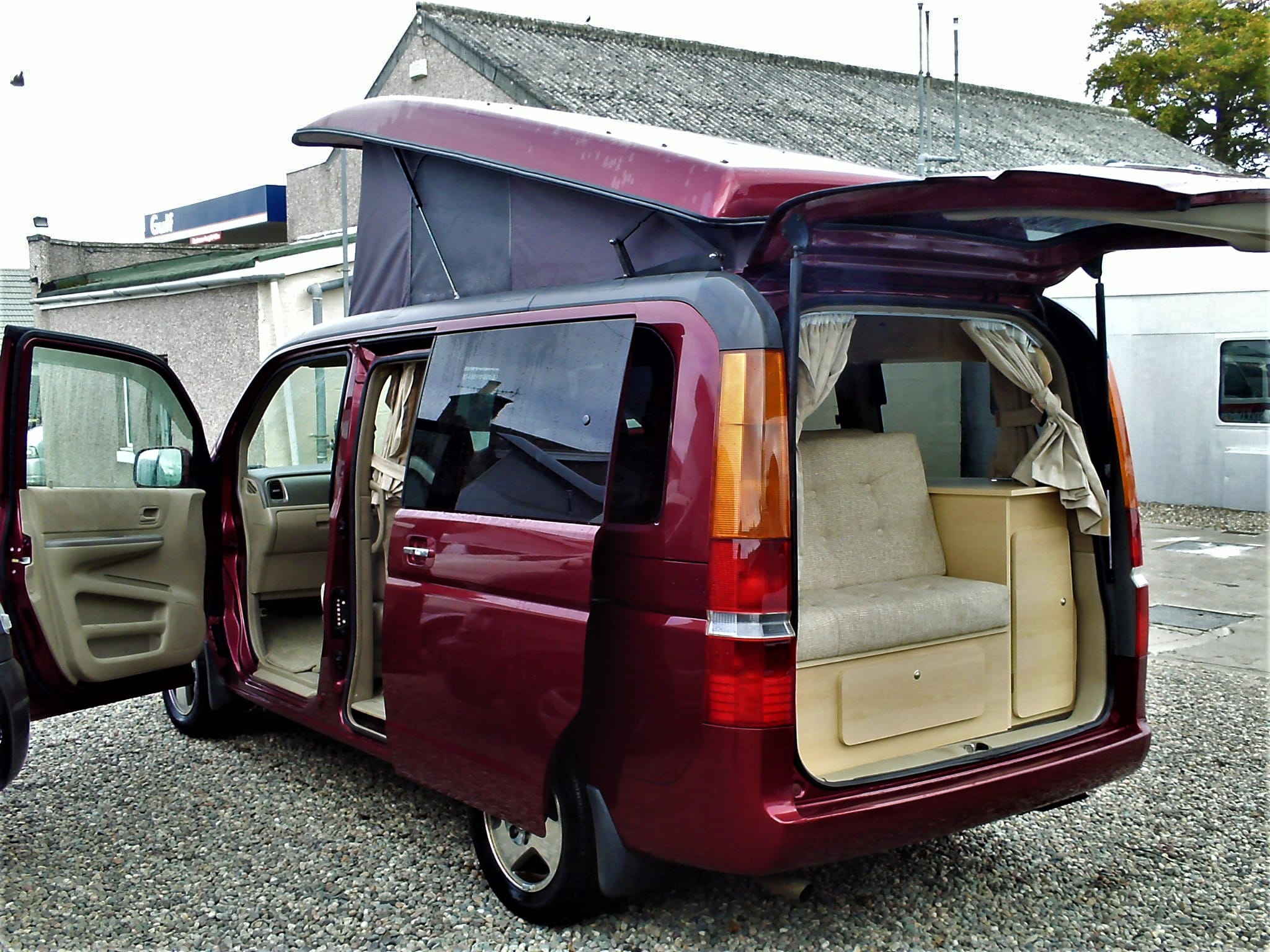 Unlike the other competitors on this list, the Honda Stepwgn (that is actually how it is spelled) is fairly new. It made its debut in 1996 and it's still going strong to this day. It may look like the Odyssey, but it is taller and seats more people.
This bump in space makes it ideal for van lifers that want to convert a Honda. Another thing that is unique about the Stepwgn is the engine position. Most of its competitors did a mid-engine design, but that took up valuable room. We understand that a mid-engine design is better for handling and weight distribution, however, this is a minivan and not a supercar.
Honda thought about the adventurous crowd way back in 1998 when they released a special trim level called the "Stepwgn Field Deck". The Field Deck had a pop-up observation deck made from fiber-reinforced plastic. That may not sound like much, but being able to stand up in your home on wheels is something that few vans offer.
So, if you are a Honda enthusiast and want to get into van life but don't want something as small as an Acty, then the Stepwgn is perfect for you. Below are a couple of examples currently available on JDMbuysell.com with the coveted pop-top feature.
See all Honda Stepwgn / Stepwagon listings for sale.
Featured Seller: Vanlife Northwest
Vanlife Northwest is a licensed dealer and importer proudly located in Portland, Oregon USA who specialize in the importation, customization, repair, service, and sale of Japanese 4wd vans.
Conclusion
So, there you have it, some of the best JDM vans for conversions. Everyone has a different reason for why they want to join the #vanlife movement, but one thing is for sure, there is no better way to travel than in a camper. The best part is that when building one from scratch, you get the freedom to choose your own layout and have it fit your needs.
Before you start thinking about the layout, you have to get your blank canvas. In this case, that canvas is the van. We hope that the vans we showcased will help you decide which one is best for your needs. Just remember, there are no right or wrong choices. What is right for you, might not be right for someone else.
Personally, I have been living in a converted Nissan Trade for the last 6 months traveling around Europe and I am so glad I did it. Some people, including my family, thought I was nuts, but some people really got it. I have seen so much, been to so many places, and got to visit countries I have always dreamed about. I highly recommend this to anyone that has been on the fence about getting a van and traveling the world.