Subaru Legacy Buying Guide
In the 1990s, if you wanted an all-wheel-drive sedan or station wagon, the Subaru Legacy was the car to go for. It is available in sedan and station wagon body styles. It made sense to get a Subaru Legacy wagon over a front-wheel-drive crossover. A lifted variant of the Legacy wagon known as the Outback was also available if you wanted a rugged Legacy.
A Subaru legacy is the car to go to if you feel that the Impreza is too small or expensive. It might not be as powerful as an Impreza, but it sure packs a punch. Since production started for the Legacy, there has always been an STI tuned spec and turbo spec Legacy.
A good example is the first-gen Legacy RS turbo. It was designed for rallying, had Subaru's symmetrical AWD system, and was available for the general public to purchase. If you're lucky, you can get one for sale.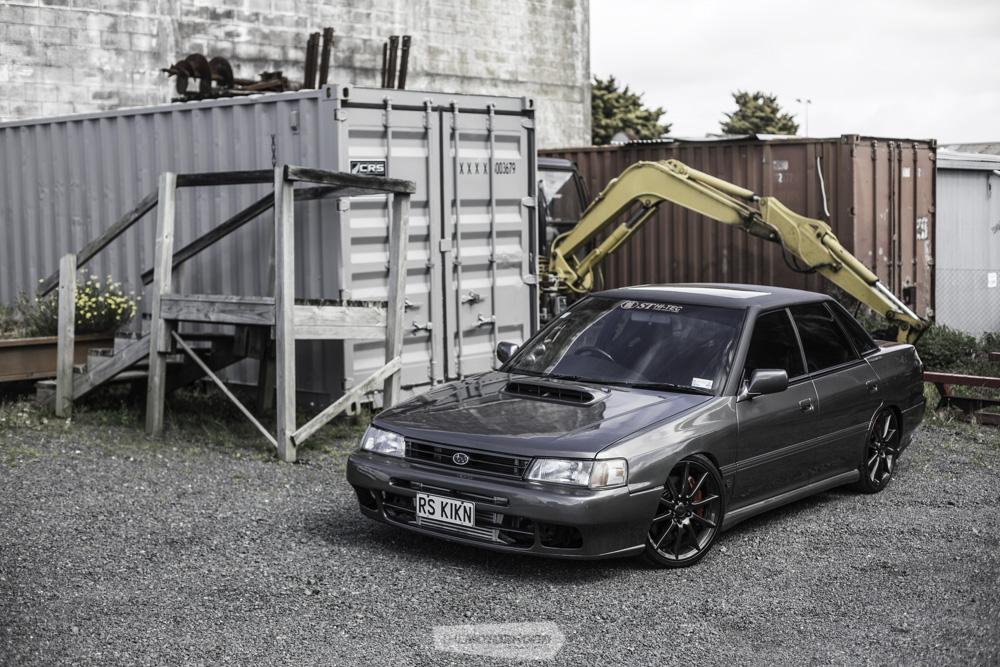 Any Legacy, station wagon or sedan, makes the perfect JDM daily driver vehicle. A Legacy sedan might not be as powerful or luxurious as other JDM sedans such as the Toyota Celsior and the Nissan Cima. Still, it's more efficient, cheaper, and easier to maintain. AWD drive Legacies also have better handling as they are lightweight and have better weight distribution.
Both the sedan and wagon variants seat 5 people comfortably with enough trunk space to carry the squad's luggage. You can mount a load carrier for aesthetics and extra load space, making your Legacy look cool.
There are many Legacy trims to choose from with each generation, and each trim has a different boxer engine. Engine options vary from naturally aspirated, turbocharged, and twin-turbocharged. The displacement varies between engines depending on the year of production and the spec.
Legacies with low displacement NA engines might not be as fun to drive as turbocharged ones; however, they are more reliable and likely to last longer. Maintenance on turbocharged engines is slightly higher, especially if the car has high mileage. On the other hand, you can easily tune or modify a turbocharged engine.
Most Legacy enthusiasts prefer any legacy made from 1989 to 2009. After 2009, Legacies "stopped being fun" in the fifth generation. There were no frameless doors; the ride height was too high; the D pillar was no longer covered in glass, and there was no cool-sounding exhaust.
Legacies after 2009 were more comfort and safety-oriented and did not carry on any features from previous generations. Deleting frameless windows was one of the significant features carried down from the Subaru Leone, but the 2009 Legacy ended it. The introduction of an electronic parking brake (foot brake) instead of the standard parking brake meant that you couldn't "drift" your Legacy.
Old legacies have an engine coolant temperature gauge replaced by the fuel efficiency gauge in the 5th generation Legacy. The introduction of a CVT transmission, the most despised transmission, made the Legacy community lean more toward the older generations. However, a 3.6-litre turbodiesel engine was introduced in 2009, and it's the only Subaru after 2009 to have a manual transmission.
Pros and Cons
Pros
Great engine and transmission
Subaru EJ engines are known to be some of the best engines made. The boxer design places the engine in line with the transmission, thus lowering the car's gravity center and reducing engine vibrations. The 1.8-litre EJ18 is the least powerful engine on a Legacy that had a good 125 horsepower when new.
The 2006 BP5 Legacy Spec B was the most powerful Legacy up to the fourth with the turbocharged WRX deprived EJ255. It reached over 250 horsepower and did 0-100 in less than 6 seconds – not bad for a family wagon.
You get various transmission options in the Legacy ranging from a 4-speed automatic to a 6-speed manual. Only the 4-speed manual has had complaints as it tends to vibrate at high RPMs. Nothing too much that a transmission rebuild can't fix.
Both the engine and transmission will last you a good 300,000 miles before you start replacing the necessary components. However, this is only possible with proper care and maintenance.
Symmetrical AWD
Subaru's full-time symmetrical AWD system ensures that power is sent to all four wheels even when one or two wheels lose traction. Power is split 50/50 between the front and rear axle, ensuring that all wheels' traction and braking are equal. If you have a snowy commute to work, a Legacy is a perfect car for you.
Affordable
If you can get a JDM sedan or wagon with a turbocharged engine for just under $5,000, why not take it and turn it into your daily sleeper? No one would expect to be gapped by a family wagon from the early 2000s. Even the twin-turbo variants, such as the BH5 GT-B, are not that expensive. You can easily find one listed for around $7,000.
Practical
Legacies are one of the most practical JDM cars boasting ample cabin and trunk space. Whether commuting to work or going on road trips, it excels in whatever road activity you throw at it. All Legacies have a seating capacity of five and a trunk huge enough to carry all the luggage you need.
If you are worried about your tall friends being uncomfortable at the back, the rear seats accommodate 3 adults comfortably. Subaru's boomerang suspension results in generous trunk space which allows the trunk surface to be flat. You'll find a bulge in the trunk floor in other suspension setups, significantly reducing trunk space.
Great handling
The Legacy's great handling ability is partly contributed by the engine and transmission placement. When the engine is in line with the transmission, it reduces body roll. It lowers the car's center of gravity, thus stabilizing the vehicle. It also prevents engine movement when cornering at high speeds.
The stock suspension setup isn't that bad, but B spec Legacies have a better suspension setup. A B-Spec legacy means that it has better Bilstein shocks and improves the ride quality. B-Spec Legacies such as the GT-B also have BBS wheels, grippier tires, larger brakes, and thicker anti-roll bars.
Very reliable
A Legacy with a low displacement, naturally aspirated engine will easily average around 30mpg regardless if you have a heavy foot. For turbocharged and high displacement engines, the average fuel consumption will average between the mid-twenties.
In order to achieve these figures, the engine must be well maintained, have sufficient oil and coolant, and have consistent use of the correct fuel.
Easy to maintain
Boxer engines are known to require very little maintenance as long as you get one in good working condition. Major components, such as the engine and suspension, are easy to work around if you have the skills. The oil drain plug, belt, alternator, and radiator are easily accessible as the main parts you'll have to work on.
Most Subaru vehicles, including the Legacy, have a simple wiring setup. This enables you to easily trace the source of a blown fuse or any other electrical fault that leads to component failure.
You'll rarely have to work on the engine if you bought it in good condition. Working around boxer engines is a hassle if you don't have the right equipment due to their placement.
Great looking
Few Legacies are fitted with a body kit, colossal spoiler, or other cosmetic modifications. Sedans look great, but the wagons are on a whole different level. Legacy wagons are considered the best-looking JDM wagons. A wagon will look even better with some wheels and a lowered suspension.
Cons
Low ground clearance
The ground clearance is not that good on a Legacy, so various road surfaces are limited. It is best to stick with paved roads if you have a Legacy, as any slight bump can lead to issues. You may dent the chassis or scrap the bumper, which will cost you to repair or replace. Driving around town can be tiresome as you have to go over bumps sideways.
A Forester could be a better option
Foresters have similar engines to Legacies but are more powerful. Both vehicles also have a similar trunk and cabin spaces, but a Forester suits a daily driver more. It has a higher ride height, better brakes, and a better suspension setup. You can drive a Forester on any road surface without worrying about the suspension breaking or damaging your bumpers.
Common issues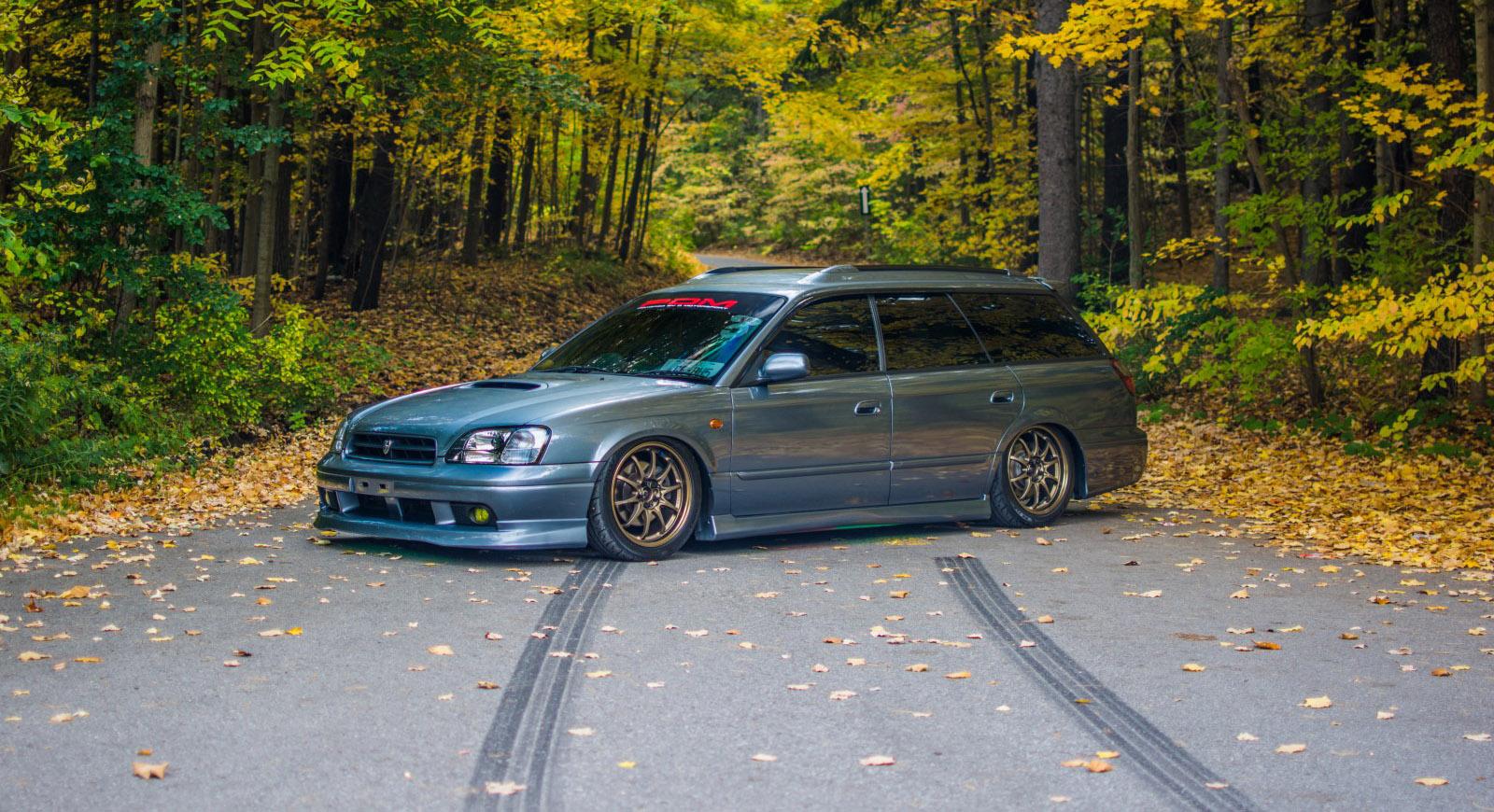 Leaking head gaskets
Since the 1990s, Subaru engines have been leaking head gaskets. This is a common problem across all EJ engines, and it seems the only issue is to replace the head gasket after you notice it's leaking. It is recommended that you replace both gaskets altogether.
To increase the head gaskets' life span, you should regularly change the engine oil and the coolant. Always check oil and coolant levels regularly to know when you are due for a change. When changing the oil or coolant, ensure you flush first. This increases the gaskets' lifespan and increases the engine's lifespan by preventing carbon build-ups.
Turbo failure
If you have a Legacy with a twin-turbo engine, there is a probability that one turbo will fail. Single turbo Legacies are also prone to turbo failure but not as much as twin-turbo engines. In a twin-turbocharged engine, one turbo spools at low RPMs while the other spools at high RPMs.
You'll experience slow acceleration at low RPMs if the low RPMs turbo fails and vice versa. Apart from the loss of power, other signs such as having the "check engine light" come on, whistling/clunking noises and blue/black smoke coming from the exhaust are all indicators that you should get it checked.
Boxer engines tend to have a high oil consumption which is the main reason that could lead to turbo failure. It's also important not to rev the engine too hard during start-up, and ensure you use the recommended engine oil. The only solution to a failing turbo is to replace it. For twin-turbo Legacy owners, conversion to a single turbo is viable too. It's a painstaking process but totally worth it as it reduces the chances of turbo failure.
Faulty oxygen sensor
The oxygen sensor is responsible for monitoring and regulating the oxygen in the engine. A faulty oxygen sensor will cause the "check engine light" to come on, and you'll notice an increase in your fuel consumption. Luckily, replacing a faulty oxygen sensor is a cheap and easy fix but ensure you replace the faulty one with an OEM one.
Starter motor failure
You are likely to encounter starter motor failure with a first-gen or second-gen Legacy, especially if the car has not been started for a while. A failing starter motor won't generate enough current to drive the starter ring, and the engine won't start. Consider replacing the starter motor with an aftermarket one, as Subaru starter motors are known to be unreliable.
Fuel pump irregularities
The fuel pump in EJ engines can be unreliable at times due to old age or constant use. If you notice a sudden acceleration, there is a chance that the fuel pump is pumping too much fuel into the engine. It can also pump less fuel into the engine leading to loss of power, and the engine might shut down. If you have an old or high mileage Legacy, you should replace the oil pump as it can quit on you.
Rough suspension
Suspension bushings and control arms wear out with time and stiffen the ride quality. If your Legacy still has the stock suspension, you'll feel every bump and pothole on the road. Replacing the control arms and the bushings softens the ride.
Rust
Rust is a common problem in most old JDM cars, and the Subaru Legacy is no exception. However, it occurs when a vehicle has been in storage. Common rust spots on Subaru Legacies are typically underneath the car, in the engine bay, the trunk, and around the door seals. Any imperfections on the paint could also indicate rust spreading under the paint.
Average Prices
Both wagon and sedan Legacies go for around $5,000, which is much more affordable than the cost of most new cars. First-gen and second-gen Legacies are priced higher than other generations, especially if they have a turbocharged engine. But a $12,000 dollar price tag on a sleeper JDM wagon is better than buying a Prius. Even rare spec Legacies, such as the BH5 GT-B, rarely go past $20,000.
Comparable Alternatives
Models and Specifications
1989-1994 Subaru Legacy (BC, BJ, BF)
BC-Sedan, BJ-Wagon, BF-Wagon with raised roof
The first-generation Legacy was made towards the Subaru Leone's end of production. It carries various design and drivetrain options from the Leone, such as symmetrical on-demand AWD and frameless doors. When EJ engines were introduced to the Subaru lineup, the 1989 legacy was the first car to get an EJ engine.
Since Subaru did not have V6 and V8 engine options, they had to squeeze high horsepower figures out of the EJ engines and make the Legacy as aerodynamic as possible. Did they succeed? Yes. The Legacy was the first-ever Subaru to have 5 lug nuts on every wheel to hold the increase in horsepower and torque.
All first-generation Legacies have an adaptive suspension that lowers the front suspension at speeds above 80km/h. The adaptive suspension feature also allows you to raise the ride height when on bumpy roads or over high bumps. Electronics in old Legacies are known to fail, and you'll be lucky if you find a first-gen Legacy with an active adaptive suspension.
Base trim models came with front-wheel drive but an optional AWD on demand. Power is split 50-50 when traction is needed on the rear axle. All base spec legacies such as the Ti, Ei, Mi, Vi, GL, and DL have the EJ18 with a power output of around 105 horsepower.
All other specs have an EJ20 or EJ22 engine with between 140 and 160 horsepower power output. Sportier variants included the GT, RS, and RS type R. All of these models used a turbocharged EJ20 or a turbocharged EJ22G, making it close to 200 horsepower at production. The Legacy touring GT wagon also had the turbocharged EJ22G.
Only two transmission options were available for the first-gen Legacy. A 4-speed auto or 5-speed manual transmission. Most sportier models had a manual transmission, while the base trim versions had an automatic transmission with a torque convertor. The sportier variants also have a sport-tuned suspension, alloy wheels, and all-around brake callipers.
1993-1999 Subaru Legacy (BD, BK, BG)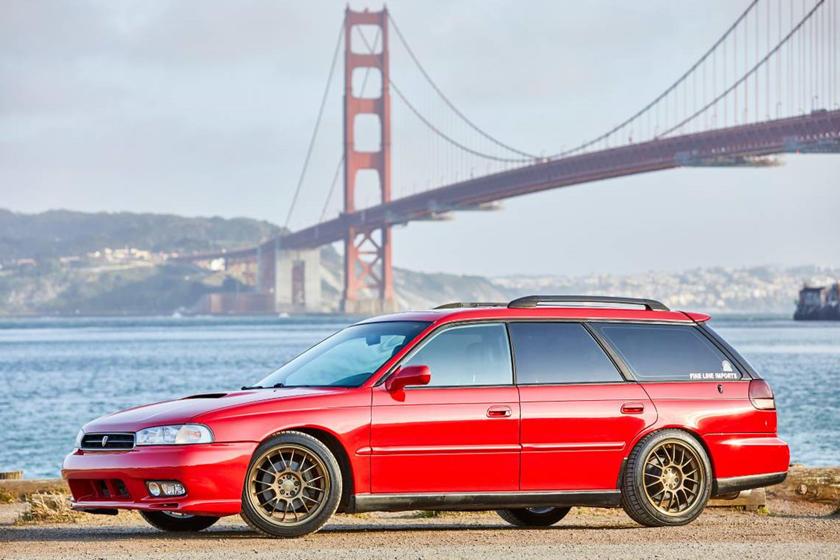 BD-Sedan, BK-Wagon, and BG-Raised roof wagon
Changes were made to the second generation's chassis, bodywork, and interior. The second-generation Legacy has more aggressive body lines, reduced body roll, and a better interior. AWD was also standard across all trims, but you can still find a front-wheel-drive second-gen Legacy as it was optional at the time of manufacture.
Engine and transmission options remain the same from the predecessor Legacy, with the addition of a 2.0-litre twin-turbo EJ20 and a 2.5-litre EJ25. The EJ18 was discontinued, and base spec Legacies have an EJ20 making 135 to 155 horsepower, which was more than enough for a car weighing around 3,000 pounds at the time of production.
Legacy GT
Subaru unleashed a sleeper wagon when they made the Legacy GT. All 1993-1998 Legacy GTs have the EJ20H, a twin-turbo variant of the EJ20, with 250 horsepower when new. Legacy GT sedans also feature the same engine but lower power output mainly because it came with the 4-speed automatic transmission.
Legacy GT-B
The legacy GT-B (GT B-spec) is a better-handing version of the standard Legacy GT wagon. It came standard with ABS, Bilstein shocks, and bigger brake callipers. Cruise control, passenger airbags, sunroof, and other comfort features were removed to reduce weight.
Legacy RS
Since most GT-B spec Legacies are wagons, Subaru decided to make a sportier Legacy sedan. It gave it a 2.0-litre turbocharged EJ20 with 200 horsepower. It has all the safety and comfort features, and you can also get one with electronically-controlled leather seats.
Legacy TS type-R
The Legacy type-R has all the features of the GT-B spec except the engine. It's a more economical car to drive. Nevertheless, it has a sportier profile and better handling than a base-spec Legacy. The Legacy RS type-R with the naturally aspirated EJ20 has around 170 horsepower when new.
Legacy 250T
A 2.5-litre EJ25 was added to the EJ engine lineup and was first used in the Legacy 250T. It reached a good 160 horsepower when new. Later on, Subaru added a turbocharger and other engine upgrades in the third generation.
1998-2004 Subaru Legacy (BE, BH)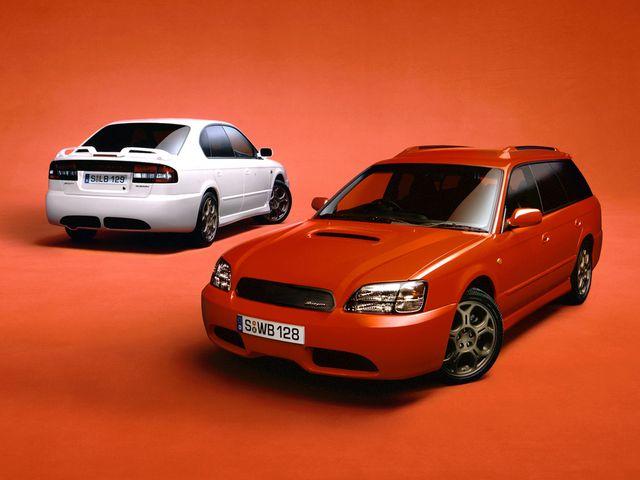 Subaru used more EJ engines in the third generation than other Legacy generations to date. 11 EJ engines and one EZ engine were used. 3 were twin-turbocharged EJ20 variants, 3 naturally-aspirated EJ20 variants, 4 EJ25 variants, and a 3.0 – 6-cylinder EZ30.
Legacy B4
The B4 trim is a sedan-only lineup that features the 2.0-litre turbocharged EJ20 engines. Legacy B4s with an automatic transmission have the EJ206 with 265 horsepower when new. Manual transmission B4s have two versions of the EJ208, which has between 275 to 290 horsepower depending on the year of production.
Legacy TX
The TX Legacy was the base trim legacy in Japan. It has the same features as the Legacy Brighton but with a 2.0-litre EJ201 with 135 horsepower when new.
Legacy Brighton
This is the lowest spec third-gen Legacy, but it's not your average JDM sedan. When new, the 2.5-litre EJ252 made close to 170 horsepower. It lacks most features offered in other specs, such as rear disc brakes, roof rails, keyless entry, and cruise control. The Legacy Brighton was only offered for 2001 and was replaced by the Legacy L.
In Japan, a sportier Legacy Brighton S was still being produced after 2001 with a sportier look.
Legacy L
The most notable difference between the Legacy L and Brighton is that the L has rear disc brakes and larger tires. Everything else is similar, from the plastic door handles to the bumper lining, and body moulding.
Legacy GT (North America)
A Legacy GT gives you larger disc brakes, a leather interior with wooden finishing, fog lights, sportier suspension, and side skirts. It is available in both sedan and body configurations, and both have a 4-speed automatic transmission.
Legacy GT-limited
The GT-Limited was offered between 2000-2002 and had no major difference from the GT spec. The only feature added was an all-weather package with heated and cooled seats, defrosters, and de-icers. The all-weather package was made standard on the GT spec after the GT Limited spec was discontinued.
Legacy 250T
Like the 250T in the second generation, the third generation 250T has a naturally aspirated 2.5-litre engine with 170 horsepower. Later on, a B-spec 250T was offered with Bilstein shocks and alloy wheels.
Legacy GT (Japan)
The Japanese spec Legacy GT has the EJ20 twin-turbo with 265 horsepower (automatic) or 280 horsepower (manual). A GT B-Spec with a stiffened chassis, Bilstein Suspension, and BBS wheels were also made but were only available as a wagon.
Legacy GT-VDC
Subaru equipped a standard Legacy GT with Vehicle Dynamics Control (VDC) which prevents loss of driver control by applying brakes on individual wheels.
Legacy STI
This is the only Legacy since the first generation to feature a 6-speed manual transmission. It was built and tuned by STI, and only 286 were made. They all have a manual transmission and the twin-turbo EJ208 with close to 300 horsepower at the time of production.
2004-2009 Subaru Legacy (BL, BP)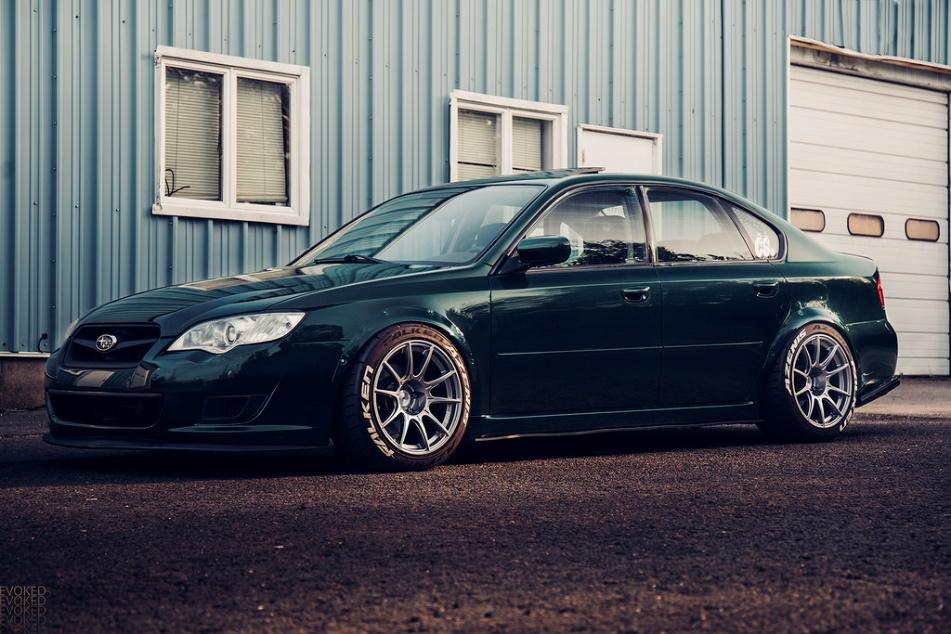 BL-Sedan
BP-Wagon
A new chassis and body design were introduced in the fourth-gen Legacy. The most noticeable difference in design is the receding roofline on the Legacy wagon. It looks fantastic and is more aerodynamic than other Legacy wagons with a flat or raised roof.
When Subaru introduced Eyesight technology, it was first equipped on the Legacy. Eyesight technology is Subaru's lane assist feature, which helps the driver stay on the road when driving. It also alerts the driver when a car in front or behind changes its signal and detects pedestrian motion. This is enabled by two CCD (charge-coupled device) cameras which contain transistorized light sensors on an integrated circuit.
The light sensors capture images and convert the images to electronic data relayed to the driver via lights on the dash, infotainment system, or sound alerts.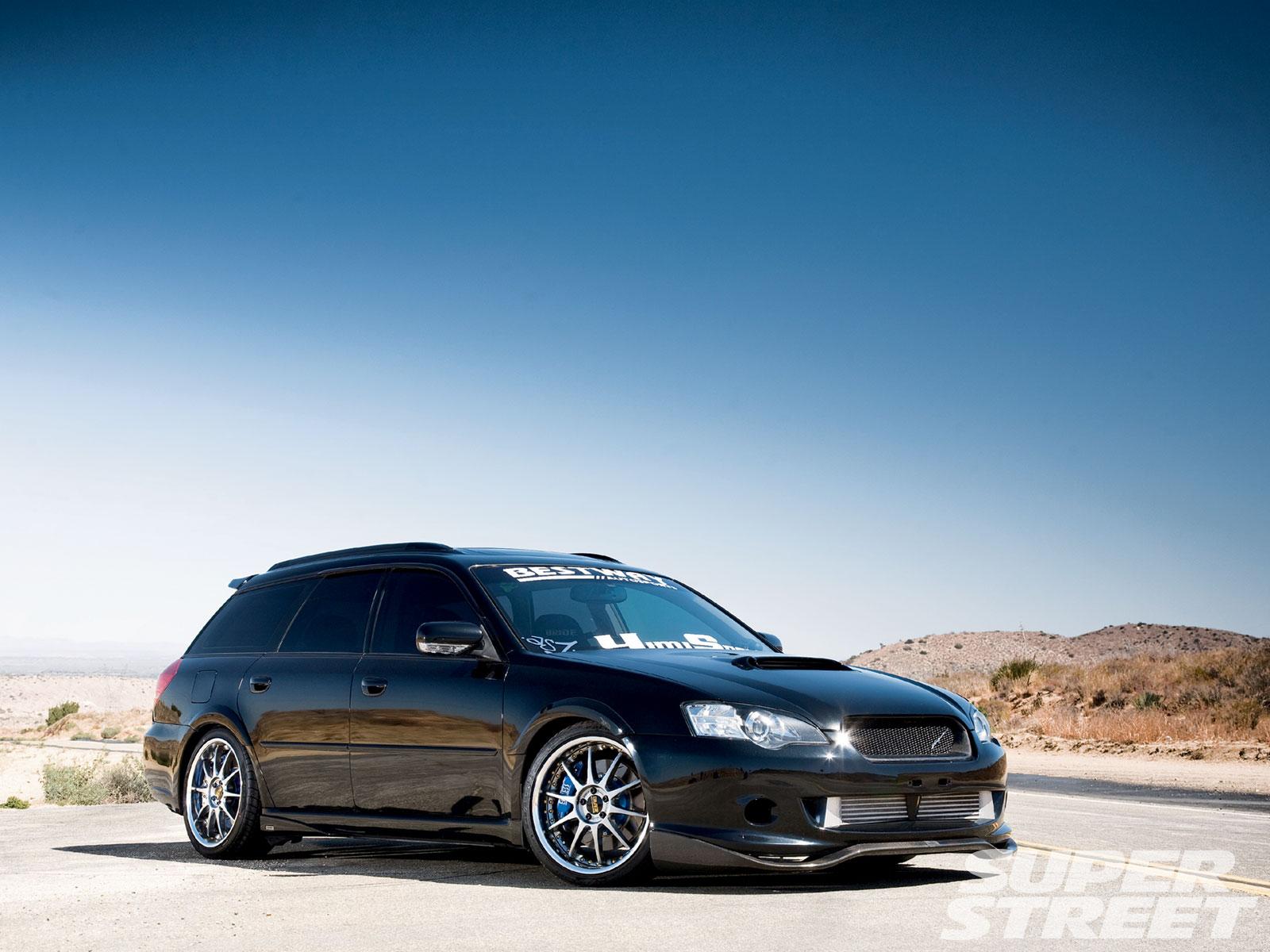 New engine options were also introduced and include a 2.5-litre turbocharged EJ255 and a 2.0-litre EE20. A 6-speed manual transmission was also added to the fourth-gen Legacy lineup.
Legacy 2.0i, 2.0R
The Legacy 2.0i is the base trim Legacy in the fourth generation, while the 2.0R is the sportier version of the 2.0i. Both have the EJ20 engine putting out 140 horsepower in the 2.0i and 162 horsepower in the 2.0R.
A 5-speed automatic transmission is the most common in any Legacy with a naturally-aspirated EJ20. However, you can still get one with a 5-speed manual.
Legacy 2.0 GT, 2.0 GT-B
These have the turbocharged EJ20 which reaches close to 300 horsepower when new. The only difference is that the Legacy 2.0 GT-B has a sportier suspension setup with a sportier suspension setup, bigger brakes, and BBS wheels.
3.0, 3.0R-B
The 6-cylinder EZ30 is available in the 3.0R and the 3.0R Spec-B, with the 3.0 Spec-B having the same features as the Legacy 2.0 GT-B.
50th Anniversary Legacy
The 50th-anniversary Legacy is based on the Legacy 2.0 GT-B. It features a bright red colour, a track-ready suspension, 18-inch alloy wheels, aerodynamic bumpers, and a unique grille.
Legacy STI
402 units of the fourth-generation Legacy were made. A new twin-scroll turbocharger enabled the engine to push slightly over 300 horsepower. It has Bilstein sports shocks, 18-inch BBS wheels, Brembo brake callipers from the Subaru WRX STI, and Dynamic Stability Control. It was also among the first Subaru Legacy to have Valve timing, significantly improving throttle response.
FAQ
How many miles can a Subaru Legacy last?
Subaru Legacy EJ engines might not be the most durable, especially when modified. Still, when maintained correctly, an EJ engine might last for around 200,000 to 300,000 miles. Other mechanicals such as suspension and drivetrain components can last for twice the mileage that the engine can last for.
How much does a Subaru Legacy weigh?
2900-3200 pounds. Since Subaru began producing the Legacy, there has been an insignificant weight change between generations. All have similar weights, with the only difference being that turbocharged and manual transmission models are heavier than those with an automatic transmission and naturally aspirated engines.
What is the maximum towing capacity of a Subaru Legacy?
The Subaru Legacy has a 2000-pound to 3000-pound maximum towing capacity.
How many airbags does a Subaru Legacy have?
Subaru twin-turbo engines are prone to turbo failure, especially when not maintained properly. If you are unsure about the vehicle's history, you should avoid it.
Where is the Subaru Legacy manufactured?
The Subaru Legacy is manufactured in Japan and the US but sold globally. In Australia, the Subaru Legacy is sold as the Subaru Liberty.
How much is the Subaru Legacy's fuel tank capacity?
1990-1999; 15.9 gallons, 2000-2009; 16.9 gallons, 2010-2021; 18.5 gallons and 2022 to date; 19.2 gallons.
Is the Subaru Legacy better than the Toyota Camry?
Depends on what you are looking for. The Subaru Legacy offers excellent performance and is not your ordinary family sedan or wagon. On the other hand, the Toyota Camry is one of the most reliable and durable family sedans but slightly underpowered than a Subaru Legacy. It doesn't have AWD, which the Legacy has as standard.
How can I make a Subaru Legacy quicker?
Upgrading the turbocharger and engine internals will definitely increase the power output of your Legacy's engine. But if you have an NA engine, an ECU tune is more than enough. Turbocharging a naturally aspirated boxer engine always ends with internals or manifold breaking. Making the car lighter by upgrading mechanicals and body panels with lighter ones also makes your Legacy quicker.
What is the difference between Subaru Legacy Premium and Limited spec
The main difference between a Subaru Legacy Premium and Legacy Limited is that the Limited spec has full leather seats. In contrast, the Premium has 60/40 fabric-leather seats.
Is the Subaru Legacy Reliable?
Since production, the Subaru Legacy has been one of the most reliable cars, with an above-average reliability rating.
How to Import a Subaru Legacy
Read our Ultimate Guide on How to Import a Car from Japan.