Mazda RX-8 Buying Guide
The Mazda RX-8 is among the few modern JDM sports cars you can get on a budget. Carrying over a similar 1.3-liter Wankel rotary engine to the 13B in the RX-7, it is one to go to cars if you want a rotary engine since it is cheaper than most of its predecessors. From 2003 to 2012, Mazda maintained the front-engine rear-wheel-drive platform that makes the RX-8 a common sight in various motorsports such as drifting and the GT series (2006-2013).
Pros and Cons
Pros
Affordability
As said earlier, the RX-8 is one of the most affordable JDM sports cars. With prices starting at just under $5,000, it's the perfect project car you are trying to minimize project costs. The Mazda RX-8 also makes an excellent daily driver or beginner car for teenagers.
Reasonably powerful engine
When new, the Mazda RX-8 made 200-250 horsepower depending on the spec and year of manufacture. This power output may be different by the time you purchase yours but will still be reasonable for a car over 10-20 years old. With some good engine work and a light tune, the 1.3-liter Wankel rotary is resurrected back to glory. You might get slightly over 300 horsepower.
Good transmission
You get the Mazda RX8 with 2 manual transmission options or 2 automatic transmission options. Both automatic and manual transmissions perform well, but most drivers will find the 5 speed and 6-speed manual transmissions more engaging than the automatic transmission. The 4 speed or 6 speed are only for drivers who prefer having both hands on the wheel, but you can use the paddle shifters in the 6-speed auto if you love some driver engagement.
Great handling
The Mazda RX-8 has a front-mid engine rear-wheel-drive platform with a 50-50 weight distribution, making it a great handling car. Cornering is smooth, and the braking distance is also reasonable due to the equal grip on all tires.
Clean looks
For a four-door sports car, the Mazda RX-8 has quite the looks. If you decide to do some cosmetic mods, you wouldn't have to spend much as it looks great with minimal mods. Lower the car using lowering springs, coil-overs, or bags, then slap on some cool wheels, and it will look just okay but better than the OEM looks. Neat-looking body kits are readily available if you love a complete makeover.
Parts are easily available
Aftermarket parts manufacturers still make replacement parts for the Mazda RX-8. Some of which are better and more durable than the OEM parts. There are also OEM used parts for sale online that you can buy if shopping for new parts will dent your pockets too hard.
Cons
Needs high maintenance
If not maintained according to schedule, the RX-8's engine will begin to fail on you. Something as small as missing an oil change schedule or failing to change sparkplugs can lead to engine stalling. You'll need to stay updated with your maintenance schedule and pay attention to any engine issues.
Not spacious
Regardless of the RX-8 being a four-door four-seater sports car, the interior is cramped up. Two adults can barely fit in the rear seats, and the trunk space isn't that great if you intend to use the RX-8 as a grocery getter. Most drivers will remove the rear seats and install a roll cage. Unlike other four-door sports cars, it's hard to install a roll cage with the rear seats still installed in a Mazda RX-8.
High gas mileage
For a naturally aspirated 1.3-litre engine, the Mazda RX-8 is really fuel-thirsty. With average fuel consumption of around 14.0mpg, it ranks lower among other sports cars in its class. Even those with higher displacement engines, such as the Nissan 350Z.
The RX8's 1.3-litre rotary engine is less fuel-efficient than the Fairlady Z's 3.5-litre V6, despite having less than 50% of the displacement. #rx8 #rotary #13b #dorito #vq35
Low power output at low RPMs
The RX-8 only attains its maximum power output at around 5800RPM, meaning that even overtaking is out of the book at low speeds. To gain maximum power output, you'll need to hit highway speeds.
Common issues
Apex seals
Each rotor on the RX-8's engine has three apex seals. Six apex seals keep the compression in the engine chamber. The apex seals get damaged due to three factors: lack of enough lubrication, high temperatures, and the tensioner springs wearing out.
If the apex seals are worn out, you'll notice a loss of compression, leading to power loss when accelerating. It is recommended that you replace all apex seals even if not all are worn out. This helps to know the amount of mileage you have on all of them together instead of just a couple. While at it, the engine will be rebuilt, thus preventing apex seals leakages.
Failure to start
Failure to start is mainly caused by ignition coil problems. Ignition coils wear out through a car's lifetime. Since RX-8s are between 10 and 20 years old, there is a probability that the ignition coil is bad. The ignition coil on a Mazda RX-8 should be replaced every 30,000 miles to prevent failure.
Engine flooding
If you smell too much fuel in the cabin, there is a sign that your engine is flooding. The fuel injectors dump more fuel into the engine during a cold start. Turning the engine after a short while during a cold start will leave the engine flooded with fuel. The air is directed for combustion is not enough.
Avoid driving off immediately or turning the engine off too soon after a cold start. The spark plugs cannot generate the spark required to combust the fuel and air. In contrast, more fuel is still being pumped into the engine.
Engine flooding can also lead to a catalytic converter failure. When fuel is not combusted, it heats up. It enters the exhaust system then into the catalytic converter, with a maximum working temperature of 500°C. If fuel is above that temperature, it destroys the catalytic convertor.
Sunroof rattle
Some Mazda RX-8 specs have a sunroof that rattles at high speeds, especially when open. You'll need to lightly grease the metal braces on the edges to prevent this.
Poor trunk build material
The trunk is made out of cheap plastic, and just like the sunroof, it rattles due to old age and hard closing. Finding the hood latch can also be tricky if it is your first time around and RX-8. It's a small button located under the dash on the driver's side next to the hood latch.
Poor interior
The plastic panels were top-quality interior material at its production time but aged and worn out over time. The dashboard fades out due to exposure to sunlight. The glovebox rattles when you drive on a bumpy road and fails to lock when closing it. Sometimes even the door locks fail to work. Refurbishing the interior is one of the first modifications you should do on your RX-8 if you want to enjoy driving it.
Average Prices
Finding a Mazda RX-8 for under $5,000 is relatively easy. Most owners will get tired of the fuel economy even before enjoying the car. If you prefer smiles per gallon over miles per gallon, you'll love the RX-8, but only if you maintain it properly. You can also get a low mileage or rare spec RX-8, such as the anniversary edition, for around $15,000, which is still a bargain.
Comparable alternatives
Models and specifications
The Mazda RX-8 was only produced throughout one generation (2002-2012) but with a mid-cycle refresh near the end of production, 2008-2012. The 1.3-litre Wankel rotary was used throughout production. But with different power outputs depending on the spec and the year of production.
2002-2008
RX-8 Type S (2002)
Type-S is the base model available in the RX8 lineup. It features a 1.3-litre rotary engine with power output varying from 150 to 240 horsepower depending on transmission type. When new the Type S with the 6-speed manual transmission had the highest power output at 240 horsepower.
Mazdaspeed RX-8 (2003)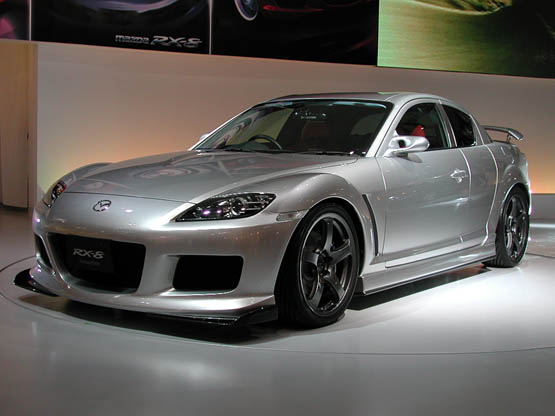 Mazda's tuning division, Mazdaspeed, tuned 480 units of the type S to be sold exclusively in Japan. A better suspension setup, improved aerodynamics, anti-roll bars, and performance brake calipers and rotors were some of the upgrades on the RX-8.
The Mazdaspeed spec also features wider bumper vents, side skirts, and a wing, making it more aggressive. Since the Mazdaspeed RX-8 was only sold in Japan, Mazdaspeed upgrade parts were available at Mazda dealerships worldwide.
RX-8 NR-A (2004)
To participate in the one-make party race, Mazda designed a body kit and performance upgrade parts for the RX-8. The performance kit included a racing braking system, roll bar, race oil cooler, race-spec radiator, and tow hooks. These were bolt-on upgrades for the Type S and were sold in Mazda dealerships across Japan after approval by the Japan Automobile Federation.
RX-8 SPL (2005)
Towards the end of 2005, Mazda released a Sports Prestige Limited (SPL) RX8 specifically for Japan and North American markets. Special color schemes were available for the SPL spec. Still, the notable difference is that it had a Bilstein suspension setup which significantly improves ride quality. Only 2150 units were made.
RX-8 Evolve (2006)
This was the first-ever UK spec RX-8, and only 500 units were made. New bezel headlights, aluminum outlet fins, chrome exhaust, surrounds, rotary badges, alloy wheels, and sports door mirrors were offered on the RX-8 evolve.
The RX-8 evolve also had interior upgrades such as Alcantara sports seats, leather-wrapped steering, shift knob, and hand brake lever. There were only two paint options available for the RX-8 evolve, copper red mica 400 and phantom blue mica.
RX-8 PZ (2006)
In collaboration with Prodrive, a tuner house in the UK, Mazda released the RX-8 PZ only available for the UK. OZ Racing wheels, aero mirrors, blacked-out grille, dual exhaust setup, Bilstein dampers, and Eibach coil springs distinguished the PZ spec from the evolve spec RX8. 800 units were made, 380 in grey and 420 in black.
RX-8 revelation (2006)
If you want a comfort-oriented RX-8, the revelation spec is your car. However, it's a rare spec since only 100 units were made for the Australian market. The RX-R revelation features a 9-speaker Bose speaker system, leather seats, leather-wrapped steering, and door handles. It also has dual-zone climate control, power windows, and mirrors.
RX-8 nemesis (2006)
The Nemesis spec RX-8 has a combination of features from the revelation and PZ specs. Being the third RX-8 variant for the UK market, you would get it with 189 horsepower or 240 horsepower from the 1.3-litre engine used in other variants. 350 units were made, 200 in copper red and 150 in stormy blue.
M'z tune RX-8 (2006)
In 2006 Mazdaspeed made an updated version of the first Mazdaspeed RX-8. It was more performance-oriented as compared to the first Mazdaspeed. Apart from a new aerodynamic body kit, it featured a performance exhaust and improved radiator, a stiffer suspension, and a lightweight flywheel.
Kuro RX-8
This was an utterly blacked-out RX-8 featuring all features from the nemesis spec. In addition, it had wider exhaust tips, stiffer anti-roll bars, adjustable suspension, and a larger spoiler which provided more downforce. It was lighter and was only available with manual transmission because it was more race-focused.
40th Anniversary edition
The 40th edition featured unique color options: marble white, metropolitan grey mica, dark blue, and brilliant black. Larger alloy wheels, fog lamps, and a sport-tuned suspension with Bilstein dampers make the 40th-anniversary edition stand out among other editions.
Interior colors matched the exterior paint job or dual colored. Production was limited to 400 units spread out between Japan, North America, Australia, and the UK.
2008-2012
RX-8 R3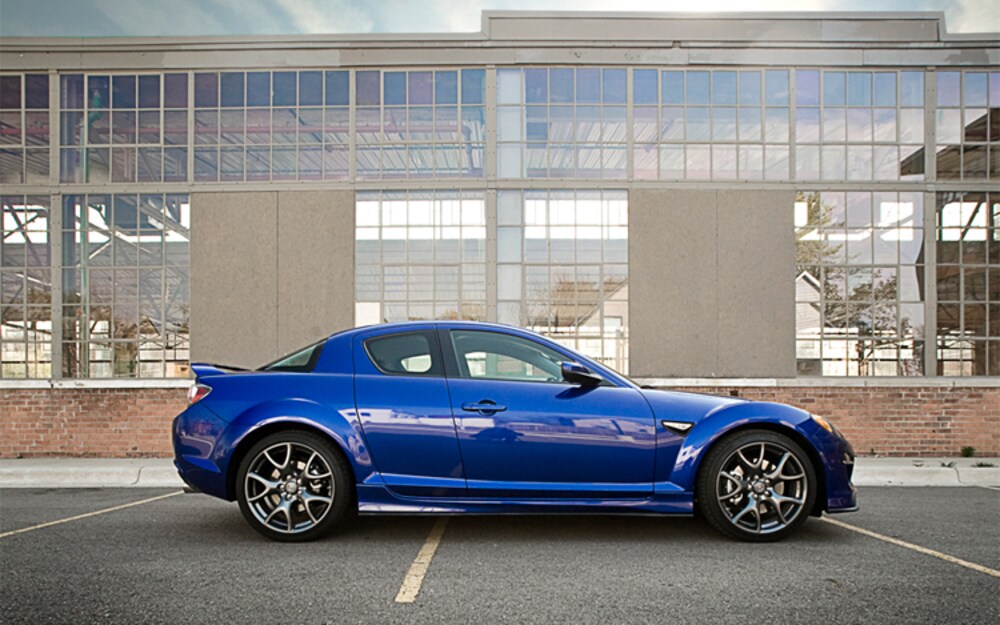 Most upgrades on the R3 are visible on the exterior as it features a front splitter, sportier 19-inch wheels, and tires, lower side sills. You get Recaro racing bucket seats in the interior, leather-wrapped steering, and a leather-wrapped parking brake handle. The same 9-speaker Bose system from the revelation spec is in the R3.
RX-8 Spirit R
Built to commemorate the end of the RX-8's production, the Spirit R has all high-end features available in every spec through the production years. The engine was reworked, and better components such as a high-pressure fuel pump, cold air intake system, and a second intake port were installed.
An aluminum hood and roof were installed to reduce the weight and a magnesium steering frame with a carbon fibre shaft. A track-ready suspension was also installed featuring Bilstein dampers. The Spirit also had a glass sunroof. Very few units of the Spirit R exist.
Production Numbers
Throughout the RX-8's production years, Mazda produced 192,094 customer units. You better grab yours before they start becoming rare.
FAQ
Does the RX-8 make a good project car?
Yes. The main factor to consider when buying a project car is the price. Since the RX-8 is cheap, you get a project car that runs and drive, meaning you can work on it as you use it. 
Is the RX-8 highly expensive to maintain?
It's not more expensive, but it's more involved. Apart from the engine, the Mazda RX-8 doesn't require more maintenance than the average car.
Does the RX-8 hold its value?
Entirely depends on the spec you'll buy. If you purchase any of the three UK spec RX-8s or a Spirit R, you can be sure it will hold its value better than any other model.
Can I swap engines in the Mazda RX-8?
Yes. The 3-litre engine is highly unreliable for some drivers, especially for drifting, racing, or even daily driving. Don't be surprised to see an RX-8 with an LS, JZ, K-24, or an RB swap. 
How to import a Mazda RX-8
Read our Ultimate Guide on How to Import a Car from Japan.