Honda S2000 Buying Guide
Probably second on any Honda enthusiast's wish list, trailing the legendary NSX, is the S2000. This affordable, high-revving, fun-to-drive 4-cylinder coupe made a splash when it was first released in 1999. Its 2-litre, naturally aspirated engine (N/A) put out 237hp (247 in Japan). At that time, that was quite an accomplishment and held the title of the highest horsepower (hp) to litre ratio of any mass-produced, N/A engine. Even by today's standards, 124hp/litre is still an impressive number. Over the years, the S2000 won praise for its reliability and performance from respected publications such as Road & Track, Car and Driver, Jalopnik, and J.D. Power and Associates, to name a few.
While the engine is the highlight of the S2000, commonly referred to as the "S2K", there is more to this little coupe. It came with a tuned suspension and a 50/50 weight distribution that gave it excellent handling characteristics. As a result, S2K's are popular to this day among car enthusiasts and racers alike. As a result, SCCA type track events are where this car shines. There are also plenty of aftermarket parts available from mild to wild to squeeze every bit of power out of its 2-litre (later 2.2) engine. Thus, if you are looking for a track warrior or weekend fun car, the S2000 will not disappoint.
Pros and Cons
Pros:
Fun to drive and impressive power from a N/A four-cylinder
Good handling characteristics
Affordable and reasonably priced, clean used models can be found for less than $20,000 USD
Lots of aftermarket performance parts are available
Quite reliable despite being a sports car
Cons
Underpowered by modern standards but can be fixed with a supercharger kit
Clean, unmodified, and accident-free S2000s are becoming more expensive and difficult to find
Can be somewhat unforgiving for inexperienced drivers, prone to fishtailing. Poor traction in wet conditions
A fairly stiff ride which might be uncomfortable for some
Some parts and repairs can be expensive, especially engine and transmission
Common Issues
S2000 is quite reliable. Most issues are usually related to how well the car was maintained (or lack thereof), and how it was driven. An S2K that has been modified or raced is likely to have more problems than a stock one. Not to mention, accident damage is common, and like any used vehicle, it should be inspected before purchase. With that said, here are some frequently reported issues with the S2000.
High oil consumption is a recurring theme for many 1999-2003 models. Consuming a quart per 1000 miles is not unheard of, although many times this is related to driving habits as VTEC motors tend to consume some oil at higher RPMs. However, it could also be a sign the motor is due for a rebuild which can be costly. Oil consumption issues were largely fixed by 2004 and did not affect the 2.2-litre (F22C1) engine.
A second problem which affected the early production 2-litre (F20C) was cracked intake valve retainers due to overrevving the engine. Usually, it was a cumulative effect over time, but should the retainer fail, expect to be in for some expensive engine repairs. Fortunately, the solution is fairly easy and cheap, with parts costing less than $200 and can be done with basic hand tools in your garage. It is usually advised to replace the valve retainers when buying a used 1999-2003 S2K. The F22C1 came with upgrade retainers and did not have this issue.
Lastly is the timing chain tensioner, especially on high-mileage motors. Like the valve retainers, it's a fairly inexpensive and easy fix. Fortunately, you'll usually have an audible warning such as a ticking or tapping sound coming from the engine at idle well before it fails. There are stronger, aftermarket tensioners available that address this issue as well.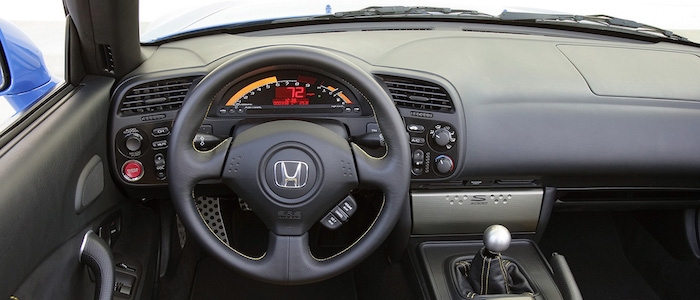 Average Prices
The S2000 has held its value and will likely become more expensive over the years as demand increases. Clean, accident-free, and unmodified models along with the Club Racer and the JDM-only Type-V and Type-S sell for a premium. Pricing typically ranges from $15,000-$25,000 USD.
Comparable Alternatives
There are not many directly comparable alternatives that were convertible and came with a N/A 4-cylinder engine in the $30,000 price range when new. The closest spec'd competitor is the Mazda MX-5; however, it was cheaper and had less horsepower. The BMW Z4 and Nissan 370 Fairlady are similar in terms of performance and were available as convertibles but had 6-cylinder engines.
Models and Specifications
The S2000 was produced from 1999-to 2009 with two engines offered depending on the year and market. Horsepower specs were as follows: 237 for the 2-litre (F20C) used in NA from 99-03 and the EU from 99-09, 247hp for JDM models from 99-05. The 2.2-litre (F22C1) 237hp engine was used in all North American models from 04-09 and 239hp for JDM models (06-09). A 6-speed manual transmission was the only option available.
1999-2003 Honda S2000 (AP1)
All versions received the F20C with JDM models having an extra 10hp due to a slightly higher 11.7:1 compression ratio.
Over the course of four years, there were several minor changes. Starting in 2001, an aluminum hardtop was now available. This was followed in 2002 with the plastic rear window being replaced with glass, the stereo was upgraded, and there were some minor suspension tweaks.
In addition, there was a JDM-only Type V produced from 2000-to 2007. The main feature of this model was an optional variable gear ratio steering (VGS). What this did was continuously change the steering ratio depending on the vehicle speed which improved handling and made parking easier. The suspension was slightly modified to complement the VGS as well.
2004-2009 Honda S2000 (AP2)
In 2004, the S2K received a refresh with several updates. The North American models now received the larger 2.2-litre engine followed by Japan in 2006. All other markets continued to receive the F20C through 2009.
The wheel size increased from 16" to 17", and the suspension was tweaked again, mainly the shocks and spring stiffness. The front lip and rear bumper were redesigned along with the headlight and taillight assemblies. Starting in 2006, drive-by-wire throttle and electronic stability control were introduced.
In 2008, a Club Racer (CR) model was offered in the US. This was essentially a track-ready version of the S2K. The main features of the CR were: a lower ratio steering rack, darker colored wheels, stiffer suspension, weight reduction mods, chassis braces, and a revised body kit and rear spoiler. In terms of weight savings, the stereo and A/C were optional, and the spare tire and jack were removed which made the CR approximately 90lbs lighter than a standard S2K. All models were hardtop convertibles and a total of 699 were made in 2008 and 2009.
A JDM-only version known as the Type S came with the above options although the suspension was slightly softer as it was more intended to be a streetcar. A total of 1755 of these were produced from 2008-to 2009.
Sales Numbers
| | | | | |
| --- | --- | --- | --- | --- |
| Calendar Year | US | Europe | Japan | Canada |
| 1999 | 3,400 | 1,179 | 7,209 | 332 |
| 2000 | 6,797 | 3,955 | 3,422 | 412 |
| 2001 | 9,682 | 2,197 | 1,913 | 401 |
| 2002 | 9,684 | 2,537 | 1,471 | 336 |
| 2003 | 7,888 | 2,095 | 961 | 238 |
| 2004 | 7,320 | 2,036 | 1,087 | 250 |
| 2005 | 7,780 | 1,795 | 981 | 212 |
| 2006 | 6,271 | 1,474 | 1,225 | 146 |
| 2007 | 4,302 | 1,116 | 997 | 123 |
| 2008 | 2,538 | 709 | 1,228 | 65 |
| 2009 | 795 | 680 | 1,122 | 49 |
| 2010 | 85 | 20 | 42 | 21 |
| 2011 | 5 | | | |
It should be noted that 2010 and 2011 sales numbers were leftover 2009 models that were still on dealer lots.
FAQ
How much is a Honda S2000?
If you are planning on buying a Honda S2000, you have to budget for a minimum of $10,000 if you want one in pristine condition. Prices can go up to over $50,000 depending on the condition, spec, mileage, and if it's a special edition model.
Why is the Honda S2000 expensive?
Compared to other cars in its class, such as the Mazda Miata or Nissan 350Z, the Honda S2000 is rarer, especially in the United States. There is also a high demand but low availability, which causes prices to increase each day.
What engine is in a Honda S2000?
You get the S2000 with a 2.0-liter F20C engine or a 2.2-liter F22C1 engine. Both are 4-cylinder DOHC engines. The F20C is in the first-gen (AP1) S2000 produced between 1999 and 2003, while the F22C1 is in the second-gen (APZ) made between 2003 and 2009
How much horsepower does a Honda S2000 have?
The Honda S2000 made around 240 horsepower throughout production despite using a different engine in its second-generation of production. However, the F22C engine used in the second-gen Honda S2000 is more fuel-efficient and has more torque due to shortened gear ratios for the first 5 gears
How many Honda S2000s were made?
No specific data shows how many Honda S2000 units were made. Still, from Honda's factory sales records and approximation by experts, around 115,000 Honda S2000s were made.
How much does a Honda S2000 weigh?
The AP1 Honda S2000 produced between 1999 and 2003 weighs 2910 pounds while the AP2 Honda S2000 weighs less at 2850 pounds
How much did a Honda S2000 cost when new?
When new, the Honda cost 28,000. The price varied with the specification and optional extras such as leather seats and powered windows.
Where can I buy a Honda S2000?
You can find several listings online or visit JDM showrooms and auto dealers. Luckily most Honda S2000 owners don't thrash their cars around, and you'll most likely get one in pristine condition or with a few issues. You can also contact importers or exporters for a custom import. View Honda S2000 Ads for sale
How Fast is a Honda S2000?
When stock, a Honda S2000 will do 0-60 in just under 7 seconds and accelerate to a maximum of 160mph or 260km/h.
Is a Honda S2000 durable?
Yes. The Honda S2000 is one of the most durable JDM sports cars. Suppose the engine is in good condition and the car has a good maintenance record. It will last for around 200,000 miles or 20 years, assuming that you drive it approximately 13,000 miles per year
When was the Honda S2000 unveiled?
The Honda SSM, a concept car from which the Honda S2000 is based, was first shown at the Tokyo Motor Show in 1995. When the actual vehicle when into production in 1999, Honda used the S2000 derived from the 2.0-liter engine (2000CC)
How much is Insurance for a Honda S2000?
Most insurance companies will value a car first before giving out the final annual insurance cost. However, the average yearly insurance cost for a Honda S2000 is $1,200. This is bound to increase or decrease depending on various factors such as the owner's age, home location, credit score, and driver's history, among others.
Can I import a JDM S2000 to North America?
If the S2000 is 15+ years old it can be imported to Canada. In the USA, it must be 25 years old.
Why is the Honda S2000 still so expensive?
They were well-built, fun to drive, and with good performance characteristics. As a result, they have become popular over the last few years.
What is the most desirable S2K model?
The Club Racer, Type S and Type V (JDM only). These three are the most desirable with the CR and Type-V being as close to a street-legal race version of the S2000 as you can get. The Type-S had an extra 10hp and was the only model that came with the VGS.
What should I look for when buying a JDM S2000?
Considering the S2K is a sports car, a prospective buyer should have the vehicle inspected before purchase. The main things to check for are accident damage and whether has it been modified and/or raced. If the answer is yes to any of these, you might be in for some costly repairs later.
Sources
How to Import a Honda S2000
Read our ultimate guide, How to Import a Car from Japan.
Can you make this guide better? Are you a huge fan of the Honda S2K? If so, please contact us.