1 - 36 of 41 Toyota Hiace ads
Toyota HiAce Buying Guide
You probably see the Toyota HiAce, the JDM van, daily on your commute to work or school and wonder why someone would buy it. If there is a van that can do it all, it's the Toyota HiAce. Well, it's not that common in the US, but you can easily buy or import one. This is because Americans don't like full-cab over-engine vans, but through this guide, we might make you walk into a JDM car dealership and buy one.
JDM cars are cheaper and have low running costs even in foreign markets, including the US. Maybe a Kei van is too small for you, and a mid-sized van like the Mitsubishi Delica or Mazda Bongo might not suit your ever-growing needs in the future. This is where the Toyota HiAce comes in.
But is it better than its US competitors, such as the Ford Transit or Chevrolet express? If you are a JDM fan, you'll automatically go for the HiAce and probably use it to haul parts for your other JDM cars. The possibilities of owning a Toyota HiAce are unlimited. You can buy one and let it sit as you think of something to do with it. Modifications are possible, especially if you want to improve the aesthetics of the boxy body.
Production of the Toyota HiAce began in 1967, and it's among the cars produced during Toyota's golden years alongside the Toyota Century, Corolla, and Crown. However, it faced competition from Nissan Homy, which had already entered the Japanese market in 1965.
Earlier generations were made as vans or trucks, but this changed over time as Toyota discontinued the HiAce trucks. Newer trims such as the Touring and Grand HiAce were introduced to cover as much market share as possible. In Japan, the HiAce is not just your average van. Some trims are even used by government officials and high-ranking members of society. Toyota also made camper and ambulance versions of the Toyota HiAce.
Pros and Cons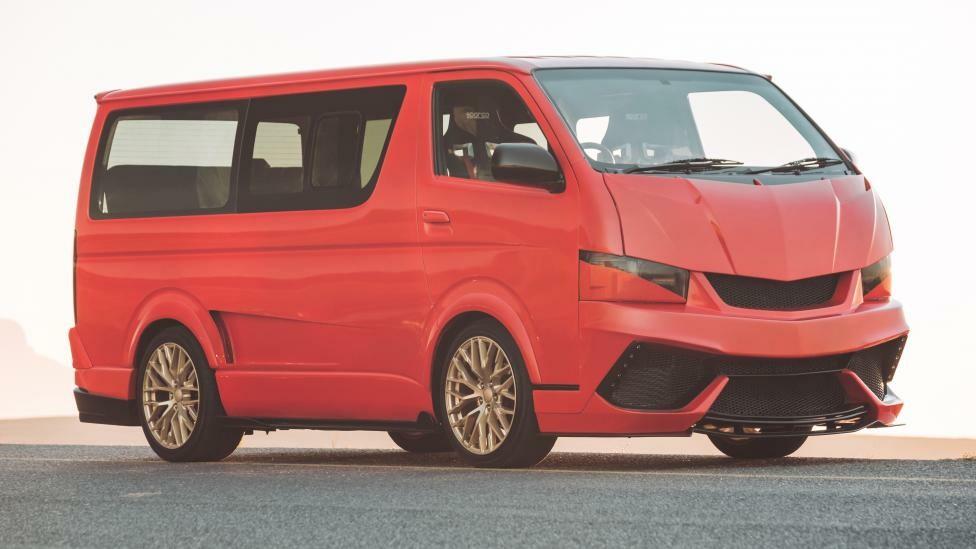 Pros
Narrower Than Most US-Made Vans
The Toyota HiAce was made as a city van due to Japan's congested city and town roads. Regardless of its size, it's still smaller than most US vans. Even the high-roof and camper variants are narrow enough to navigate city roads. You'll not have to break your neck checking if the rear bumper or tail lights scrap on a wall or another car.
But its narrow size and short wheelbase do not mean it has limited loading and cabin space. You don't have to worry about city parking spaces if you run a food or grocery delivery business. You can also turn one into a passenger van if you please. A base model HiAce, which is the narrowest, can fit 14 passenger seats.
Cheap
$9,000 isn't that cheap for a 2006 Toyota HiAce base model. But when compared to its competition, it's a bargain. For example, a well-maintained Ford Transit will cost you double that price. So, why not buy an extra Toyota HiAce or expand your business with the change?
Luxury trims and camper models go for approximately $12,000. This is not bad since the only other option you have at that price is an old camper trailer. If you don't have a car to pull the camper trailer with then, you'll have to add one to the budget when getting the trailer.
Small Running and Maintenance Costs
When buying a car, there is a saying that if you can't afford it twice, don't buy it. You'll have to account for running and maintenance costs which sometimes might surpass the car's actual value. But this is not something you'll have to worry about when buying a Toyota HiAce. After all, it's another bulletproof Toyota.
Like any other car, the Toyota HiAce has its share of problems that some inspection and repairs can solve before you start using it. When you do that, you'll have the most reliable van you can ever own. Fuel consumption is at around 23mpg, even for older models.
Maintenance costs shouldn't be a bother as OEM parts are readily available. You might have to ship some from Japan or buy them from eBay, but they are inexpensive. A Toyota HiAce will last approximately 350,000 miles or more if maintained well.
Practical
The main advantage of having a van is that you can use it for any purpose, and the Toyota HiAce is no exception. Most will buy one without the rear passenger seats and use it to ferry around stuff until they think of what to do with it. If you love traveling around the country, the load space is enough to accommodate one or two people. However, you'll have more room if you buy a high roof model wider than a flat roof model.
To some, MPVs are slightly old-fashioned, and a luxury van is a better option. But if you can't afford a Mercedes Benz Sprinter, there are cheaper options to consider. Customizing a Toyota HiAce shouldn't be difficult, especially if you get one without the rear seats.
Some older models, badged as HiAce Super Long or Super Custom, come with rear reclining seats. The interior is plusher than the base models, so if you prefer old-school luxury, you can pick up one of these. Other trims such as the Touring and Grand HiAce also have such features.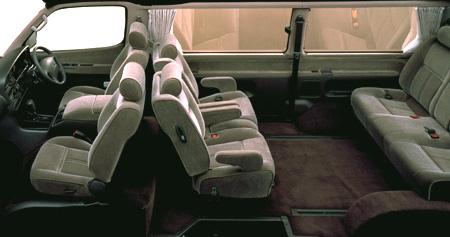 You can also turn a Toyota HiAce into a tool van for your drift car. Or if your drift car is under 3500 pounds, you'll never need a tow truck or have an uncomfortable ride home after hard laps at the track. All you have to do is get a trailer and mount it to your HiAce.
Cons
Outdated Build Quality
Well, this isn't new to you if you have been around several Toyotas. Regardless of the year of manufacture, Toyota always seems to be behind in terms of build quality. Except for the Toyota Century, of course.
The exterior on a Toyota HiAce appears as blunt as blunt can be. As if the plastic in the interior isn't enough, the front and rear bumper are made of unpainted plastic that fades over time. The side mirrors, too, are made of unpainted plastic. It's a working van, but buying a Toyota HiAce might require some cosmetic modifications.
In the interior, you get the apparent plastic door trims, dashboard, and center console which might be discolored depending on previous ownerships. The seats will need some upholstery if you use the van often, as the soft fabric will wear out in no time.
Body Roll Risk
Vans are not speed-friendly, especially for enthusiastic drivers who love putting the pedal to the metal. The Toyota HiAce's height puts it at risk of rolling over at high speeds or when cornering. It might have a manual transmission but shouldn't be driven like a Toyota Supra or Celica.
Common Issues
Turbo Failure on Diesel Engines
Toyota engines might be bulletproof but wear out like any other engine. However, the issues are not as denting as they are bound to happen. You don't wake up one day, and suddenly the engine doesn't start, or the transmission won't go to reverse or slip gears.
One of the main issues you'd expect is turbo failure on diesel engines such as the 3.0-liter 1KD-FTV and the 2.4-liter 2L-TE. The Toyota HiAce is a reliable workhorse, but this doesn't mean that you should skip maintenance schedules. If you buy a used one, you should have it inspected, especially around the head gasket and turbocharger.
Also, check if the air filter has been recently replaced. A dirty air filter indicates contaminants have been getting into the turbocharger after contaminating the oil. Dust and small rock particles clog the turbocharger, resulting in the exhaust's loss of power and white smoke.
If oil is leaking through the head gasket, the turbocharger is oil starved, which might also lead to engine failure. Check the oil lines and also the boost lines. The turbocharger might be in good condition but is deprived of airflow due to clogged or leaking boost piping.
Cracks and Chips on Paint (Rust)
Like you'd expect with any other van, the build quality isn't as good as a flagship sedan or MPV. One of HiAce's major weaknesses is poor quality paint on the exterior and interior. The paint will peel off at one time or another, and rust will accumulate without noticing.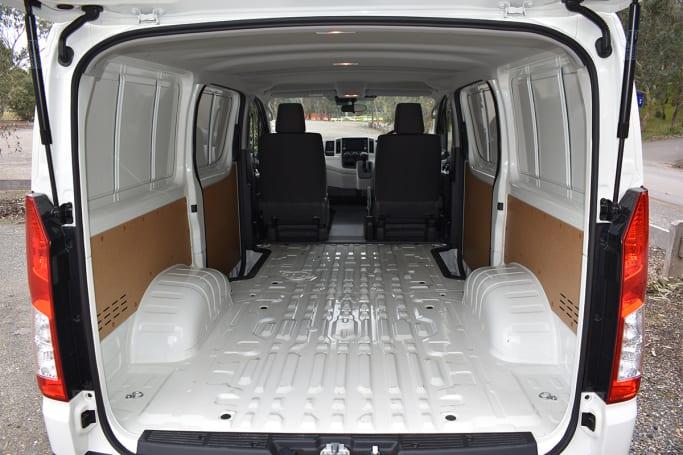 You should also check underneath and behind the front and rear bumpers. Disassembling both bumpers shouldn't be hard since they are made of plastics. You don't need to repaint the area if you plan to use your HiAce as a load van. Rust proofing is enough since the paint will get scraped off over time.
Noisy Transmission
This is a common issue in older models, mainly associated with the transmission bearing. The transmission bearing wears out quicker than expected when a car is in constant use. Early signs of transmission bearing failure on a Toyota HiAce include rumbling and growling when decelerating from high speeds. The noise will gradually increase, and you'll hear it when decelerating from speeds as low as 12mph.
Another sign of a failing transmission bearing is tiny bits of metal in the transmission oil. A common hack is passing a magnet close to the oil when draining it. You can also throw it into old oil after draining, then fish it out after a few minutes. Oil fillings indicate transmission wear and tear due to insufficient lubrication. If you change the oil and this persists, you'll need the transmission checked before it becomes too faulty for an overhaul or replacement.
Faulty Clutch
Another transmission-related issue in the Toyota HiAce is clutch failure. However, this is a user-related fault since most owners tend to skip maintenance schedules. A day lost at a garage is a dollar lost. If you imported your HiAce from Japan, there's a chance it has the OEM clutch, which has seen better days.
HiAce vans in Japan ferry fish from seaports and fresh produce from farms to busy city markets. Such trades will wear out the clutch quicker, especially in units with a manual transmission. The best option is replacing the clutch, which should be done before you consider any other upgrades or modifications.
Airbag Sensor Failure
Depending on the year of manufacture, you'll find various safety features. Older models only have basic safety features such as ABS and traction controls. Newer models have advanced safety features such as lane keep assist, stability control, and a pre-collision warning system. Some features such as dual front SRS and curtain airbags are standard in most models.
Due to old age, sensors controlling these safety features might fail in case of a crash, or they were not replaced after a collision. But the airbag sensor is known to fail even in newer models.
Toyota HiAce owners have complained of airbags not deploying after a crash or deploying too late. Some have also reported airbags deploying even when the van has not been involved in a collision. A number of Toyota models have been recalled for front driver and/or front passenger airbag inflators that were manufactured by Takata Corporation.
Before purchasing a Toyota HiAce, checking if the airbag sensor is functional using an OBD scanner is safer. Replacing the wiring harnesses on older models is also recommended, but only if the battery terminals are disconnected.
Average Prices
If you want a Toyota HiAce, the best option is the fifth-gen (H200) made from 2004 to 2019. Prices start at approximately $6,000, which is a solid bargain. Older models sell at the same price; if a newer model is better, it's not worth buying an older one.
Camper, ex-ambulance, and ex-government units sell for more mainly because of their engines. Toyota fitted these with more powerful V6 and V8 engines.
Comparable Alternatives
Models and Specifications
1967-1977 Toyota HiAce (H10)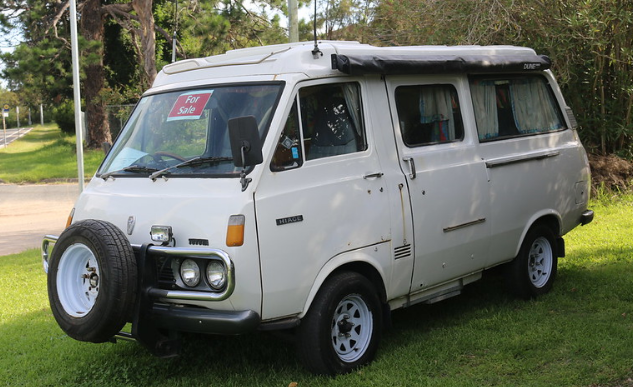 1960s cars like the H10 HiAce are hard to come by. It belongs to a category of cars that revolutionized the transportation sector in Japan. The first-gen HiAce was built to meet the high demand for transportation in Japan, offering more passenger and cargo space than the Toyota Crown pickup and wagon.
First production units were built as 8-seater passenger vans after the Nissan Homy, which was introduced in 1965. Later on, Toyota made truck and camper versions sharing the same 4-cylinder engine options and 4-speed manual transmission with the HiAce van.
1977-1982 Toyota HiAce (H11, H20, H30, H40)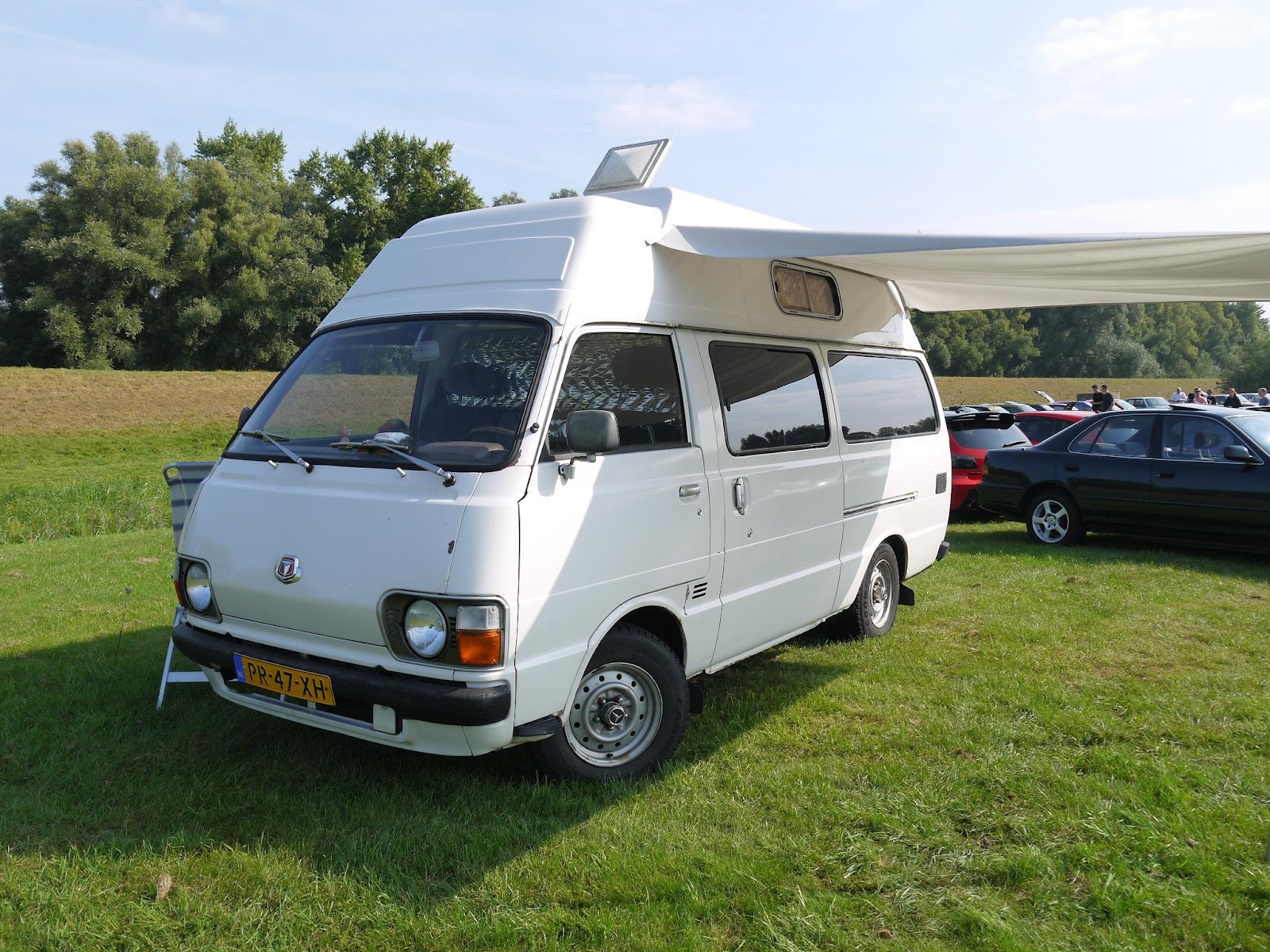 Passenger capacity was increased to 15 in the second-gen HiAce produce from 1977 to 1982. However, due to Japanese road tax regulations, Toyota made a smaller version of the Toyota LiteAce. The LiteAce has similar dimensions to the H10 HiAce but with a facelifted front end from the second-gen HiAce.
Like the bast gen HiAce, the second-gen was made as a van, pickup, and camper configuration. The camper van has a lower ride height than other models and was sold as the Toyota HiAce living saloon. You get the second-gen HiAce with a variety of 4-cylinder petrol and diesel engines driving the rear wheels via a 4-speed manual transmission. The pickup and the camper van also come with part-time 4WD.
1982-1989 Toyota HiAce (H50, H60, H70, H80, H90)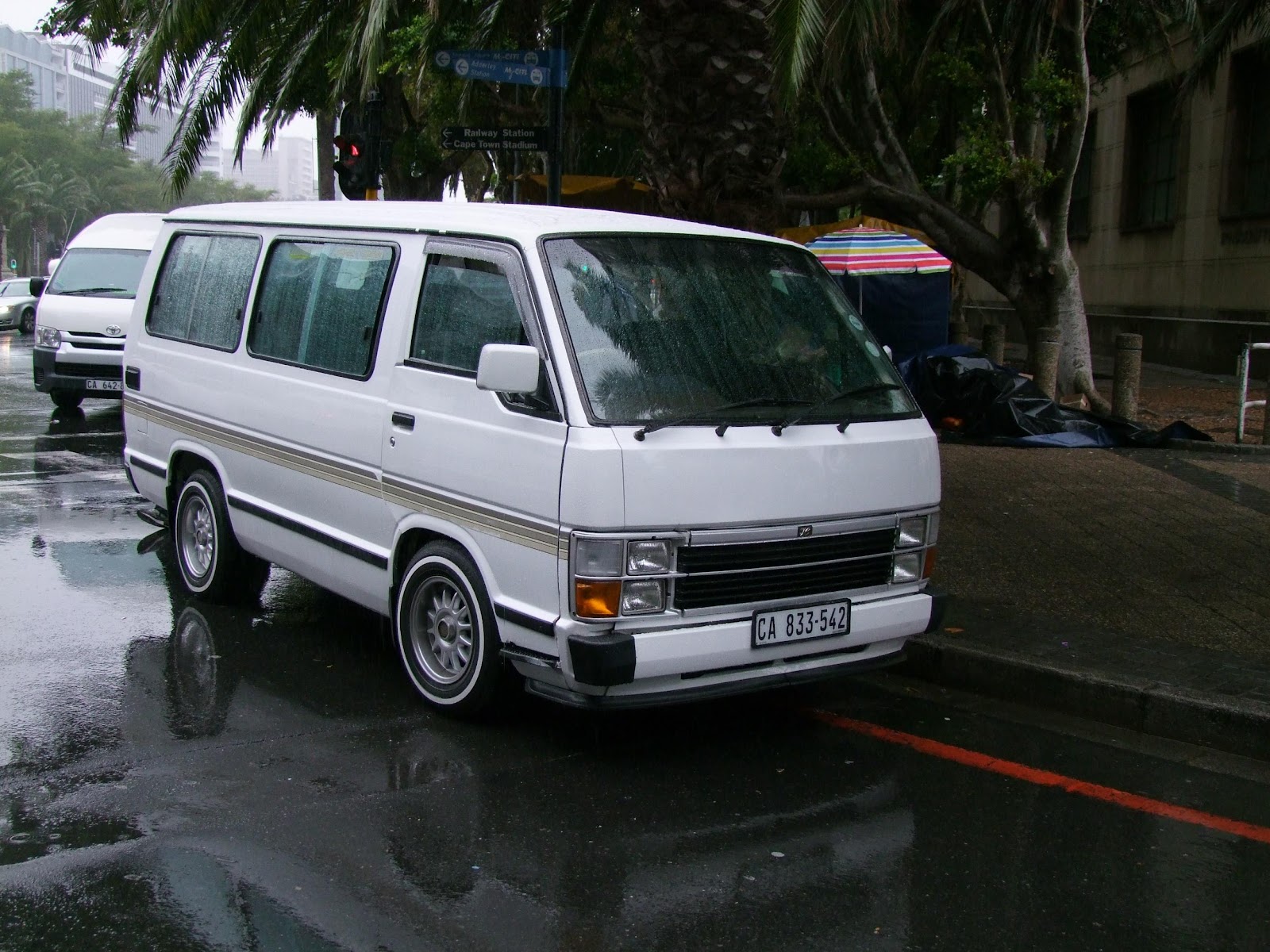 Production of the third-gen Toyota HiAce began in 1982 with the HiAce van first. Then the pickup joined the production line later in 1985. However, the pickup was built differently, unlike in previous generations, where it shared a front end with the HiAce van.
New trims were introduced for the HiAce van, from Ambulances to wagons and minibusses, but all shared the same platform. The HiAce camper van was rebadged to the Toyota Mobile lounge produced under a different production line. It's based on the HiAce high-roof from which the HiAce ambulance was also built.
Toyota also introduced a new 5-speed manual and a 4-speed automatic transmission as extra options alongside the 4-speed manual transmission used in the previous two generations. You get the third-gen HiAce with a 1.8-liter, 2.0-liter, and 2.2-liter petrol engine or a 2.0-liter and 2.4-liter petrol engine. The pickup and camper models were the only models sold with part-time 4WD. In South Africa, the third-gen HiAce was produced even after the H200 was unveiled in 2004.
1989-2004 Toyota HiAce (H100)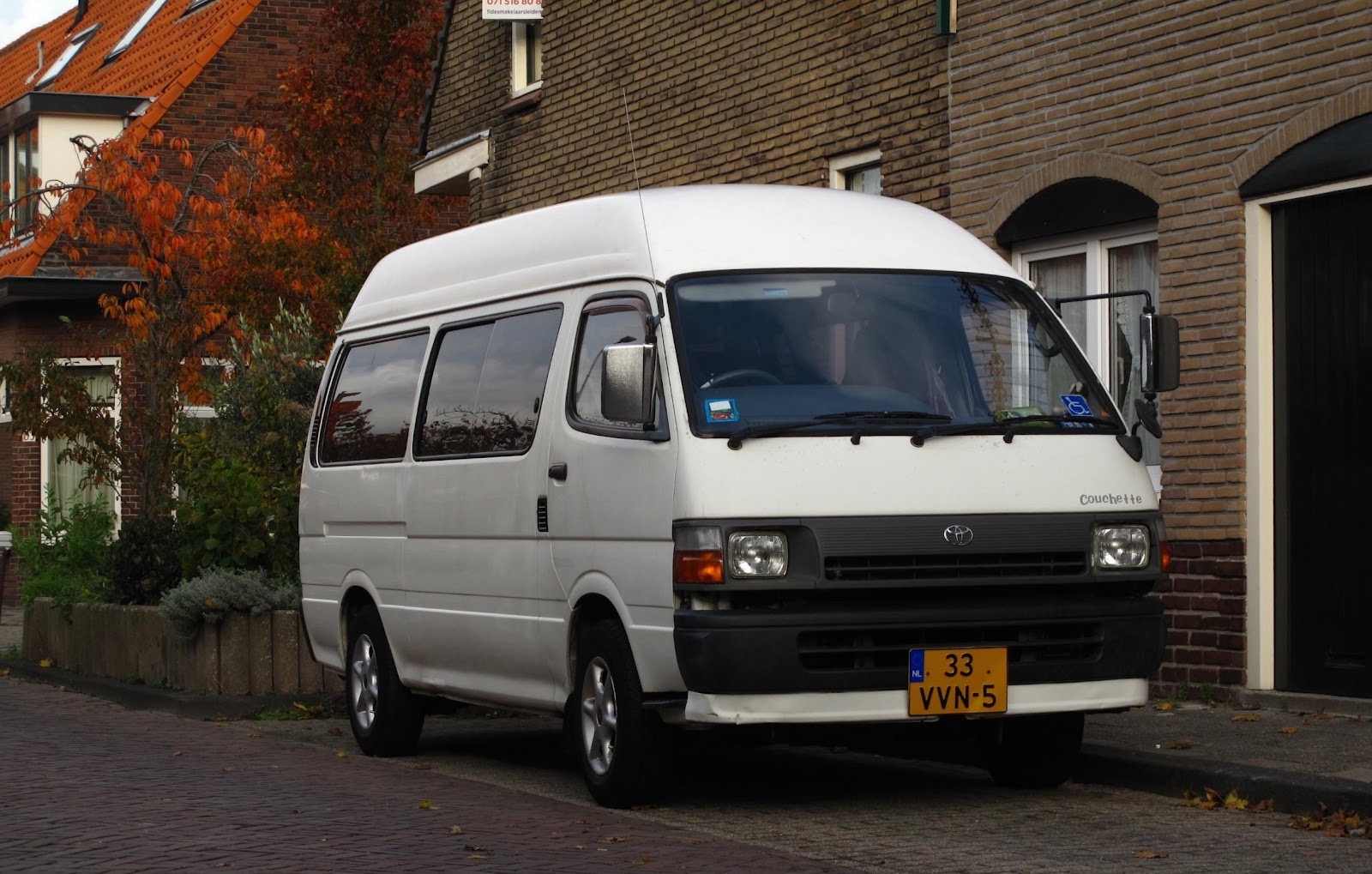 The HiAce H100 was launched in 1989 in more markets than its predecessors. Apart from China and Japan, it was also sold in Sri Lanka, South Africa, Europe, the UK, and the Philippines. There is also a badge engineered Chinese make badged as the Jinbei Haise.
Toyota diversified trims in the fourth generation more than in previous generations. Some trims have the short wheelbase platform, while others have an extended wheelbase platform. Both were sold with a standard flat roof, raised roof, or a high curved roof resembling a loaf of bread. 
Engine options were increased as 13 engines, six petrol engines, and seven diesel engines were offered in the HiAce H100. JDM variants mainly come with 2.0-liter petrol or 2.8-liter diesel engines. A 3.4-liter V6 and 4.0-liter V8 engine were used in custom-made government and healthcare (Ambulance) units. Others such as the 3.0-liter 1KZ and 5L were used in export markets only due to Japanese road tax regulations affecting cars with large engines. Luxury trims such as the Regius Ace, Touring HiAce, and Grand HiAce produced separately also have the same engines. All trims were sold with a 4-speed automatic or 5-speed manual transmission.
2004-2019 Toyota HiAce (H200)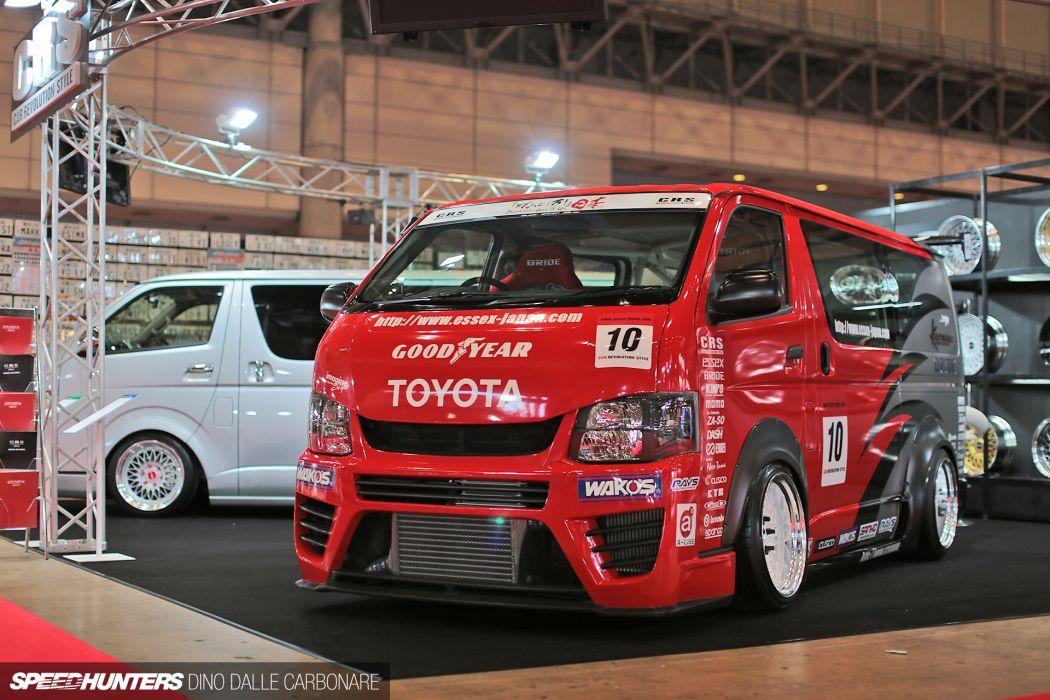 If you plan on buying a JDM van, the fifth-gen HiAce is your most desirable option once it's legal to import in your country. (2029 in the USA) It uses a longer and wider platform than its predecessors. It has smooth flowing body lines, which make the boxy appearance seem less box-like.
Only two petrol engines, 2.0-liter and 2.7-liter, were used in the HiAce H200 compared to the five diesel engine variants. However, the 2KD (2.5-liter diesel engine) and 1KD (3.0-liter turbocharged diesel engine) were mainly used in units exported to the Philippines. The 3.0-liter GL, 3.0-liter 1KZ, and 2.8-liter turbocharged 1GD were the main engines offered in JDM units. Transmission options remain similar to those in the HiAce H100 but with the addition of a 6-speed automatic.
The fifth-gen HiAce can come with 10 or 14 passenger seats, while high roof models can seat 18 passengers due to the extended length and width. Other minor changes include the repositioned gear lever to the dashboard to ease movement when shifting gears and the addition of AC for the rear passengers.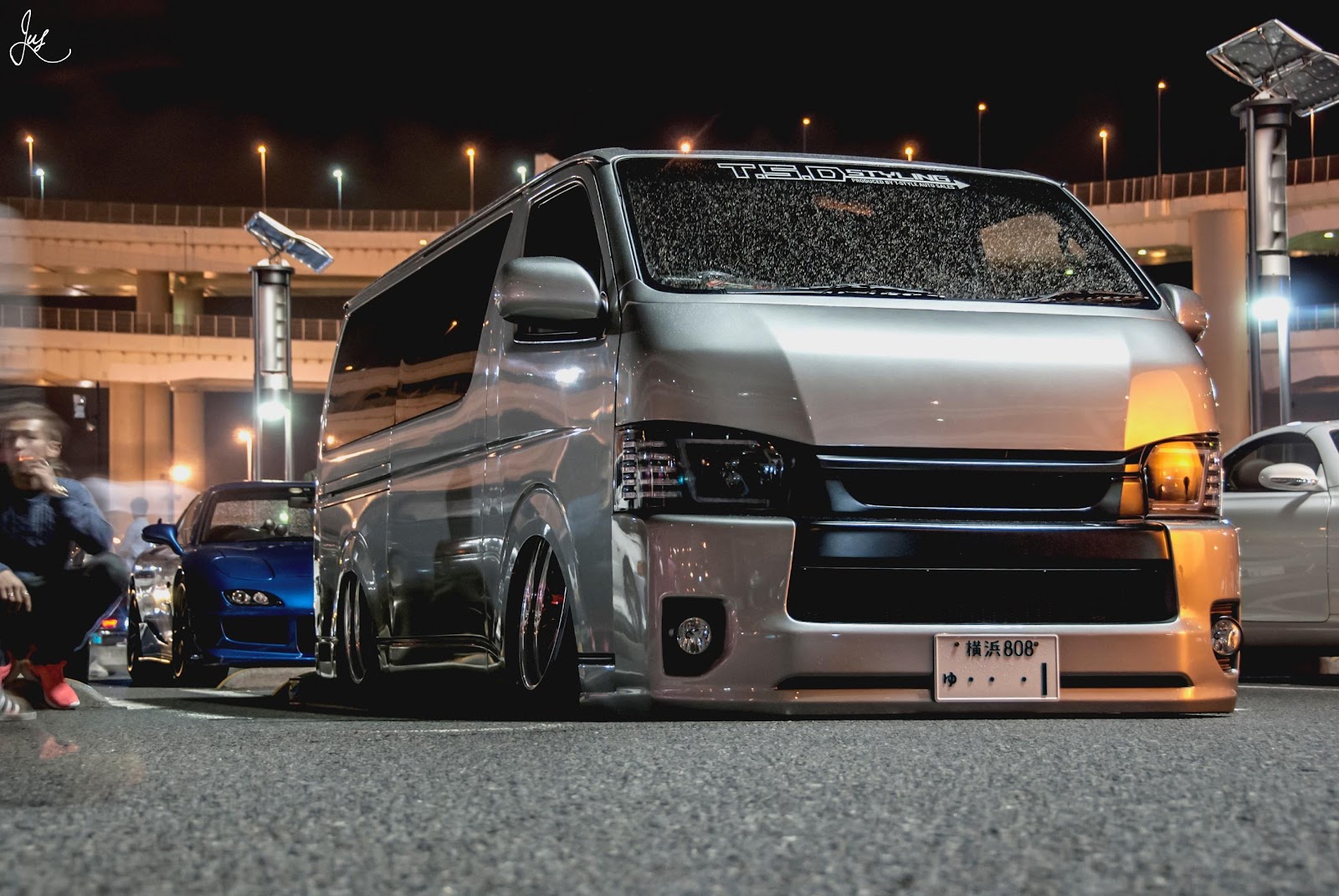 Toyota hasn't yet discontinued the HiAce in Japan, but it was discontinued in the Philippines in 2019. The Philippines is one of Toyota's biggest export markets for the Toyota HiAce, closely followed by Thailand and other African countries such as Egypt and South Africa, among other African countries. After discontinuation, the HiAce H200 was replaced by the H300 only in the Philippines.
2019-Present Toyota HiAce (H300)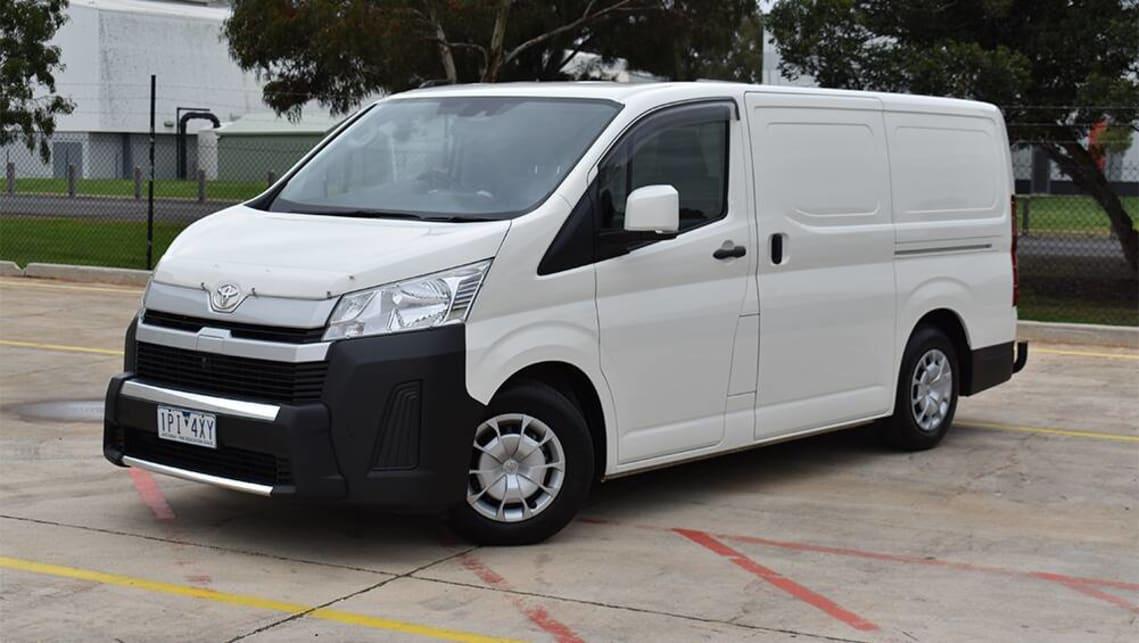 The HiAce H300 was unveiled in the Philippines in early 2019 to replace the recently discontinued H200. Unlike the H200, the base model has a protruding hood. You can get it with a 2.8-liter turbocharged 1GD similar to the one used in the H200 and a 3.5-liter V6. Later in the same year, the H300 was launched in Indonesia, Australia, Mexico, and Thailand.
FAQ
Which is a Better Option, a Petrol or Diesel Engine Toyota HiAce?
It depends on how you are going to use the van. A Toyota HiAce with a diesel engine is better from a business perspective or if you plan on being on the road longer than you are at home. On the other hand, a HiAce with a petrol engine suits small businesses and drivers who want a low-maintenance and reliable van.
Is a Toyota HiAce Reliable?
Regardless of the engine used, the Toyota HiAce is one of the most reliable vans ever made. Fuel consumption is above average, and maintenance costs are similar to those of a Toyota Yaris. Sometimes you'll not even notice when you skip a maintenance schedule since most drive like new, even those 30 years old. 
Where Can I Buy a Toyota HiAce in the US?
Most owners are reluctant to sell theirs, and besides, the best place to buy a JDM car is from JDM car dealerships. If you can't get a HiAce for sale locally, importing one is as easy as a cake bite, especially if Import agents do the buying, shipping, and clearing process for you. 
Is a Toyota HiAce Expensive?
The Toyota HiAce isn't as cheap or expensive as you thought. It's cheaper than most US-made vans and more expensive than most JDM vans.
Which is Better, a Toyota HiAce or a Nissan Caravan?
Both vans are great, and it all comes down to manufacturer preference. However, from a neutral standpoint, the Toyota HiAce is more reliable and will last longer than a Nissan Caravan. If you compare older models of both, an older HiAce looks and drives better than an older Nissan Caravan.
Is a Toyota HiAce Fast?
Vans like the Toyota HiAce aren't meant to be driven fast, but older models top at around 90mph while newer models have a maximum speed of 120mph.
How to Import a Toyota HiAce
Read our Ultimate Guide on How to Import a Car from Japan.