Buying a JDM car is only sometimes a walk in the park, with many options available for different price points. However, if you have a specific budget range set, for example, $5,000 to $10,000 or $30,000 to $40,000, making a list of cars to consider becomes easy as it narrows options to cars within that price range. Most JDM car buyers don't set minimum spending, but they have a maximum figure preventing overspending. And going by recent JDM car prices, the most buyers would pay for a JDM car is $20,000. Only a few would inch up to $30,000 or $40,000, which is the kind of money you put on a car you're not willing to abuse or sell soon.
This article covers some of the best JDM cars you are guaranteed to get for under $20,000, regardless of whether you buy locally or import from Japan. Options range from straight-up JDM tuner cars and daily-driven JDM sedans and wagons that are equally as fun to drive as their highly-priced counterparts. Additionally, if you're looking for a JDM project car for under $20,000, there are some on this list that you can consider.
JDM Cars Under $20,000
Toyota Supra MK3 (A70) GT-T
The Toyota Supra MK4 (A80) is adored by car enthusiasts being the most iconic JDM car alongside others such as the Nissan Skyline R34, Honda NS-X, and Mazda RX-7. However, it's among the highest-selling JDM cars, with some of the cleanest examples selling for 6 figure prices. Luckily, Supra MK4 Prices don't affect MK3 Prices, as you can quickly get one for less than $20,000. Older generations go for less, but they are worth buying if you have a JZ engine or any other tunable engine for sensible power.
With a limited number of fast JDM sports cars for under $20,000, the Toyota Supra A70 is the best you can get that meets all the qualities befitting a fast JDM sports car. It has decent engine options, including twin-turbocharged 1JZ-GTE and 1G-GTE engines. Compared to the naturally aspirated 1G and the old 7M engines, these are reliable and the easiest to make power out of. You can get an R-spec A70 Supra made exclusively for the Japanese market. It was sold with a factory-tuned 1JZ-GTE which made almost 300 horsepower making it one of the fastest JDM cars during production.
What are the major disadvantages of owning an A70 Supra? The biggest letdowns are that it's a handful to drive due to its weight, and fuel and oil consumption make it a high-maintenance car. If you don't plan to do an engine swap, avoid A70 Supras with the 7M engines, as they are stressful to work on and notorious for complete engine failure.
View Toyota Supra Ads For Sale
Read Our Toyota Supra Buying Guide
Mitsubishi Galant VR-4
Before Mitsubishi turned to making "customer-oriented" cars, they made some of the best JDM cars, and the Galant VR-4 is one of the best. It started when Mitsubishi had to make a homologation special for their WRC Group B rally car in 1987. Production only lasted 15 years, during which Mitsubishi used the infamous 4G63T in the first generation and two variants of their twin-turbo V6 engines in the second and last generation Galant VR-4. In the previous generation produced between 1996 and 2002, a wagon variant sold as the Legnum VR-4 was introduced for the Japanese market, one of the best JDM wagons.
Most car enthusiasts won't know what a Galant VR-4 is until you explain that it's not a Mitsubishi EVO VI with a ridiculous wide-body kit. But this doesn't mean the Galant VR-4 is less good than the EVO. It's even better in some aspects, depending on your needs. For example, the 1987-1992 Galant VR-4 got all-wheel steering which the EVO never got, and a Legnum VR-4 is more practical with more cabin and trunk space. The only significant advantage the EVO has is that it's nimbler due to a lighter chassis.
Owning a Mitsubishi Galant will set you to experience the same issues as a Mitsubishi EVO. The most common problems include oil leaks, AYC system issues, and transmission failure if you buy one with an automatic transmission and drive it hard. Other than that, the Mitsubishi Galant VR-4 is one of the coolest daily driver JDM cars you can get for under $20,000.
View Mitsubishi Galant Ads For Sale
Read Our Mitsubishi Galant Buying Guide
Subaru Legacy GT
With Subaru Impreza WRX and WRX/STi prices reaching above $30,000, the Subaru Legacy is the perfect alternative for under $20,000 if you want nothing but a Subaru. Prices average the low and mid $10,000s, ideal for buying your first JDM car. It also leaves enough change for mods and minor upgrades, given that Subaru engines need some TLC if you want them to last. The best thing about buying a Subaru Legacy is that most are rarely abused, unlike Imprezas.
Finding a clean, locally used example is easy if you want to avoid the long process of importing one. However, Japanese market models have the best engine options, with the 2.0-liter and 2.5-liter sequential twin-turbo engines being the most sought-after due to their tunability. You can also get one with some nice OEM goodies such as BBS wheels, a MOMO steering wheel, and Recaro seats which give that race car feeling you don't get in most family sedans and wagons.
The main disadvantage of owning a Subaru Legacy is that it's slow when stock but still handles well, thanks to Subaru's AWD system. Expect issues caused by oil leaks, starvation, and high consumption, such as turbo failure and overheating, which are the boxer engine's biggest flaws.
View Subaru Legacy Ads For Sale
Read Our Subaru Legacy Buying Guide
Suzuki Cappuccino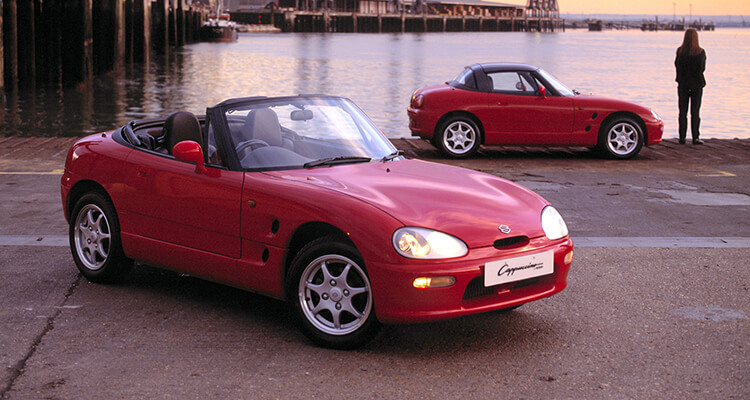 The Suzuki Cappuccino might be overpriced at slightly above $10,000 for a Kei car. Still, it's a worthy garage addition if you want a vehicle to have rear-wheel-drive fun occasionally without spending much. Sure, there are other options, such as the Mazda Miata, which you can get for half as much as a Suzuki Cappuccino. But the only reason that justifies not buying a Suzuki Cappuccino is its impracticality if the price doesn't bother you.
What the Cappuccino lacks in practicality covers for in driving pleasure. Driving one on a warm summer morning with the roof down gives you the feeling of driving a Porsche. Thanks to its lightweight chassis, it has no problem keeping up with regular traffic and sports cars on the track despite its underpowered 660cc engine. If the bullying becomes too much, some bolt-on upgrades and a tune will do the magic. You can swap a better-performing engine that might anger purists, but it gives you an advantage over boosted Miatas and S2000s.
View Suzuki Cappuccino Ads For Sale
Read Our Suzuki Cappuccino Buying Guide
Nissan Gloria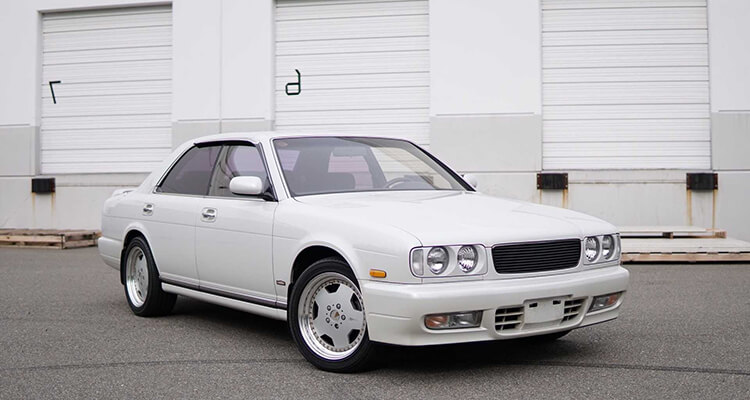 The four-door luxury sedan was named Prince Gloria (Infiniti M45) before merging with Nissan Motors to form the now called Nissan Gloria. Powered by a VG series engine with specific editions offering turbo. It's got one unique exhaust that cuts most of the sound off, making the cockpit nice and quiet, creating that luxury driving experience.
View Nissan Gloria Ads For Sale
Mitsubishi Lancer MX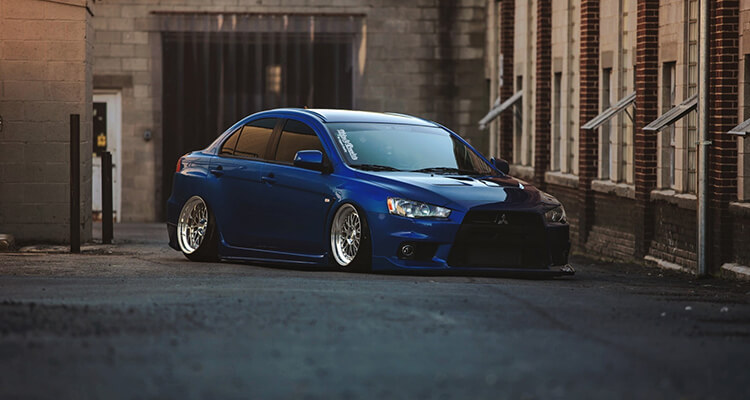 The Mitsubishi Lancer was already a fan favourite back for rally racing in the '90s, with traction built for any weather condition thrown at it to a great engine. Mitsubishi created a more high-end version later called MX with a 1.8L 4G93 SOHC engine inside of it. You can find some versions for under $5,000 USD depending on the year and maintenance, although prices always vary.
View Mitsubishi Lancer Ads For Sale
Nissan Pao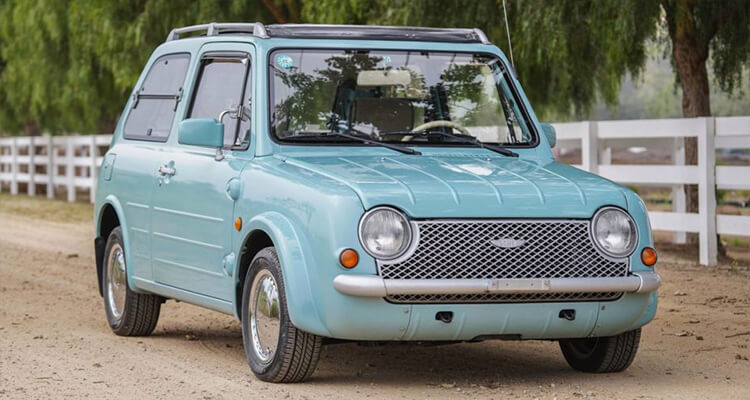 One of the smallest manual 5-speed cars you will ever drive. The Pao has a four-cylinder engine with 88 km/h, which isn't a lot, but when you consider how light the car is, 1.600 lbs, it makes sense. These cars back in the day were special editions making them extremely rare to find. Prices can range anywhere from $9,000 to $13,000 USD that we have seen.
Nissan S-Cargo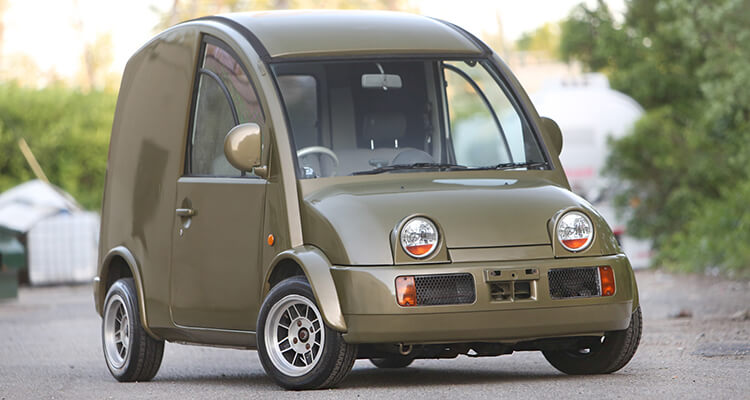 As the name implies, the S-Cargo's body is built in the shape of a snail, pushing up to 160 km/h, this is a perfect around-the-city car, although not the best for highway use, it will hold up. As far as prices go, The S-Cargo isn't that high-priced. They can be easily found for under $5,000 USD.
View Nissan S-Cargo Ads For Sale
Honda Prelude SiR
Honda didn't make a Type R version of the Prelude, but they made a SiR spec with the 2.2-liter H22A VTEC engine, which is better than the B16B in the EK9 Civic Type R. But the Prelude isn't the type of car you'd buy, slap a big turbo on it and put some slicks on to race it against Supras. It's the car you buy if you feel Civics are too overrated and common, and having something different is a deal breaker. It looks good, is comfortable to drive, and is extremely reliable if you keep it stock or choose mods widely. Some units even got some comfort features such as an electronic sunroof, leather seats, and dual-zone climate control which are a joy to have in a car from the 80s or 90s.
Besides the unavoidable rust and old oil leaks in older Hondas, the Honda Prelude is one of the most straightforward JDM cars to own. It's also easy to work, and parts are easily accessible due to excellent aftermarket support partly influenced by the Civic's presence in the United States. $15,000 will get you a clean Honda Prelude SiR or a SiR Type S, which is quite a bargain. However, Honda didn't sell the Prelude SiR Type S with all-wheel steering. You better snatch one up before prices go through the roof due to increasing demand.
View Honda Prelude Ads For Sale
Read Our Honda Prelude Buying Guide
DSM Mitsubishi Eclipse
It might take a while to come across a clean example, but the Mitsubishi Eclipse is one of the best JDM cars you can buy for under $20,000. It was one of the best Japanese cars in the 1990s, and buyers loved it more when the second-gen Eclipse was featured in the first Fast and Furious movie. However, it began to lose its status in its third generation after Mitsubishi split with Chrysler. Only the first two generations are considered worth buying today. These are often referred to as DSM (Diamond Star Motors) Eclipses, as they were built on the DSM platform co-designed by Mitsubishi and Chrysler between 1989 and 1991.
Power comes from Mitsubishi 4G series engines, the best one being the 2.0-liter turbocharged 4G63T in the GS-Turbo and all-wheel-drive GSX model. The turbocharged specs also have all-around disc brakes and a sport-tuned suspension. Some got the optional glass sunroof on the hardtop and bucket leather seats. Models with naturally aspirated engines sell for less than $10,000, which is the perfect price point if you're in the market for a JDM project car.
Rust, a poor-quality interior, and poor ride comfort are some of the significant issues to expect should you decide to buy a DSM Mitsubishi Eclipse. Also, most are incomplete project cars, as some owners tend to give up on them due to inadequate aftermarket support, and they are challenging to work on. If you're buying such an Eclipse, check the quality of work done before making an offer. You might be purchasing a Lemon that will drive you to give up on it.
View Mitsubishi Eclipse Ads For Sale
Read Our Mitsubishi Eclipse Buying Guide
Toyota Soarer Z30
The Toyota Soarer is often defined as a wannabe Supra, but it's one of the most underrated JDM cars. Toyota initially designed it to be a youthful luxury sports car when luxury sedans were catching up to the market, and they didn't fail at it. In addition to the classic luxury features and stylish looks, you get decent performance from the 2JZ-GE, 1JZ-GTE, or 1UZ-FE in the gen-3 Soarer (Z30). However, the USDM Lexus SC300 didn't get the twin-turbocharged 1JZ-GTE during production. Older model years also have some nice luxury features but lack tunable engines, which most JDM car buyers prioritize over anything else.
Expect high oil and fuel consumption should you buy a Toyota Soarer, especially if you get one with the 4.0-liter V8, a small price for to pay excellent ride comfort and smooth acceleration. Besides that, the Toyota Soarer is just as reliable and durable as any other Toyota, with minimal maintenance and running costs.
View Toyota Soarer Ads for sale
Read Our Toyota Soarer Buying Guide
Mazda RX-8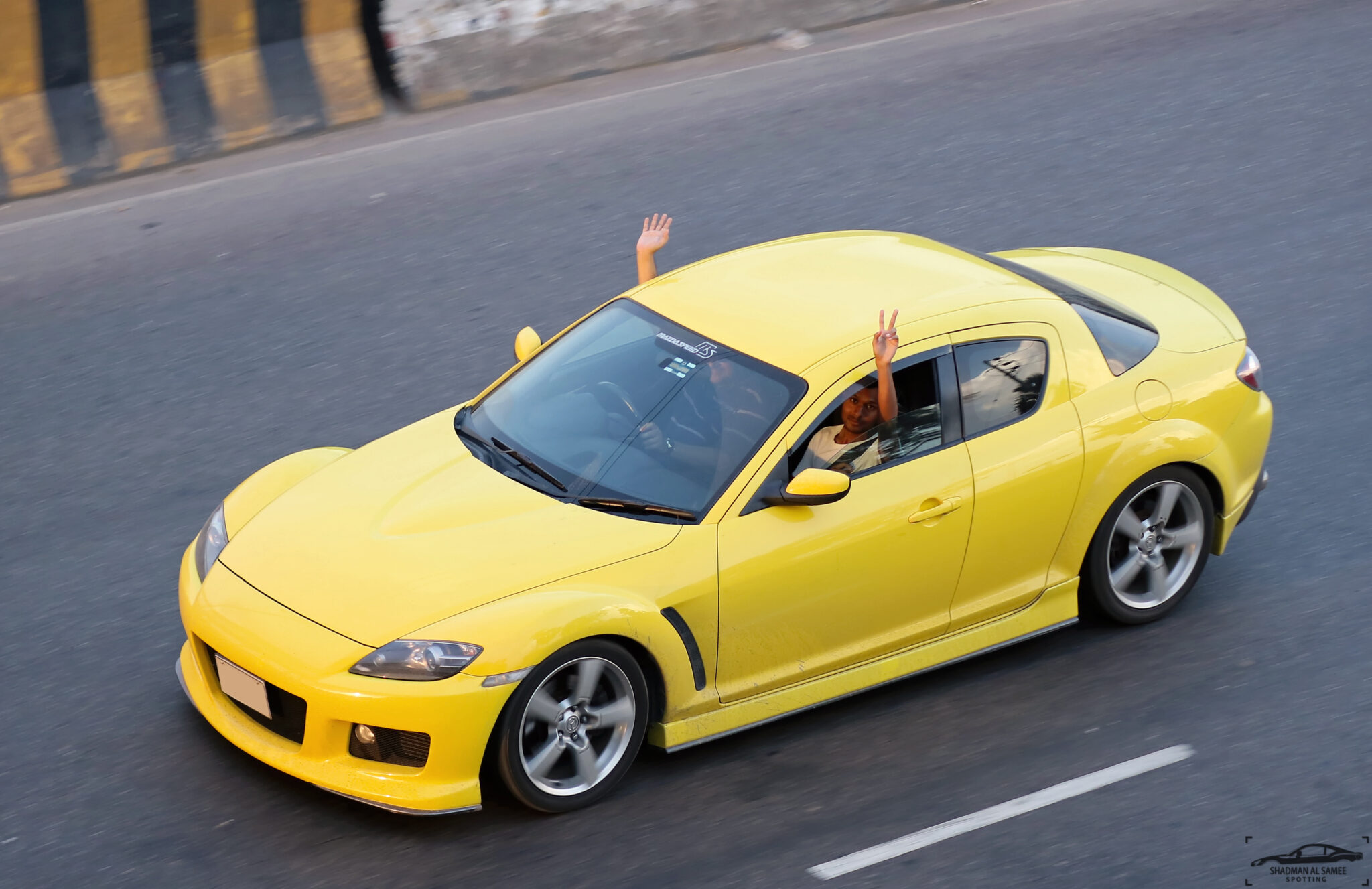 The Mazda RX-8 isn't what most people would recommend being perfect if you're in the market for a JDM car for under $20,000. Yet it's worth considering as it has some decent features despite its heavily flawed engine. If you don't want to keep the 13B engine, no one said it has to have a rotary engine to be a Mazda. Engine swaps are pretty common on RX-8s, and you should consider swapping out the 13B to avoid constant issues and emptying your pockets whenever you visit the garage. Frequent swaps include LS V8s, turbocharged K-series, RB, and JZ engines.
You can't import a Mazda RX-8 to the United States, but you can find some well-kept units sold during production time retailing for roughly $10,000 to $15,000. If you're lucky, you might get a mint one-owner RX-7 which is always a green flag when buying any car. The only thing that justifies an RX-8 being listed for more than $15,000 is if it has extensive mods done to it or if it has a swapped engine. You might pay over $20,000 if the car has a twin-turbo RX-7 FD motor.
One of the reasons the RX-8 isn't appreciated as much is that it doesn't have any hype in the JDM car scene, which is enough grounds not to buy one. However, if you want a cheap fun car as a daily driver and stands out in the parking lot, it's the car for you.
Read Our Mazda RX-8 Buying Guide
Toyota HiAce
Vanlife is the perfect escape from the worries of the city and the feeling of being confined in house walls. Nonetheless, it has become one of the most expensive hobbies, with the highest funds consumed when buying and customizing vans. If you have a tight budget, why not get a JDM van, which in this case, the Toyota HiAce is a perfect example. You can buy one as a passenger or cargo van and convert it to suit your preferences or buy a HiAce camper van. Whichever you buy will cost at most $20,000. But camper HiAces are slightly pricier at roughly $2,000 more than standard models, which average $15,000.
A Toyota HiAce would also make the perfect business van if you run a business. It's reliable, durable, and versatile, and its narrow dimensions make it easy to drive and park around town. Poor ride comfort and rust spots that might occur on the body panels due to poor quality paint and underneath the vehicle are some disadvantages of owning a HiAce.
View Toyota HiAce Ads for sale
Read Our Toyota HiAce Buying Guide
Nissan Laurel C33, C34, C35
One of the best feelings for a car enthusiast is having a fun and practical JDM car that you can drive daily to work or school and car meets at the weekend. What other car would do both without looking out of place besides a JDM tuner sedan? However, they are slowly becoming overpriced, with most retailing for figures close to $30,000. But not the Nissan Laurel. Low prices caused by low demand put it among the best JDM cars you can buy for under $20,000, which is quite a bargain since you're getting an RB-powered sleeper.
Besides being a great daily driver, the Nissan Laurel makes a great drift car due to its FR (front-engine, rear-wheel-drive) platform and excellent weight distribution. Even so, you might need to do some weight shedding if you're going to drift a Nissan Laurel. Another disadvantage is finding a Laurel with a manual transmission is almost impossible since most were sold with an automatic transmission.
View Nissan Laurel Ads For Sale
Read Our Nissan Laurel Buying Guide
Subaru Forester STi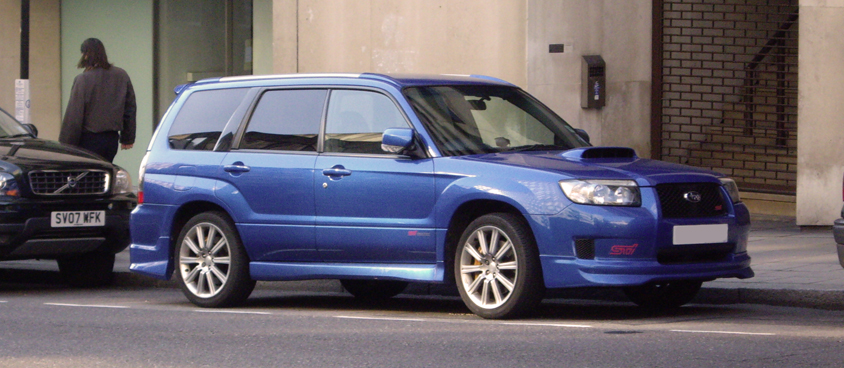 Subaru didn't make as many cars as most Japanese car manufacturers, but the few they made are some of the best JDM cars. Most JDM car enthusiasts will rush to the Subaru Impreza WRX STi, forgetting the Subaru Forester STi, which, like the Subaru Legacy, can be bought for less than $20,000. It's the only JDM crossover SUV worth buying as it's practical, an excellent driver's car, and easy to make power out of. Grocery, school runs, and weekend soccer trips don't have to be boring, so why not get a Fozzy?
The Subaru Forester is the car you buy if you're buying a JDM car for the first time. For some reason, it's not as problematic as other Subarus, so it's reliable and affordable to run and maintain. It's also a go-everywhere vehicle, so you don't have to store it away during the winter. All you need is an extra set of wheels with some winter tires and heavy-duty coil overs to lower and raise the car depending on how much snow there is. However, if you drive it hard and install power mods, expect EJ engine-related problems.
View Subaru Forester Ads For Sale
Read Our Subaru Forester Buying Guide
Mazda 323 GT-R
In the 1980s, cars from Japanese manufacturers became increasingly common in the WRC. Mazda entered the 323, also known as the Mazda Familia, in Group B and produced the first four-wheel-drive 323 badged as the GTX for homologation purposes. Later in 1992, they unveiled the most powerful 323 with a 1.8-liter turbocharged engine that made over 200 horsepower to all four wheels. Quite a lot for a 2000-pound hatchback at the time. The GT-R was a Japanese exclusive model that rallying enthusiasts yearn for today. Luckily, its rarity due to low production numbers has yet to affect prices, as you can easily import one to the US for around $12,000 to $18,000.
The Mazda 323 GT-R is the only car on this list that will appreciate or at least hold its value. Even with this, you can still enjoy one of the best JDM hatchbacks. Take it out to car shows occasionally and let the masses admire and ask questions about it. And while on the way back, hit the dirt road back home and feel the adrenaline rush felt by rally car drivers when powering through a banked corner.
Nissan President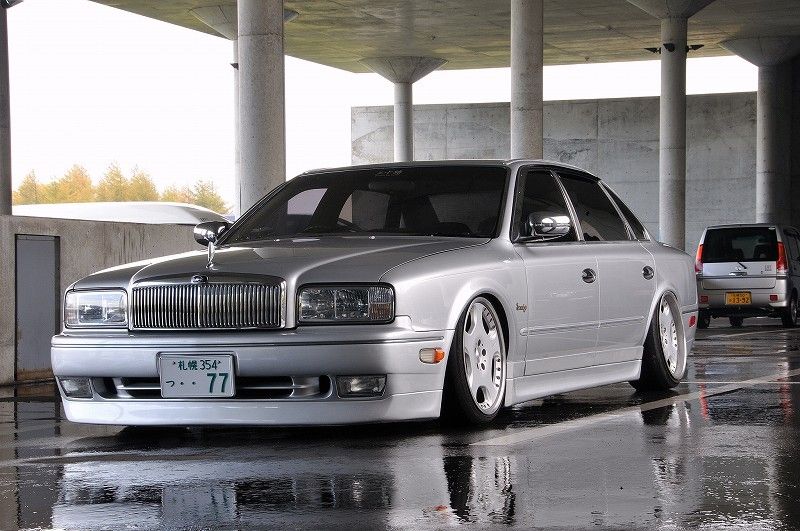 JDM car makers are praised for making some of the best tuner cars, most of which are coupes or sporty sedans. VIP luxury sedans are often forgotten because few were made, and nothing is desirable about them except old-school luxury and styling. Most manufacturers made one or two to cater to Japan's government officials, members of the royal family, and an increasing pool of wealthy business people. However, only the Toyota Century and Nissan President were significantly successful, and the President is the only one you can get for under $20,000.
The exterior doesn't speak much, and it's in the interior that you get to enjoy the Nissan President. You are welcomed by soft woolen seats with enough padding to make you doze off if you ride as a passenger. As the driver, you enjoy a butter-smooth throttle response and excellent ride quality, making driving a Nissan President seem like a Nissan Figaro. Ownership disadvantages, due to its long wheelbase, the Nissan President can be a handful to drive around town and park, gas mileage could be better, and finding replacement parts might take a while.
View Nissan President Ads For Sale
Read Our Nissan President Buying Guide
Mitsubishi Pajero
JDM SUVs have proven to be some of the most reliable in the segment. And with more of them becoming legal for import, buyers are slowly migrating to buying them over locally made SUVs. The Mitsubishi Pajero isn't the first option of many, as the Toyota Land Cruiser and Hilux overshadow it. But it's the best option for under $20,000 while offering similar, if not better, versatility, ride comfort, reliability, and durability. Prices start at roughly $15,000 for the four-door variants, while the short-wheelbase two-door variant sells for approximately 12,000. There's also a Kei variant which you can get for the same price as a two-door Pajero.
With rallying history embedded into it, the Mitsubishi Pajero will handle any terrain you throw at it. On the road, it drives smoothly, almost making you forget you're driving a 4000-plus-pound SUV. Being the Pajero's biggest competitor, the Land Cruiser Prado's only advantage is that it's slightly wider. Thus, it has a slightly roomier cabin and trunk. Additionally, the Pajero has less aftermarket support, and parts can take ages to find.
View Mitsubishi Pajero Ads For Sale
Read Our Mitsubishi Pajero Buying Guide
Mazda Mazdaspeed 3
Some Mazdas don't get as much appreciation as they deserve. One is the Mazda Mazdaspeed3, known as the Mazdaspeed Axela in Japan, produced for two generations between 2007 and 2013. Both generations have a 2.3-liter turbocharged engine that made roughly 260 horsepower during production time. No automatic transmission option was offered, with Mazda only offering a 6-speed manual in the Mazdaspeed 3 across all markets. There is no significant price difference between the two generations, as you can get either for approximately $10,000 to $15,000.
There's no better feeling than having a family hatchback that's practical enough to handle a month's grocery shopping and is a blast to drive. This is the case with the Mazda Mazdaspeed 3. But is it reliable enough to be a daily driver? Fuel consumption is higher than your average family hatchback, partly due to the faulty OEM fuel pump most owners complain about. Nothing should stop you from buying a Mazda Mazdaspeed 3 if you're looking for a JDM car under $20,000.
Toyota Hilux Surf
The Toyota Hilux Surf is one of the best JDM cars for under $20,000. But before we tell you why, what is the difference between the Hilux and Hilux Surf? Toyota unveiled the Hilux Surf in 1983 based on the fourth-generation Hilux 4×4, but with one major difference. The Hilux Surf was sold only as an SUV with a canopy over the bed, while the Hilux remained as a pickup. Over the generations, the Hilux Surf shared everything with the Hilux except a few engine options in foreign markets until it was discontinued in 2009.
What other reason do you need to buy a Toyota Hilux Surf besides its proven off-roading capabilities, indestructibility and excellent reliability track record? Prices start at approximately $13,000, going to over $20,000 depending on the spec and year of manufacture, among other determinants. This doesn't leave enough room for mods, which are unavoidable with such SUVs, but luckily, most come with some decent aftermarket upgrades ready to hit the backroads.
View Toyota Hilux Surf Ads For Sale
Read Our Toyota Hilux Buying Guide
JDM Cars Under $10,000
Mazda RX-7 FC
Gone are the times you could get a Mazda RX-7 FD for under $20,000 since finding one for less than $40,000 is almost impossible. However, if you still have dreams of owning an RX-7, you could opt for the third-gen FC, which is way cheaper. Prices rarely exceed $13,000 unless it's a limited edition Efini spec or a convertible RX-7 FC. But it won't be long before demand increases, thus driving up prices. Unlike its successor, Mazda offered two engine options in the RX-7 FC: twin rotors, a 1.3-liter NA and a 1.3-liter turbocharged engine. Power is sent to the rear wheels via a 4-speed automatic or a 5-speed manual transmission.
RX-7 ownership isn't easy, which is one of the reasons why you shouldn't buy one as your first JDM car. Rotary engines demand too much, especially maintenance-wise. Failure to which you could be looking at buying a new engine or an overhaul, and no option is cheap. Ever asked yourself why there are so many engine-swapped RX-7s? When well maintained, an RX-7 FC is one of the best cars to own and drive. It's pleasing to look at, enthusiastic driver-friendly, and if you get one with a turbocharged engine, it's guaranteed to give you chin-to-chin smiles when driving it.
Read our Mazda RX-7 Buying Guide
Honda Civic Si
Every Honda enthusiast yearns for the day they'll own a Honda Civic Type R and build it to humiliate Supercars with a laptop as their front seat passenger. But it's becoming difficult to get one for what it's worth due to JDM car price inflations. You can only get a Civic with decent performance by lowering your expectations and buying a Civic Si, which offers almost, if not similar, performance as the Type R.
The only problem is choosing which generation to get. The EK Civic is the best option if you prefer the 20th Century vibe. The EF and EG Civic Si have SOHC engines which take more to make power even though they have VTEC. Newer generations have some modern features but are priced slightly higher, limiting project budget since you're going down that road one way or another.
Due to the Honda Civic's poor build quality, rust underneath the vehicle, in the engine bar and wheel arches, is possible. Furthermore, the rear drum brakes will not last long if you increase the engine's power output. Other than those few imperfections, reliability is top-notch, and if you're looking for a JDM car under $10,000, we highly recommend a Civic Si.
Read our Honda Civic Buying Guide
Nissan S13 240SX
Rarely will you lack an S-chassis on a drift track, as they are arguably the best drift cars. If you want to join the S-chassis bandwagon on a budget, you can buy a Nissan S13 240SX and build it into a drift missile. Finding one listed for less than $10,000 is easy. You might even get one with some nice mods, such as an angle kit and other suspension components, and if it has a drifting history which is mostly the case. If you want to build a custom 240SX from the ground up, neglected and high mileage units go for cheaper. In most cases, sellers will take anything to see the car disappear, and Facebook Marketplace and Craigslist are the best places to hunt for such deals.
Buying an S13 240SX is one thing, and getting it to drift is another. 160 horsepower isn't enough to complete a full-lap tandem, so you should do something about it. You could either turbocharge the engine, and a generic turbo is enough to get the engine to roughly 200 horsepower. If cutting shortcuts isn't your thing aftermarket, there are several aftermarket turbo kits for the KA24DE. These can give you anything between 250 and 500 horsepower with some bolt-ons and a tune, sufficient to burn a lot of rubber while holding a neat tandem. You'll have spent more than $10,000 after other upgrades, but it will be totally worth it.
View Nissan Silvia Ads For Sale
Read our Nissan Silvia S13 Buying Guide
Read our Nissan Silvia Ultimate Guide
Acura TL
It might not be a JDM car 100%, but it was manufactured by Acura, which is Honda's luxury division, so it's no less a Honda. Why is it among the best JDM cars for under $10,000? It's worth mentioning as it offers more value for money than most cars on this list: luxury, practicality, decent looks, excellent ride comfort, and performance for a sedan. Additionally, the Acura TL has extensive aftermarket support due to its popularity among teenagers and anyone else looking for a car they can make into their own without breaking the bank. Parts range from cosmetic upgrades such as body kits and wheels to performance parts such as forced-induction kits and fuel system upgrades.
Acura TL prices start at roughly 4,000 for entry and mid-level models. High-spec models such as the A-spec sell for more capping out at around $13,000, which is still a snatch for what you get. Maintenance and running costs are incredibly low but expect high fuel consumption due to the massive V6 engines. Only one generation was offered with a 4-cylinder engine, but would you sacrifice power for better fuel consumption?
Toyota MR2 Non-Turbo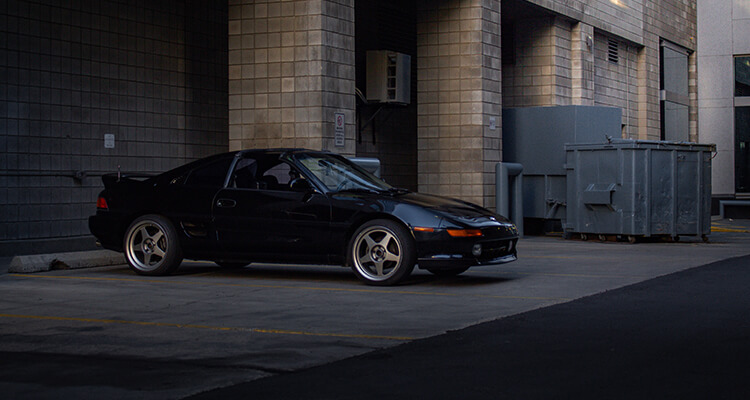 While the Turbo MR2 (GT and GT-S) can fetch well over $10,000 USD, the naturally aspirated 2.0L version (G and G-Limited) is a ton of fun and can be had for next to nothing. Don't let the 200 horsepower engine deter you from picking one up; in today's number, that may seem slow, but from the size and weight of this car, you won't even notice it by how smooth and drive and turns while hearing the sweet sound of that mid-engine right behind you.
Read our Toyota MR2 Buying Guide
Honda Beat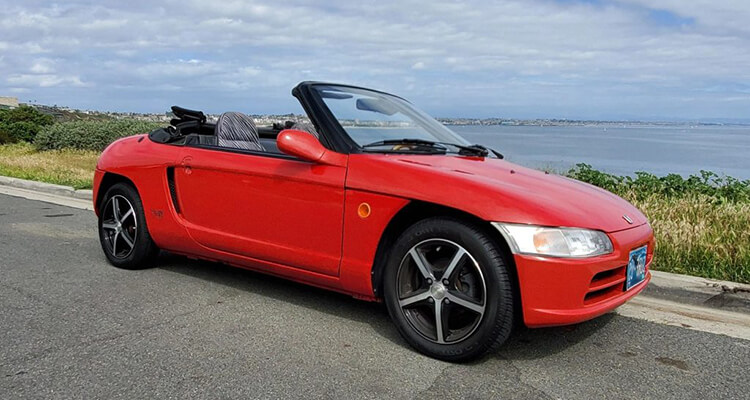 If you are into smaller form factor cars, then the Honda Beat might be your next purchase; everything about this car is a small Honda stuffed with a 656CC three-cylinder mid/rear-engine. Thanks to its size and weight, this car can swerve corners super smooth. Averaging around $6,000-$7,000 USD.
Read our Honda Beat Buying Guide
Nissan Skyline GTS R33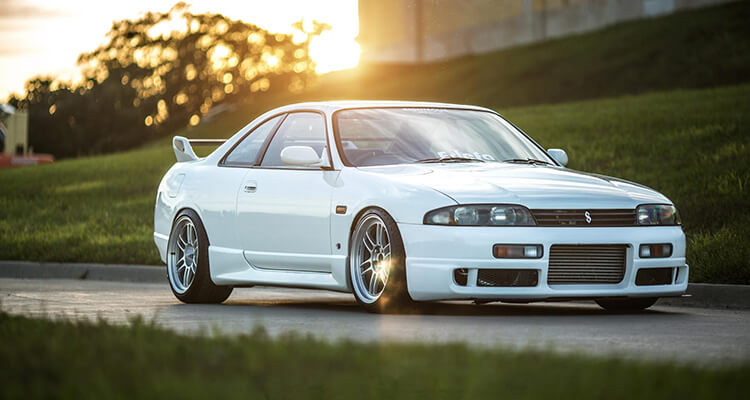 The R33 generation of the Skyline series came equipped with a six-cylinder engine. Nissan used the RB-series engines, so they ranged from 2.0L to 2.8L, giving it 130 HP but can be modified to go higher, of course. The GTS line was very well designed and engineered together with advanced technology and a powerful engine. These models can be found for around $10,000 for an entry-level, four-door model with a 2.0L engine. A mid-spec model GTS-4 that comes equipped with a 190 or 250 HP engine will set you back around $20,000 – $25,000 USD.
View Nissan Skyline Ads For Sale
Read our Nissan Skyline Buying Guide
Nissan Stagea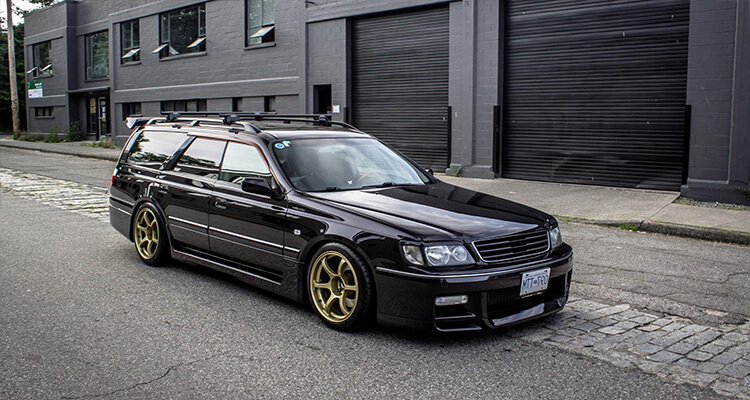 Meet the GT-R wagon. The Nissan Stagea is a five-door station wagon with three different models: WC34 Series 1, WC34 Series 2, and the M35 Series. It comes with the RB-series engine that is in the skyline series. Stagea's can be found anywhere between $5,000-$10,000 USD.
View Nissan Stagea Ads For Sale
Toyota Celsior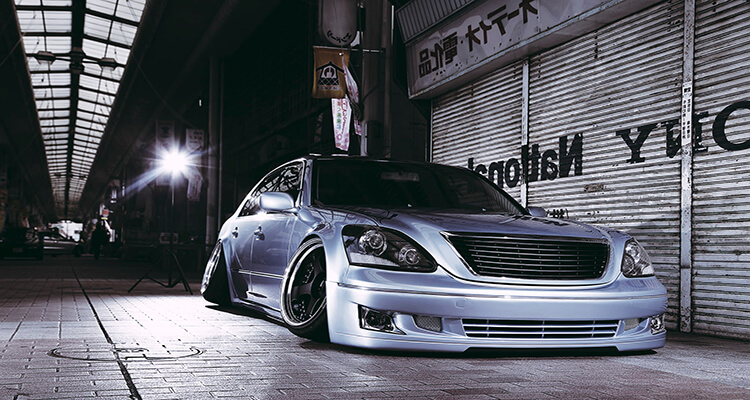 Full-size luxury sedan, coming equipped with one powerful engine-designed suspension giving you a very comfortable ride hitting speeds of around 250 km/h. The Celsior is a V8 with rear-wheel drive, and good handling, and is perfect for longer trips. Comes equipped with high-tech features from its era of course. Prices can be found as low as $4,000, but they mainly average around $10,000. The price will vary depending on the miles and the amount of maintenance done to the car.
View Toyota Celsior Ads For Sale
Read our Toyota Celsior Buying Guide
Suzuki Alto Works RS/X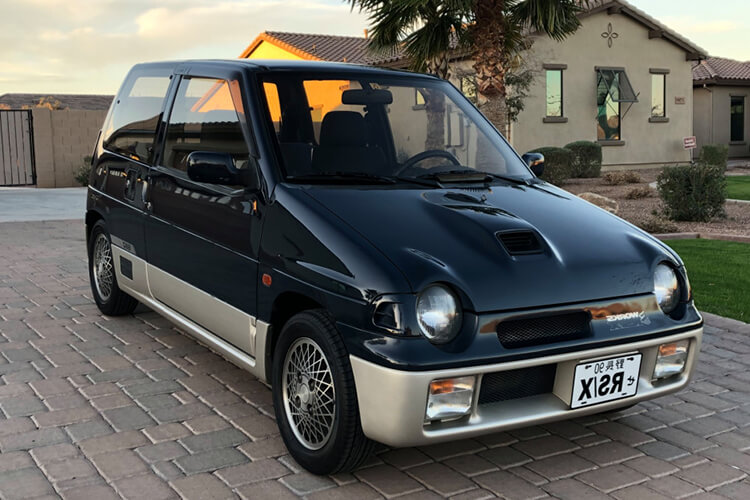 Retro classic two-seater turbocharged engine hitting top speeds of 170 km/h. But this car was not meant for speed. Back when Nissan launched the car marketing it under "Back to the Future", it gained so much popularity that Nissan had to create a lottery system for the car because there weren't enough cars for the vast demand that came with it. Great for city driving and a head-turner. With fully leather seats, a CD player, and a chrome-trimmed speedometer, this car is packed with luxuries. The average price for a can be all over the place, the cheapest examples can be found at around $5,000, and then they can go up to $35,000 USD depending on how well maintained it is.
View Nissan Figaro Ads For Sale
Read our Nissan Figaro Buying Guide
Mazda Roadster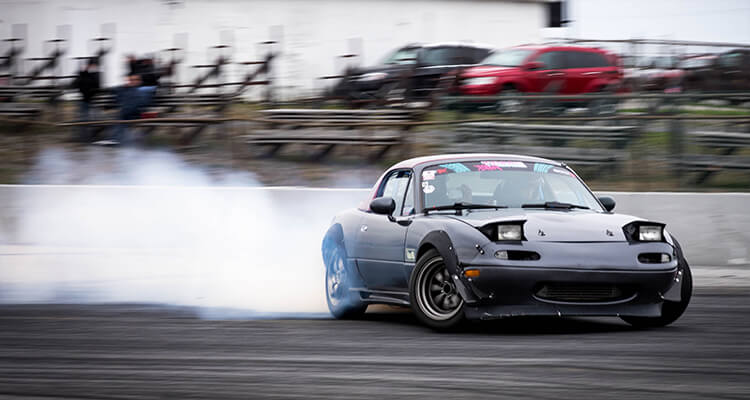 Are you looking for something cheap, race-worthy, draftable, easy to maintain, and reliable? The Mazda Roadster (the JDM version of the Mazda) is the perfect car for you! Not only do Miata's have a fantastic reputation as being cheap, but maintaining these toys does not burn a hole inside your wallet. These cars are very reliable and very rarely break down. With Mazda put together, the Miatas upgrading is super simple, with a ton of room inside the engine bay. From what you get, it's a great value and a perfect first car. Thanks to their size, Roadsters are perfect for the city and maneuver through traffic. Average prices can differ depending on how heavily the vehicle is modified, but you can easily find them at around $5,000 USD on the cheap end, maybe even less!
View Mazda Roadster Ads For Sale
Mitsubishi Delica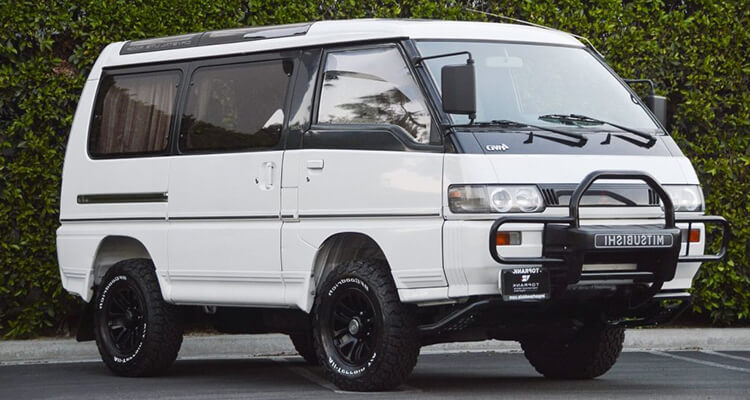 Coming from its English name, "Delivery car", the Delica is one of Mitsubishi's longest-running production vehicles spanning over half a century. They still produce it to this day. This van/pickup truck is surprisingly very roomy and can fit anywhere. It has an optional crystal light roof and a tremendous 4×4 capability. Prices can vary as the Delica has developed a cult following, but there can be found just over the $5,000 mark, and the more expensive version going all the way up to $25,000 USD for camperized and overland examples.
View Mitsubishi Delica Ads For Sale
Read our Mitsubishi Delica Buying Guide
Mitsubishi RVR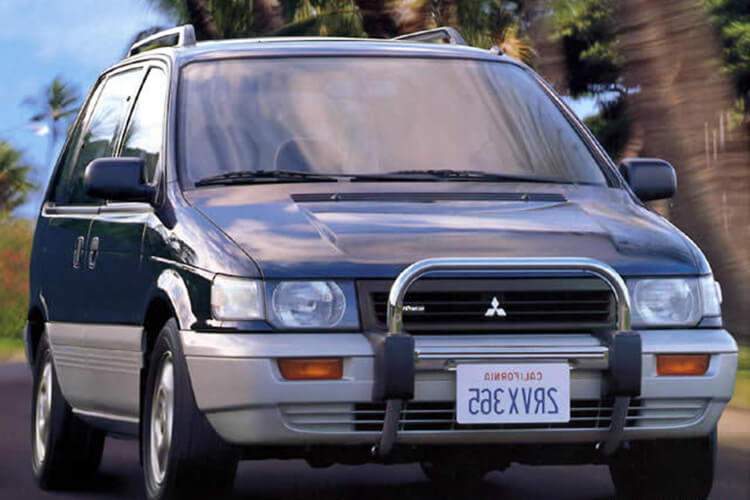 These compact MPVs have been around for generations and held their reliability. It was generally targeted toward people with a family and kids. Essentially it was a Mitsubishi Chariot but with a shortened chassis. The RVR prices are different. The lowest one that we were able to find was around $4,000 USD.
View Mitsubishi RVR Ads For Sale
Toyota Caldina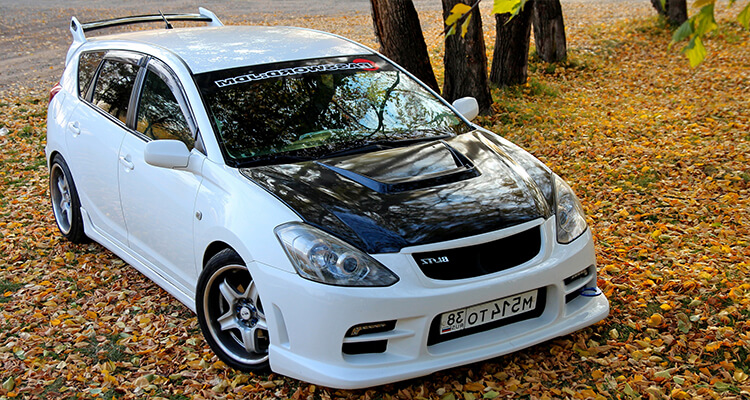 It comes with the same beloved Celica GT-Four 2.0L turbocharged engine that can go up to 260 horsepower. It handles perfectly on snowy roads, thanks to its 4WD, comes with plenty of room, and isn't a sports car but feels like one when driving. Prices can vary, but we've found some between $8,000-$10,000 USD.
View Toyota Caldina Ads For Sale
Mitsubishi Minica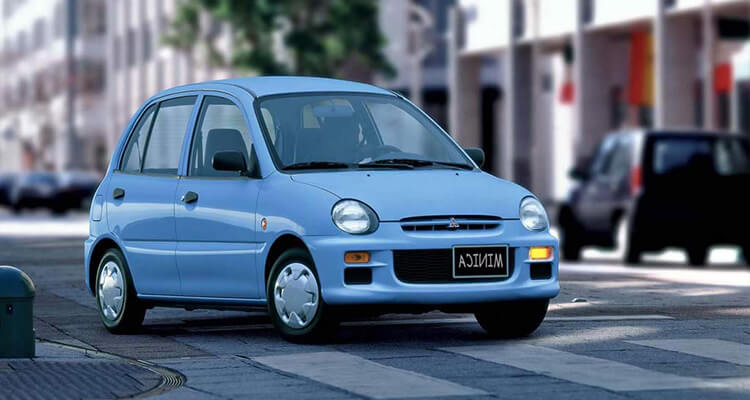 Turbocharged, inter-cooled, four-cylinder, it beat Bugatti (1991) and Ferrari (1994), the 1989 Minica was the first car to have five valves per cylinder, all packed into a commuter van. The Minica was meant for basic transportation with an added beefy engine. Prices don't seem to differ too much as we could find some between $8,000-$10,000 USD.
View all Mitsubishi Minica Ads For Sale
Daihatsu Atrai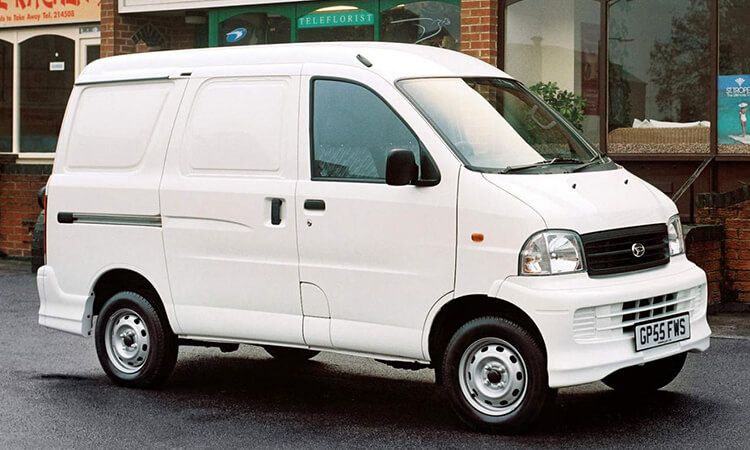 Four-seater minivan perfect for a small family that lives around streets with narrow roads. You can find specific models with powerful turbocharged engines. They are very spacious, and the driving experience is comfortable. Depending on the model you want, we found multiple ones under $10,000 USD. Keep in mind that these prices will change over time.
View all Daihatsu Atrai Ads For Sale
Subaru Sambar Dias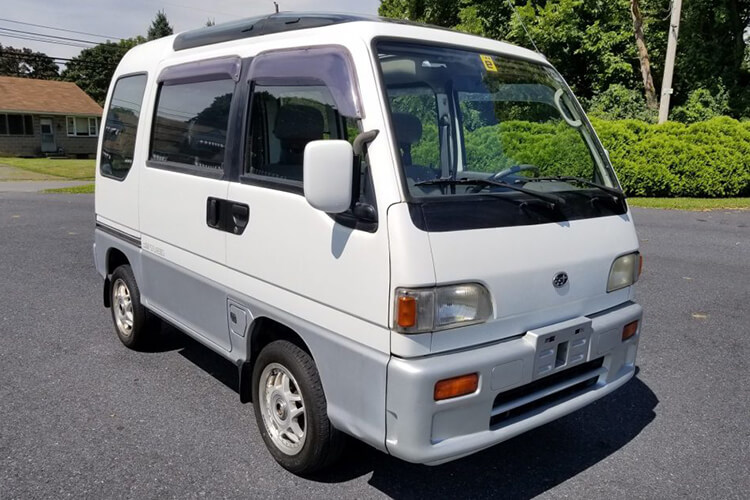 Adding on to the list of small cars, The Subaru Sambar Dias is undoubtedly one of the smallest Kei cars you will see. It comes in two different versions, a Van and a pickup truck. They are cheap and practical, come in 2WD and 4WD, have good fuel economy, and tend to be very reliable. Like most Kei cars, Sambar can be found from a couple thousand to over $10,000 USD, depending on the year, condition, and options on that vehicle.
View all Subaru Sambar Ads For Sale
Read our Subaru Sambar Buying Guide
JDM Cars Under $5,000
Honda CR-V RD1