Nissan Skyline R34 Buying Guide
Production of the R34 Nissan Skyline began in 1998 with the introduction of environmentally friendly RB series engines such as the RB25DET-NEO and RB25DE-NEO. The four-speed automatic transmission was retained and upgraded to Tiptronic style manual controls for higher-spec models. The R34 was available as a sedan or a 2-door coupe.
The Interior of the R34 was modernized and added better safety features than the previous R30 series, these upgrades include:
Upgraded pedals from rubber to aluminum
The gear shift knob and the steering were made of leather with a 2-tone design
The infotainment system in the theR34 was upgraded to an LCD screen
The exterior was also updated to be more aero, and xenon lights were standard across all trims
Side airbags were also a new development built on the driver's and passenger's seat bolsters
Optional tuning Nismo parts were available and compatible with all R34 models
The R34 was more R32 oriented as market reviews from customers stated that the R33 was oversized. This made Nissan change their approach when designing the R23. All base trims of the R34 had either a 4-speed automatic or a 5-speed manual. All R34 GT-R trims had a 6-speed manual transmission.
Engine options for different R34 trims were as follows:
RB20DE – R34-GT
RB25DE – R34 25GT, R34 GT-X, R34 25GT-V, 25GT-FOUR
RB25DET – R34 25GT-T
R26DETT – All variants of the GT-R had this engine tuned differently according to the R34 GT-R it was put in.
Read our Nissan Skyline Buying Guide
R34 Nissan Skyline Models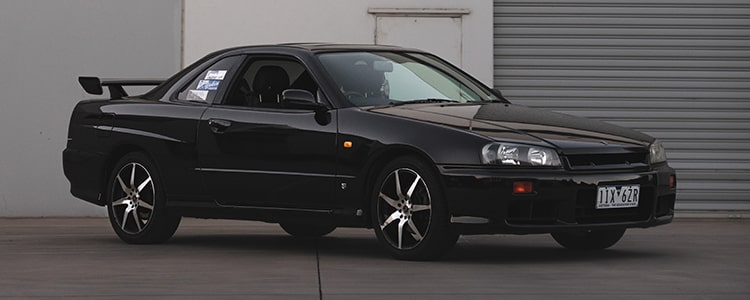 R34-GT
When first produced, the R34-GT came with the RB20DE engine but was later updated with an RB20DE-NEO, which was and still is the most fuel-efficient inline-six engine. The R34-GT still maintained the 5-speed manual but was also later upgraded to a Tiptronic style manual. Some models still kept the 4-speed automatic transmission. The car pushed 145-160 horsepower. The RB25DE-NEO also made a similar power output. The new engine gained popularity as it was much more fuel-efficient than any other engine in the RB series.
R34-25GT
Had an RB25DE engine pushing 165-210 horsepower. The engine's power output at low figure RPMs was down, to which Nissan made updates and in the end produced more power at a low figure. Interior and exterior components were similar to the base R34-GT.
R34 GT-X
This trim was only available as a 4-door sedan and came with extra upgrades from the 25-GT. The triple cluster display was replaced with a pop-up display screen, and the rear windows were tinted. Later on, a turbocharged version of the GT-X shared the RB25DET engine with the R34 25GT-T.
R34 GT-V
Had several upgrades over the R34-25GT from the turbo trims. Such advancements include; 17-inch alloy rims with sportier tires, four-piston brake callipers at the front, and two-piston brake callipers at the back.
R34-GT FOUR
This is just a four-door version of the 25-GT, which was similar to the GT-X.
R34 25GT-T
The RB25DET engine is used for this trim, outputting 270-285 horsepower. This was the most potent R34GT version and was close to the GTR in terms of performance.
Later on, the RB25DE and the RB25DET engines were replaced with the NEO versions and similar power outputs. The RB20DE-NEO revolutionized NEO versions of the RB series engines. Power output across all trims with the RB25 and RB25-NEO engines was identical.
The GT-R model had other sub-variants, all having the RB26DETT engine but with different performance tunes.
R34 GT-R
Base trim R34 GT-R making 320 horsepower and 330lb-ft. The power output was advertised by Nissan as 275 horsepower due to the "Gentlemen's agreement." The interior was also updated, but the most significant interior update was a 5.8-inch display which showed car diagnostics such as water, oil pressure, temperature, throttle position, and boost pressure. There was also a television feature on the display, and you could watch NTSC channels when you're not driving. If you started driving, you could only hear the TV audio as only the car's diagnostics were displayed when driving. The base trim GT-R also had Nissan's all-wheel-drive ATTESA E-TS system.
R34 GT-R V-SPEC
Additional aero parts such as the bumper, rear wing, side skirts, brakes, and diffuser were upgraded. The ATTESA E-TS system was upgraded to a Pro-spec and had an active rear slip differential; the interior had black-clothed seats, leather steering wheel, leather gear knob, and aluminum pedals.
R34 GT-R V-SPEC UK
Only 80 of these were modified for the UK market by Middlehurst Motorsport. The GT-R V-SPEC UK had an all-leather interior. The infotainment screen was a bit larger and had more functionality. This version also had three additional oil coolers, more than the R34 GTR V-SPEC. The exterior was also revised; it had under-body diffusers and an asymmetrical front bumper. The suspension was also stiffened a bit. All these modifications were made to suit UK customers and for UK roads.
R34 GT-R V-SPEC N1
45 of these were made and were performance-oriented more than comfort-oriented. It had the basic interior trim, no air conditioning, rear wiper, boot, interior carpeting, and radio. The stock RB26DETT received an upgrade with an N1 block and N1 steel turbine turbochargers. Only 45 of these were made, and 12 were used by Nissan for racing.
R34 GT-R VSPEC II
A replacement for the V-SPEC which added a stiffened suspension, bigger and better brake callipers, and a carbon fibre hood different from aluminum hoods on other R-34 GTRs. The hood also had a NACA duct for more efficient engine cooling without disturbing the aerodynamics of the car, but the interior remained the same as the first V-SPEC.
R34 GT-R V-SPEC II N1
Only 18 were made, having an N1 tuned engine with a basic interior, no infotainment system, and no rear wiper. The paint coating was also thinner than the N1, it was similar to the but weighed less as it was made for racing; thus, shedding unnecessary weight was necessary.
R34 GT-R M-SPEC
Was a comfort-oriented trim with a leather interior, improved softer suspension, and heated front seats.
R34 GT-R V-SPEC II NUR
Had an N1 tuned engine with a unique speedometer and a top speed reading of 300km/h. Only 750 units of this trim were made
R34 GTR M-SPEC NUR
Shared the N1 tuned engine and the speedometer with the V-SPEC II NUR. The M-SPEC'S comfort features but fewer were made; only 253 were made.
R34 GT-R NISMO(S-TUNE)
This is a tune from Nismo that targeted tuners who wanted to bring out the true potential of the R34. GT-Rs were available with this tune, and the tuning spares were also sold to anyone willing to buy.
Common Issues with the R34 Nissan Skyline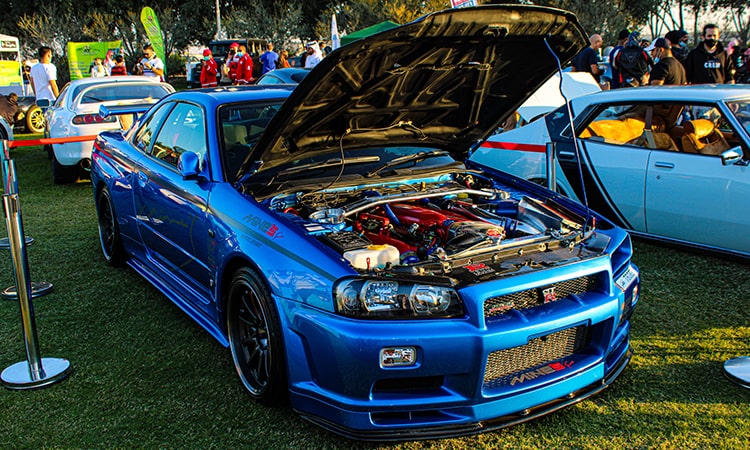 The RB2ODE and the RB20DE-NEO engines are reliable, especially if you find one with good maintenance and service record matching the manufacturer's specifications. The RB20DE had its own issues, such as carbon building up in the head, especially around the valves. This is primarily the case with direct injection engines as the RB20., but luckily carbon deposits can be cleaned. To prevent carbon deposits from building up, replace the spark plugs after the recommended mileage and fuel. You can use better fuel that has added petroleum-based detergents to keep the engine clean from deposits. Ignition coils also tend to fail, thus causing engine misfires. The ignition coils should be replaced after around 50,000-60,000 miles. Valve end timing belt adjustments are also recommended after the same mileage. Power output was also low, and most tuned this engine. It is essential to note that the RB20 engine can only put out a maximum of 350-450 horsepower with stock internals for both the turbo and non-turbo versions.
The RB25 engines were reliable except for the faulty oil pump. The stock oil pump was inefficient, especially when the R34 was pushed to the limits. Upgrading to a better aftermarket oil pump and electricals will solve this. There was also an ignition coil problem, just as other engines in the RB series. Replacing the ignition coil after around 50,000-60,000 miles prevents the engine from misfiring due to a faulty ignition coil. With stock internals, the RB25 engine can put out around 500 horsepower.
The GT-R's engine was a reliable and durable powerhouse, but it did lack flaws. The first one is an unreliable oil pump. It was common among RB series engines except for N1 versions as they had better oil pumps. For the non-N1 versions, upgrading to a compatible aftermarket oil pump can solve this. Ignition coils were also an issue, and replacing them after 50,000-60,000 miles fixes the problem from occurring. The timing belt also needed regular re-adjustments and replacement after the same period as the ignition coils. The RB26DETT engines can put out massive horsepower figures of up to 700 horsepower with stock internals, especially the engines with the N1 block.
The R34 was built when Nissan was struggling financially and had to make a car to battle Toyota's MK4 supra. Nissan had to ignore a few aspects to keep the production cost of the R34 down. The car might not be the best-designed car in body strength and durability, but it did serve its purpose. The R34's pillars were not that strong and weakened with time due to enthusiastic driving and accidents. This was a common issue in other R30 series skylines which is why the 1988 import car safety act was put in place. Many Japanese-produced vehicles did not pass this test.
Guide to Purchasing an R34 Nissan Skyline
There were different trims for the R34. Knowing the features associated with each version will help you identify the originality of that specific model you are buying. The R43 makes an awesome project car, you can achieve more power with stock components, and wouldn't have to spend much in the beginning. If you are looking to get massive horsepower and torque figures, upgrade spares are readily available. This is due to the popularity of the R34 as it is more popular than other R30 generations. Check for weak signs on the body panels underneath the car and the interior's condition and originality.
Ask the owner relevant questions regarding the physical condition of the car. If it has been involved in an accident(s) before, ask for the service record. The service record will provide any relevant information on parts that were replaced and inspected If it checks out to be original, the car has been properly maintained over time. Some parts can tell you if the vehicle has been involved in an accident. Such areas include the quarter panel, radiator support, and the paint condition of the car. Suppose the mounting nuts on the quarter panel appear tampered with. If it's the case, that is a sign of engine removal or it has been involved in an accident. If the colour tone and depth do not match for different panels, that is a sign of an accident.
The car's interior will tell if its mileage is genuine, especially if it has been kept original. If the vehicle's mileage is high, the interior will most likely look old even though it has been rejuvenated. And also, you rarely find cars from the '90s and early 2000s having low mileage unless it was uncovered from somewhere. Such cars mostly have one original owner.
Check the car's suspension by gently pushing down the front and rear bumper; you'll find that most sellers have upgraded or rebuilt the suspension if the vehicle has high mileage. Which is a good sign since suspensions in such cars get creaky after around 35,000 miles. If the suspension is creaky, you'll have to replace or rebuild it.
Rust on the body panels isn't a bad sign, especially if the car has been kept original. This is easily removable and treated to prevent re-occurrence. Check for rust on the body pillars and underneath the vehicle focusing on the frame. If the car appears to be freshly painted or welded underneath, enquire the reason for that. If it has rust, it can be fixed depending on the condition of the rust.
For the engine, check for any leaking fluids, get a compression test, belt condition, oil check, and any cracks on the engine. Cracks on the engine, especially the cylinder heads, show previous massive tuning effects or just the engine's old age.
Drive the car around, accelerate it and listen for any engine or transmission creaks. A good seller should tell you if there is an issue with the car when driving it. Take the seller with you for the test drive to identify any strange driving feel or noises coming from the engine or any other particular part.
Lastly, stand about 10 feet away from the car and have a good look at it from all angles. This will help you identify any deformity on the car's body.
Suppose you are not interested in the car's condition and are buying it as a project car. In that case, you can get it in whichever shape you find it since these skylines are rare. You will probably sell it at a high profit if you decide to sell it after the project.
Why is the Seller Selling?
Ask for legal documentation of the car as this proves ownership. You can also check the VIN and plates of the vehicle in a VIN website car registration portal for proof of ownership. If you decide to buy the car, determine a price for yourself according to the market price of skylines. Then compare that price with the car's condition and if there is work to be done on it and to which level, then bargain with the seller. If he asks for a higher price than what you have in mind, negotiate till he comes below or near your price. If he has a lower price, then take it.
Pros and Cons of Owning an R34 Nissan Skyline
Pros
Legendary status. The R34 is one of the most loved JDM cars and owning one colourant you in a specific place in the car community.
The R34 GT-R is an all-around vehicle. You can decide to keep it in stock for originality. You have a daily driver, which is better than some everyday driven sports cars.
You can tune it for different occasions such as a track car, drift car, or just a streetcar. The R32 inherited platform just works with anything.
The AWD system in the R34 offers good handling in base trim R34s, and it is even better in the GT-Rs; even with an increase in power output, the AWD in the R34 handles just fine.
Asset status. With time, the R34 increases rather than depreciate.
Cons
Poor maintenance will depreciate the R34, but the better you maintain it, the longer it lasts. Getting one that has been poorly maintained will cost you a lot to rebuild as a project car.
Having a GTR will attract the police as you cannot import a GTR due to the 1988 car import safety law. But if an R34 is legally registered to be driven in the United States, you'll have no issues with the law. Thieves will also be attracted to the rare gem you have due to its value.
Insurance is also expensive for such a rare car, but it's worth it.
FAQ
How much does a Nissan Skyline R34 cost?
Like any other Nissan Skyline, an entry-level Skyline R34 will cost around $7,000 to $15,000. Still, you get it with a naturally aspirated engine and an automatic transmission. On the other hand, R34 Skylines with turbocharged engines sell for more than $15,000 and if you are looking for an R34 GT-R, budget for more than $50,000.
When will the Nissan Skyline R34 become legal in the US?
The Nissan Skyline R34 will become legal for import in the US after January 2024, exactly 25 years after production began in 1999.
Which year was the Nissan Skyline R34 manufactured?
Nissan Began producing the Skyline R34 in January 1999 at their Musashimurayama factory, Japan.
Where can I buy a Nissan Skyline R34?
Since you cannot import a Nissan Skyline R34 in the US, buying a local unit is the best chance to own one. However, you can import one as a show car or race car, but it will not be road legal until 2024. If you are in Canada, you can import and register one without legal issues since Canadian import laws allow imported cars 15 years or older. Another common option is buying a Skyline R34 in Japan and waiting until 2024 to import it. This saves you some money as prices increase daily for the Nissan Skyline R34 as 2024 draws by.
How old is the Nissan Skyline R34?
The Nissan Skyline sits between 23 and 20 years old depending on the year of manufacture from 1999-2002.
Why is the Nissan SkylineR34 illegal in the US?
The Nissan Skyline R34 is illegal in the US due to the Imported Vehicle Safety Compliance Act, also known as the 25-year import rule, which prevents the importation of vehicles which are less than 25 years old.
How to import a Nissan Skyline R34
The only way you can import a Nissan Skyline R34 to the US is if you are importing it as a show car or race car. But this prevents you from driving it on public roads as it is deemed illegal to do so.
How fast is a Nissan Skyline R34 GT-R?
The Nissan Skyline R34 GT-R does 0-60 in just under 4.5 seconds and reaches a top speed of 250km/h.
How much horsepower does a Nissan Skyline R34 GT-R have?
At the time of production, the Nissan Skyline R34 GT-R made slightly over 300 horsepower. Still, on paper, it was 276 horsepower due to the Gentleman's agreement of 1988 which stated that cars would not produce more than 276 horsepower and would have a maximum speed limit of 180km/h.
Which engine does a Nissan Skyline R34 have?
The Nissan Skyline R34 has Nissan's RB series of engines consisting of the RB20, RB25 and RB26 in different naturally aspirated and turbocharged versions.
What is the Nissan Skyline R34's top speed?
Base spec models have a maximum speed of 180km/h, while performance spec, including the GT-R, reach 250km/h.
How to get a Nissan Skyline R34 in America?
You can only import and own a skyline in the US if you intend to use it as a show car or race car. You can't register it until 2024, let alone drive it on public roads.
Who made the Nissan Skyline R34?
The Nissan Skyline R34 was made by Nissan from 1999 to 2002.
More Info about The Nissan Skyline
The Nissan Skyline (aka Godzilla) is a legendary vehicle and can't be squeezed into a single guide. We've put together an "Overview" buying guide as well as individual buying guides for each generation of Nissan Skyline.
Nissan Skyline Buying Guides:
How to Import a Nissan Skyline from Japan:
Recommended Reading:
Are you a Nissan Skyline expert? See something incorrect with our article? If so, we'd love to hear from you. Please contact us to let us know if a correction is required.
Featured image credited to http://www.speedhunters.com/2021/07/r34-gt-r-v-spec/