A considerable percentage of first-time car buyers prioritize JDM cars compared to cars from other manufacturers. Not only are they cheap and reliable, but the JDM car culture is one of the most welcoming cultures that doesn't discriminate against any car you have provided it's Japanese. JDM cars are also tunable due to the wide aftermarket support, especially in the United States and Canada.
The JDM market also has a variety to choose from. If you want a drift car for cheap, get a Fairlady Z (350Z) or a Toyota Supra if your dream is to gap supercar owners on the drag strip. It all comes down to your budget and needs. The Mazda Miata or the Toyota MR-2 is the best option if you want a cheap and reliable car daily to school.
Japanese cars initially sold in the US aren't JDM cars, they are Japanese USDM cars. Often the JDM versions of a USDM vehicle are available with better engine options (turbo diesel) and other features never available in the US. Thus, many prefer importing JDM cars from Japan. But the difference is only significant in select cars. For example, most Mitsubishi 3000 GTs sold in the United States and Canada don't have an active exhaust and active aero like in the JDM Mitsubishi GTO.
Importing every JDM car ever made is possible, but we have compiled a list of the crème de la crème JDM cars you can import to the USA and Canada based on current import laws and regulations. We advise that you inform yourself about how to avoid JDM import scams before choosing to import.
Top 11 JDM Cars You Can Now Import To The USA in 2024
It's important to note that the 25-year import rule is specific to the month of vehicle manufacture. A 1999 vehicle with a manufacture date of January 1999 would be eligible to import in January 2024. Please check with your JDM importer/exporter to ensure the vehicle you desire is legal or can be stored until legal to import to the USA.
R34 Nissan Skyline GT-R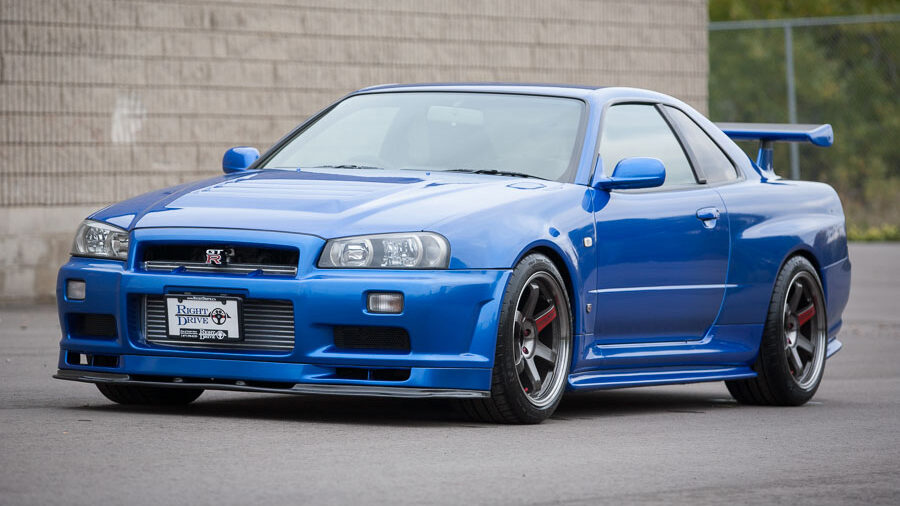 The Nissan Skyline R34 GT-R is among the best JDM cars to import to the USA in 2024. The car community has been yearning for it since early production GTs and GT-Ts became legal to import in early 2023 since neither of these is good as the R34. But is it worth buying an R34 GT-R over an R33 or R32, especially with prices expected to skyrocket even further than they already are? It's even more confusing when you think of the looming R34 GT-R shortage since limited units were made (around 12,000), which increases prices even more.
Costs aside, nothing should bar you from importing an R34 GT-R. It's iconic, as iconic as JDM cars can be, and owning one is considered more of a privilege than an opportunity. Some might disregard this since it's the same as the R32 and R33 GT-R underneath that stunning body. We agree the R32 GT-R is slightly better due to its lighter chassis. However, the R34 GT-R is more refined with advanced aerodynamics, handling, and drivability. In addition, the RB26DETT got major upgrades during production time, such as new turbochargers and improved engine management.
How much is a Nissan Skyline R34 GT-R? The cheapest base models sell for around $130,000, and prices can go up to a million dollars for rare and one-off units such as the R-Tune QT1 donning the pearl white paint job. A few other one-offs that pop up occasionally that very few people knew existed go for extremely high prices at auction. Despite the prices, enthusiasts will hopefully enjoy more R34 GT-R sightings once they become legal to import to the USA in January 2024.
View Nissan Skyline GT-R Ads For Sale
Read Our Nissan Skyline R34 GT-R Buying Guide
Nissan Silvia S15
1999 was a golden year for Nissan since it was also the year they produced one of their most sought-after sports cars, the Nissan Silvia S15. It's the most yearned-for S-chassis generation since the American market didn't get any model year with the SR20DET engine, and the S13 is believed not to be as good as the S14. Also, there's something about the S14's appeal that makes you immediately want to own one. It stands out from other small sports cars, performs better, and has better tuning capabilities. If an R34 GT-R is not within your budget range, a Silvia S15 should be your second option.
Besides being good-looking, the Nissan Silvia S15 is also pleasing and comfortable to drive thanks to improved interior ergonomics, which were not good in the S13 and S14. The downsides of owning an S15 aren't major, and the few age-related issues can be fixed by regular maintenance. This means that maintenance and running costs are relatively low, one of the best qualities to consider when buying a JDM car.
Nissan Silvia S15 prices start at approximately $20,000 for base model Spec-Ss with the naturally aspirated SR20DE mated to the 4-speed automatic transmission. Units with a 5-speed manual transmission also average the same price. Spec-Rs with the SR20DET mated to a 6-speed manual transmission rarely retail for below $30,000. But they offer a better driving experience due to extensive handling upgrades. There were also a few Spec-Rs made with a 4-speed automatic transmission.
View Nissan Silvia Ads For Sale
Read Our Nissan Silvia S15 Buying Guide
Toyota Celica T230
Budget JDM sports cars are the top options if you want that raw driving experience on a budget, and one among the best is the Toyota Celica T230. But with so many of them available locally, why should you go through the process of importing one?
The Toyota Celica is not a dearest in the car community mainly because most owners rice theirs out so bad they become an eyesore. This makes finding a clean Celica difficult, and the most pristine units are overpriced. Not hating any builds, but cosmetic mods have a likable limit. Another reason you should import a Toyota Celica from Japan is because most units sold in Japan during production time had the high-revving2ZZ-GE engine, which Toyota Made in collaboration with Yamaha. Compared to the 1ZZ-FE, it has more power, is easier to build and tune, and has better aftermarket support, as it was also used in the Corolla XRS.
An FF platform might seem like a disadvantage, but it's nothing to complain about on the Toyota Celica T230 as you can't even tell its front-wheel-drive when driving it. It's even better when you get one with a 6-speed manual transmission. Cons, the interior wears out rapidly, like in most Toyotas, has limited cabin and trunk space, and ride comfort is not excellent. But they are easy to live with, considering the Celica's reliability and low maintenance costs. It's also cheap, with importation costs averaging $15,000 after shipping, taxes, and other related expenses.
View Toyota Celica Ads For Sale
Read Our Toyota Celica Buying Guide
Mitsubishi Lancer EVO VI
Not all JDM cars meet buyers' requirements, especially regarding practicality. In most cases, you'll find most JDM car owners have an extra car, but not if they own a Mitsubishi EVO. However, Mitsubishi EVOs are not as common in the United States since Mitsubishi only sold them in Japan and a few select international markets due to market restraints facing JDM manufacturers. The EV0 VIII was the first generation sold in the United States from 2003 to 2005. Older generations have been imported as they meet the 25-year rule, and in 2024, the sixth-gen EVO VI is one of the best JDM cars you can import to the United States.
The Mitsubishi EVO VI isn't much different from its predecessors, so whether you should import one or buy an EVO VI or IV is a matter of preference. Even with the 4G63 T's turbocharger and cooling system upgrades, power output in the EVO VI was rated at 276 horsepower during production time, similar to the EVO V. The only significant difference in the EVO VI is that it has Active Yaw Control (AYC), an active differential for improved handling and a slightly less aggressive body kit, and curvier body lines.
Importing a Mitsubishi EVO VI will knock back your financials by around $25,000 for base model RSs without AYC and factory options such as power windows and Brembo brakes. GSRs are priced slightly higher in Japan, at approximately $23,000, bringing total importation costs to roughly $30,000. There's also the to-die-for Tommi Mäkinen Edition models, of which Mitsubishi made about 2500 units. These can fetch figures north of $70,000 once imported, regardless of whether it has the RS or GSR package.
View Mitsubishi Lancer Evolution Ads For Sale
Read Our Mitsubishi Lancer Evolution Buying Guide
Toyota Land Cruiser J100
As far as JDM SUVs go, the Toyota Land Cruiser 100 Series is as good as they come. But again, importing one is a matter of preference since there are units available locally sold by Toyota during production time, including newer models made towards the end of production. Landed and all costs and taxes paid, a 100 Series Toyota Land Cruiser will cost you around $25,000. Low-grade units without any mods in factory condition go for less at around $15,000 to $20,000. Local listings also average the same prices. However, there are several advantages of importing a Japanese-spec Land Cruiser J100.
In the United States, the LC100 was sold only with a 4-speed or 5-speed automatic transmission and fewer engine options than in the Japanese market. Case in point, you can't find any local Land Cruiser 100 series with the 4.2-liter turbodiesel (1HD-FTE), which remains one of the best diesel engines to date. Additionally, the Japanese-spec Land Cruiser got an auxiliary fuel tank which comes in handy during those off-the-grid camping expeditions and long-distance driving. Other nice perks standard in the JDM 100 Series Land Cruiser include a compass, third-row seat, height control, and multiple (comfort and sport) driving modes.
View Toyota Land Cruiser Ads For Sale
Read Our Toyota Land Cruiser Buying Guide
Toyota Crown S170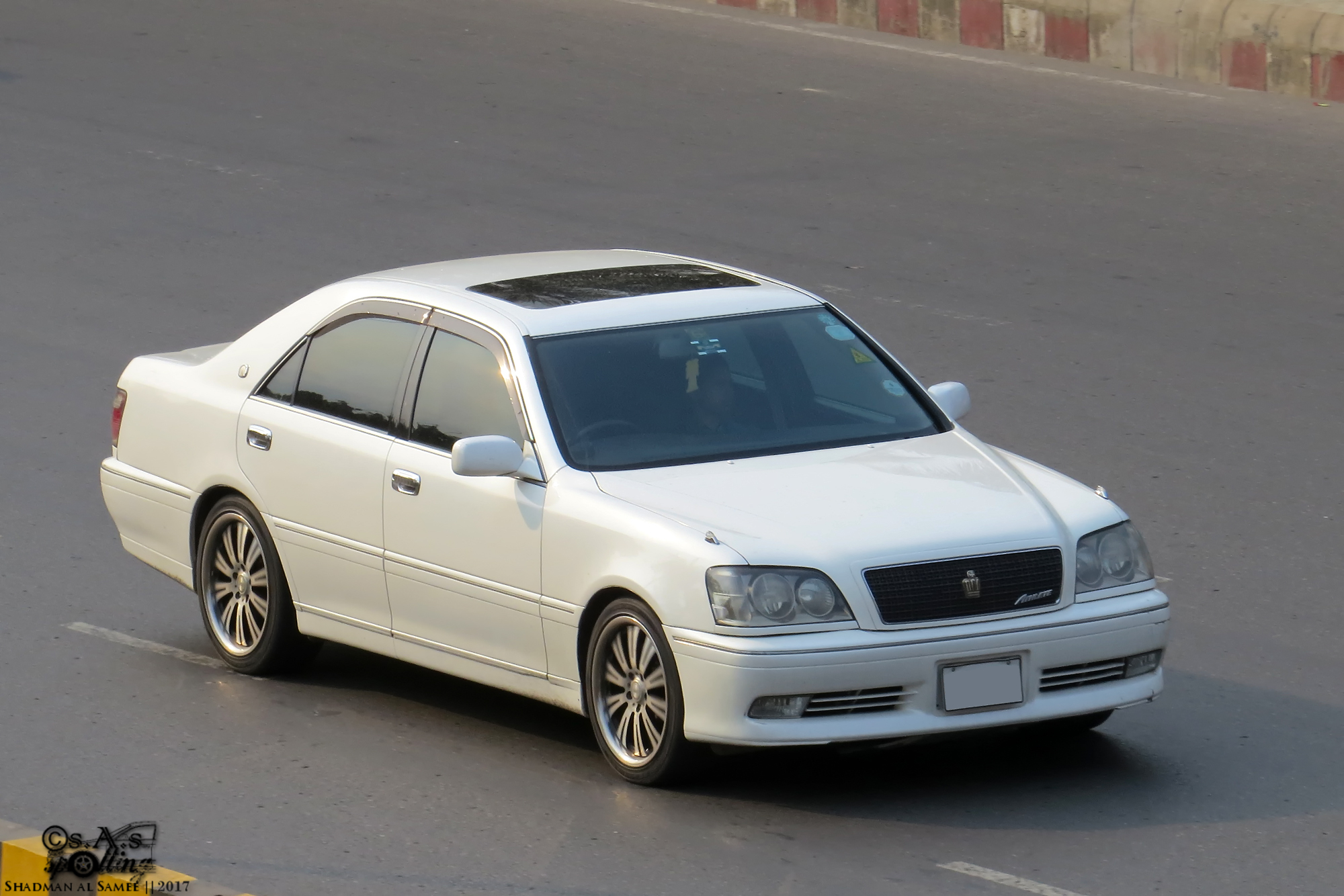 Toyota arguably made some of the most iconic JDM luxury sedans in the 1990s, among which the eleventh-gen Toyota Crown S170 is the most desirable. Being made around the same time as the Toyota Chaser and Mark II JZX100, the Crown S170 got several variants of the 1JZ and 2JZ engines that any JDM car enthusiast won't say no to. The only disadvantage, Toyota didn't offer any manual transmission option for the Toyota Crown S170, including the Crown Athlete V, which comes with a twin-turbocharged 1JZ-GTE. All models were sold with either a 4-speed or 5-speed automatic transmission.
The best way to enjoy a Toyota Crown S170 is without modifying it. Ride quality is excellent owing to the adjustable air suspension, a well-built interior featuring high-quality woolen or leather seats, and insulated doors. It's also practical, particularly the estate variant, and has some nice luxurious touches, such as a mini fridge, rear seat stereo controls, and window blinds. You won't find such comfort in a car that you'd pay the same price as a Toyota Crown S170.
Speaking of price, the sixth-gen Toyota Crown becomes legal to import to the USA in September 2024. Prices are expected to average around $10,000 shipped, and taxes cleared, making it one of the cheapest JDM cars to import. But like any other car, there are disadvantages. Fuel consumption in the Crown S170 isn't great, and it weighs over 3200 pounds and has a low ride height, so it can be a pain in the neck to drive one on bumpy roads.
View Toyota Crown Ads For Sale
Read Our Toyota Crown Buying Guide
Mazda RX-7 FD Series 8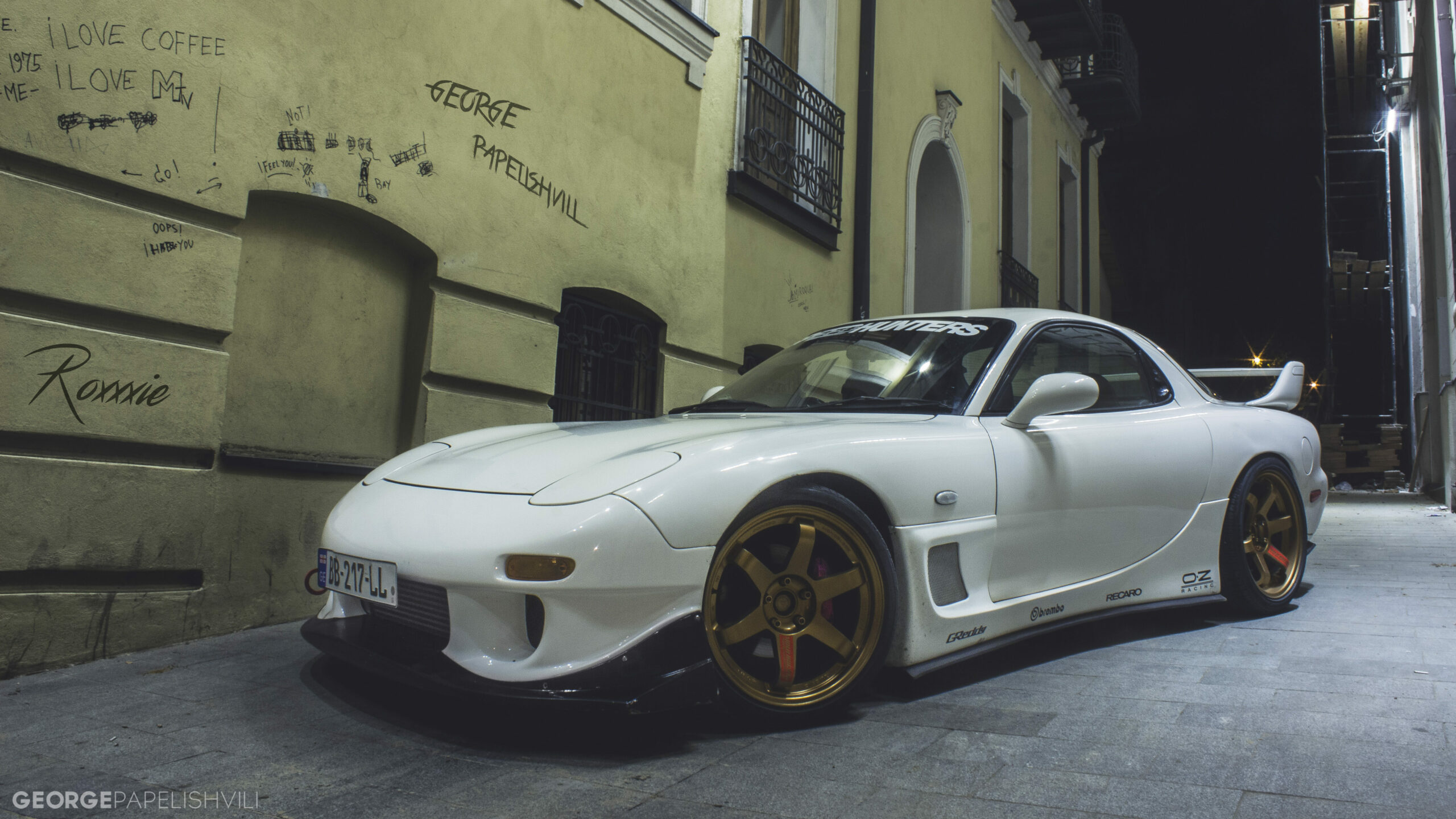 The Series 8 Mazda RX-7 FD was the last production RX-7, following the Series 6 produced from 1992 to 1995 and Series 7 from 1995 to 1998. Like most cars produced around the same time, the Series 8 RX-7 FD was exclusively sold in Japan, which is one of the reasons you should import one. But is it any different than older model year RX-7 FDs?
In addition to the front fascia facelift, the RX-7 FD got engine management, turbocharger, cooling, transmission, and suspension upgrades. The interior was also revised as Mazda introduced new bucket seats with extra padding and added removable rear seats. However, most of these upgrades were limited to special editions, which include the Type RS and the rare Type RZ. Mazda also introduced a Spirit R limited to 1500 units to commemorate the RX-7's end of production.
Despite being a final production model, Mazda RX-7 FD Series 8 prices are fair, starting at around $25,000 in Japan. This brings total importation costs to approximately $35,000. Some units sell for more or less depending on the mileage, spec mod, transmission (5-speed manual, 4-speed automatic), and the car's condition.
Read Our Mazda RX-7 FD Buying Guide
Honda S2000 AP1
For the longest time, the Honda S2000 has been described as the pinnacle of JDM sports car engineering. It's praised for its balanced chassis with near 50/50 weight distribution, giving it precise and responsive handling even in the tightest corners. The engine is also a marvel due to its high revving nature and higher compression ratio that gives it almost 125 horsepower per liter, making it a favorite among tuners. A 6-speed manual transmission adds icing to the cake in the Honda S2000 AP1, making driving an engaging experience that any enthusiastic driver would enjoy.
It's driver-focused, reliable, and has timeless looks; what's stopping you from buying a Honda S2000? Sure, it might be impractical, but most sports cars aren't any different. Prices in Japan start at roughly 25,000; thus, importing one will cost you 35,000 at most. The cleanest example can fetch more, but Honda made no special or limited edition AP1 S2000s except the Type V, so prices are standardized. Compared to units being sold locally, importing a Honda S2000 is cheaper since most local listings average north of $40,000. But it won't be long before prices in Japan start soaring due to increasing demand.
Suzuki Every Wagon
Kei cars have always been Suzuki's specialty since they started making them. From cars to trucks and vans, they make Kei cars in every iteration. If you're looking to import a Kei car in 2024, there are quite a number to consider, but since most of them are impractical, the Suzuki Every Wagon is the best option. It combines practicality and a Kei car driving experience that is exhilarating, to say the least, despite how boring it looks. Power comes from a turbocharged 660 cc 3-cylinder engine sending power to all wheels via a 5-speed manual transmission.
ABS and dual-front airbags were made standard in the Suzuki Every Wagon, making it safer than most Kei cars. It also has side impact bars and power steering, uncommon in Kei cars. Disadvantages, it's more susceptible to rust due to its light build quality, and driving on highways isn't something you should consider since keeping up with traffic at highway speeds is difficult. Also, you might have registration issues due to the rear seats lacking seatbelts which is illegal in some states.
Kei cars don't have as much demand as most JDM cars, so importing one shouldn't cost you that much. For a Suzuki Every Wagon, expect to pay around $4,000 for one in Japan, and it shouldn't arrive at your doorstep for more than $10,000. Is the Suzuki Every Wagon the best car to import to the United States in 2024 for under $10,000? We'll let you decide.
View Suzuki Every Van Ads For Sale
Read Our Suzuki Every Van Buying Guide
Toyota MR-S W30
In 1999, Toyota unveiled the last generation MR-2 and sold it as the Toyota MR-S in Japan. Some units were also sold in the United States, badged as the Toyota MR-2 Spyder and MR/MR2 Roadster in the European market. But there was not much difference from the JDM MR-S since they all shared the same 1.8-liter 1ZZ-FED driving the rear wheels via a 5-speed manual or a 5-speed and 6-speed sequential transmission. Toyota used the 6-speed manual transmission only in the European market.
One of the Toyota MR-S's best attributes is its mid-platform engine placement. This gives it a perfectly balanced chassis, making it fun and easy to drive. Most owners end up turbocharging or supercharging the engine due to its low horsepower output. Swaps are also common, especially with the better 2ZZ engine, Honda K-series engine, or any other if your budget allows it. The engine bay is large enough to accommodate even massive LS V8 engines. Cons, being a convertible, the Toyota MR-S has a cramped interior, and the front trunk space isn't different. Due to its impracticality, it's better enjoyed as a weekend than a daily driven car.
Starting in October 2024, you can import a Toyota MR-S to the United States. Prices start at about $5,000, going up to $15,000 for high-spec units with some mods, meaning you can import one for anything between $8,000 and $20,000.
Read Our Toyota MR-2 Buying Guide
Top JDM Cars You Can Now Import To Canada in 2024
Like the United States, Canada imports more cars from Japan than any other country, most of which are from the 1990s and early 2000s. In Canada, import laws are not as strict as US import laws, and you can import any car provided it's over 15 years old from the date of manufacture. This is why some will import their vehicles to Canada and then wait until they can be legally imported into the US. So, which of the best JDM cars can you import to Canada in 2024?
Subaru Legacy STi S402
Not to be confused with the Subaru Impreza STi S204, the Subaru Legacy STi S402 is a high-performance version of the fourth-gen Subaru Legacy (BP/BL) produced between 2008 and 2009. Subaru only made a limited run of 402 units for the Japanese market featuring the EJ257 2.5-liter turbocharged boxer engine that made just shy of 300 horsepower during production time. The engine sends power to all four wheels via a 6-speed manual gearbox, perfect for those Canadian winters, right?
The Subaru Legacy STi S402 is available as a sedan or wagon, both practical enough to handle grocery and school runs. Safety is also top-notch thanks to Subaru Eyesight technology, unavailable in the United States and Canadian markets Subaru cars when first introduced. Is the Subaru STi S402 reliable? The fourth-gen Legacy has the best reliability ratings of all older generations and ranks among the most reliable Subarus today. When taken care of, 300,000 miles without changing factory parts is easily achievable.
Due to rarity, Subaru Legacy STi S402 prices average $25,000 and can increase to over $35,000 for low mileage and well-kept units. Nonetheless, it's a great car you'll feel proud owning and driving as it has the performance and the looks to make up for whatever you'll pay after importation costs, taxes, and registration. Would you buy a Subaru Legacy STi S402 or an Impreza WRX STi Spec C?
View Subaru Legacy Ads For Sale
Read Our Subaru Legacy Buying Guide
R35 Nissan Skyline GT-R
In the 2000s, JDM car culture was fading away, but Nissan's unveiling of the GT-R in 2007 showed the world that Japan could still make great cars as they did. You might wonder why the Nissan GT-R is on this list, yet there are tons of units for sale in Canada and the United States. With current prices, you might find a cheaper option in Japan since owners dispose of older cars to avoid high road taxes. Also, most GT-Rs for sale in Japan are unabused, well-maintained, and have extremely low mileage.
Buying a Nissan GT-R in Japan will cost not less than $40,000 for an early production base model, while premium model prices start at around $50,000. Rare units such as the Black Edition Spec V, limited to 110 units, sell for more, and finding one listed for sale hardly ever happens.
View Nissan Skyline GT-R Ads For Sale
Read Our R35 Nissan Skyline GT-R Buying Guide
Toyota Land Cruiser Prado J150
Buying a Toyota Land Cruiser Prado, isn't something most would consider, given that buying a Toyota 4Runner or a Lexus GX locally is easier. However, none of these were sold with a manual transmission which is among the key factors to consider when buying an SUV. Toyota also limits engine options and features for US and Canadian spec cars. For example, no diesel engine was offered in the Lexus GX400, GX460, and Toyota 4Runner N280, produced during the same time as the Prado J150.
It's no secret that the Toyota Land Cruiser Prado J150 is reliable and durable. After all, it comes from the Land Cruiser lineage, which arguably has the best SUVs renowned globally. The Prado J150's only significant disadvantages are that it has a cramped third-row seat and is unstable at highway speeds due to its lighter chassis and high ride height. Depending on the engine and the spec, Prado J150 prices average between $15,000 and $30,000, cheaper than what you'd pay for a Land Cruiser 200 series.
View Toyota Land Cruiser Prado Ads For Sale
Read Our Land Cruiser Prado Buying Guide
Subaru Impreza WRX STi Spec C
Limited to only 900 units, Subaru unveiled the second Subaru Impreza WRX STi Spec C in 2009 exclusively for the Japanese market. It features cosmetic, suspension, and engine upgrades such as a tuned ECU, water-cooled intercooler, a new cross member, Torsen LSD, and a sport-tuned suspension. Weight-saving measures such as lighter wheels, aluminum hood, lighter battery, and laminar glass were adopted to increase vehicle stability and handling.
There's no significant power output difference from the 2.5-liter EJ257, and the Impreza WRX STi spec C has the same 6-speed manual transmission as the base spec model. You can get the Subaru Impreza WRX STi Spec C as a sedan or hatchback, with prices starting at around $15,000 for both.
View Subaru Impreza WRX STi Ads For Sale
Read Our Subaru Impreza WRX STi Buying Guide
Resources
We also have a plethora of buying guides for all types of cars that are on the market right now. See a car you like? Our buying guide will help you through the process from start to finish!
JDM Car Import Cost Calculators