Toyota Century Buying Guide
The Toyota Century screams luxury and mafia vibes, especially when you see one with the factory black paint but is it better than a Lexus LS400? Toyota began producing the Century in 1967 as its flagship ultra-luxury sedan sitting above its smaller brother, the Toyota Crown. It was made for the wealthy and high-ranking government officials and businessmen in Japan.
In Japan, the Toyota Century symbolizes wealth and demands respect. There is a rumour that you can leave your Toyota Century with open windows and doors, yet no one will try to peep inside. But what does a Toyota Century have to demand respect? After all, to most, It's just a Toyota.
The Century is one of the few cars that have maintained originality since it was first produced. The resemblance between the first-gen Century (G20, G30, G40) and the third-gen (G60), made in 2018, is uncanny. But this is expected when a car has only been produced for three generations since it was first produced.
Unlike other Toyota sedans, the Century was only sold in Japan. To date, no export left-hand-drive units have been made. Except for experimental and ambassadorial units for Japanese ambassadors. So, what do you have to do to get yourself a Toyota Century?
There are some units for sale in the US, but owners have a love-hate relationship with their Toyota Centuries. They are fun cars to drive and own, especially when you think that there are few units in the US, but when it comes to maintenance, most owners are inclined to sell mainly because of the costs.
Buying from JDM vehicle importers or online listings is the easiest way to buy a Toyota Century. But importing one from Japan is another option if you can't find the perfect spec.
A Toyota Century might be the best Toyota you can ever own, to some, even better than the Toyota Supra. But before you decide to buy one, you should consider some pros and cons. Not every JDM car has a sweet cherry on top.
Pros and Cons
Pros
Excellent Build Quality
The Toyota Century was built to commemorate the 100th birthday of Toyota's founder, Sakichi Toyoda. It had to be unique and represent Toyota's brand in Japan as the leading automotive manufacturer. To date, Toyota Still makes the Century the same way it was first produced.
With high-ranking businessmen and politicians as the target market, Toyota had to make the Century stand out among other luxury sedans they were producing and those from other manufacturers.
There's not much you can give the Century credit for from the exterior, as it looks like any other luxury sedan. Apart from the chrome bits, alloy wheels, and gold Century badges, there's nothing much to go about. But the paint job will last a lifetime as all generations have 7 coats of hand-painted paint. But paint is just a minor determining factor when buying a JDM limo.
Yes, the Toyota Century is more of a limo than a sedan. You are welcomed in the interior by not fabric or leather seats but woollen ones. You might even find one with the original cotton seat covers, a characteristic of New York taxis. Woollen seats are better than leather seats as they offer better comfort and last longer. But leather seats were offered at no extra cost. The seat covers protect the wool from getting dirty and pilling.
It makes more sense being in the Toyota Century as a passenger than being the driver. Not that being the driver is terrible since you still enjoy that smooth V8 or V12 engine, but you'll enjoy all features like the rear seat passenger. You also get some fun controls on the driver's side, such as controls to the front passenger seat, all windows and a lit instrument cluster, unlike the analog instrument cluster in most JDM cars.
In the rear seat, you get massaging seats with heating and reclining functionality and ashtrays on each door if you prefer lighting a cigar and a separate stereo from the main stereo.
Tech used in the Toyota Century was ahead of its time. The latest model, G60, has similar features but is updated to modern tech. It might not make sense today, but you get a cassette recorder with Century branded earphones to listen to recordings.
Cheap
You can pick 3 Toyota Crowns for the price of a Toyota Century. But the Toyota Century is a cheap purchase compared to other cars in its class, such as the Mercedes Benz S class. There is no base spec, and high spec trims for the Toyota Century, as this was not Toyota's intention.
The only distinguishing features are the engine options. Prices for a Toyota Century with a V12 engine start at around $25,000, while model years with V8 engines retail for around $10,000 or lower. Compared to an S-Class or Rolls Royce of the same year, the Toyota Century is the cheapest option you have if you are planning on buying a classic limo. It's also the most reliable, meaning maintenance is cheaper.
Has a V12 Engine.
For $30,000, you can get yourself a JDM luxury limo which, in this case, is the Toyota Century, particularly the second generation (G50) made from 1997 to 2017. It's the only mass-produced JDM vehicle with a V12 engine.
You get the G50 Century with two V12 engines with a 5-litre displacement. The most common one is the 1GZ-FE, mostly used in Japan, while select export models have a 1GZ-FNE with a little more horsepower.
Smokey Nagata used the 1GZ-FE V12 engine in his Supra build, which enabled him to reach speeds of over 220mph. However, this is not something you want to do in a Toyota Century. The main advantage of the V12 engine is to ensure constant power delivery at both low and high RPMs; thus, the engine doesn't struggle to pull the Century's massive weight.
Reliable
The Toyota Century is reliable for a car with a 4.0-litre or 5.0-litre engine. Model years with V12 engines will average around 11mpg while those will V8 engines will average around 19mpg. Which is not bad for a 4500-pound to 6500-pound car. Replacement parts might be hard to find and expensive to buy. Still, you don't have to worry about significant components breaking down.
Practical
The Toyota Century was made for customers who bundle large bags and suitcases in the trunk on the way to the airport and add gift bags after returning from a business journey. It makes the perfect tour car for when you are doing trips to the beach, upcountry, or when doing long-period road trips across the country together with friends.
In the interior, there are small but practical storage spaces where you can keep the car's maintenance schedule, cards, and small tools. Also, you can use these storage spaces to keep the car's pictorial or written documentation when you are in a car show or at a car meet. The Toyota Century is rare in the United States, and most JDM fanatics wouldn't pass a chance to explore one.
Most are in Mint Condition
Unlike other JDM sedans, the Toyota Century is exceptionally preserved. Regardless of the number of owners it has been through, you'll find everything OEM intact and in pristine condition. The woollen interior was made to last a lifetime of ferrying the high-ranking members of the society. They rarely spill drinks or use the car that much for the interior to wear out. Sure, the Toyota Century has plastic bits like any other Toyota, but it's not the kind that cracks and fades over time.
Tracing the maintenance schedule shouldn't be hard since most owners document every minor maintenance and replacement done.
Also, the Toyota Century is not the type of car you'll find on a drift track thrown around in tight corners or a tuner shop being dyno tuned. Some have tried straight-piping the exhaust, but this is as far as modifications go for the Toyota Century. If you want to fully max out the V12 or V8 engine, you are better off swapping it into another car.
Safe (Rear Side Airbags)
The Toyota Century is among the first cars to have dual front, and side-impact airbags since most vehicles only had the driver's side airbag at the production time. Also, the Toyota Century was the first car to have rear side-impact airbags embedded on the outer edges of the seats.
However, these safety features come at a price. But if you prefer safety above performance, the Toyota Century is the better option, especially if you are going to daily drive it. Other safety features include ABS, parking support alert, pre-collision warning system, blind-spot monitor, and cruise control which are all standard.
Cons
Outdated Technology
Older luxury sedans like the Toyota Century were ahead of time at the time of production. Still, some features get outdated with the ever-evolving tech. Seeing features such as a coloured signal TV in a car 30 years ago is something that would make buyers buy the car without even thinking twice. But today, we have Apple Car Play and Android Auto, which stomps on old tech anytime.
Since the Toyota Century was mainly made for the Japanese market, all the controls are marked in Chinese. You'll find tuning the TV, Stereo, or instrument cluster hard unless you have a translator app on your phone. But if you are lucky, you might find a Toyota Century with the original owner's manual, which has Chinese and English sections.
Doesn't have Leather Seats
A Toyota Century with leather seats is hard to come across since it came standard with woollen seats, which most buyers preferred. Leather seats were changed at no extra cost, but they are not more comfortable than woollen seats.
Woollen seats will last longer but are high maintenance since they develop fuzzy balls and get dirty quicker when used. On the other hand, leather is low-maintenance as it's easier to clean. If you prefer leather seats, the Toyota Century is not the car for you unless you plan on doing an upholstery. But this ruins the originality of the car.
Few units are available in the US
The Toyota Century was never sold outside Japan. Very few units were exported to other countries for high-ranking government officials and experimental purposes only. Finding one that is LHD is a one-in-a-million probability, and you shouldn't dedicate yourself to finding one.
Some owners are reluctant to sell after developing a love-hate relationship with the Toyota Century. Maintenance costs might be high, but there's a chance they'll never see another Century again.
RHD units are available but rarely for sale. Hence, the only option is to import one through an import agency in the US or an exporter in Japan. But you have to consider the 25-year import rule, or else you'll have trouble with the authorities depending on your state.
High Maintenance Costs
There are very few minor issues you should worry about regarding the Toyota Century's maintenance. But something as simple as a control arm or any suspension components will make you wish you wouldn't have bought it in the first place.
You have to wait for parts to be shipped from Japan which is the only place you can get original parts. The Toyota Century has more OEM and aftermarket support in Japan than elsewhere. In the US, you either have to ship, wait long periods, or pay ridiculous prices.
Stagnating Value
Buying a Toyota Century is nothing like buying a Toyota Supra. The Toyota Supra might appreciate highly, but the Century will not. Most owners and prospective buyers have to face this as they expect it to appreciate since it wasn't sold in the US, and few are available.
But this does not mean that the Toyota Century will plummet in value. It will either retain the price you bought it at or depreciate a little bit due to normal wear and tear. But if you are not planning to sell, this shouldn't trouble you. There's also a chance you might get more than you paid for it if an enthusiast is in dire need of one or you decide to stick with a higher price. If buyers are interested, you have every right to increase the price and sell the car to the highest bidder.
Common Issues
The Toyota Century has very few issues you can expect on a typical 30-year-old JDM car. Massive oil and fuel consumption are expected when a V8 or V12 engine is under the hood pulling 5000 pounds. Component failure in Toyota Centuries is unheard of unless at the hands of a careless owner.
However, you regularly need to check the condition of the air suspension as this is a common failure in old cars with an air suspension. Toyota used air suspension on the Toyota Century before the Toyota Crown, and earlier models experienced air suspension failure.
Average Prices
The average starting price for a Toyota Century is around $20,000. You can get an imported Century with a V12 engine without previous US ownership for that price. Toyota Centuries with V8 engines retail for around $10,000 to $15,000 or less if you are eyeing an early production model. The best place to buy a Toyota Century is from JDM vehicle-specific importers if you are looking for locally available units. You can also import one through local JDM importers or exporters in Japan.
Comparable Alternatives
Models and Specifications
1967-1997 Toyota Century (G20, G30, G40)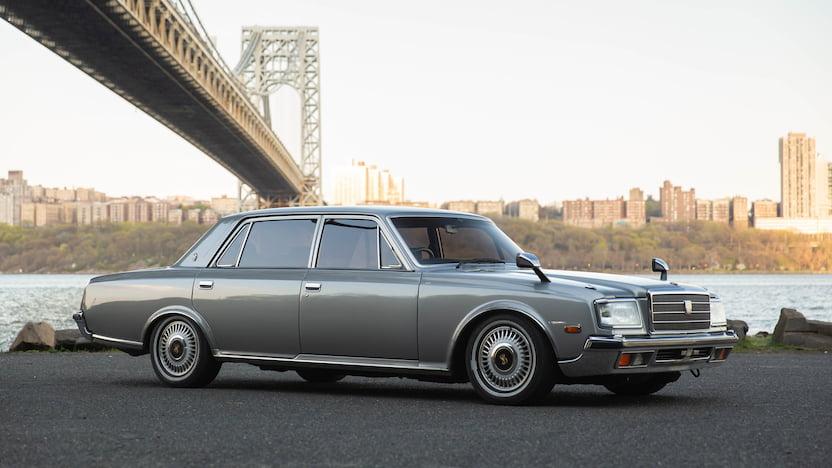 The first-gen Toyota Century was released in 1967 as a more luxurious version of the Toyota Crown due to high demand for a luxury limo that wasn't being used as a taxi. It was the rich man's limo that few could afford, but it was built on the same platform as the 1967 (S50) Toyota Crown.
However, the Toyota Century has a longer body and better engine options than the Toyota Crown. You get the first-gen Century with 3 V8 engine variants. A 3.0-litre, 3.4-liter, and 4,0-liter V8 engine drive the rear wheels via a 3/4-speed automatic or a 3/4-speed manual transmission. More automatic transmission units were made with a column-mounted shifter. After 1974, Toyota discontinued the manual transmission for the Toyota Century.
Toyota couldn't use an inline-six engine in the Toyota Century due to the weight increase and due to competition from other luxury limos with V8 engines, such as the Nissan President.
A new and more extended platform was introduced in 1989, on which the first-gen Century limousine was built. The standard sedan is already a long car. It qualifies as a limousine, but when the Century limo was released, it had a more appealing limo status mainly because of an opera window in the center pillar.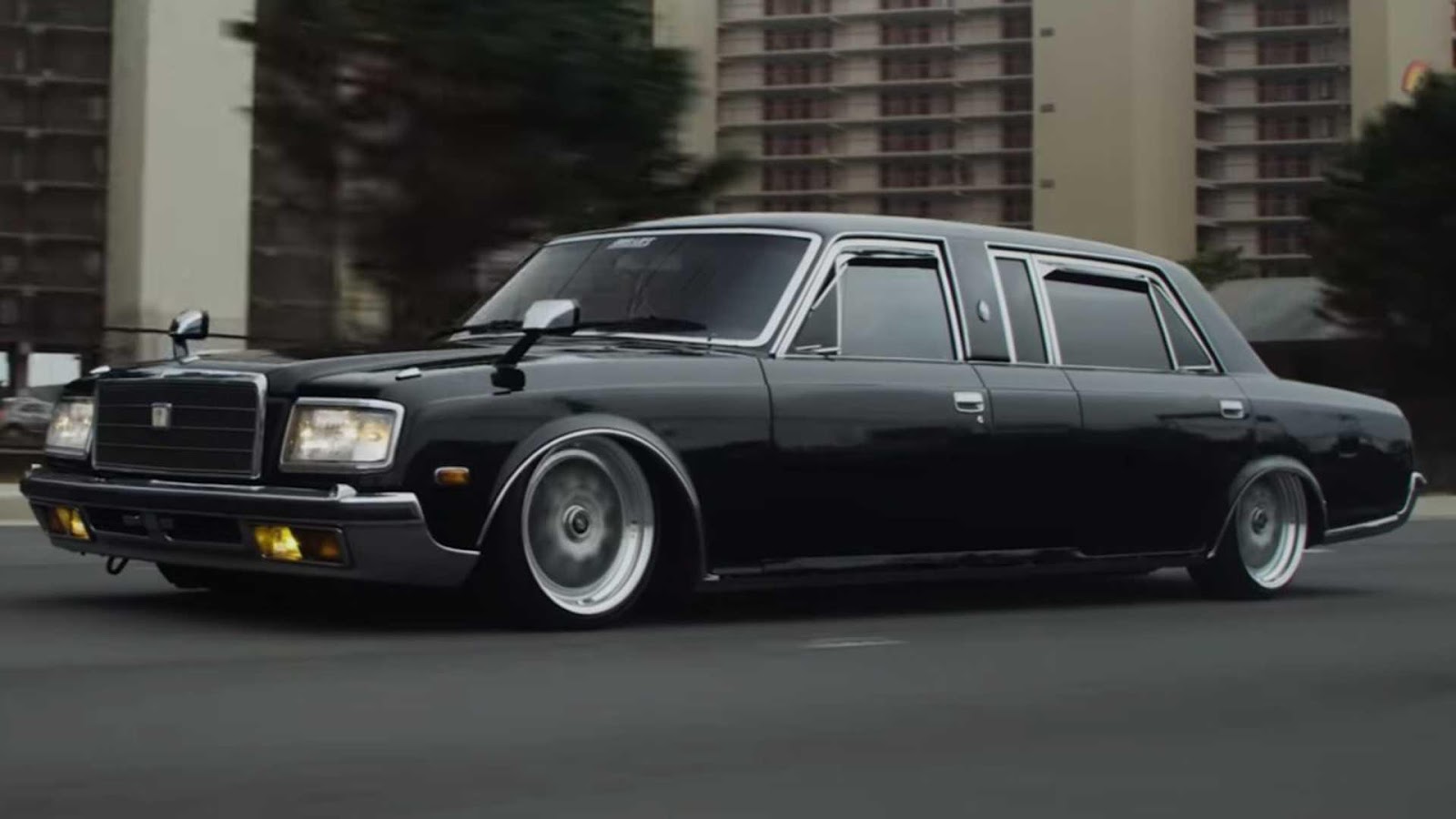 The Century limousine provided a cheaper and competitive option to luxury limos from other manufacturers, including the Rolls-Royce Silver Spirit and Cadillac de Ville, also being sold in Japan.
In the interior, you get woollen or leather seats, although the probability of getting leather seats is low. You also get some old tech, such as a cassette recorder Japan-only signal TV with a remote, and a rear seat stereo. Units produced after 1973 have automatic climate control too.
Throughout the 30 years when Toyota produced the first-gen Century, few changes were made to it. These included engine fuel injection, transmission, suspension, headlight, and taillight upgrades. Also, when the manual transmission was discontinued, Toyota introduced a floor-mounted shifter and a new electronically operated 4-speed automatic transmission.
1997-2017 Toyota Century (G50)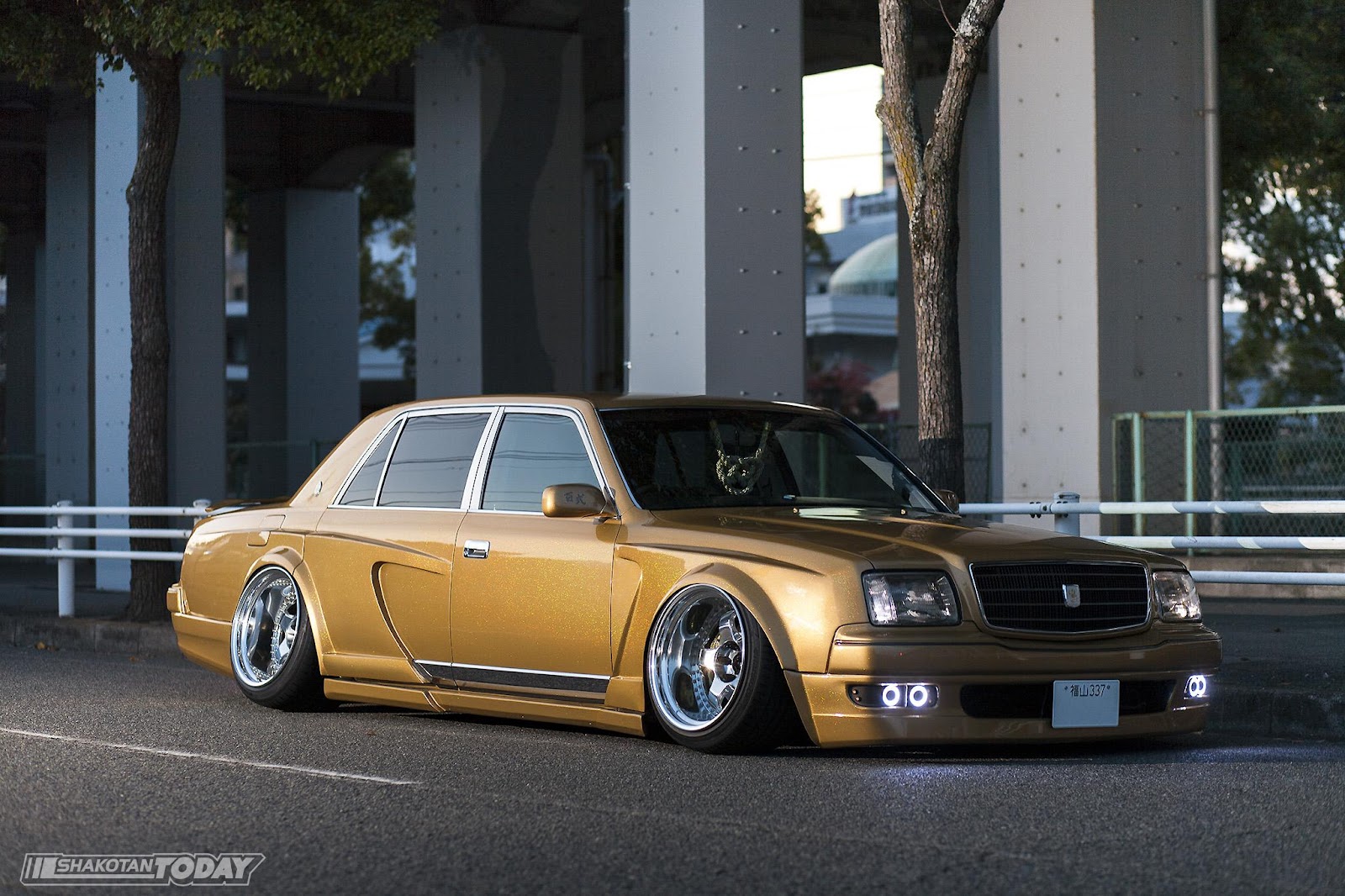 Toyota introduced a more extended chassis for the G50 Century. All mechanicals were similar to those used in the first-gen Century. The chassis upgrade mainly was because of the new V12 engines introduced for the second generation, which led to a massive 1000-pound weight increase.
You get the G50 Century with a 5.0-litre 1GZ-FE V12 or the 1GZ-FNE CNG V12 engine driving the rear wheels via a 4-speed or 6-speed automatic transmission. Toyota had no restrictions when making the Toyota Century. They could make it as long and heavy and fit any engine they desired for the Century to achieve Japan's top-dog luxury sedan status.
The 1GZ-FE engine was only used for the Japanese market, while the 1GZ-FNE CNE was used for export units. These were mainly for ambassadors and experimental purposes in countries it was never sold, including the US. In Japan, owning a car with a long wheelbase, high displacement engine, and heavy automatically meant that buyers have to pay high taxes. But this is something that the wealthy don't have to worry about.
Although the exterior was redone and the interior improved, the second-gen Century still resembles the first-gen Century and shares the same safety and comfort features. The interior retains the same features from the previous generation but with added features such as massaging and reclining rear seats and powered window blinders. A new air suspension was also introduced with adjustable ride height and comfort settings.
The G50 Toyota Century was produced for almost 20 years before discontinuation in 2017. A few minimal changes were made throughout its 20 years of production, even with modern technology improving yearly.
In 2005, 4 custom Toyota Centuries were made to replace the Nissan Prince Royal used by the Emperor of Japan. These were badged as the Toyota Century Royal G51 and were produced at the request of the Japanese Imperial Household to be used by the Senior members of the Imperial House of Japan.
Production began in 2006 and ended in 2008 after 3 long-wheelbase sedans and one hearse were made. To date, the Toyota Century Royal G51 remains the official state car used by Japan's Emperor.
2018-Present Toyota Century (G60)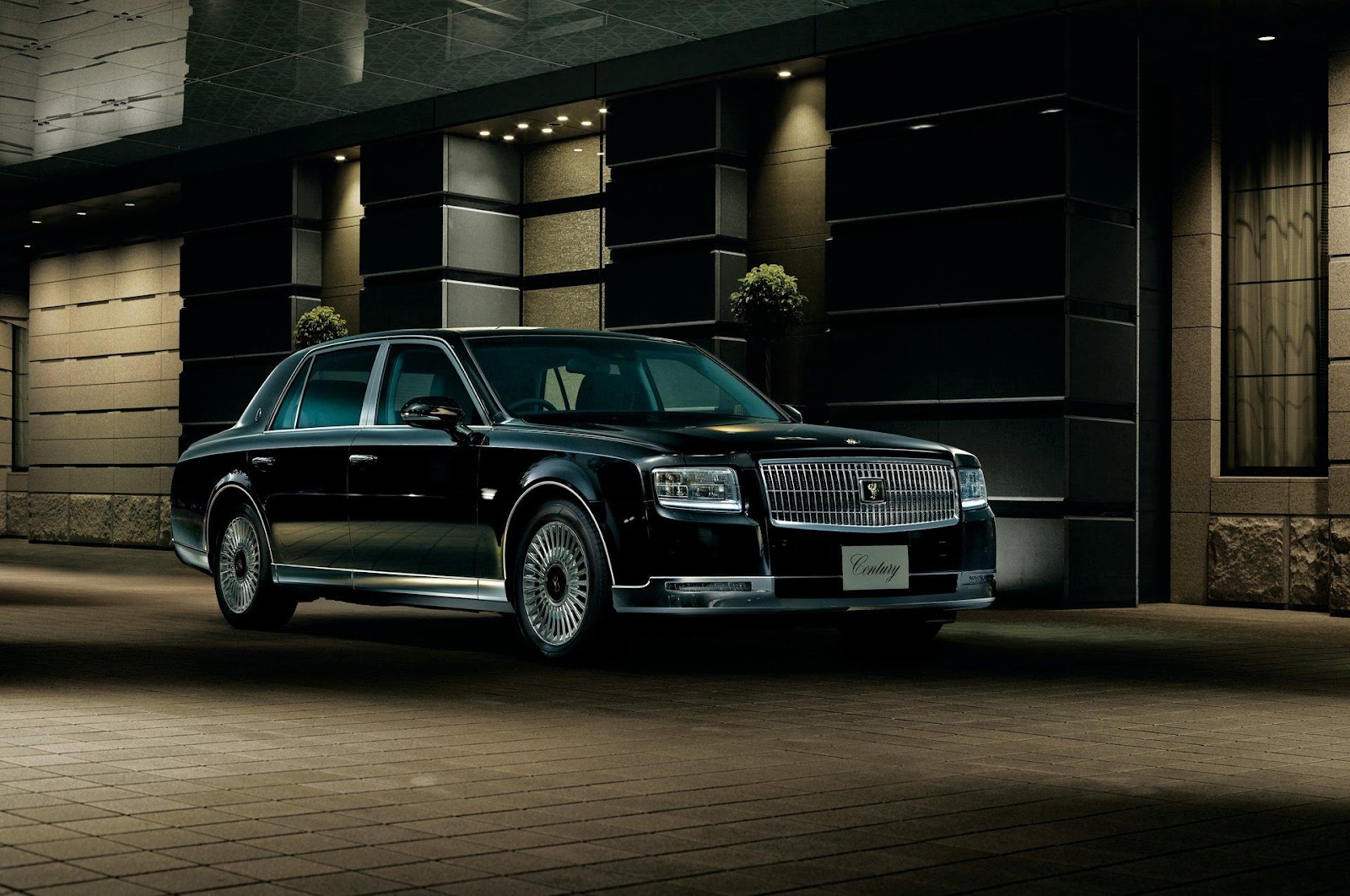 The G60 Century was unveiled in late 2017. Toyota also unveiled that it was a Japanese market-only production unit as the G50 Century export experimental units never did well in other markets. Dubbed the Japanese Rolls Royce, the G60 Toyota Century is the most luxurious JDM car you can buy, carrying over the characteristics of its predecessors.
However, the V12 engines were discontinued, and a more powerful 5.0-litre V8 was used in the G60 Century producing 100 more horsepower. Toyota also introduced an electric motor that pushes power output to 425 horsepower and improved fuel consumption to 32mpg compared to 24mpg in the Century G60.
On the interior woollen seats are still offered as standard. But buyers can also opt for leather seats without paying extra. The old signal TV is replaced by a 20-inch LCD TV which also displays various comfort settings for the rear seat passengers. You also get 20 Bose speakers, and the audio can be split 50-50 or turned off for the front or rear passengers.
The G60 Century takes from the Century Royal G51, giving more legroom for the rear-seat passengers. Still, it doesn't have a split opera window on the B-pillar. When driving a 5200-pound limo, you don't want to keep your hands on the steering wheel. Toyota installed a floor-mounted shifter like in the first-gen Century, improving driver comfort for the chauffeurs.
A one-off Toyota Century improved by Toyota Gazoo Racing was also unveiled when production began in 2018. Few units were to be made, but only two exist, badged as the Toyota Century GRMN. Toyota's President Akio Toyoda owned one, and the other was unveiled as a concept car in 2019 at the Tokyo Auto Salon.
The Imperial Household Agency also placed a special order for a Century parade car to replace the Rolls Royce Corniche Convertible. Only one unit was made with a convertible hardtop to be used only by the Emperor of Japan.
FAQ
How Much is a Toyota Century?
A Toyota Century with a V12 engine will cost you around $20,000, which is a solid bargain. You can also get one with a V8 engine for just under $10,000. However, if you are eying the G60 Century budget for around $180,000 plus CIF costs since it's only sold in Japan.
Can I Import a Toyota Century to the US?
Yes. The Toyota Century is legal for import to the US, provided it's over 25 years old.
Is a Toyota Century better than a Lexus LS400?
Lexus is Toyota's luxury and performance unit, but the Lexus LS400 is nothing close to the Toyota Century. It might be quicker, but the whole point of buying a luxury sedan is comfort. The Lexus LS400 is luxurious but not as luxurious and comfortable as the Toyota Century.
Does the Toyota Century have a V12 engine?
Yes. All Toyota Centuries made between 1997 and 2017 (second-gen Century, G50) come with a 5.0-litre V12 engine.
Can I modify a Toyota Century?
Yes, but why do it? The Toyota Century is one of the best-looking JDM cars out there; a little makeover isn't too bad. However, some go overboard with modifications that make the Century lose originality. You can straight pipe the V12 engine, which sounds like a Lamborghini or Ferrari V12 engine, but that is as far as it should go. Check out this Century with a modified $10,000 exhaust
Can I drift a Toyota Century?
Hypothetically, it's possible, but you should consider some limiting factors. The Century weighs over 5 tonnes, and shedding off half that weight is impossible without affecting essential mechanicals you'll need for drifting. If you are into JDM sedans, the Toyota Chaser or Crown are favourable drift cars since they are lighter and have better engine and transmission options. There's also not enough aftermarket support for the Toyota Century to turn it into a drift car.
How to Import a Nissan Toyota Century
Read our Ultimate Guide on How to Import a Car from Japan.