1 - 36 of 45 Toyota Land Cruiser ads
Toyota Land Cruiser Buying Guide
The Toyota Land Cruiser first hit the market in 1951 and holds the distinction of being the longest-running Toyota vehicle. Ten years prior to its release, the Imperial Japanese Army occupying the Philippines had found an abandoned American Willys MB army reconnaissance jeep and sent it home to Toyota. The military tasked the auto manufacturer to produce something similar, but with a few alterations which were mainly in appearance. However, the goal was to reverse-engineer a utility vehicle with similar capabilities as the Willys.
In 1954, after some modifications, the new car was named the 'Land Cruiser,' as a dignified competitor to the English-made Land Rover. At the time, the SUV shared the name with the American-made Studebaker Land Cruiser.
Today, more than 10 million units have been sold, making the Land Cruiser one of the most iconic SUVs of all time.
Pros and Cons
Pros:
Extremely Reliable
The Toyota Land Cruiser is praised more for its reliability and durability than its luxury status. It's among Toyota's longest-running production cars, being produced for over 70 years, and early generations are still on the road like new. Of course, not without some TLC, as old age can cause several car issues. Since Toyota barely sold them here, land Cruisers aren't common on US roads. Only the Sequoia, Tacoma, and Tundra were sold in large numbers in the United States; these aren't as good as the Land Cruiser.
Also, options from local manufacturers that are easily available and capable give JDM SUVs fair competition. But none of them can be said to be as reliable and durable as the Land Cruiser despite having more presence. But what makes the Land Cruiser reliable and gives it bulletproof reliability?
Unlike most car manufacturers, Toyota focuses on durability and reliability and will ensure total quality management during every production stage, and they didn't start doing this yesterday. In addition, they don't change or implement new features with their cars, making most of them look outdated until recently. Case in point: the Toyota Land Cruiser J70 chassis introduced in 1984 is still in use today, and the J70 is the only Land Cruiser with no successor.
Offers Value For Money
Being a luxury vehicle with excellent off-roading capabilities, prices for the Land Cruiser when new weren't that pocket friendly. The Land Cruiser 100 series, which you can now import to the United States, had a $45,000 price tag when new, approximately $84,000 in today's money. You can easily get a clean 80 or 100 series Land Cruiser for around $20,000 landed in the United States, a bargain for such a versatile and reliable car.
The only disadvantage is that older Land Cruisers aren't as luxurious as they seem. You might get disappointed with the plastic interior trims and failing electronics, especially on older model years and base-spec units. But it's still better than other JDM SUVs, such as the Mitsubishi Pajero and the Nissan Patrol, which go for comparable prices. If you're in Canada and you'd like a Land Cruiser, a late 100 series on an early 200 series are the best options, as they offer luxury on a budget without compromising off-roading capabilities.
Supremely Versatile
A Land Cruiser fits the description of a good daily driven car, it's comfortable to drive, practical like your average family van, and it isn't hard on gas like several large SUVs in its class. Almost all generations have a third-row seat that folds down to increase trunk space, and if you're not traveling with a huge load, you can leave it up and still have some space. Top-of-the-line trim levels in newer generations starting from the 80 series have multiple-zone climate control and AC in the front and middle seats ensuring excellent cabin ambiance even in the coldest of summers.
There are many ways in which you can accessorize a Land Cruiser. But stopping is almost impossible when you start, especially after Aussie-built Land Cruiser photos and videos start blowing up your socials recommendations pages. The only downside is that few aftermarket manufacturers in the US make upgrade parts for the Land Cruiser, and the best you can get is wheels, bumpers, and roof accessories such as tents and roof rails.
Excellent Ride Comfort and Handling
Older Land Cruisers might be a handful to drive on the road due to lack of driver aids and old age, but the 80 series, 100 series, and 200 series are the exact opposite. These are bliss to drive on the road despite being SUVs. Body roll is minimal, and thanks to the excellent built quality, no engine and road noises are heard in the cabin if you're driving on road tires.
Off-roading in a Land Cruiser isn't that different from driving one on the road. Of course, there are bumps and rocks, but the loss of traction is minimal unless you are on the wrong tires. Can the stock suspension on a Land Cruiser handle extreme off-roading? It depends on the terrain. The stock suspension on a 100 series has 7.5mm of travel, while the 200 series' suspension can handle 9mm, more than enough to take you across a mountain pass.
Cons
Inadequate Aftermarket and OEM Support
Land Cruisers haven't caught up in the United States; thus, aftermarket manufacturers don't feel the need to make parts yet. There are a few Lexus LXs but not enough to guarantee that if you buy one, you'll get parts immediately when you order them. Most owners opt for custom parts, which aren't cheap, or wait for parts to be shipped mostly from Japan if they are OEM or Australia if they are aftermarket.
Maintenance And Repairs Can be Costly
Purchasing costs might be cost-friendly, but Toyota Land Cruiser's running costs are the opposite, especially oil changes and tank fill-ups on Land Cruisers with V8 and turbocharged inline-six engines. Gas mileage will have you hunting for a smaller Toyota with more miles per gallon, such as an MR-2 or Levin, on Facebook marketplace. Small service schedules, for instance, changing the sparkplugs, brake rotors, pads, fluids, and gaskets, aren't cheap. But if you want to risk it, Toyotas have been said to run without any maintenance.
Faults are expected with a Toyota Land Cruiser, like any other vehicle, as reliable as it might be. Some might be minor, and some might be major and will make you almost regret why you bought one, convinced by the reliability and durability hearsay. Such problems will dent your pockets massively should you decide to fix them. For example, turbo manifold failure can lead to the engine seizing if metal shards end up in the intercooler and then into the engine.
Common Issues
Among Toyota's most reliable cars, the Toyota Land Cruiser has no catastrophic issues that would have you locking it in your garage and forgetting about it. Most problems are caused by old age, normal wear, and tear, or the owner's fault. Some owners expect to run one without any maintenance with the mindset that it won't die since it's a Toyota. There are one or two issues that you might experience, but they are average in most older SUVs.
Turbo Issues
High mileage doesn't necessarily mean that a Land Cruiser might have numerous issues, but it can indicate possible turbo failure. This mostly happens on Toyota's old turbodiesel engines in the 60 series, 80 series, and 100 series, and it also occurs in the 200 series with the twin-turbocharged V8. You might not notice it until the engine starts stalling when metal shards accumulate in the airway from the air intake stream or in the engine oil, damaging the oil seals.
The turbo might fail mainly due to carbon buildup accumulation, which increases turbo temperatures, which are already high since diesel engines run hotter than petrol engines. Small bits of carbon turn into heat spots that crack the turbo housing, bearings, manifold, or turbine. Also, if too much carbon accumulates on the EGR valve, airflow to the engine will be restricted, affecting combustion. Early signs of excessive carbon buildup include loss of power, misfires, and stalling.
If you're buying an old turbodiesel Land Cruiser and want the turbocharger to last longer, ensure oil changes are done on time and fill up when there's low oil pressure, as the turbo can die from oil starvation. The OEM turbocharger won't last long if The best way to ensure longevity is replacing the stock turbo with an aftermarket one and upgrading peripherals such as the intercooler, breather hose, and boost pipe. Do that, clean the carbon buildup, and your Cruiser will run for years without turbo issues.
AHC (Automatic Height Control) Suspension Collapsing
Toyota started installing AHC suspension in the Land Cruiser towards the end of production of the 80 series, like their flagship Luxury sedans such as the Toyota Century and Toyota Crown. However, instead of using airbags in the Land Cruiser, Toyota used fluid bags only in the rear. The fluid bags weaken and crack over time, causing the car to sag, squat, or lean when raised. If they are too far gone, the AHC system won't work, and in most cases, it's better to delete the system and replace the bags with an aftermarket coil spring suspension. However, replacing them with new ones also works if you value ride comfort over suspension durability.
A failing AHC pump and height sensors might also cause the air suspension to collapse. If the pump is faulty, it doesn't fully pump the fluid into the bags, and the constant folding when driving wears them out quicker. The best way to know if the pump needs replacement is if there are whirring noises when raising or lowering the ride height. Excessive body roll when driving and leaning when accelerating and braking also indicate pump and height sensors failure if the bags aren't leaking.
Automatic Transmission Failure
If you're interested in an older Land Cruiser, buying one with an automatic transmission is not wise, especially if it has visible signs of abuse. Test drive the car for some miles if it's the only clean option you have since older automatic transmissions, not only in Land Cruisers, can be stressful, like a splinter in your thumb. Issues begin with gear slippage and grinding noises during gear shifts, and when the car doesn't go into gear, it's time for a replacement.
Trying to repair an automatic transmission will cost more than buying a used one or manual-swapping it. Instead, regularly change the transmission fluid and don't stress it too much. It will last longer before you can find a replacement. Land Cruisers with a manual transmission retail for higher prices than those with automatics, and the worst issue you can get with these is a clutch failure. But the thought of the costs involved in replacing an automatic transmission cancels out that thought.
Average Prices
Below you will find the average Manufacturer's Suggested Retail Price (MSRP) of the Toyota Landcruiser when new.
| | |
| --- | --- |
| Year | Average MSRP (USD) |
| 2020 | $82,500 |
| 2019 | $75,000 |
| 2018 | $68,750 |
| 2016 | $55,750 |
| 2014 | $42,250 |
| 2012 | $37,000 |
| 2010 | $34,000 |
| 2008 | $24,500 |
| 2006 | $18,900 |
| 2004 | $12,000 |
| 2002 | $10,000 |
| 2000 | $9,700 |
| 1999 | $9,700 |
Toyota Land Cruiser Prado: The Ultimate Buying Guide
What To Look For When Buying a Toyota Land Cruiser
Land Cruisers are basically "buy and drive" vehicles, and you can do so as it has a reputation for being reliable and durable with some minor faults. However, there are things you can look out for when buying one to make your ownership journey stress free. Start by inspecting for rust in the prominent places, including underneath the vehicle, mainly on the fuel tank cover, on the wheel wells, underneath the floor mats, in the engine bay, and behind the rocker panels. Surface rust might be there, but it shouldn't prevent you from buying one of the best SUVs ever.
Check for fluid leaks while inspecting the engine bay and underneath the car for rust. Grease leaks on the joints are typical; you should pay attention to leaks from hoses and gaskets. Also, check the radiator and intercooler for cracks and dents since older JDM vehicles have plastic radiator tanks that weaken and crack. A new radiator and coolant pipes show that the cooling system is in excellent working condition, but you'll know if it's an old, repainted one by checking the thickness of the paint.
Brake system failure is possible in Land Cruisers since most owners fail to replace the brake master when it's faulty, as it needs to be replaced with the ABS unit. Prices for both average between $1000 and $2000, depending on whether you get an OEM or aftermarket one. It's a good sign if the previous owners had replaced the assembly, but if it hasn't been replaced, try to factor that into the price negotiations. Buying a used brake master and ABS unit assembly is tricky since you never know how much life is left. But if the ABS units can be reused, you can buy a brake master cylinder and have the two components re-assembled.
You'll need to take the car for a test drive before making an offer, regardless of how mint it might look. Feel the gear shifts and acceleration. These will tell the condition of the engine and transmission. Listen for any suspension noises, and if the car is raised, take as many turns as possible to see how it steers and handles when cornering. Lastly, test the electricals, such as the AC, suspension, sunroof, and window controls, and then make an offer based on your findings.
Comparable Alternatives
Models and Specifications
Due to the fact that the Land Cruiser has been around since the 1950s, we've created a list of how it evolved over the years.
1951-1955 Toyota Land Cruiser (FJ) (BJ)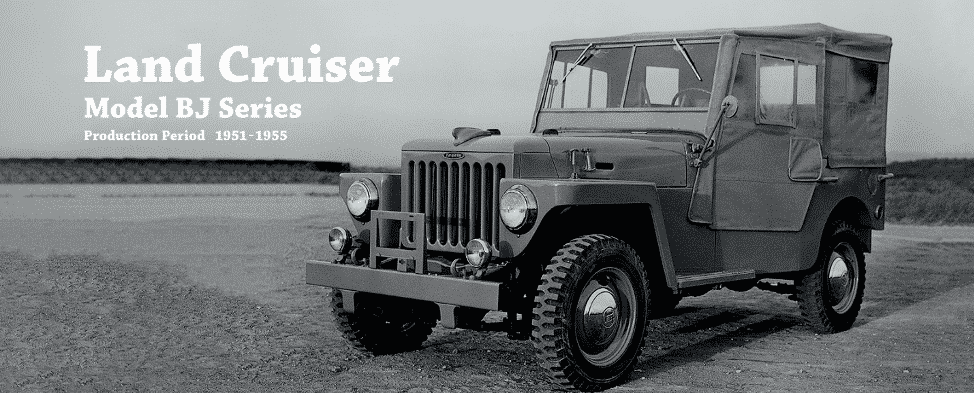 The BJ and FJ Models were designed for the US military by Toyota. This design took after the British Land Rover Series 1.
The BJ series was manufactured in the following three variants:
The BJ-R (or Radio)
The BJ-J for fire engines
The BJ-T for Touring
Around this time, the term 'Land Cruiser' was first used to describe the vehicle after dropping the 'Jeep' name. The BJ-J model, which sported the fire engine chassis, was the first Land Cruiser to have a 3.9L Type-F gasoline engine that boasted 123 horsepower. The Toyota FJ-J model was also introduced with the cowl chassis for use as a fire engine.
1955-1960 Toyota Land Cruiser (J20) (J30)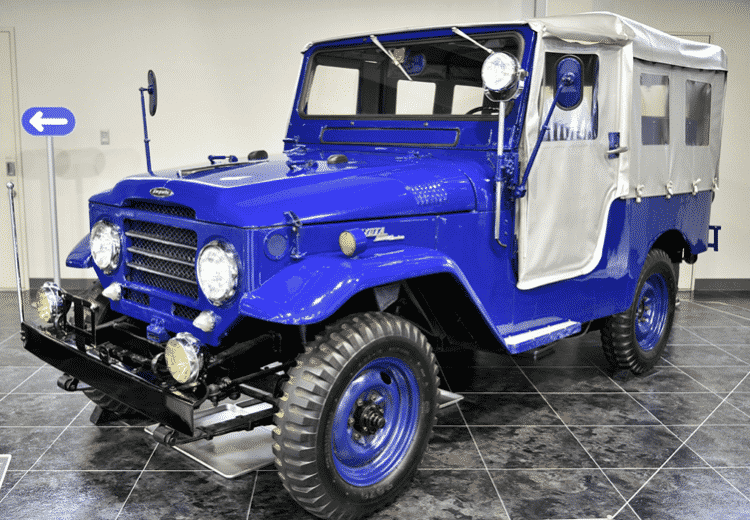 In 1955, the second-generation Land Cruisers were rolled out. Ranging from J20 to J30, they were designed to appeal more to civilians, not the military. Compared to the first generation, the engine had been moved forward by 4 inches, to provide a more comfortable ride. The seats were also made as comfy as possible, and the softer suspension made the ride smoother compared to its predecessors.
The result was a light truck with a 3.9L Type -F gasoline engine that produced 133 horsepower accompanied by a three-speed transmission. In 1958, the FJ25 model was unveiled in Brazil as the Toyota Bandeirante, making it the very first Toyota built away from Japan.
1960-1984 Toyota Land Cruiser (J40)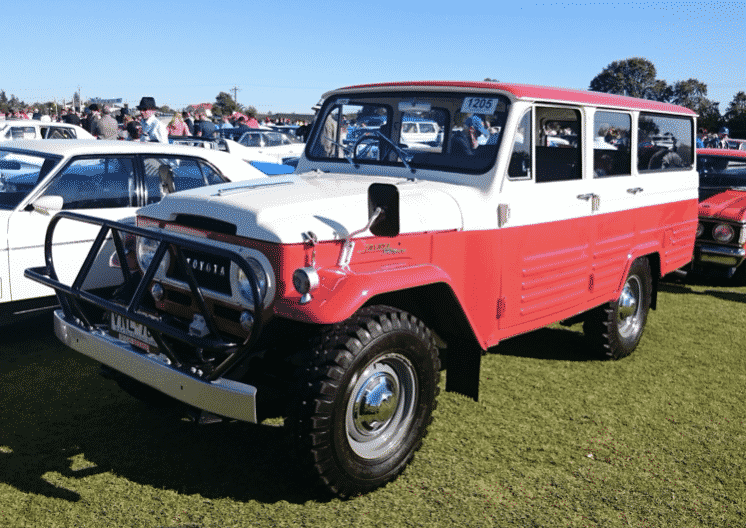 The J40 series was first introduced in 1960. They were built as two-door models, with both gas and diesel engines available. In 1960, the FJ45-B was rolled out, featuring a longer wheelbase than its predecessor. The FJ40 series were released in different variants including pickups, station wagons, and utility vehicles.
1967-1980 Toyota Land Cruiser (J50)
This series came with both gasoline and diesel engines. The gas engine had six cylinders, while the diesel in the FJ40 – B series came with four cylinders only. The Type-F engine had a capacity of 3.9L, while the type B engines started from 3.0L. Production went on until 2001 when the Bandeirante line was officially retired.
1967-1980 Toyota Land Cruiser (J50)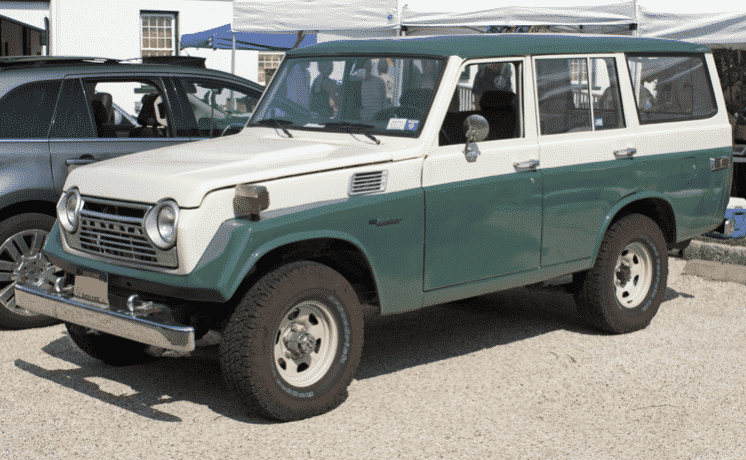 This model is usually referred to as the 'Toyota Land Cruiser 55.' The FJ50 was considered to be the first serious, comfort-oriented station wagon in the entire Land Cruiser line. Starting with the FJ55 in 1967, the vehicle had four doors and the drivetrain was borrowed from the FJ40. From 1975, the Type-F engine was replaced with the larger Type-2F engine. Production ended in July 1980.
1980-1990 Toyota Land Cruiser (J60)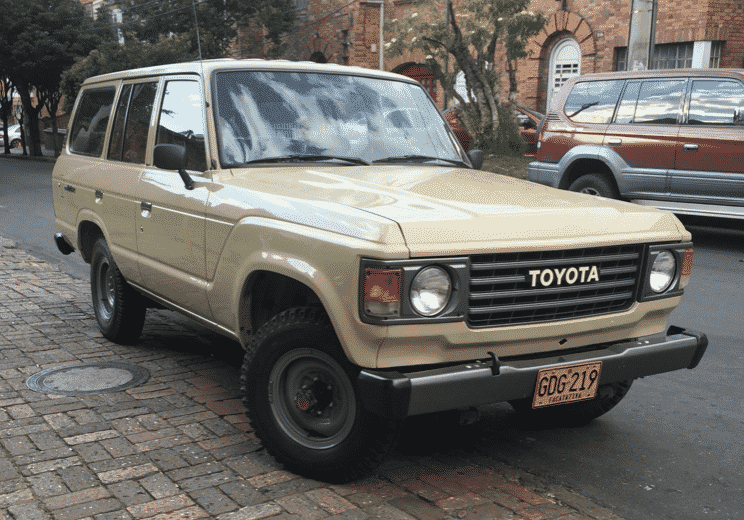 This series, also known as the Land Cruiser 60s, had the capacity to seat up to 8 people. It was a four-door wagon with exceptional off-road capabilities. Even though the truck inherited the rugged appearance from its predecessors, it had been revamped to compete with the formidable rivals in the SUV market. Creature comforts like an upgraded interior, air conditioning, and a heating system helped it appeal to the family-oriented consumer. In Venezuela, it was dubbed 'The Toyota Samurai.'
The FJ60 came with a six-cylinder Type-2F gas engine. In addition, a 3.4L four-cylinder diesel engine was added to the Land Cruiser's lineup. By 1988, the gas engine had been upgraded to a 4.0L Type-3F-E EFI engine. Moreover, the FJ62 VX series started gaining popularity as a passenger vehicle in Japan.
1984-Present Toyota Land Cruiser (J70)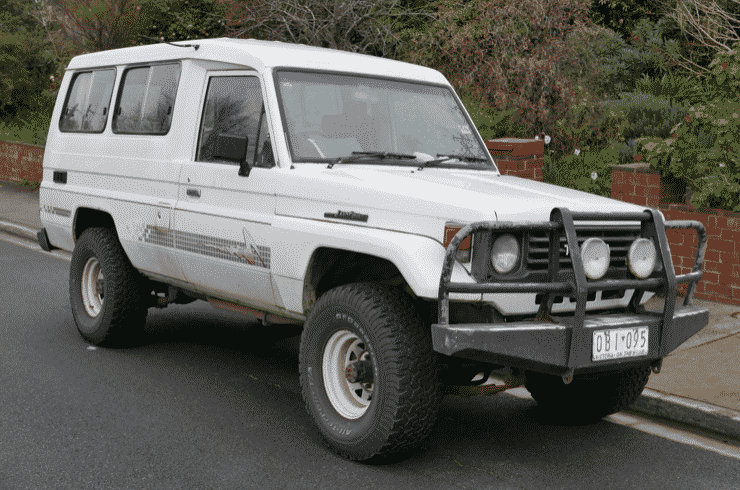 The current iteration of the Land Cruiser traces its roots to the 1984 J70. The SUV boasts an excellent ride quality that rivals its predecessors. The J70's series has a 4.0L Type-3F gasoline engine. Smaller, lighter-duty Land Cruisers come with 2.4L gas engines. The J70 has also created a couple of spinoffs: the J80, which was nicknamed 'the Bubble' in Columbia, and the J90 Prado, which is a very successful SUV in its own right. The Prado was the first Toyota to combine four-wheel drive with an automatic transmission.
From 1984 to 1999, the Land Cruiser J70 and J75 were produced as a revamped version of the J40's. The J70 was styled as a family utility vehicle. However, it was also used as a troop carrier. Over time, this model evolved from a four-door to a five-door vehicle. In addition, there are pick-up and double-cabin pick-up versions. There were various facelifts in 2007, 2009, 2012, 2014 and 2015.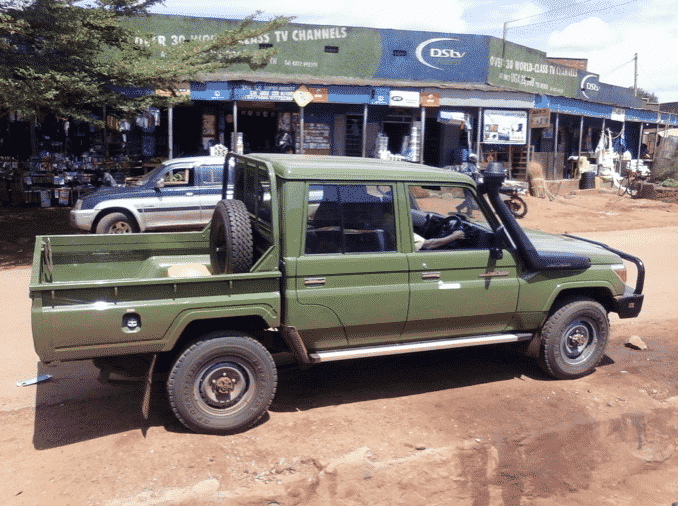 1990-2008 Toyota Land Cruiser (J80)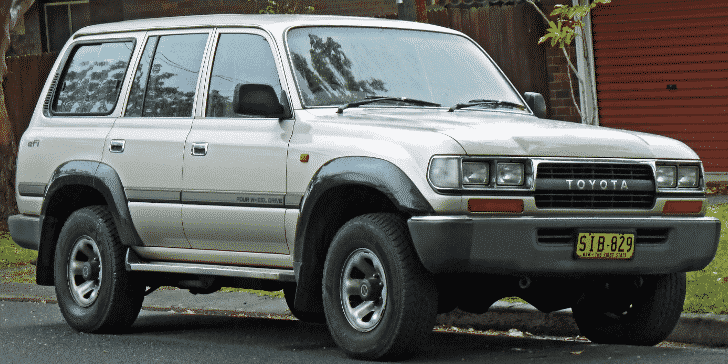 In October 1989, the Land Cruiser J80 model was unveiled at the Tokyo Motor Show. The SUV featured back doors that swing out, making it a well-rounded vehicle. The Land Cruiser came in two variants – an entry-level model and the VX model, which was fully equipped. In 1994, the swing-out back door was replaced with a hatch and tailgate. The J80 came with either a type 3FE gasoline engine or a direct-injection turbo-diesel. In addition, four-wheel drive and anti-lock brakes were offered as standard.
1998-2007 Toyota Land Cruiser (J100)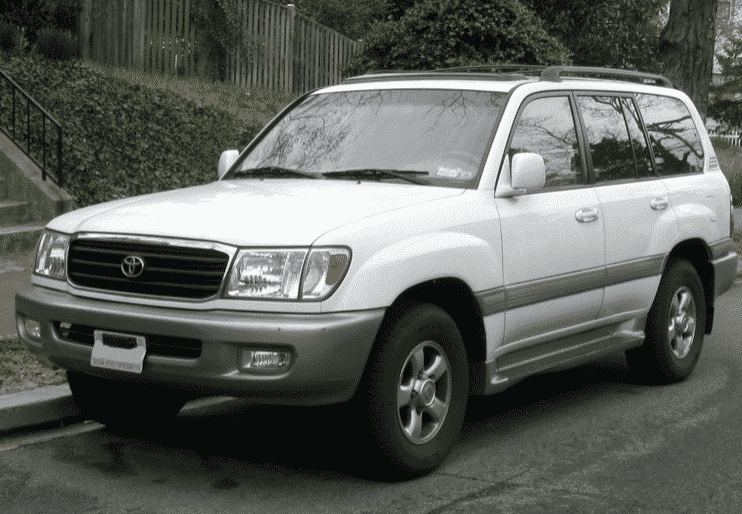 Toyota introduced the J100 series as a replacement for the J80 after the latter had been running for eight years. This series was introduced in two variants – the J100 and J105. The 105 series were sold to Australian, African, South American, and Russian markets. The 100's came with both diesel and gasoline engines. The new rack-and-pinion steering helped improve handling, although it somewhat compromised off-road capability.
With this series, the Land Cruiser started offering a V8 engine for the first time. The 100's were produced until 2007, being called various names such as the Amazon (in the UK) and leading to spinoffs like the Toyota Cygnus. There was a slew of facelifts from 2000 to 2007, with small tweaks here and there.
2007-Present Toyota Land Cruiser (J200)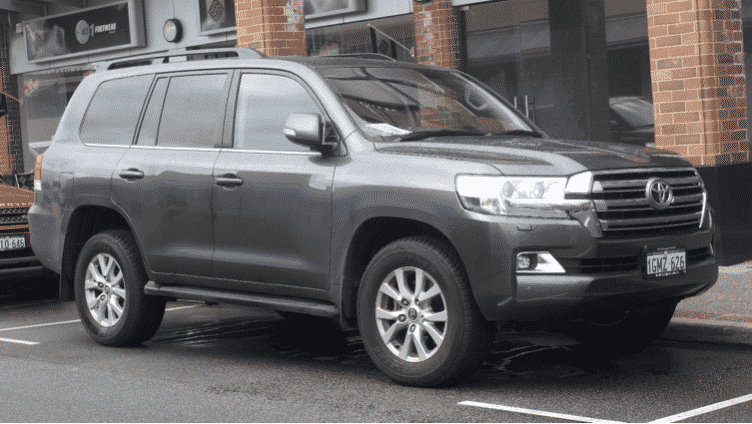 In early 2007, work on the modern iteration of the Toyota Land Cruiser was completed, culminating in the release of the J200. Sales started in Venezuela in September.
The J200 had the following improvements from earlier models:
Ten airbags
Smart start
Remote-sensor smart-entry
A lighter, yet stronger frame compared to the earlier models
Downhill assist
Leather seats
Multi-terrain ABS
A new V8 VD engine, which is twin-turbocharged
Standard automatic transmission
Rearview camera
FAQ
How much does a Toyota Land cruiser cost?
Most Toyota Land Cruisers sell for between $8000 and $40,000.
How many miles can a Toyota Land Cruiser last?
The Toyota Landcruiser is among Toyota's indestructible cars. If you maintain it properly, it will last for around 20 years or approximately 300,000-350,000 miles before you'll need to replace mechanical components.
Which Toyota Land cruiser year is best?
The J100, 1998-2007. The Toyota Cruiser J100 combines rigidity and durability from its predecessors with modern-day technology. It is arguably the best-looking Land Cruiser ever made.
Which are the major things to look out for when buying a used Toyota Land Cruiser?
Toyota Land Cruisers rarely develop mechanical issues. So apart from rust, there's nothing else that should trouble you when inspecting one when you want to buy it. But just to be sure, take the car for a test drive.
How much does a Toyota Land cruiser weigh?
Earlier generations of the Toyota Landcruiser weigh 3000-3500 pounds, while later generations from 1984 to date weigh anything between 3500 and 5500 pounds.
What is the maximum towing capacity for the Toyota Land cruiser?
A Toyota Land Cruiser will tow between 5000 and 8100 pounds depending on the year of manufacture from 1980 to 2022. Land Cruisers made from 1980 to 1989 will tow a maximum of 5500 pounds, while those made from 1990 have an 8100-pound towing capacity.
How to shop for a Toyota Land Cruiser online
After you decide on your dream Land Cruiser's YOM, key in the YOM on online listings, which will help you filter out Land Cruisers from other years. You can filter the engine displacement, colour, mileage, and other specifications
Why is the Toyota Land cruiser expensive?
Land Cruisers are some of the most reliable and durable SUVs ever made and stand out among SUVs from other manufacturers in terms of Luxury, efficiency, and performance.
How many miles will a Toyota Land Cruiser last?
A Toyota Land Cruiser will last for around 300,000 to 400,000 miles before you start replacing major mechanical components, which is 100,000 miles more than most JDM SUVs.
Which are the Toyota Land Cruiser's main competitors?
The Toyota Land Cruiser might be the best JDM SUV but being the best means that there's always competition. The main competition for the Land Cruiser includes the Mitsubishi Pajero, Land Rover Defender, and the Nissan Patrol, among other SUVs.
Sources
How to Import a Toyota Land Cruiser
Read our ultimate guide, How to Import a Car from Japan.
Can you make this guide better? Are you a huge fan of the Cruiser? If so, please contact us.