Nissan Skyline Buying Guide
Even if you're not a car enthusiast, you probably still recognize the Skyline name. First introduced by Prince Motor Company in 1957, the Nissan Skyline was somewhat of a prestigious model which featured a powerful engine, an elegant design, and above-average performance. If you are a real car fan, however, the Skyline is iconic as it gets.
It represents one of Nissan's most valuable models and the true pinnacle of JDM engineering. It's an iconic Japanese performance car and a true track-warrior that could rival Europe's best sports cars of that time. Its unique design made Skyline one of the most sought-after cars that Japan has ever produced. For over six decades, the Skyline badge was renowned as one of the fastest Nissans you can buy and proved to be extremely capable in the right hands. Today, we will go into detail about what to look for and how much to pay when purchasing a Nissan Skyline.
1957-1988 Early Nissan Skylines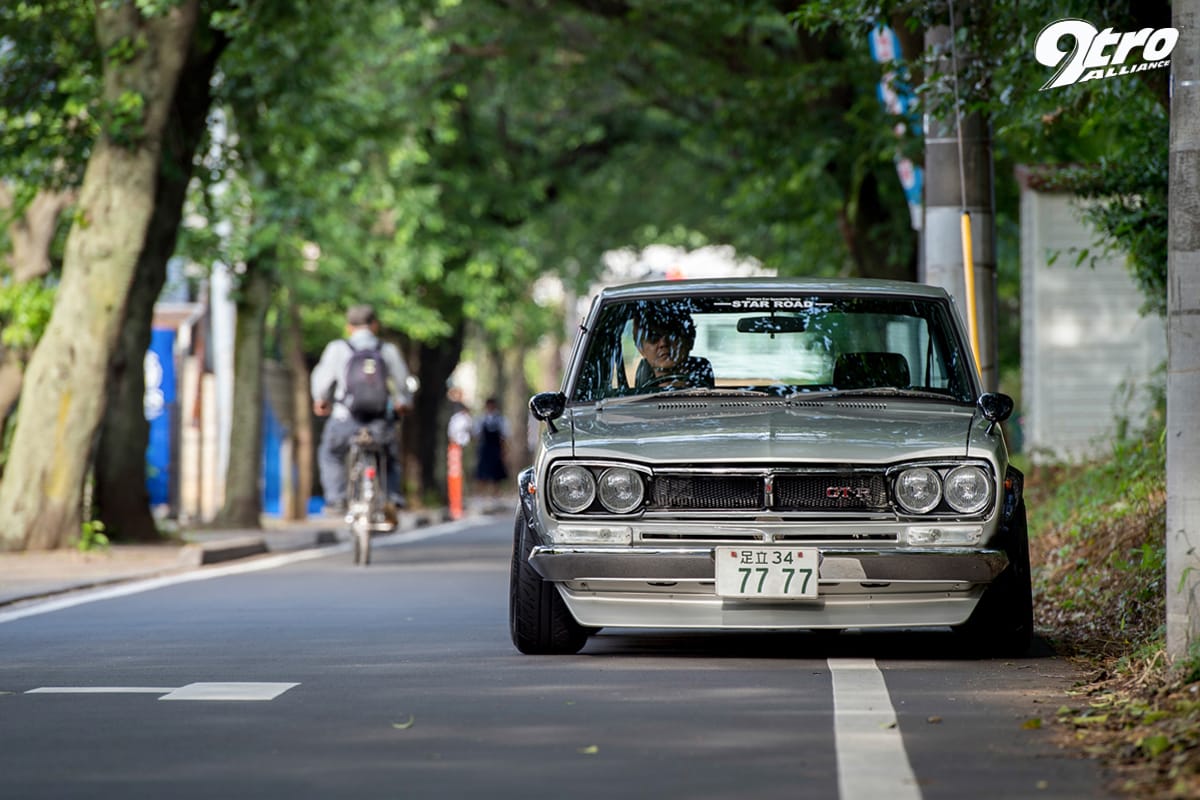 Due to Skyline's long and illustrious history, there have been dozens of models produced since 1957. However, not all models were the fire-breathing performance machines car enthusiasts lust after nowadays. For those who don't know, the Skyline was produced not only as a coupe, but also as a regular four-door sedan, station wagon, and even a pickup.
The early models were ordinary family cars with a few unique versions like the 1969 Skyline PGC-10 Hakosuka, or the 1972 Skyline GT-R Kenmeri, both of which were merely road-legal sports cars. Thanks to those models, Skyline's name became recognized all over the world, especially among car enthusiasts.
In the late '70s, the Skyline C210 GT-EX was presented to the world with a turbocharged engine, making it one of the first cars to get this innovative technology. The turbo 2.0-litre engine was also used in the Skyline RS-X Turbo and remained one of the signature features of the Skyline lineup until today.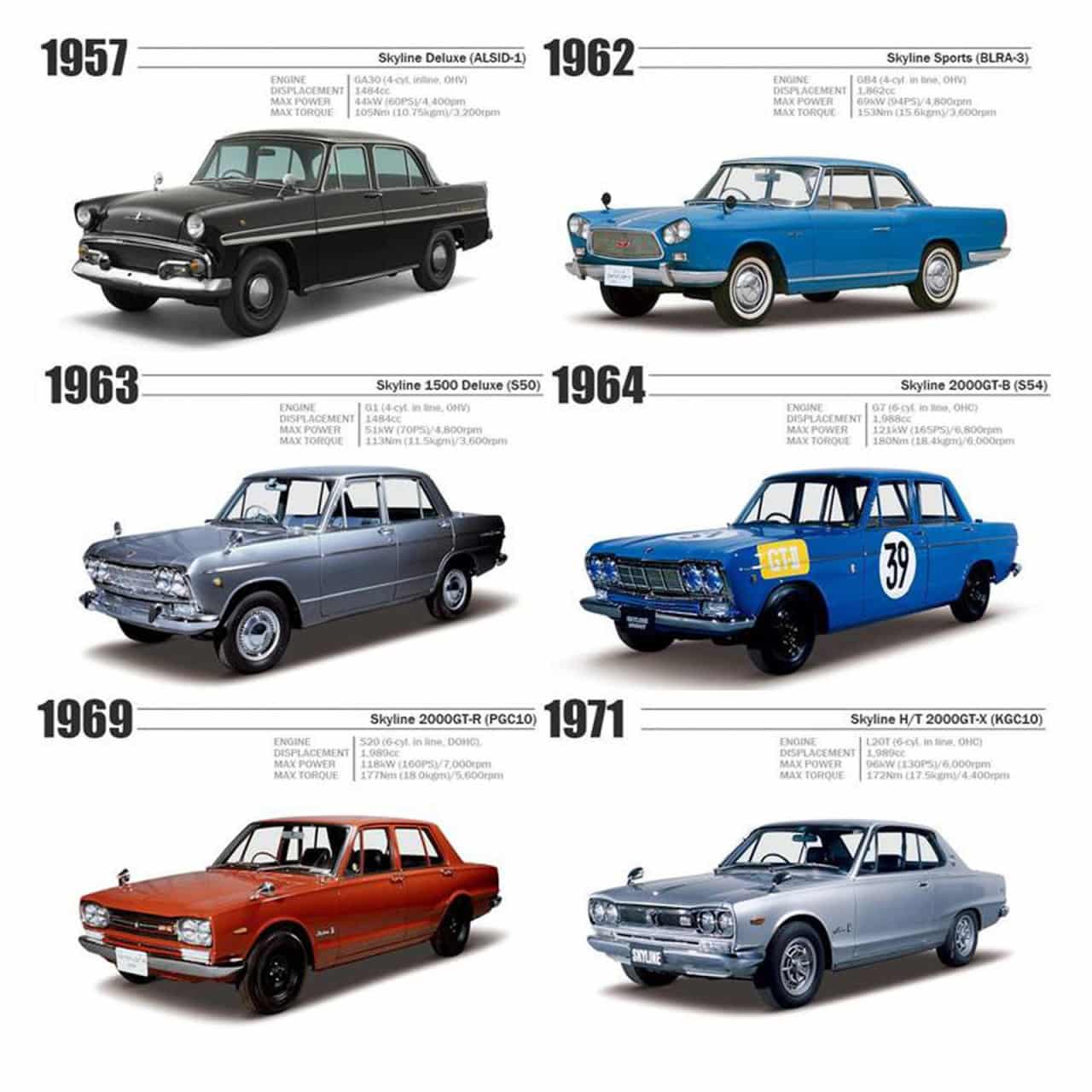 View classic Nissan Skylines for sale
1989-1994 Nissan Skyline (R32)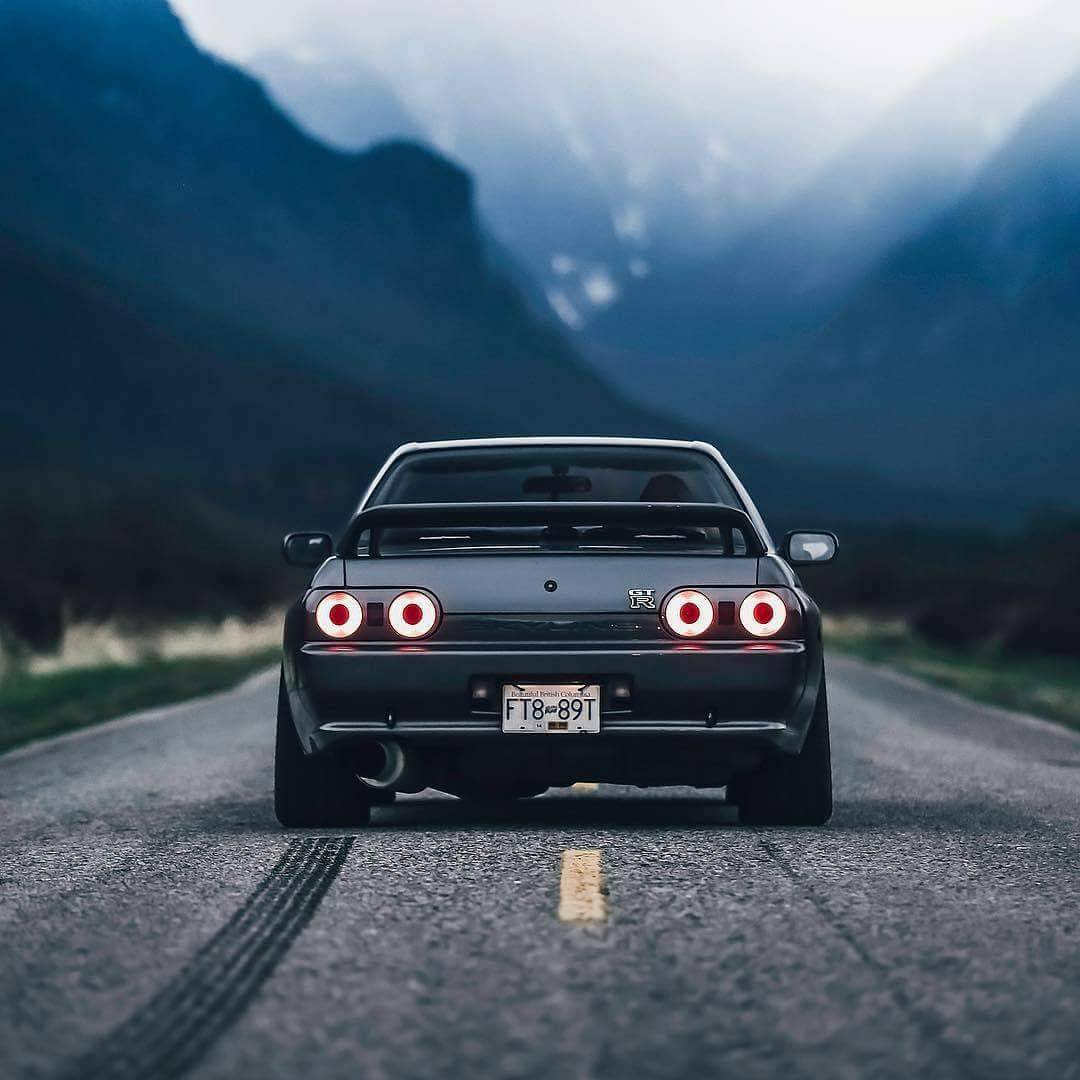 Nissan presented the R32 generation in late 1988, with a modern design, improved engines, and two body styles – coupe and sedan. Under the hood was a 1.8-litre four-cylinder engine as an entry-level unit and the choice of four six-cylinder engines with or without a turbocharger, ranging from 2.0 to 2.6-litres. The base versions were rear-wheel-drive, although all-wheel-drive as an option. For customers looking for more comfort, Nissan offered a 4-speed automatic transmission, commonly found on sedans, and a 5-speed manual gearbox which was and still is the preferred enthusiast's choice.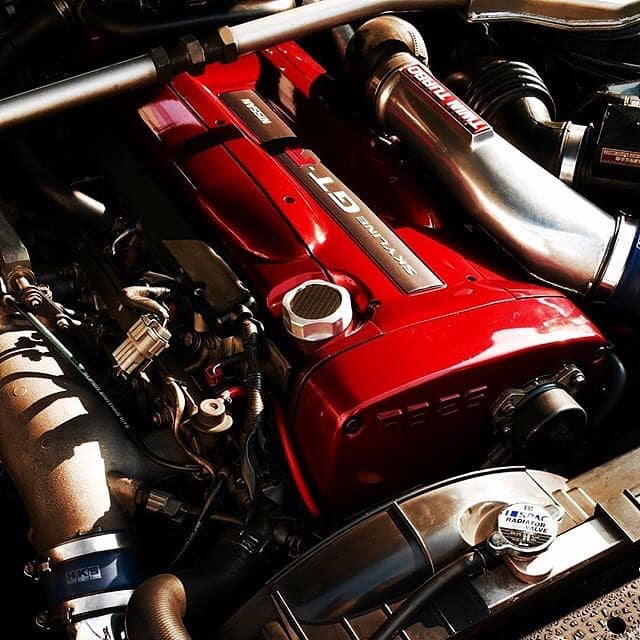 The power output ranged from a diminutive 91 HP from a 1.8-litre naturally aspirated four-cylinder, all the way up to 280 HP (closer to 320 HP) from a 2.6-litre twin-turbo engine found in the GT-R version. Of course, most enthusiasts look for the famous GT-R model or its rarer and more exclusive versions named the Nismo, N1, V-Spec, or the V-Spec II. However, those models are now well beyond the reach of the average Skyline fan. The good news is that the R32 range consists of a GTS model equipped with a naturally aspirated or turbocharged 2.0 or 2.5-liter six-cylinder with power ranging anywhere from 155 to 220 HP. Back in the late '80s, those were significant numbers. Even today, 220 HP is still very respectable.
This means that most R32 Skyline versions were fast and dynamic cars, but the GT-R was in a league of its own. With a very capable all-wheel drive, a close-ratio 5-speed transmission, and relatively low weight, the R32 Skyline GT-R was able to reach 60 mph in just 4.7 seconds, which made it one of the quickest cars of its time. It is no surprise that GT-R R32 set the Nürburgring lap record and totally destroyed competitors in the Japanese Touring Car Championship, winning every single race from 1989 to 1993.
Total Production
43,934 R32 Skylines were produced from 1989 to 1994.
Pros and Cons
Pros:
Lots of models to choose from
Relatively affordable
Reliable
Easy to upgrade for more power
Cons:
GT-R version is expensive, and increasing in cost
As 30-year-old cars, surviving examples require care and attention
Common Issues
Even though the Skyline R32 was well-designed and fantastically engineered, this generation still has a few common issues. The first one is the gearbox failure. It has been known for Skyline manual transmissions to fail due to hard use. The second common problem is the oil pump failure, which can be especially dangerous since your engine is left without fuel pressure. Make sure to always check those two things before you purchase an R32. Some owners also reported problems with electrics (headlights), but those are easy to sort out.
Average Prices
As a legitimate classic, the R32 Skyline has steadily increased in price over time. Recognized as a JDM legend, the R32 GT-R is understandably the most expensive model with average prices going well over $50,000 for decent examples. If you are looking for a more affordable option, the GTS model is a perfect choice. Prices start from around $8000 for the 2.0-liter version and can go up to $25,000 for the GTS-4 model with 215 HP and all-wheel-drive. Additionally, the GTS models are available as a four-door sedan as well as a coupe, which can be a big deciding factor for buyers looking for more space. Keep in mind that all models were produced only as right-hand-drive.
Read our R32 Nissan Skyline Ultimate Guide
1993-1998 Nissan Skyline (R33)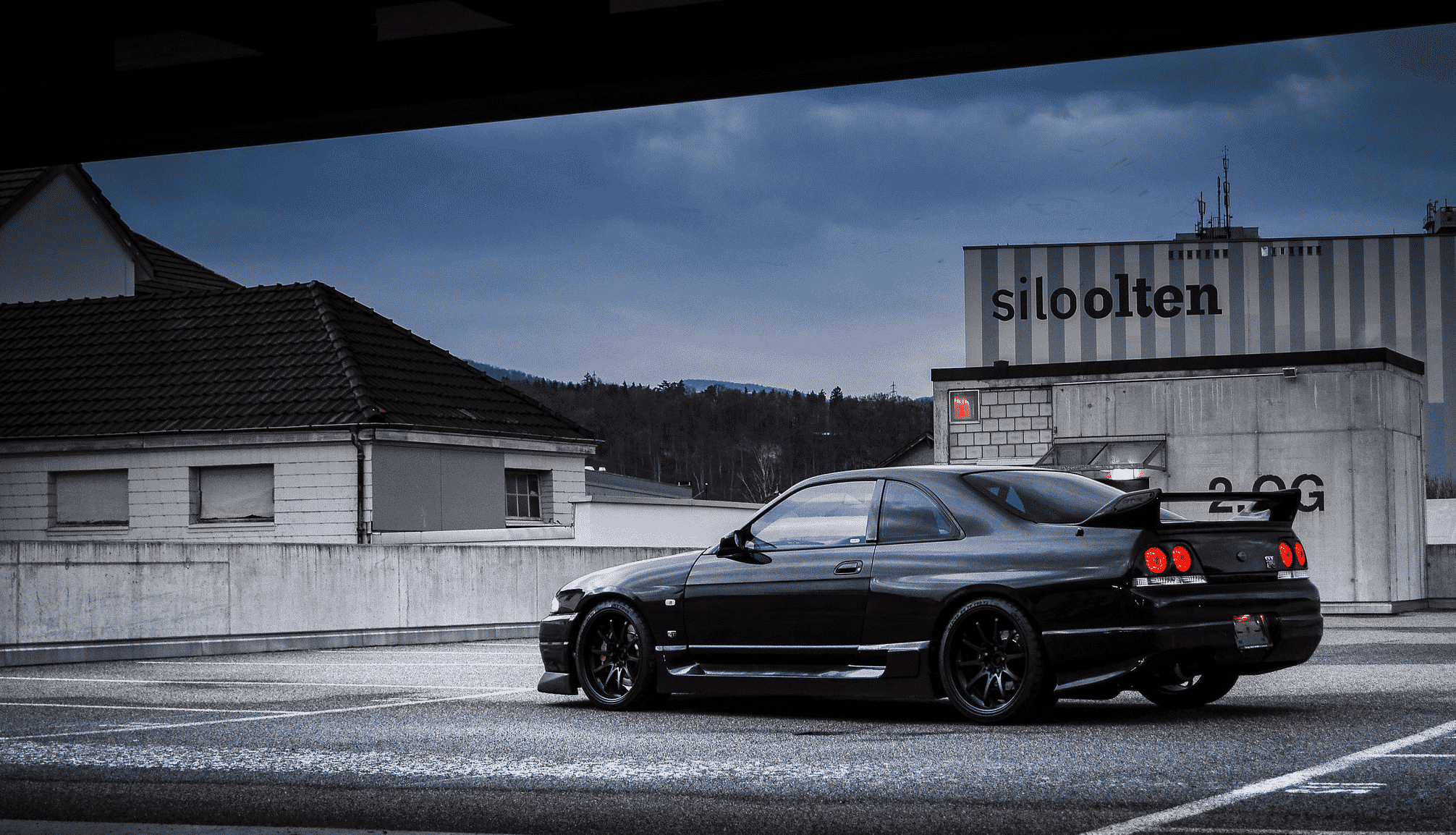 The R33 generation of Nissan Skyline was a considerable step up from the already famous R32 model. Thanks to more engineering and tougher construction, the R33 was a bit heavier, bigger, and only came equipped with six-cylinder engines (naturally aspirated and turbocharged). Design-wise, the R33 looked similar to its predecessor and was only available as a four-door sedan or two-door coupe with a more modern styling and an improved interior. Nissan used the RB-series engines; they ranged from 2.0-litres to 2.8-litres.
The model lineup started with a 130 HP GTS and went all the way to the mighty GT-R Nismo 400 R with almost 400 HP. As with the previous generation, Nissan offered an all-wheel-drive system as an option on some models and it became standard on the GT-R version. Two transmissions were also offered. A 5-speed manual and the new 5-speed automatic are commonly found on GTS sedans. Interestingly, Nissan's innovative, but complicated all-wheel-steering system called HICAS was also provided on some models.
Of course, the most exciting version was the R33 GT-R, which debuted way back in 1994. It was an improvement in almost every sense over the outgoing R32 GT-R. Under the hood was the RB26DETT engine, which was a twin-turbocharged, 2.6-litre straight-six with 305 HP, although it was sometimes stated that the power output was only 280 HP. In 1996, Nissan introduced the Nismo 400 R with an upgraded 2.8-litre engine with 395 HP, which really pushed the envelope for this class. As you can expect, the performance figures were astonishing, and the standard R33 GT-R was capable of sub-5-second 0-60mph times as well as beating the Nürburgring lap record previously set by R32 GT-R.
Total Production
217,133 R33 Skylines were produced from 1993 to 1998.
Pros and Cons
Pros:
Well designed and engineered
Advanced technology and powerful engines
Cons:
Subjectively less cosmetically appealing as R32 and R34
GT-R versions are expensive
GT-Rs were a favourite with car thieves when they were new
Common Issues
Since the R33 was a more advanced model, Nissan also paid a lot of attention to making it more trouble-free and sorted out some issues, like faulty electrics for example. However, this doesn't mean that the R33 was perfect, since it still had problems with rust, especially the rear wheel arches. Some owners also reported leaky weather stripping, which is quite easy to replace. There are lots of cars on the market which look presentable, but in reality, they are very tired due to over-enthusiastic owners which drove them aggressively. So, the best advice is to check for the blue or black smoke coming from the exhaust.
Average Prices
If you are looking to buy an R33 Skyline, you will be pleased to know that you can find decent examples for around $10,000, but those will be the entry-level, four-door models with the 2.0-litre engine. The mid-spec GTS-4 with the 190 or 250 HP engine will set you back around $20,000 to $25,000 for models in good condition. The genuine and fully sorted R33 GT-R will set you back at least $40,000 with special editions or Nismo 400 R version costing significantly more. Of course, we strongly suggest you stay away from crudely modified cars which can be tempting due to the lower price. If you want an investment-grade GT-R, then look for stock examples or ones that are tastefully modified.
View R33 Nissan Skyline GT-R, GTST, GTS, and GTS4 listed for sale.
Read our R33 Nissan Skyline Ultimate Guide
1998-2002 Nissan Skyline (R34)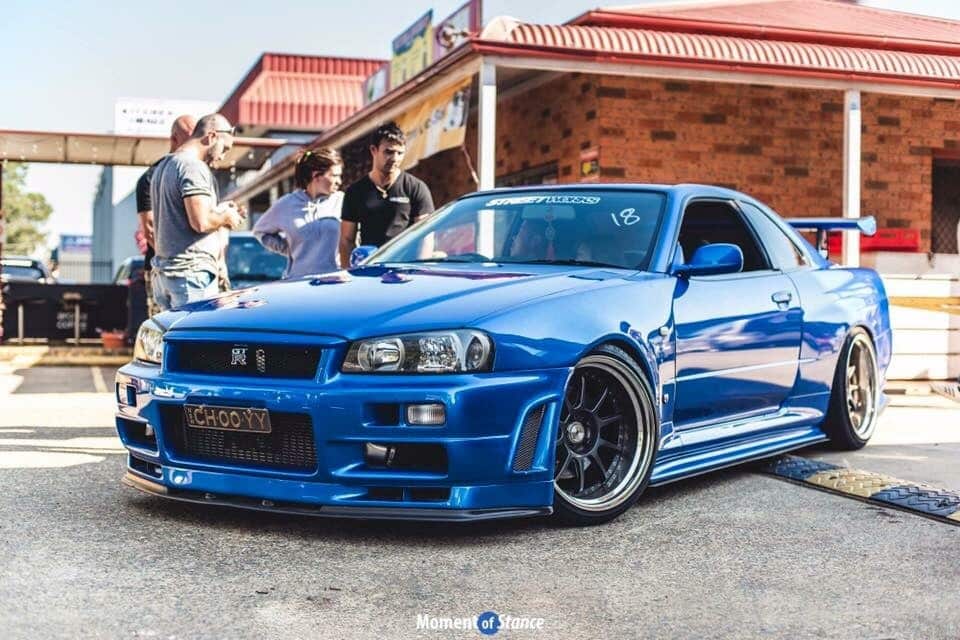 Arguably, the most legendary and iconic Skyline generation is the famous R34 introduced in 1998. Even though the R32 and R33 models were very accomplished, they still weren't globally recognized and respected simply due to the fact that they weren't sold in America or Europe. Neither was the R34, but thanks to famous computer games like "Need for Speed", "Gran Turismo" and the "Fast and Furious" movies, the R34 GT-R become one of the most sought-after sports cars of that period. However, not all R34 cars were mighty GT-R models. Nissan produced quite a few GT, GT-X, GT-V, and GT Turbo models in two and four-door configurations as well.
The basic layout was the same, and the R34 was an evolution of the formula introduced in previous models. In base trim, the Skyline R34 was equipped with a 2.0-litre (155 HP) naturally aspirated, six-cylinder engine coupled with rear-wheel-drive, but an advanced AWD system and more powerful engines were also available. On the engineering side, the R34 was available with a new and more robust 6-speed manual, as well as with a 5-speed automatic like the one found in previous generations.
Nissan improved its famous six-cylinder motor, which delivered more power and better fuel efficiency as well as being kinder to the environment. The power output started at 155 HP from the 2.0-litre six-cylinder found in the Skyline GT and went to an insane 500 HP provided by the 2.8-litre twin-turbo engine in the GT-R Nismo Z-Tune limited edition. The most popular and sought-after model was the standard GT-R, which had a 2.6-litre, twin-turbo straight-six with 320 HP. However, the RB26DETT engine was famous for its tuning potential, with so many of them being modified to 400 or more horsepower as soon as they left the dealerships. As you can expect, the performance was sublime and the R34 GT-R was a supercar-killer, at least for the late '90s standards.
Total Production
64,623 R34 Skylines were produced from 1998 to 2002
Pros and Cons
Pros:
Legendary status
Last "mechanical" Skyline generation
6-speed and hydraulic steering
Cons:
Increasing in cost
Difficult to find clean, stock examples
Common Issues
Over the years, Nissan perfected the RB-Series engines to be essentially bulletproof. Of course, they still required regular maintenance, good-quality oil, and spare parts to run properly. Gearboxes were improved over previous generations; however, they could develop issues when subjected to a lot of abuse.
Interestingly, however, owners reported that the front discs got worn out quickly as well as uneven tire wear on lowered cars. As always, check the condition of the turbocharger and any traces of oil leaks, in addition to hints of blue, black, or white smoke coming from the exhaust. We suggest you stay away from overly modified cars or vehicles maintained or modified with no-name parts.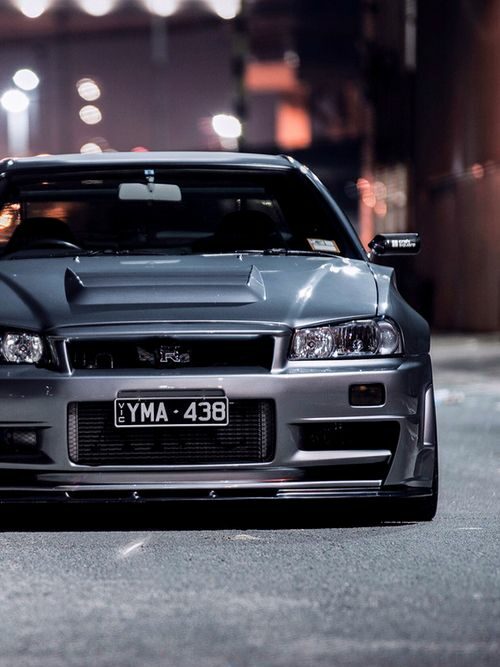 Average Prices
Since the R34 is the most iconic of them all, prices will reflect its popularity and demand. This means that you can get a base model GT or GT Turbo for around $20,000 to $25,000 in good condition, but you will be shocked to know that you will need at least ten times that for a genuine, low-mileage, top of the line GT-R Nismo model. There are some cheaper options out there, like the standard GT-R, which will still cost at least $60,000. Be advised that R34 is not eligible to import to the United States until the year 2023 due to the infamous "25 years old" rule. The R34 is definitely a good investment, but we strongly advise you to look for an original, low-mileage example because they will hold their value much better. Modified cars may be very tempting due to their lower prices and higher power, but if previous owners didn't take care of them well, they are a big gamble.
View R34 Nissan Skyline GTR, GTST, GTS, and GTS4 are listed for sale.
Read our R34 Nissan Skyline Ultimate Guide
2006-2014 Nissan Skyline (R35)
The totally new, 21st-century Skyline model brought significant changes with it. First, Nissan divided the "civilian" Skylines from fire-breathing GT-R models, which was now a totally separate model. The sedan and coupe were sold as the Skyline in Japan and selected Asian markets, but for the first time offered globally as the Infiniti G35. The GT-R model was also sold on the international markets, and for the first time, it was offered as a left-hand-drive model. The next generation of the Skyline model, called the R35, was introduced in 2007 and featured a new platform, suspension, and a 2.5, 3.5, or 3.7-litre V6 engine with or without turbocharging. As expected, the rear-wheel-drive configuration was standard, but the AWD system was optional on some Skyline models and standard on the mighty "Godzilla".
The GT-R model featured a completely different design, which separated it from the rest of the Skyline lineup. Under the hood was a 3.5-litre twin-turbo V6, which delivered 485 HP in early models. The current cars have their engines producing 575 HP, and there is even an insane 720 HP version called GT-R50 (exclusive 50th-anniversary model).
FAQ
How much does a Nissan Skyline cost?
The Skyline is among the most expensive and one of the iconic JDM cars you can buy on a budget. There's no fixed price for a Nissan Skyline, as you'll see one listed for $20,000 and another for $200,000. It just depends on what spec you want and the budget you have. If you are on a tight budget, you can get a Sedan whose prices start at approximately $4,000. After all, it's also a Skyline.
Why is the Nissan Skyline illegal in the US?
All Nissan Skylines are legal in the USA except the R34 Skyline. The Nissan Skyline R34 will become legal in the United States after January 2024, 25 years after production started in 1999.
How fast is a Nissan Skyline?
A base spec Nissan Skyline GTS-T with an RB20DET will do 0-60 in just under 7 seconds, but the top-of-the-line GT-R spec will do it in under 4.5 seconds and complete the quarter-mile in around 12 seconds.
Where can I buy a Nissan Skyline?
Like any other JDM sports car, the Nissan Skyline is common in the US, and you can find one on almost every JDM car listing in the US. Import houses also stock more Nissan Skylines alongside the Toyota Supra than any other JDM sports car. If you can't find your dream Skyline in the USA, there's always the importing option.
Which Nissan Skyline is legal in the US?
Every Nissan Skyline produced before 1999 is legal in the US. This includes the Nissan Skyline R33, R32, R31 and R30.
Which year is Paul walker's Nissan Skyline?
Paul Walker used 3 Nissan Skylines in the Fast and Furious movie Franchise. In 2 Fast 2 Furious, he uses the Nissan Skyline R34 GT-R, which he also uses in the Fast and Furious to race Dom. Later on, the car is destroyed after the smuggling scene in Mexico. In Fast and Furious 5, he drives the Nissan Skyline KPGC10 and the Skyline R35 as the movie ends. Paul also drove the Nissan Skyline R35 in Fast and Furious 7.
When was the first Nissan Skyline made?
Prince Motors made the first Skyline in 1957, but the first Nissan Skyline was made after Nissan Datsun Merged with Prince Motors later in 1967.
Why is the Nissan Skyline so popular?
Apart from featuring in the Fast and Furious movie franchise and various video games such as Need for Speed, the Nissan skyline also gained popularity in various motorsports. It was one of the most used cars in Japan's motorsport scene. Drivers used it for drifting and track racing and even in street racing clubs such as the Midnight Club. Tuner houses such as Top Secret, owned by Smokey Nagata, also loved the RB series engine mainly used in the Skyline, making the Skyline even more popular.
Which is the rarest Nissan Skyline?
The Nissan Skyline R33 LM is the rarest Nissan Skyline, as only 188 were built in 1996.
Why was the Nissan Skyline illegal in the US?
The Nissan skyline didn't pass US laws concerning safety at the production time, specifically the 1988 Imported Vehicle Safety Compliance Act.
Sources
More Info about The Nissan Skyline
The Nissan Skyline (aka Godzilla) is a legendary vehicle and can't be squeezed into a single guide. We've put together an "Overview" buying guide as well as individual buying guides for each generation of Nissan Skyline.
Nissan Skyline Buying Guides:
How to Import a Nissan Skyline from Japan:
Recommended Reading:
Are you a Nissan Skyline expert? See something incorrect with our article? If so, we'd love to hear from you. Please contact us to let us know if a correction is required.