Suzuki Every Buying Guide
The Suzuki Every is not what you'd imagine fast or great looking. Still, it reigns in the Kei van category sitting above competitors like the Daihatsu Hijet. But it wasn't always known as the Suzuki Every. The Suzuki Every comes from a lineage of Kei trucks and vans (Microvans) made by Suzuki, mainly sold in Japan as the Suzuki Carry.
Production began in 1961, and in 1985, they rebadged the Suzuki Carry van to the Suzuki Every for passenger use only. However, buyers could opt for only the driver and passenger seat and use the Every as a luggage van.
Before you consider bigger vans like the Toyota HiAce or the Mitsubishi Delica, you should know that the Suzuki Every is just as capable but on a smaller scale. You can easily convert it into a business or camper van. It also makes a good project car if you want to make it quicker and more fun to drive.
There are turbo kits for the Suzuki Every, especially those with the 660cc engine. In 1990 Suzuki made the first turbocharged Every, the Suzuki Every 660 PS turbo, also badged as the Autozam Scrum Turbo. Autozam specialized in Kei cars, trucks, and vans. But just like Mazda's luxury unit, Efini, it turned out to be a failure and was shut down in 1998.
So before buying a Suzuki Every, what pros and cons should you consider?
Pros and Cons
Pros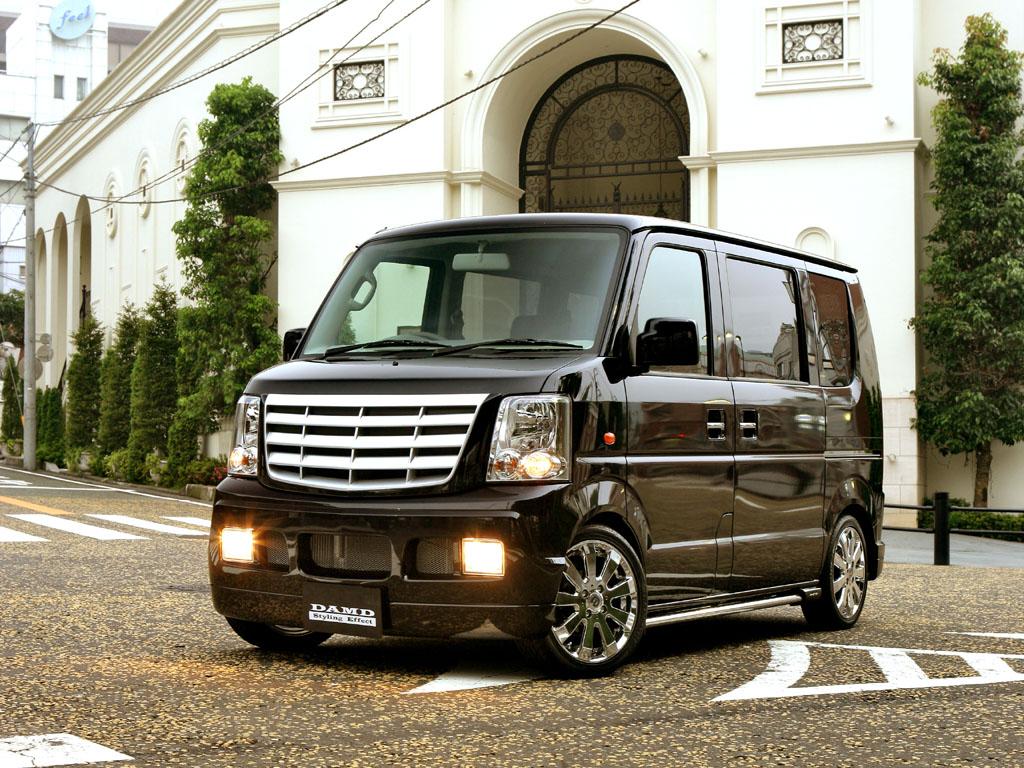 Cheap
Most Kei cars, including the Suzuki Every, are made to be alternative cheaper methods of transport for Japanese domestic market consumers. The size might be smaller than your needs, but for $2,000, you have a car that can do more than any car listed for that price.
If you have a delivery business, you can buy a Suzuki Every fleet for less than you can buy an old pick-up truck. Older model years are cheaper since you can get one for under $1,000 but most rarely have rear seats.
Practical and easy to mod
Suppose you got a Suzuki Every as an impulse purchase or are planning on buying one and don't know what to do with it. In that case, there are unlimited applications for such vans. For starters, you can use it as a delivery van either as a business owner or a delivery individual/agency.
If you have some project cars, you can use the Suzuki Every to ferry pars from the junkyard, yard sales, or manufacturers since delivery fees might be high. After all, not everybody has a car that can carry an engine and transmission.
Like the Toyota HiAce and the Mitsubishi Delica, you can convert the Suzuki Every into an Overlanding van. It might look impossible at first, but it's very doable. But you have to get one that has 4WD and a front stabilizer bar.
If you have one with the stated features, you need some offroad tires and camping gear, and you'll be ready to hit some light trails. You can also add a lift kit, and you'll be able to keep up with the Suzuki Jimny and other smaller off-roading vehicles
Due to Suzuki Every's inexpensiveness, you can tear it up and turn it into anything as long as it's drivable. Mini-monster builds and crazy engine swaps are some of the most common builds you'll find Youtubers doing.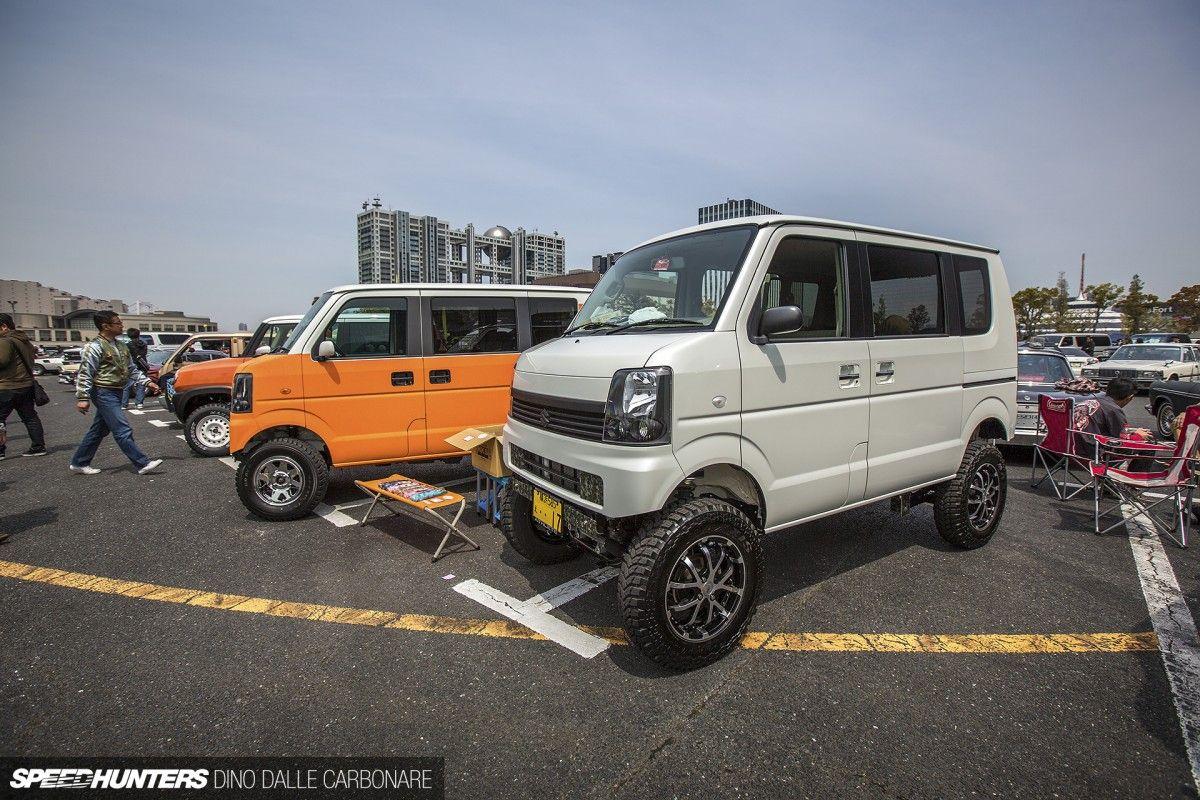 The car culture in Japan and other Asian countries doesn't sideline any vehicle regardless of class and size. You'll find slammed Kei cars, trucks, and vans, including the Suzuki Every, with ridiculous cosmetic mods. Some even remodel the entire vehicle, including the interior, upgrading to VIP seats, big screens, and sound systems.
Excellent fuel economy
One of the main advantages of having a light car with a small engine is excellent fuel economy. The Suzuki ever weighs between 1300 and 1800 pounds. Model years with the 660cc engine average around 35mpgs even when loaded, provided you don't exceed the maximum load capacity, 660 pounds more or less depending on the model year.
The Suzuki Every was not made to do long-distance driving, but you'll run town errands and deliveries on a full tank without noticing the fuel gauge go down. When Overlanding, fuel consumption will increase, but you'll be averaging better than most trucks and SUVs. You can use the space meant to mount fuel canisters to mount other essentials, such as spare tires or water storage equipment.
Low maintenance costs
If you ask a Suzuki Every owner when they took their car for service or fixed a mechanical failure, they'll probably tell you never, or they can't remember. Not that Suzuki built the Every as a no-maintenance car, but you can run one for years before needing mechanical component replacements. Especially if you only run errands and short-distance drives.
Replacement parts and labour costs for Kei trucks and vans are lower than most cars' servicing and part replacement costs. If you have some mechanical experience changing the oil or replacing the spark plugs should be an easy cake bite.
Great beginner car
When buying your first car, a Kei van is never on your list of options to consider. But if someone offered you a neat-looking Suzuki Every Turbo with some nice wheels, a good paint job, and a nice interior for $2,500, would you take it? It might not be as fast as a Mazda Miata but cool in equal measure.
With time you'll see that it's a better option than a Suzuki Cappuccino or Honda beat that you would have bought at almost twice the price. Everybody has a famous JDM car at school, but you'll rarely find a Suzuki Every at any parking lot, whether in school or at the mall.
Safer than other Kei vans
Most Kei cars, trucks, and vans only have the driver's side airbag. But the Suzuki every has dual front airbags and a side crash bar which increases safety in case of a side impact or a rollover. You also get ABS and power steering which reduce slip and improve handling, reducing the probability of understeer, which might lead to an accident.
Cons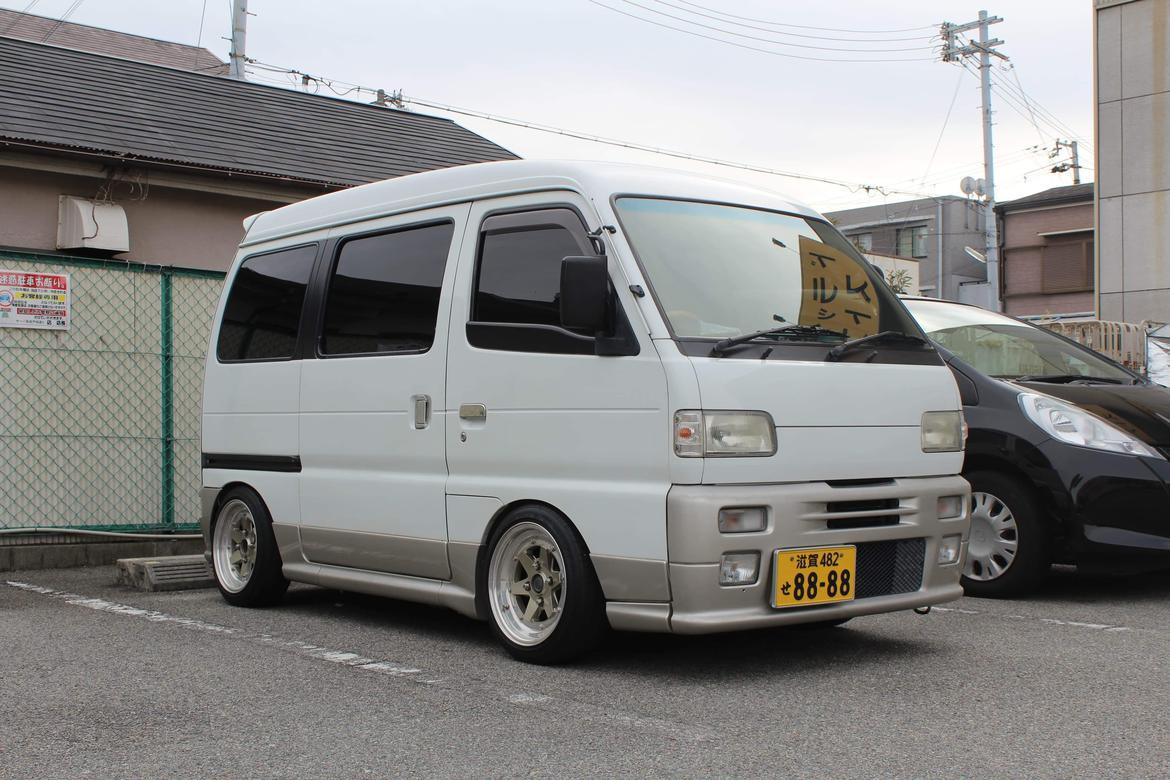 Light build quality
Kei vans, trucks, and vans are manufactured with affordability as one of the critical factors. This results in manufacturers lowering the cost of production, meaning the result doesn't have the build quality to last a lifetime.
The Suzuki Every's body panels are made of thin sheet metal with few coats of paint. A little scratch will expose the metal to rust-promoting elements. Interior quality isn't that great either. The seat fabric wears out quicker than a rubber sole shoe, especially when constantly in use. The floor is only covered by a thin layer of paint and wears out after several loads of whatever you carry.
If you plan on driving at night, replacing the fog lights, headlights and taillights should be a priority. The stock ones are low beam and won't be helpful on poorly lit roads.
Slightly underpowered
The largest engine you can get in a Suzuki Every is a 1.0-litre (970cc) 4-cylinder engine which barely makes 50 horsepower. Other engines make around the same power output. You can only carry the specified maximum weight as anything more than that puts the axles at risk of breaking. This limits the load you can take if you decide to kit your Suzuki Every for Overlanding.
Some model years don't have a tachometer
Some drivers, especially newbies, prefer a tachometer when driving a car with a manual transmission. Driving a Suzuki Every might be difficult for you if you are this type of driver since no model year comes with a Tachometer. The engine is so silent that "listening to engine revs" is difficult, and you must rely on driver instinct.
Rear seats don't have safety belts
In some states, driving a car without safety belts is illegal, and the Suzuki Every doesn't have seatbelts for the rear seat. Luckily you can buy aftermarket safety belts and harnesses.
Common Issues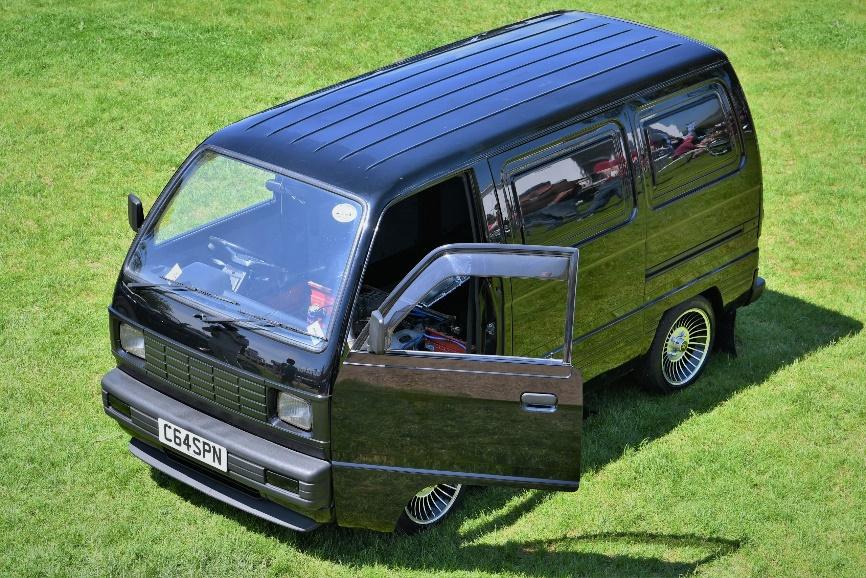 Manual transmission failure
The manual transmission on older JDM cars, including the Suzuki Every, is known to develop issues. Common signs include a light jerk after shifting gears and slippage. You might also notice the transmission jumps to neutral after a gear shift.
Before the damage worsens, get the transmission checked. When it drains transmission oil, you'll be on the road for a new transmission or a rebuild. A Suzuki Every is prone to manual transmission failure because of poor maintenance and lack of a tachometer.
Engine overheating when overworked
Small engines are great for light loads, and short city runs but not for heavy loads and long-distance driving. Once you decide to do either of those, you'll be putting the engine at risk. For Overlanding purposes, you'll have to install engine heat management mods which mainly revolve around increasing the radiator size, exhaust wraps, and coating the manifold. Using high cooling oil and coolant and improving airflow around the engine also helps.
Rust
Due to the poor build quality, rust is a common complaint among Suzuki Every owners. Common rust spots include the interior flooring, exposed metal body panels, wheel-wells, and fenders. You will likely find rust underneath and on the factory steel wheels, which come unpainted.
It would help if you considered repainting the entire vehicle as the paint quality is not excellent. If you get a Suzuki Every with the original paint in good condition, take care not to scratch it.
AC failure
If you are the type of person who considers AC as a top priority feature when buying a car, there's a chance that you'll get disappointed when buying a Suzuki Every. The AC probably died a few owners ago, and the one you are buying from has never used it. However, if you are buying an imported unit or planning on importing one, you might get it with a working AC.
Electrical faults mainly cause AC failure in a Suzuki Every. The wiring harnesses are either broken or loose. Tracing and fixing such faults shouldn't be hard for a car as small as a Suzuki Every. The simple build also makes repairing the AC wiring system and other electrical faults easy.
Average Prices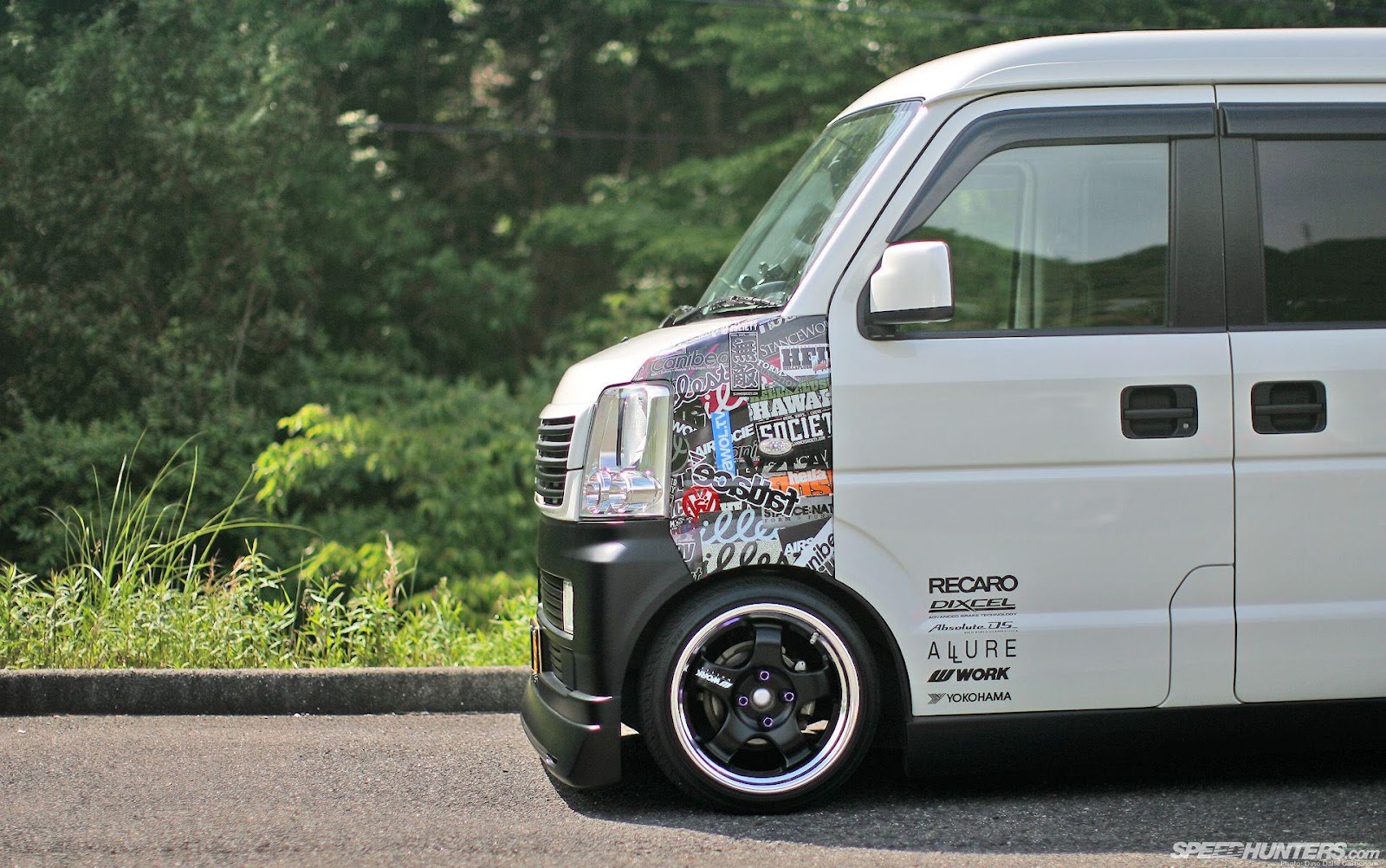 Kei cars, trucks, and vans are common in the US, and it shouldn't be hard finding a Suzuki Every up for sale on the Facebook marketplace and other online listings. Most sell for around $2,000, with newer models costing approximately twice as much.
If you are lucky, you can get an older Suzuki Every for under $1,000. You can also import one from Japan via local JDM importers or exporters in Japan. However, the price difference is insignificant, and you are better off buying a locally used unit.
Units with turbocharged engines are the most expensive since prices can easily surpass $5,000 for one in excellent condition.
Comparable Alternatives
Models and Specifications
1985-1989 Suzuki Every (DA51)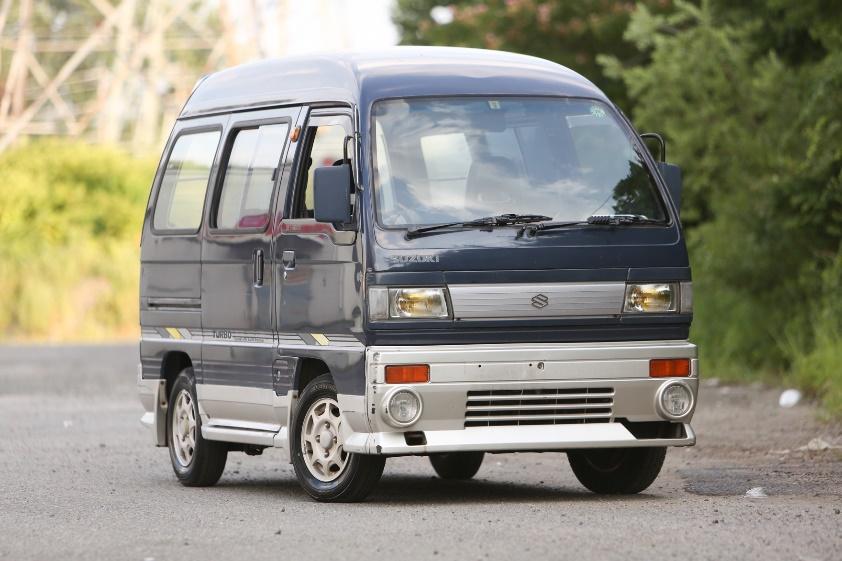 In 1985 Suzuki rebadged the Suzuki Carry van and produced it as the Suzuki Every. Around this time, Suzuki began exporting the Suzuki Carry trucks and Vans, and the Every was not left behind. But manufacturers like General Motors borrowed the Every's engine and chassis for other markets and made rebadged versions.
In the UK, the Suzuki Every was sold as the Bedford Rascal, Ford Pronto in the US and Holden Scurry in Australia. The DA51 Suzuki Every and its rebadged models share the same 3-cylinder 540cc and 660cc engines. A 4-cylinder 797cc and 970cc engine were also available, but these were mainly used for export models only.
Like the eighth-gen Suzuki Carry, the Suzuki Every has a front-engine rear-wheel-drive configuration, with some models getting optional 4WD. Buyers could opt for a 4/5-speed manual or 3-speed automatic transmission. In 1990 Suzuki made the Suzuki Every 660 PS Turbo. You get it with a 660cc turbocharged engine mated to a 5-speed manual transmission with 4WD.
1991-1999 Suzuki Every (DE51)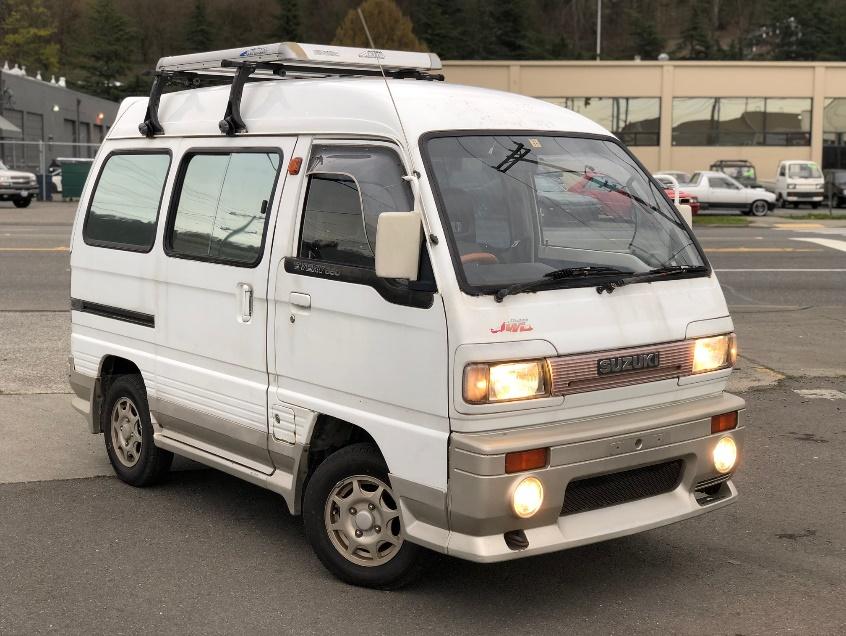 In 1991 Suzuki discontinued all other engines except the 660cc engine and replaced the rest with another 800cc 3-cylinder engine and a 1.0-litre 4-cylinder engine. The DE51 Suzuki Every was built on the ninth-gen Suzuki Carry. There's also a Suzuki Carry van with a shorter body. The only difference between the two is that the Carry has round headlights while the Every has rectangular headlights.
Due to low sales in export markets, the Suzuki Every was discontinued for most export markets. However, it was still being produced in the US ad the Ford Pronto and Norkis Multicab in the Philippines. You still get the same 4/5-speed manual or 3-speed automatic transmission used in the DA51 Suzuki Every in the DE51. The DE51 also has a mid-engine rear-wheel-drive layout, with some models getting 4WD.
Turbocharged models are badged as the Suzuki Every 660 Turbo Super Multi Roof. Quite a big name for a car that size. But the turbocharged models had a higher roof and broader body which increases the load capacity if you remove the rear seats. You get it only with a 5-speed manual transmission and 4WD, which were optional features in base spec models.
1999-2013 Suzuki Every (DA64)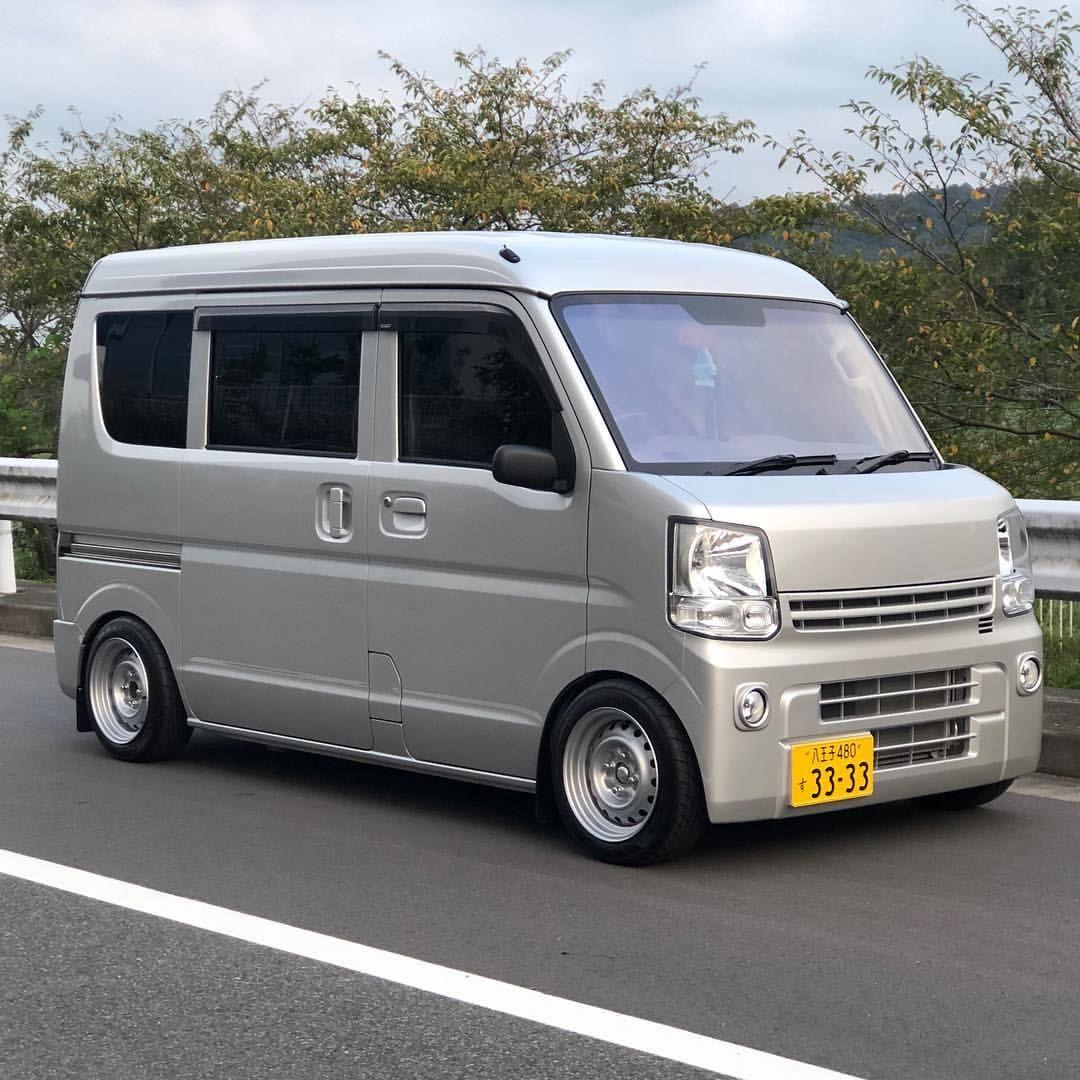 Suzuki diversified production of the Suzuki Every introducing new trims all using 3-cylinder 660cc engines (F6A, F6A Turbo, K6A, K6A Turbo). Standard models are badged as the Suzuki Every Van. Higher trims are badged as the Suzuki Every Wagon, Every Join, Every Landy, and Every Plus. In 2005 the Turbocharged trim, Suzuki Every Wagon PZ Turbo Special Hi-Roof 4WD, was unveiled. The names keep getting longer and longer,
You get the DA64 Suzuki Every with a 5-speed or 3-speed automatic transmission with the same mid-engine rear-wheel-drive layout as previous generations. Over the years, the Suzuki Every DA64 had facelifts and updates. In 2013, it was discontinued and replaced with the Every DA17.
2015-Present (DA17)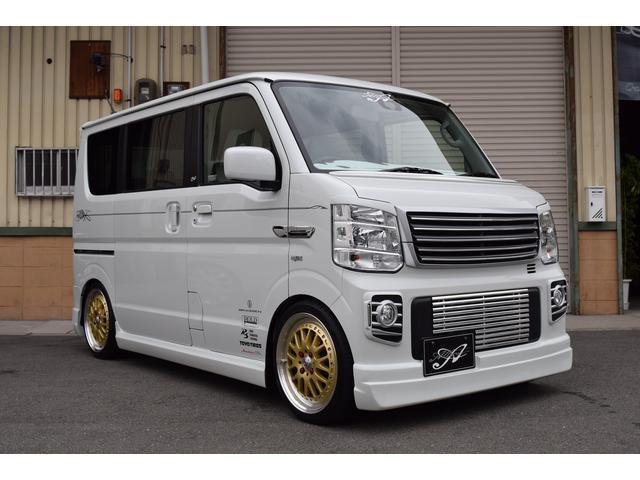 The Suzuki Every DA17 was unveiled two years after the Suzuki Carry was introduced in 2013. It has similar 3-cylinder 660cc engines (RO6A, RO6A-Turbo) from the previous generations driving the rear wheels via a 5-speed manual or 3-speed automatic transmission. Unlike the Suzuki Carry, the Every is not exported outside Japan and China.
FAQ
How Much is a Suzuki Every?
Older models are priced at around $1,000-$3,000, but you can find one listed for less than $1,000. Turbocharged and later production models retail for double that. 
Is Suzuki Every reliable?
Yes. The Suzuki Every averages about 35mpg and is one of the cheapest cars to maintain. 
What engine does a Suzuki Every have?
Most Suzuki units have 3-cylinder 660cc engines, but you can also get a 3-cylinder 540cc or 800cc engine. High spec models have the 800cc and 970cc 4-cylinder engines.  
How much horsepower does a Suzuki Every make?
The Suzuki every makes around 40 horsepower to 55 horsepower depending on the model year and engine used.
What engine size can I fit in a Suzuki Every?
Fitting a 4-cylinder engine such as a B16, EJ20 or K24 shouldn't be difficult, but you might require some new engine mounts and fabrication.
Is a Suzuki Every Fast?
Getting from 0 to 60mph shouldn't cross your mind when driving a Suzuki Every, as you might never get to 60mph. Even attaining a top speed of 74mph is unattainable. So No, the Suzuki Every is not fast.
Can I import a Suzuki Every?
You can import Suzuki Every model over 25 years old to the US.  
How many airbags does a Suzuki Every have?
The Suzuki Every has two front airbags, one for the driver's side and the other for the front passenger's side.
Does the Suzuki Every have a turbocharged engine?
Yes, some models come with a turbocharged 660cc engine.
Can I drift a Suzuki Every?
With the factory engine, it's impossible since it's too underpowered. But if you swap the engine, replace it with a more powerful one, and weld the diff, you can drift your Suzuki Every Van. 
How to Import a Suzuki Every
Read our Ultimate Guide on How to Import a Car from Japan.