Toyota Motor Corporation launched the Hilux Surf in March 1984 and discontinued it in August 2009. The name Toyota Hilux is simply the two words "high" and luxury" combined. It is also known as the Toyota 4Runner, a version of the Hilux Surf sold within North America and Australia and at one point in the UK. The Hilux Surf was manufactured and sold only within Japan. The Surf and the 4Runner have some distinct differences. For example, The Surf is a right-hand drive, whereas the 4Runner is left; diesel/gasoline engines are available on the Surf, and the 4Runner only has gasoline engines; the 4Runner is still in production.
Common Issues with Toyota Hilux Surf
Models between 1988-1996 are affected by a steering system recall; the relay rod may be damaged which may result in losing all steering ability. You can check for any additional recalls by calling your local Toyota dealership.
As mentioned previously diesel engines are widely known for overheating. Some issues with undersealing have been reported leading to rusting chassis.
Overall the Hilux Surf is a sturdy and well-built vehicle.
Average Prices
Surf prices widely vary depending on a multitude of factors: year, model/specs, mileage, body condition, mods, and transmission.
The market currently ranges between $2,800 – $25,000 USD, with models earlier than 1990 being harder to find.
Toyota Hilux For Sale
View all Toyota Hilux Surf vehicles listed for sale
Comparable Alternatives
If the Surf isn't for you, reliable alternatives exist.
To mention a few:
Models and Specifications
1984-1989 Toyota Hilux Surf First Generation
When the Hilux Surf was first released (1st Gen), the vehicle design was a conversion from the Hilux pick-up truck; Toyota wanted to enter the SUV market and did so by hiring aftermarket customizers to transform the Hilux pick-up into an SUV. Camper manufacturer, Winnebago partnered with Toyota to create the Hilux Surf.
Using the Hilux truck as the base model, a fibre-glass reinforced plastic (FRP) canopy was installed over the bed of the truck and the Surf was born. This mid-size Sports Utility Vehicle (SUV) is best known for its rigid and off-road driving capabilities and reliability, making this a popular choice for anyone wanting to use this vehicle for back-road driving.
The Hilux Surf and the Hilux truck were one and the same with minor differences. The rear springs on the Surf had one less leaf than the pickup therefore, the 1st Gen models "suffer from sagging rear suspensions" due to the additional weight of seats and the FRP.
1989-1995 Toyota Hilux Surf Second Generation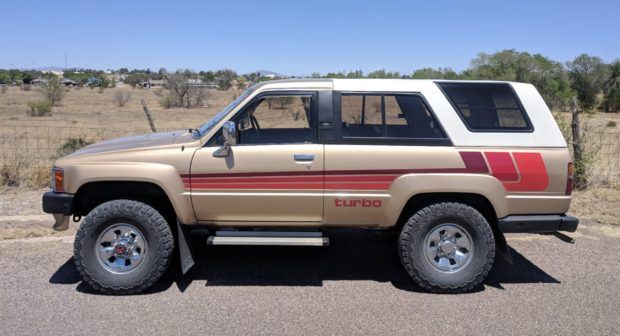 It wasn't until the 2nd Gen of the Surf that it became the SUV that we are all so familiar with today, more or less. In 1989, the Surf was redesigned and released with a steel body wagon with available four doors. The 2nd Gen Surf replaced the suspension with a double-wishbone with a torsion bar (Front) and a 4-link coil spring with a stabilizer (Rear), improving the stability and ride comfort. One of the more notable additions to the 2nd Gen is the A.D.D. (Automatic Disconnecting Differential). The A.D.D. allows drivers to automatically switch between 2WD and 4WD on the fly, by automatically connecting/disconnecting the front-axle shaft when choosing the setting. The manual models have the same feature located on the shift lever.
The most common problem with this model is the issue of overheating. The 2.4L 4cyl Turbo Diesel engine is known to have a poor cooling system which often leads to cracked heads.

* 3L V6 introduced in Aug 1990
3L Turbo-Diesel was introduced in Aug 1993
** Automatic Disconnecting Differential (A.D.D.) introduced.
Standard on all models.
Automatically connects/disconnects front-axle shaft when switching between 2WD and 4WD.
Manual transmissions have a one-touch 2WD/4WD selector on the shift lever.
1995-2002 Toyota Hilux Surf Third Generation
Fast-forwarding to December 1995, the 3rd Gen was launched. Toyota focused on continuing to improve ride comfort and released the model with a redesigned chassis (new frame, larger wheelbase and treads) moving further away from the Hilux pickup design and more towards the Land Cruiser Prado. The Surf now came with twin airbags, a lift-up tailgate, coil springs in both the front/rear suspension and a larger body.
An option between a wide-body or standard-body Surf was available, with the wide-body model being ~300mm longer and ~100mm wider, and providing ~15mm more ground clearance. The SSR wide-body model was also available with a V6 DOHC engine (Surf SSR-G V6 3400). The Surf first came equipped with a 3L V6 engine in 1990 (2nd Gen).
The exterior design was refined giving the Surf a sportier and an aerodynamic body including a rear spoiler. The 3rd Gen comes with optional features such as the GPS Map Pilot and Field Monitor (outside temperature, compass, air pressure, etc.)
2002-2009 Toyota Hilux Surf Fourth Generation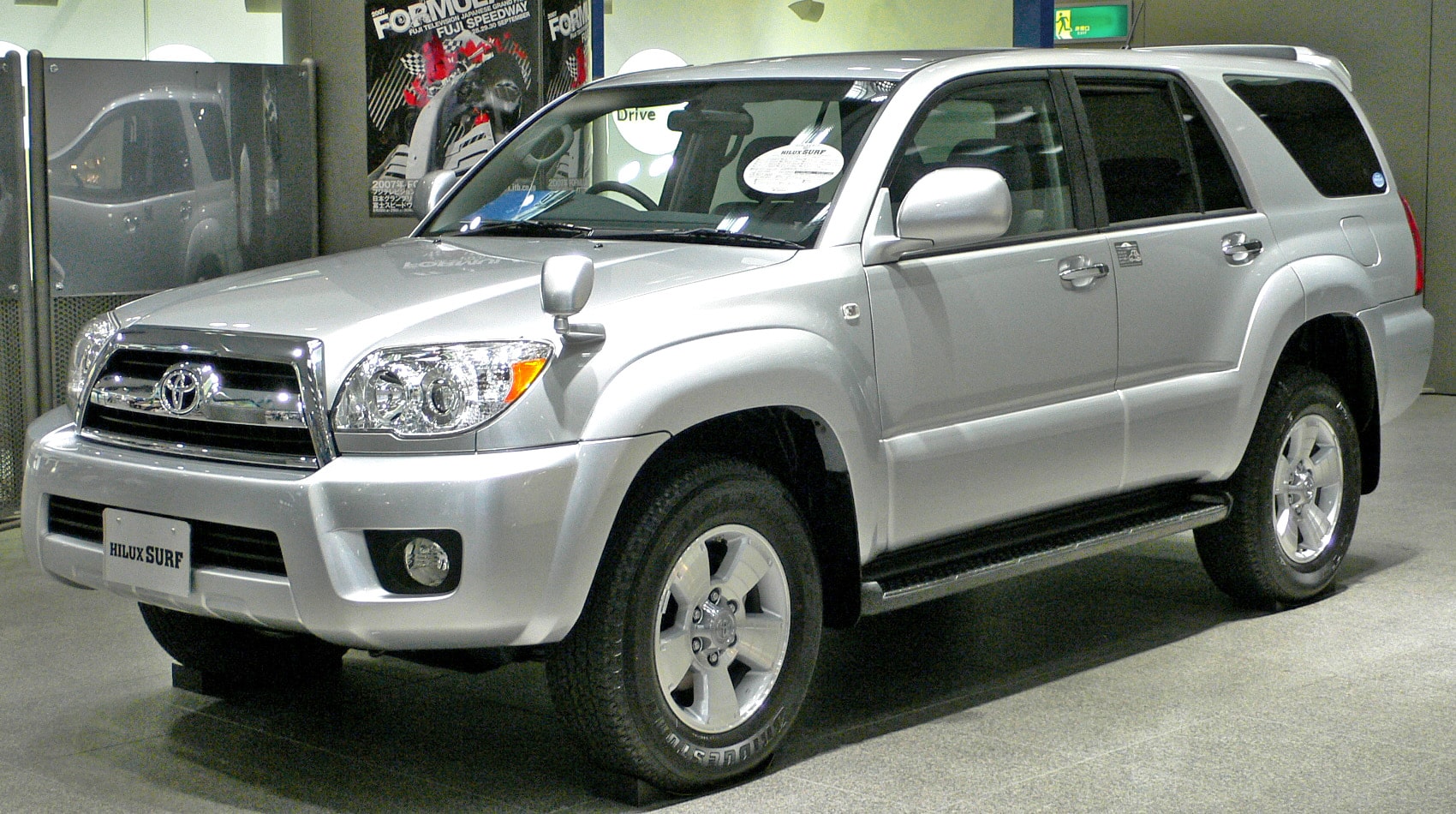 November 2002, the 4th Gen was launched and ceased production in 2009. The Surf continued to share similarities with the Land Cruiser, sharing the same chassis. The Surf was available in three engine options: 1KD-FTV diesel, 5VZ-FE V6 and the 3RZ-FE 4cylinder.
The diesel engine was replaced with the 1KD-FTV model which has a history of cracked pistons and failing rail injectors; even though the engine model is not as reliable as the previous diesel engines, it is more powerful and has better fuel efficiency. The gasoline V6 engine model 5VZ-FE, (first seen in 1995), has a longer life expectancy compared to the 3VF and experiences fewer overheating issues; it's been equipped with an oil cooler and an improved coolant system fan. Additionally, this engine model has an intake with long-length runners, producing maximum torque at a low to mid-rpm range.
The interior of the 4th Gen Surf was redesigned and inspired by a "hexagonal nut" or a "trapezoidal" shape, matching the new front grille; the interior also includes new features such as the foot-pedal parking brakes and rear side view mirrors. The dimensions of the vehicle were once again enlarged providing riders better comfort and more luggage space. The look and feel of the 4th Gen Surf are sportier and more rugged because of the broadly spaced C-pillars and larger size.
In 2005 the Surf was introduced with minor interior and exterior changes such as LED rear combination lamps, a new front grille and a new V6 engine with 3950cc.
Toyota Motor Corporation shut down its assembly lines and halted the production of the Hilux Surf in 2009.
FAQ
What body style does the Toyota Hilux Surf Have?
The Toyota Hilux Surf is Classified as a large SUV (Sport Utility Vehicle).
Which is the best year for a UK-spec Toyota Hilux Surf?
1984-1988 Toyota Hilux (N50, N50, N70). This Hilux is arguably the most reliable workhorse Toyota has ever made. The Toyota Hilux Surf was never sold in the UK, but the Toyota Hilux was sold globally. In the USA, the Hilux Surf was sold as the Toyota 4Runner.
Which is the best Toyota Hilux surf generation in UK?
The 4th-gen Hilux, N50, N60, and N70, is the best Toyota Hilux Generation.
Sources
https://www.tc-v.com/used_car/toyota/hilux%20surf/
https://www.japan-partner.com/auction/Toyota/Hilux+SURF/cars-for-sale.html?sort_by=price&sort_dir=asc&page=1?sort_by=price&sort_dir=asc&page=1
https://www.stripes.com/news/toyota-issues-recall-notice-on-hilux-surf-suvs-1.29283
https://hiluxsurf.co.uk/forum/hilux-surf-forums-general-interest-chitchat/general/2695-3-0-known-problems
https://www.cardealpage.com/column/2664
https://tractors.fandom.com/wiki/Toyota_Hilux_Surf
https://www.toyota-global.com/company/history_of_toyota/75years/vehicle_lineage/car/id60011317/index.html
https://www.goo-net-exchange.com/catalog/TOYOTA__HILUX_SURF/#11/2002
https://blog.beforward.jp/car-review/toyota-hilux-surf-4runner-capable-suv.html
https://www.stuff.co.nz/motoring/101436148/five-weird-toyota-hilux-history-facts
https://www.toyota-global.com/company/history_of_toyota/75years/vehicle_lineage/car/id60011317/index.html
https://www.toyota-global.com/company/history_of_toyota/75years/vehicle_lineage/car/id60011317/index.html
http://terra2imports.ca/toyota/hilux/
https://www.toyota-4runner.org/4th-gen-t4rs/102867-difference-between-american-4runner-hilux-surf.html
https://www.cardealpage.com/column/2664
https://www.motorreviewer.com/engine.php?engine_id=114
https://www.toyota-4runner.org/4th-gen-t4rs/263562-any-manual-transmission-4th-gen-4runners-usa.html
https://carfromjapan.com/specifications/toyota/hilux-surf/58167c922afaa2c4b286e8a5
http://mywikimotors.com/toyota-5vz/
https://global.toyota/en/detail/7910865
https://global.toyota/pages/hilux50th/history/milestones/19890508_Full_Model_Change_for_Hilux_Surf.pdf
https://global.toyota/en/detail/7682819
How to Import a Toyota Hilux Surf
Read our ultimate guide, How to Import a Car from Japan.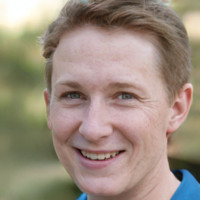 Latest posts by Christopher Weydert
(see all)