Daihatsu Copen Buying Guide
Daihatsu is one of the oldest automakers in Japan. Initially starting out as Hatsudoki Seizo Company Ltd in 1907, mainly specializing in small gasoline-powered engines for power plants, then moving on to three-wheelers mini trucks in 1937. The Hatsudoki Seizo Company also built engines for the Japanese National Railways.
Later on, Niigata Engineering and Shinko Engineering Company Ltd collaborated with Hatsudoki to make railroad diesel engines and automobile production. In 1951, Hatsudoki rebranded to Daihatsu Motor Company Ltd and made their first production unit, the Daihatsu Midget, in 1957.
Daihatsu made other production units such as the Daihatsu Compagno before Toyota reached out in 1967, buying shares and becoming a major shareholder owning around 17% of the company. In 1995 Toyota increased shareholding to 33.4% and then to 51.2% in 1998. This was when the Daihatsu Copen concept car was made.
The Daihatsu Copen was unveiled at the 1999 Tokyo Motor show with the same 660cc turbocharged engine used in the Daihatsu Naked, another Kei car by Daihatsu made from 1999 to 2004. However, production didn't immediately start until 2002, when Japan's first-gen (L880) Daihatsu Copen rolled out of the Daihatsu Ikeda plant.
Would you choose the Daihatsu Copen over the Suzuki Cappuccino? Both cars have similar engine options, but in the first-gen Daihatsu Copen, you might get one with a 1.3-liter Naturally Aspirated engine used in export variants. You also get a 5-speed manual in both cars. For automatic transmission fans, the 4-speed automatic in the Daihatsu Copen is better than the 3-speed in the Suzuki Cappuccino.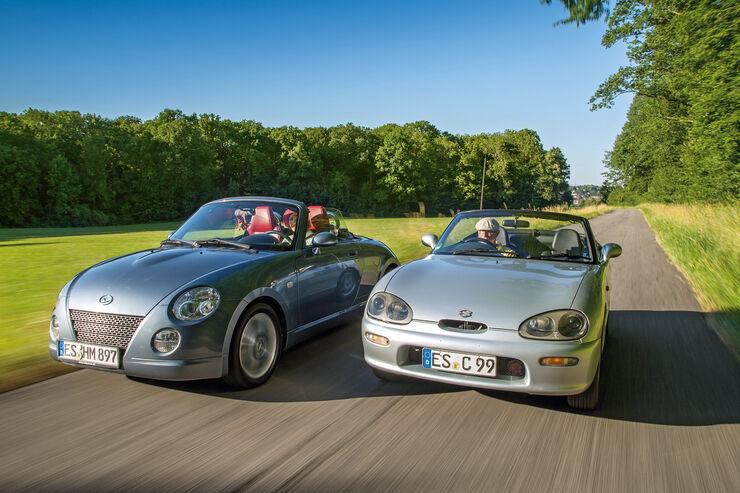 But what sets the two apart is that the Daihatsu Copen is a more refined Kei car. This is because it was produced later; thus, you get better driver engagement, mechanical components, and better build quality. The roof of the Daihatsu Copen is controlled electronically, unlike in the Suzuki Cappuccino, where you have to manually remove and install the roof.
There is also a risk of getting rained on if you remove the roof on a Suzuki Cappuccino. This is because there's no storage space for the double roof panels. The only win the Suzuki Cappuccino has over the Daihatsu Copen is its rear-wheel-drive, and the Copen is front-wheel-drive.
View Suzuki Cappuccino Ads for sale
Read our Suzuki Cappuccino buying guide
But if you are looking for a daily-driven car and don't have plans to turn it into a drift car, the Daihatsu Copen is the perfect Kei car. Before you add the Daihatsu Copen to your list of JDM cars to buy, here are some pros and cons we think you should consider.
Pros and Cons
Pros
Excellent Build Quality
Compared to its competitors like the Mazda Autozam AZ-1 and Suzuki Cappuccino, the Daihatsu Copen has a better build quality. This is mainly because of Toyota and Daihatsu's later production time and collaboration. There are obviously bits and faults like fading plastic interior trims. Still, the interior is better than that you get in any Kei sports car.
The Daihatsu Copen is probably the only Kei sports car to be offered with heated leather seats and dual-zone climate control. Something you'd expect on a higher-class sports car such as the Mazda Miata or the Toyota MR2. But not even the Mazda Miata was sold with an electronically controlled hardtop roof as standard.
While most JDM convertibles have a rear plastic window, the Daihatsu Copen has a rear glass window. Which is more durable and does not fade due to exposure to sunlight. The convertible roof quality is also better than the Honda Beat or Suzuki Cappuccino.
Fun To Drive
The 650cc engine might only be pushing around 65 to 85 horsepower, which is not much. But for a car that weighs under a ton, it's more than enough to get you quicker to school or work than public transport can. If you get one with a 5-speed manual transmission, you'll have the blast of your lifetime racing down the highway with the roof down.
But you soon get bored getting gapped by Honda Civics and Suzuki Cappuccinos and get mocked while at it. Luckily modifying the engine on a Daihatsu Copen shouldn't be that hard. After all, it's just a 3-cylinder engine.
You can get more power from the 660cc engine by replacing the old twin-scroll turbo with a new one and other supporting mods such as aftermarket fuel injectors and new spark plugs. But going over 120 horsepower even with aftermarket internals puts the engine at risk. To be safe, do not go over 100 horsepower and upgrade the clutch and brakes if you plan on increasing the engine's power output.
If you get one with a 1.3-liter NA engine, the maximum horsepower you can get out of it with an aftermarket turbo kit and a tune is around 150 horsepower. With that, you might be able to catch up with or even outrun a Mazda Miata.
Low Running and Maintenance Costs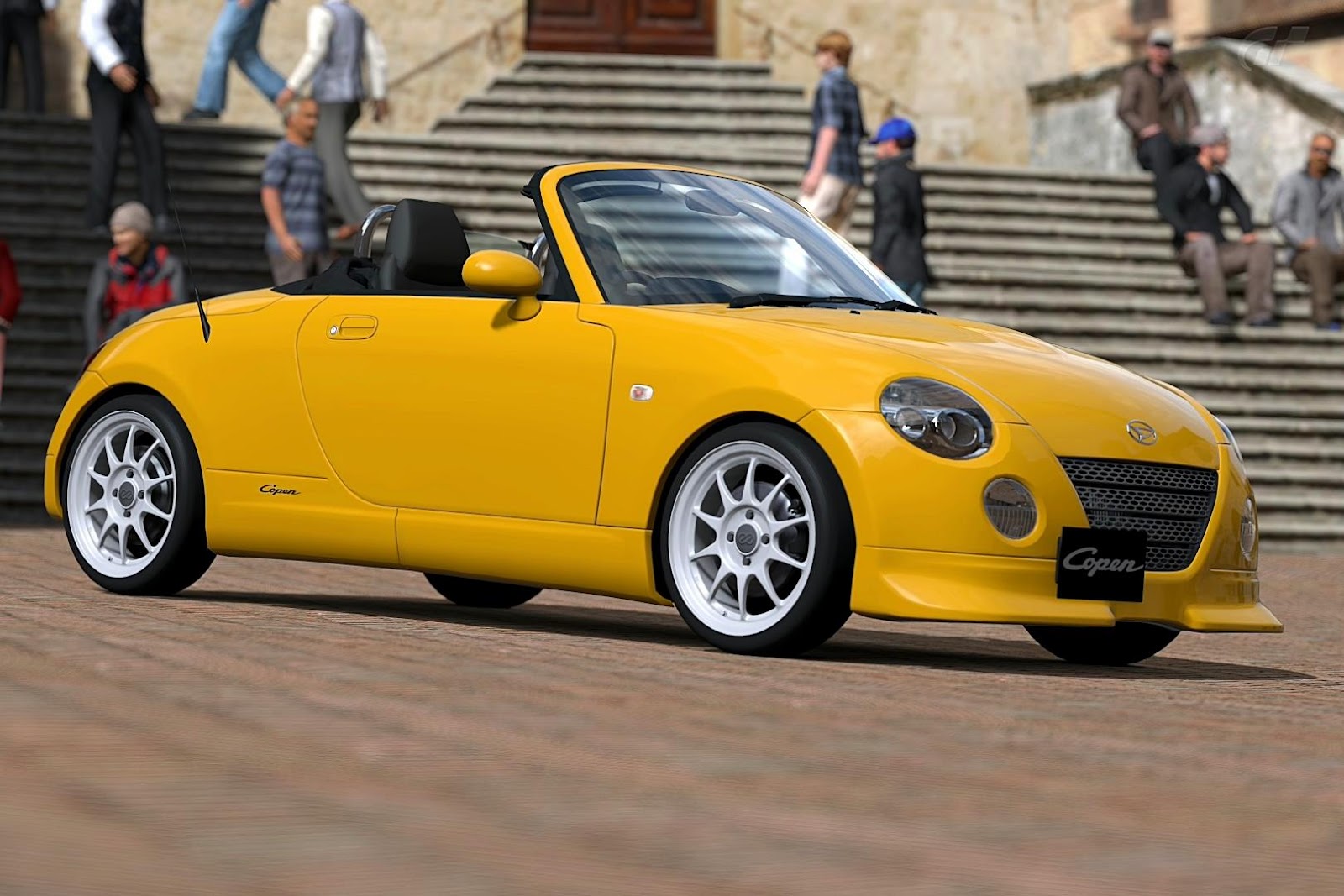 One of the main advantages of having a small engine is low running and maintenance costs. If not driven like a hardcore JDM sports car like a Nissan Skyline, you'll probably forget that you are due for oil, brake fluid, or coolant change. This makes the Daihatsu Copen the perfect first-time buyer JDM car. Fuel prices should not bother you if you own a Daihatsu Copen. Consumption is at around 40mpg, which is better than some superbikes.
Insurance for Kei cars is also affordable. Suppose you are buying a Daihatsu Copen for your teenager's 16th birthday. In that case, you can afford to pay insurance for your vehicle alongside theirs. If they can't afford maintenance and running costs, you can chip in on that too. But not forever since they'll soon want to own a Supra or a Skyline, and what better car to learn with than a Daihatsu Copen?
Great Looks
Apart from the build quality, what sets the Daihatsu Copen apart from its competition is its great looks. Especially those produced in the 1990s and early 2000s, such as the Honda Beat and Suzuki Cappuccino. You just can't ignore that cute-looking mini sports car at the car meet or on the road; for some reason, it looks like it's smiling back at you.
If you don't prefer the OEM look, you can always add some wheels, a metallic paint job, or wrap and lower your Copen. It's something that most JDM sports car owners do, and the Daihatsu Copen is also one but only a little bit smaller.
Also, there's always the option of installing an aftermarket body kit. There are some you can choose from, from custom body kits, bolt-on body kits, or fully stripped-down body kits. If you are a JDM car fanatic, especially of the JDM car scene in Japan, you have seen a mini–Skyline R35 GT-R at some point.
Well, what you saw is a Daihatsu Copen with a Liberty Walk GT-K kit. The GT-K body kit will cost you around $4,000, exclusive of shipping, installation, and other subsidiary costs. If you are an aesthetics fanatic, that price shouldn't bother you.
Cheap
Like every Kei car, the Daihatsu Copen is one of the cheapest JDM cars. A first-gen non-convertible model will cost you around $3,000, which is not bad, and you can also negotiate the price lower. If you want a convertible model, budget for approximately $3,500. It's not worth buying a second-gen model since both generations have similar features. The second-gen Daihatsu Copen only has refined looks appealing to younger buyers.
Cons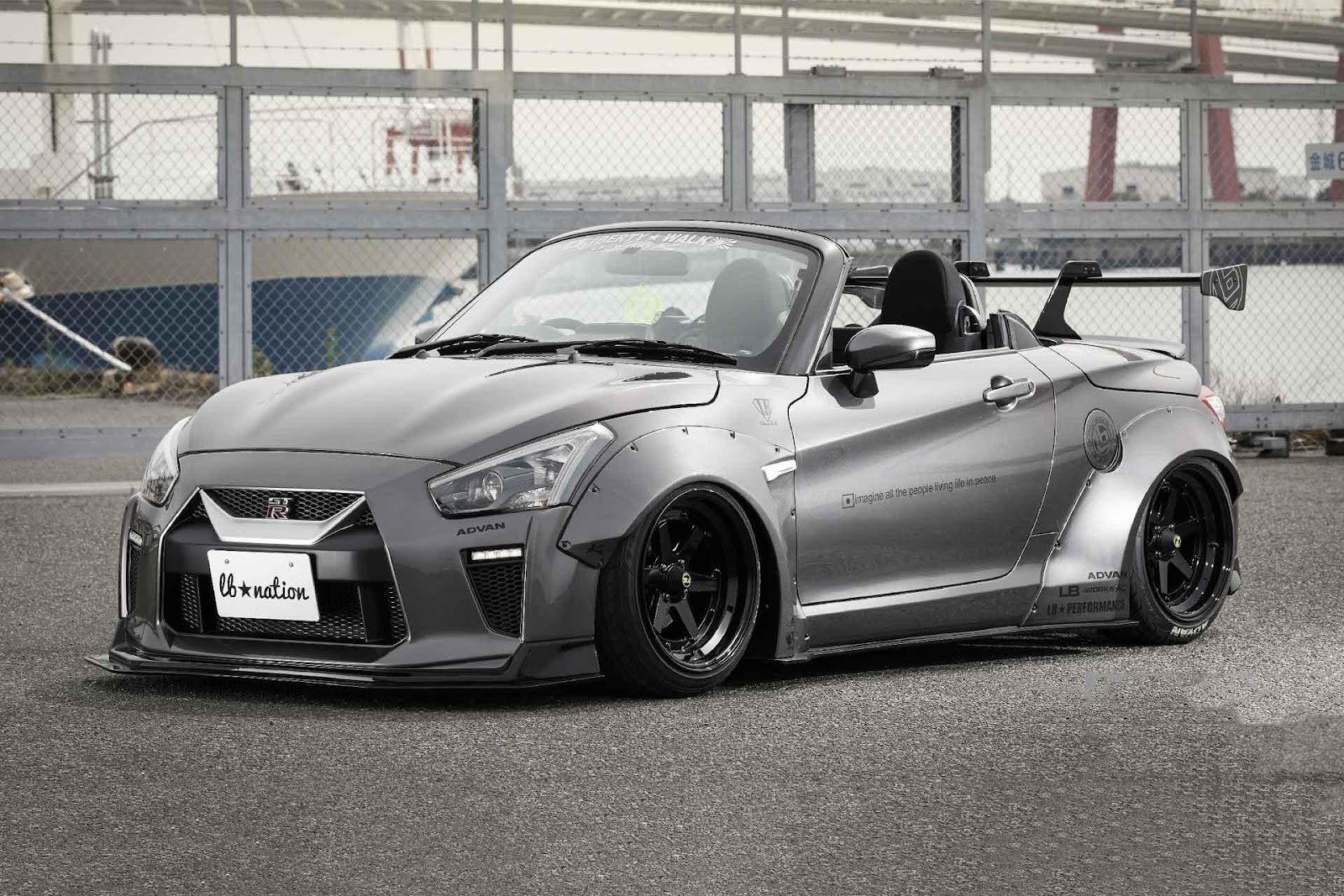 Cramped Space
The Daihatsu Copen might be the perfect daily driver, but when you start doing mall runs for shopping, you realize it isn't. Of course, you can fit some small bags in the trunk, but you'll have to make trips or pay for delivery for large bags. If the roof is down, fitting even two small bags in the trunk can be an issue. This is because the top occupies a large portion of the roof, unlike the Mazda Miata, where the roof does not affect trunk space when lowered.
If you are tall, above 5'7, the driving position gets uncomfortable with time as there's not enough wiggle room in the seats and foot wheel. Passengers will feel the same too. The Daihatsu Copen is not the car for you if you are above 6 ft. Interior storage is also not great as you only get mesh door cards and the glove compartment.
Common Issues
Hydraulic Roof Pump Motor Failure
If you notice that the roof is inoperable due to slow opening and closing, the hydraulic roof pump is failing. This is a common issue in older convertible cars, and the Daihatsu Copen is no exception. Even when you get one with a working hydraulic roof pump, it's bound to fail soon, especially if it's the OEM one.
Dirt and debris could build up in the fluid, or the fluid could start leaking. Also, if the pump is old and the car has been in constant use, it fails every now and then. The roof can either open and stop midway or fails to completely lock in place, and you end up being rained on.
To be safe, replacing the hydraulic roof pump on a Daihatsu Copen is the safest option. If you think it still has some life, you can try and fix it. Also, check the hydraulic lines for dirt and the wiring system for any broken harnesses or brittle wires.
A Squeaky and Cracking Roof
Due to constant use, the roof starts squeaking and rattling on the mechanical hinges, especially when retracting. You might also notice the top popping up when you hit a bump or pothole. This is caused by the hinges loosening or losing elasticity over time. Luckily replacement hinges are available, both used and new. You can either buy new hinges or try to restore the old ones if you have some handy skills.
The roof develops cracks due to exposure to extreme elements such as high-temperature sunlight and winter weather condition. Before you buy one, check for surface cracks on the top and how deep in the roof they are. One might easily mistake roof cracks for paint cracks.
Braking System Failure
The braking system on most Kei cars, including the Daihatsu Copen, is not built to handle hardcore driving. So, consider upgrading the brakes before planning on those uphill runs on your mini sports car. You get the Daihatsu Copen with a front disk calliper setup and rear drum brakes, and there's a chance they are worn out.
Kei cars are some of the most driven vehicles in Japan, and few owners change the brakes on such cars as long as they have some stopping power and show some life left. The brakes might be working, but they are in good condition before you start driving your Copen. Also, check the brake fluid lines for any cracks and leaks.
Rust on The Wheel Wells and Alloy Wheels
Several Daihatsu Copen owners have complained of rust on the wheel arches. This goes unnoticed due to the plastic arch liners; you'll probably notice it when the rust spreads to the wheel fenders. When buying a Daihatsu Copen, ensure you pry the wheel arch liners and look through them. A bright torch or the flashlight on your phone comes in handy.
Rust can also occur on the OEM alloy wheels, especially the rear ones. Rust from the brake rotors and drums spreads to the wheels, but it's usually surface rust. You can paint the rear drum brakes, but for the front rotors, rust usually indicates wear and tear and moisture on the rotors, both of which are normal.
Average Prices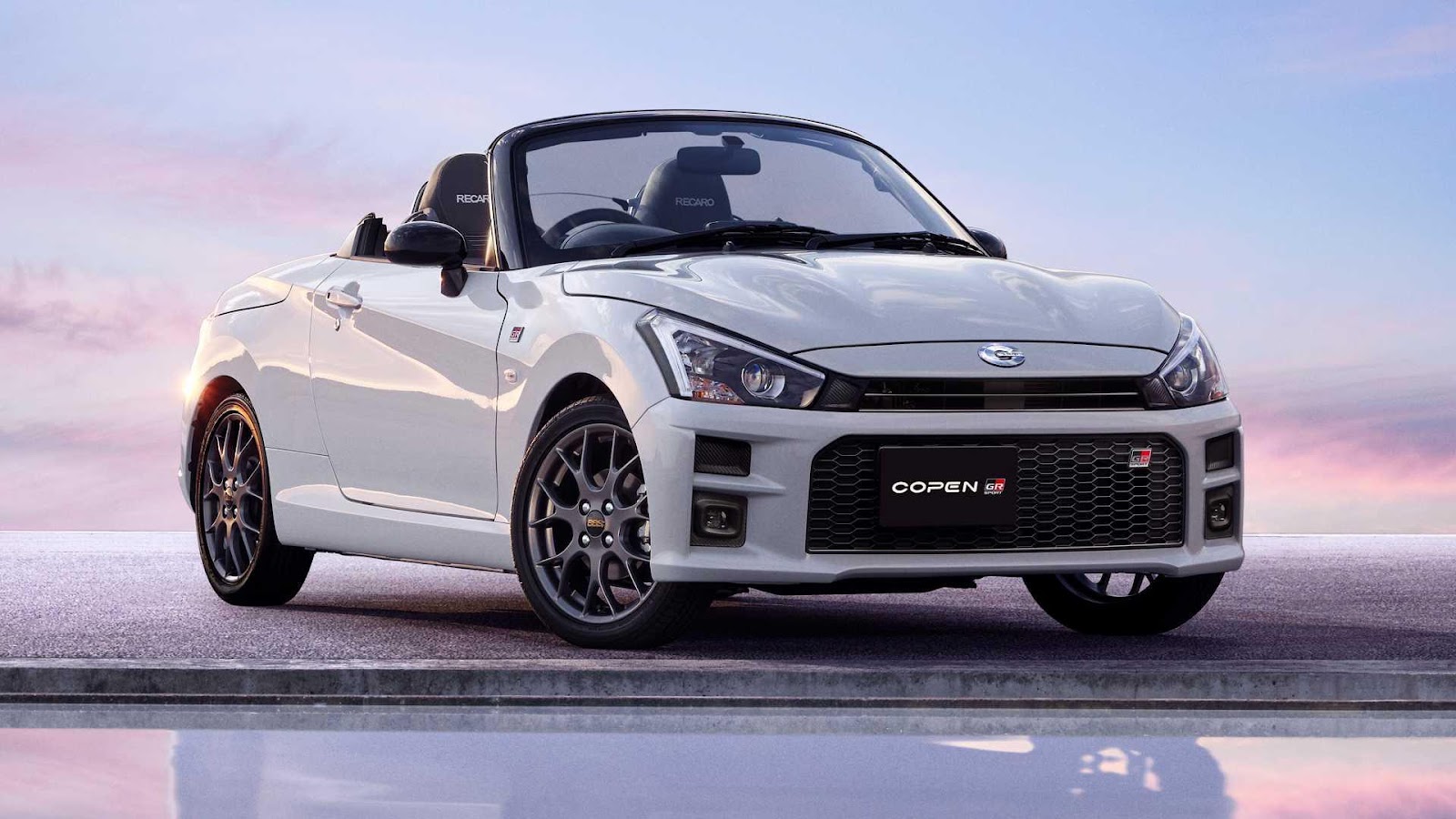 The first-gen (L880) Daihatsu Copen is better if you are on a budget. You can get one for around $3,000, while the second-gen Copen (LA400) starts at approximately $7,000. High spec and newer models such as the Daihatsu Copen GR Sport tuned by Toyota Gazoo Racing go for more than $15,000.
Comparable Alternatives
Models and Specifications
2002-2012 Daihatsu Copen (L880)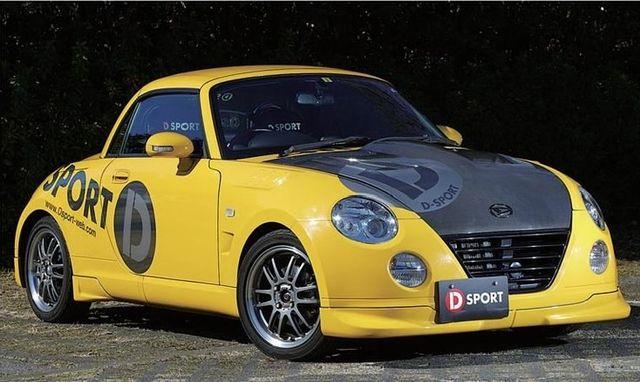 The first-gen Daihatsu Copen debuted in late 2001 and went into production in 2002. Like most Kei cars, the Daihatsu Copen was strictly made for the Japanese market. However, in 2005 LHD export models were sold in Germany and Europe.
Cars with smaller engines didn't sell well in foreign countries, so Daihatsu only developed a 1.3-liter engine for export markets. Due to decreasing sales, Daihatsu discontinued the Copen in 2011 but only for the European markets.
The Daihatsu Copen was never sold with a 1.3-liter engine in Japan, which would put it in a higher tax bracket. But in all markets, it was sold as a front-wheel-drive car with either a 5-speed manual or 4-speed automatic transmission. Japanese market models have a 660cc turbocharged 3-cylinder engine which made around 65 horsepower at production time.
Buyers could opt for a fabric or leather interior, while anniversary models made in 2012 have leather seats as standard. The door inserts on anniversary models are also made of leather to match the seats. The interior is quite funky, too, with an aftermarket stereo, analog clock, triple AC vents, bucket seats, and a MOMO replica steering wheel.
2014-Present Daihatsu Copen (LA400)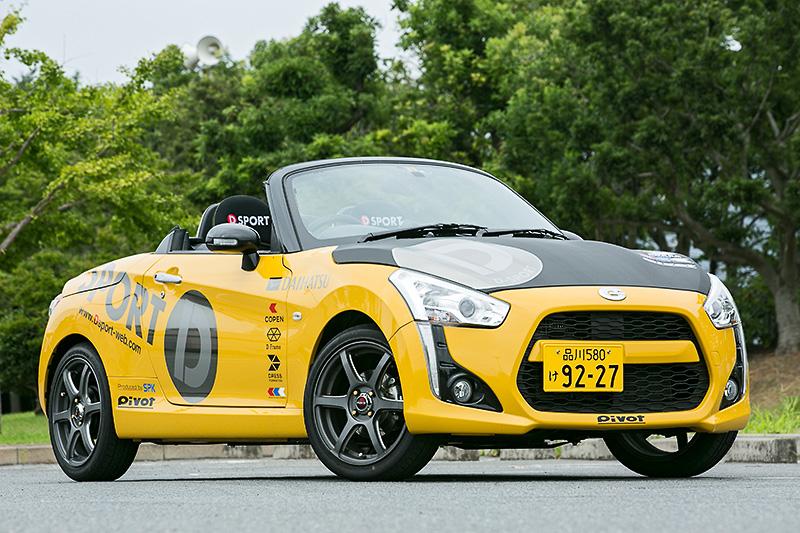 In 2013 the second-gen Daihatsu was unveiled at the 2013 Tokyo Motor Show and went into production later in 2014. You get it with a 660cc turbocharged 3-cylinder engine driving the front wheels via a 5-speed manual or 7-speed SAS (Super Active Shift) CVT transmission. Like the previous generation, Daihatsu makes the Copen either as a 2-door roadster or a coverable coupe.
The LA400 Copen is more modern and handles better, but its power output remains the same as its predecessor. The old chassis was replaced by a new monocoque chassis, and a new suspension was introduced. The monocoque chassis improves ride quality and enables buyers to customize body panels when buying a new Daihatsu Copen from the Factory.
Newer trims were also introduced. The Copen Cero and Coupe resemble the first-gen coupe, but the coupe has a fixed roof with an optional sunroof. A one-off Gran Turismo Sport-inspired model was also made and badged as the Daihatsu Copen RJ Vision GT.
In 2019, a new Copen GR sport from Toyota Gazoo Racing became available for sale. This model does not carry any Toyota or Daihatsu badges. Instead, it has Copen "C" badges.
FAQ
Is a Daihatsu Copen RWD?
No, the Daihatsu Copen was only made as a front-wheel-drive car. This gives competitors like the Honda Beat and Suzuki Cappuccino the upper hand. Still, the Copen is a fun car to drive in equal measure. 
How much is a Daihatsu Copen?
Prices for the Daihatsu Copen start at approximately $3,000 for older models. The only difference between the first-gen and second-gen Copen is aesthetic, as you get a 660cc turbocharged engine in both generations. However, the factory turbo on the first-gen Copen is better. 
Where can I buy a Daihatsu Copen?
If you are planning on buying a Daihatsu Copen, the best shot you have at getting one is from JDM importers. The Daihatsu Copen was never exported to the US, and the current model is a JDM-only car.
Can I drift a Daihatsu Copen?
In theory, it's possible, but the engine is too underpowered. You can only drift a front-wheel-drive car like the Daihatsu Copen by gaining high speeds and mimicking a power slide. 
What engine size can fit in a Daihatsu Copen?
If the 3-cylinder engine is not enough for you, the best engine swap options you have are 4-cylinder engines. A 1.3-liter 4-cylinder engine was used in the first-gen Copen, so installation shouldn't be that hard. Honda FWD engines are the most common engine swaps on Daihatsu Copens but if you want to convert to AWD or RWD, consider Subaru boxer engines. 
Can I import a Daihatsu Copen?
Sadly, no. The Daihatsu Copen is not yet legal for import to the United States until 2027.
How to Import a Daihatsu Copen
Read our Ultimate Guide on How to Import a Car from Japan.