The Nissan Patrol is a full-sized SUV that has been around since the early '50s. They were offered in a three or five-door configuration and were sold all over the world on pretty much every continent. North America has been getting Patrol based vehicles since 1969, the most notable being the Nissan Armada. Starting in 2011 the Patrol received a luxurious makeover and was sold under the Infinity badge as the QX80 to North American countries.
Most recent versions such as the Y61 and Y62 have been used by several armed forces around the world. Most notably, the United Nations and the Irish Army. Over its 70-year lifespan, the Patrol has been revised over six generations, each one getting more and more luxurious and powerful.
Pros and Cons
Pros:
Comfortable interior
Good engine performance
Great off-roading capabilities
Reliable
Timeless looks (the older models)
Cons
Poor fuel economy
Dated interior
Newer models aren't the best on rough terrain
Certain diesel engines were known to fail prematurely
Not very stable at highway speeds
Common Issues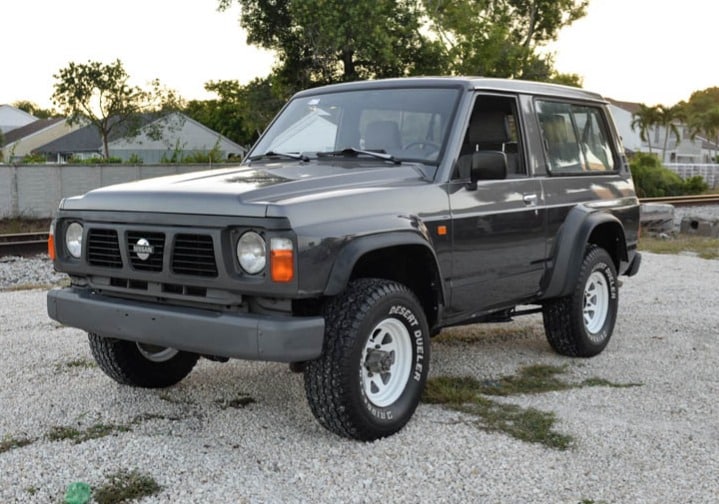 As we all know by now, no car is perfect and issue-free, especially once they start aging. Fortunately, older cars were made to last, but nothing lasts forever. This section is dedicated to the most encountered issues that Nissan Patrol owners have documented.
Differential seals. It's well known in the Patrol community that the differential seals are prone to cracking and eventually make a mess. The solution to this problem is quite easy, replace them.
Engine management warning light. The dreaded "check engine soon" light often pops up on the Patrol's dash due to poorly built MAF or TPS sensors. A simple diagnostics check will tell you exactly which one it is, and you can then proceed with changing the faulty sensor.
Blocked EGR valve. This is a common problem in many of today's diesel-equipped vehicles. The EGR valve is put on a diesel engine for better emissions. The problem with that is that they often get clogged up from the exhaust smoke as their main role is to burn a portion of the expelled gasses for a second time making for more environmentally friendly exhaust gas. The simple way to take care of this is to remove the EGR valve and clean it. In some extreme cases, the valve is so blocked up that replacement is the only option.
Cracking noise from the steering area. If you hear a cracking noise when turning the wheel at lower speeds, it most likely means that the stop caps are no longer doing their jobs. Replacement stop caps are cheap and they will likely fix your issue.
Lack of acceleration. For the Patrols equipped with a turbocharged engine that experiences a drop in power, it could mean that the turbo hose may have come off or cracked. This usually happens as the hose gets old and brittle. A new turbo hose should get you back up and running.
Average Prices
The Patrol was also known as the Nissan Safari in Japan. Due to its great reliability record, the Patrol/Safari holds its value extremely well. Prices start from just under $7,500 and go all the way up to $16,000. Here is a list of the cheapest and most expensive models currently offered by dealers on JDMBuySell.com
Nissan Patrol For Sale
View all Nissan Patrol vehicles listed for sale
Comparable Alternatives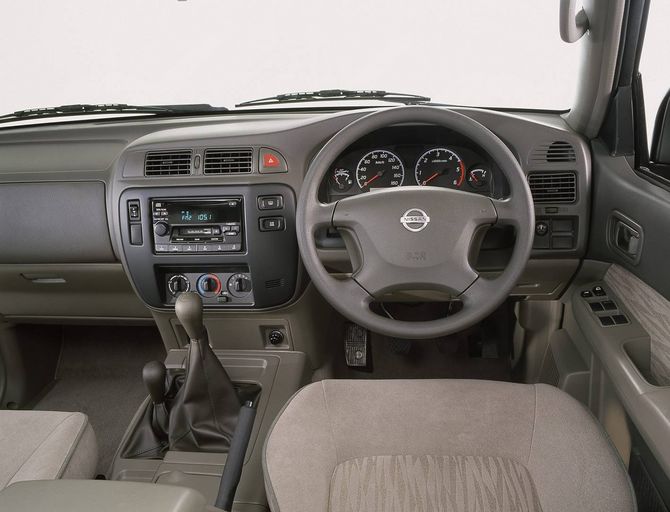 In the world of full-size off-road SUVs, the customer has the upper hand. With so many models to choose from and more being added on a regular basis, the Patrol is one of the best choices. It has been in production for nearly 70 years and has even been used in military applications around the world.
We have compiled a list of some comparable alternatives to the mighty Patrol in order to get an idea for yourself what Nissan's star SUV is comparing itself with.
Models and Specifications
1951-1960 Nissan Patrol First Generation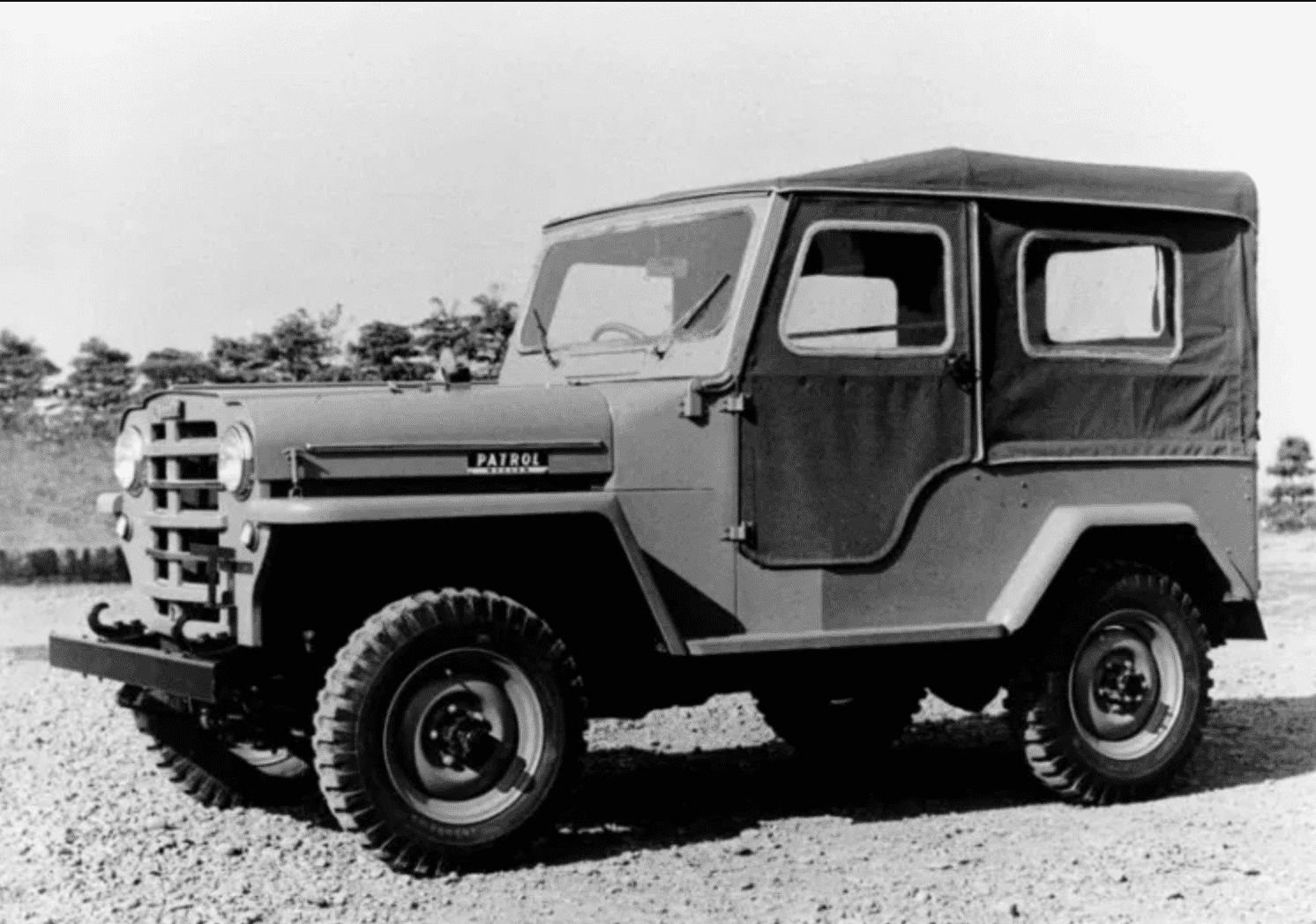 After witnessing the success of Willy's Jeep, Nissan introduced their version of it in 1951. The first Patrol was initially sold with a 3.7L gas engine, four-speed manual transmission and part-time four-wheel drive.
In 1955 and 1958 new grills were introduced alongside a few other cosmetic changes. By the time this generation was through, Nissan used a total of four engines. This consisted of two 3.7L and two 4.0L engines. All four were offered exclusively in a gasoline configuration.
1959-1980 Nissan Patrol Second Generation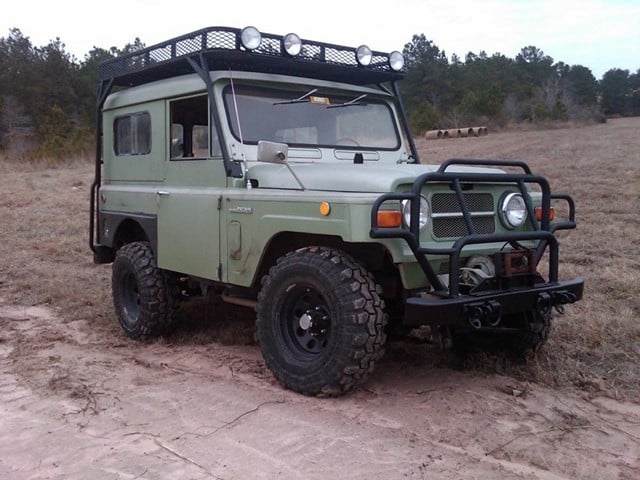 The second-generation Patrol was sold for just over two decades. This time around, the only engine available was a 4.0L inline-six gas engine and a three or four-speed manual transmission. From 1962 to 1969 you could get the famous Patrol in North America under the Datsun brand.
Throughout its 21-year manufacturing history, the second-gen Patrol was available in a small, medium, or long wheelbase, and later in its lifecycle, a genuine hardtop was introduced alongside the classic canvas soft top.
By this time, the long-wheelbase version could fit a total of eight people inside and it was slowly gaining notoriety as a hard-to-kill, go-anywhere vehicle.
1980-1989 Nissan Patrol Third Generation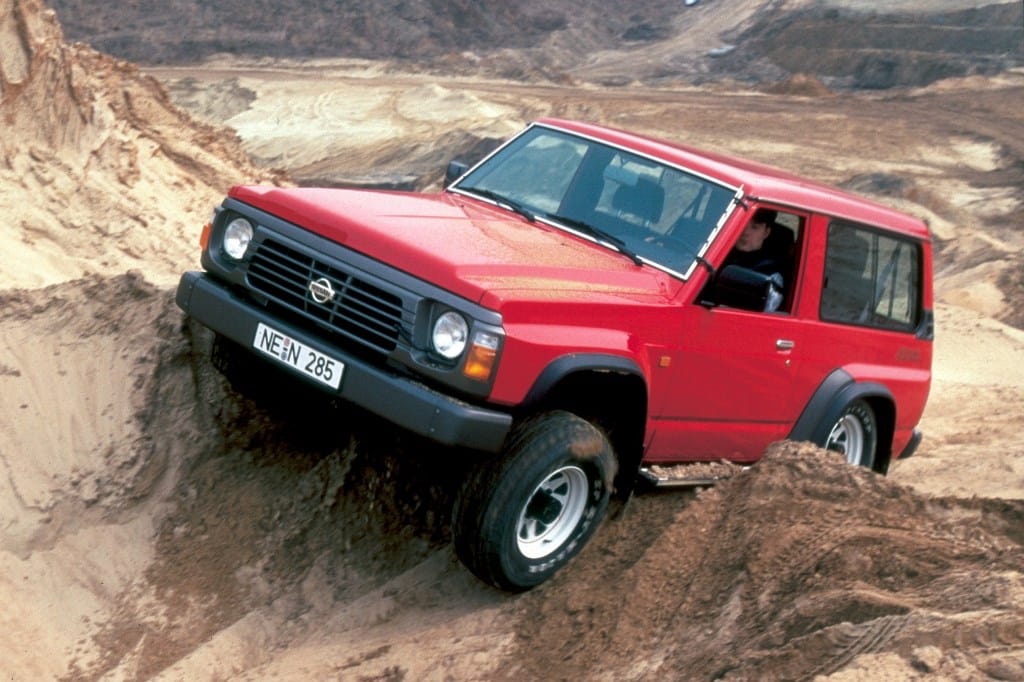 For the first time ever, we see the Patrol offered in a five-door configuration. Additionally, Nissan added a line of diesel engines as well. Each continent that the Patrol was sold in got slightly different variations of the SUV, but no matter where you went in the world, one thing was clear: thanks to its amazing capable 4WD system and great reliability record, everyone loved the Patrol.
The third generation received a total of six engines of which three were gasoline and three were diesel versions. The gasoline engines ranged from 2.4L-4.0L in displacement, while the diesel ones had a 2.7L-3.2L displacement range, with the biggest one being a turbocharged version. To top things off, a four or five-speed manual as well as three-speed auto were available depending on the configuration the customer chose and where it was sold.
1986-2002 Nissan Patrol Fourth Generation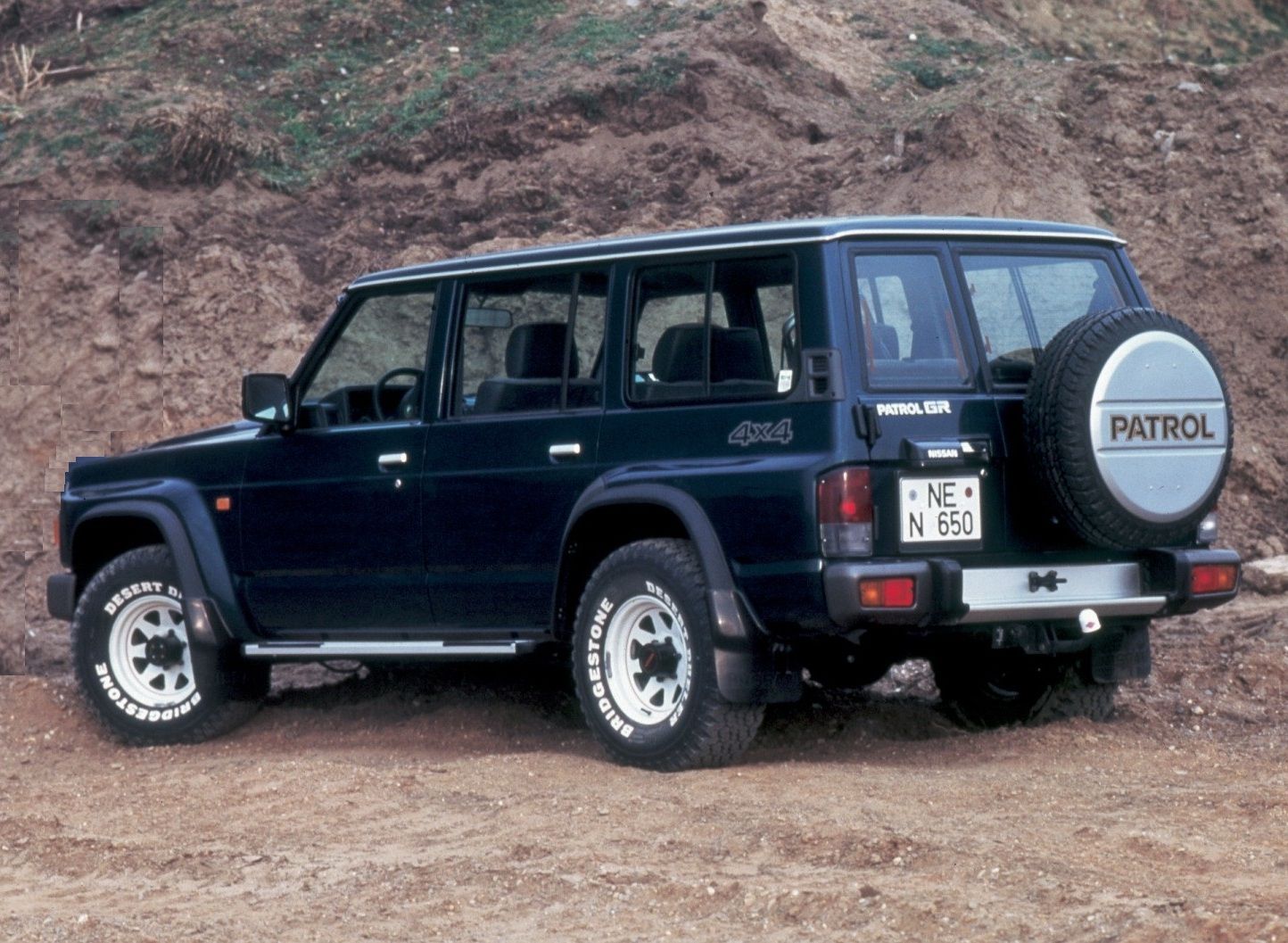 This generation is probably the most recognized and sought-after Patrol. In addition, the fourth generation brought with it a slew of upgrades that made it far superior when compared to past models. For example, coil-sprung suspension and sway bars were available to increase comfort and driveability.
On the drivetrain side, Nissan offered four motors of which two were diesel and two gasoline-powered. Two five-speed manual transmissions and a four-speed automatic were also available depending on the trim level.
To make them even more appealing, dealers started offering goodies such as sunroofs, roof racks, tow bars, etc. so that the customer could have a unique vehicle before ever leaving the dealer lot.
1997-Present Nissan Patrol Fifth Generation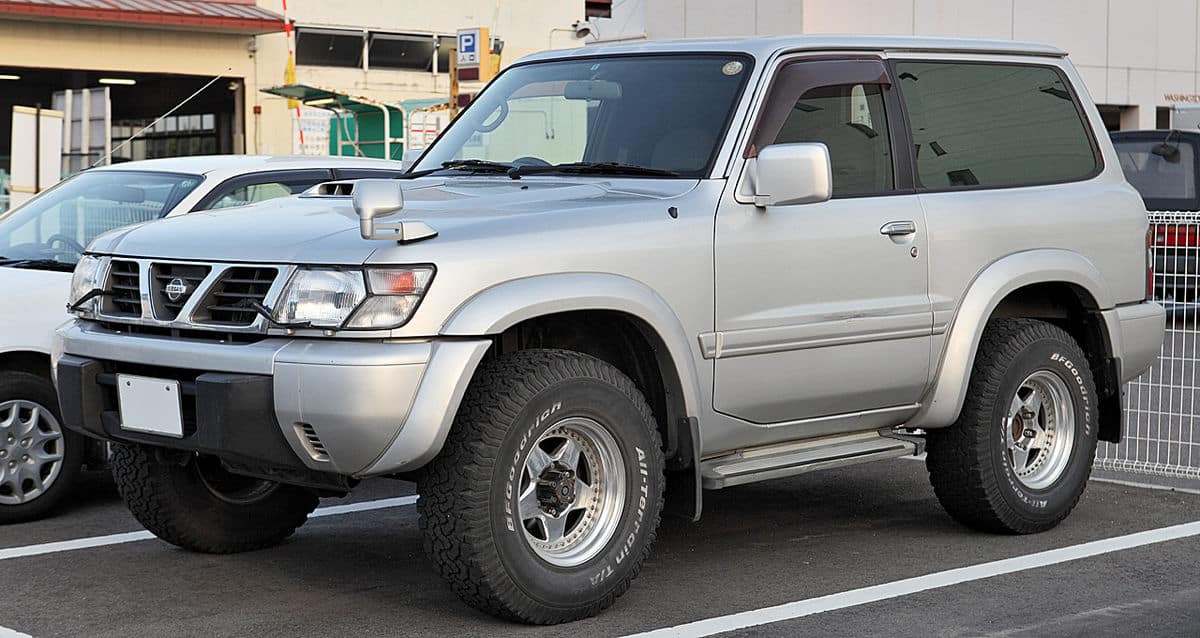 Appearing in late '97, the new design brought with it some new engines and body styles. The newly redesigned patrol was offered in a three and five-door SUV alongside a two and four-door truck. In addition to minor transmission and drivetrain changes, the customer now had six engines to choose from. These included a 4.5L and 4.8L gas engine and four types of diesel starting from a 2.8L and going all the way up to a 4.2L turbocharged version.
Around the early 2000s is when the tuning community started realizing that these trucks were able to make huge power, with some having as much 2000 horsepower from the TB48DE motor.
In 2014, the fifth-gen Patrol was discontinued except for South Africa, the Middle East, Pakistan, Paraguay, Philippines, Bolivia, Sri Lanka, and some African countries. These were left in production for these countries as an alternative for the Toyota Land Cruiser.
2010-Present Nissan Patrol Sixth Generation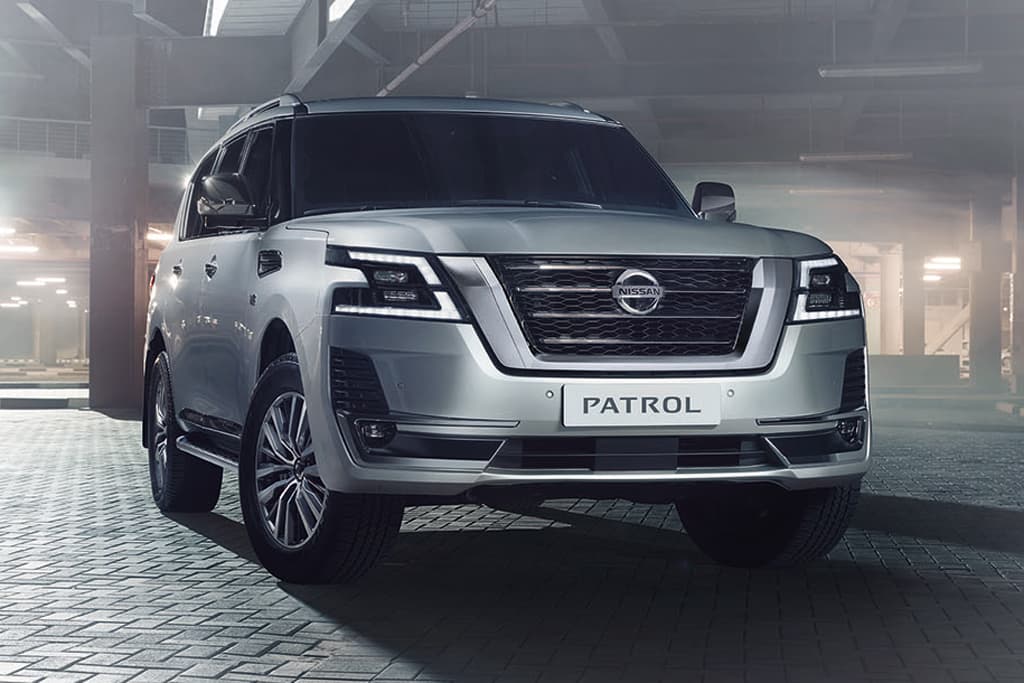 Unveiled in early 2010, the new Patrol was significantly improved, both cosmetically and mechanically. For this generation, Nissan cut the diesel engines out and now only offered three gasoline engines that included a 4.0L V8 and two 5.6L V8s.
In North America, the Patrol was known as the Armada and its luxury brother from Infinity was known as QX80. Furthermore, the Nismo version increased the power by almost 30 horses. In the last 10 years, the world-famous patrol underwent two facelifts, with the last one being in 2019.
FAQ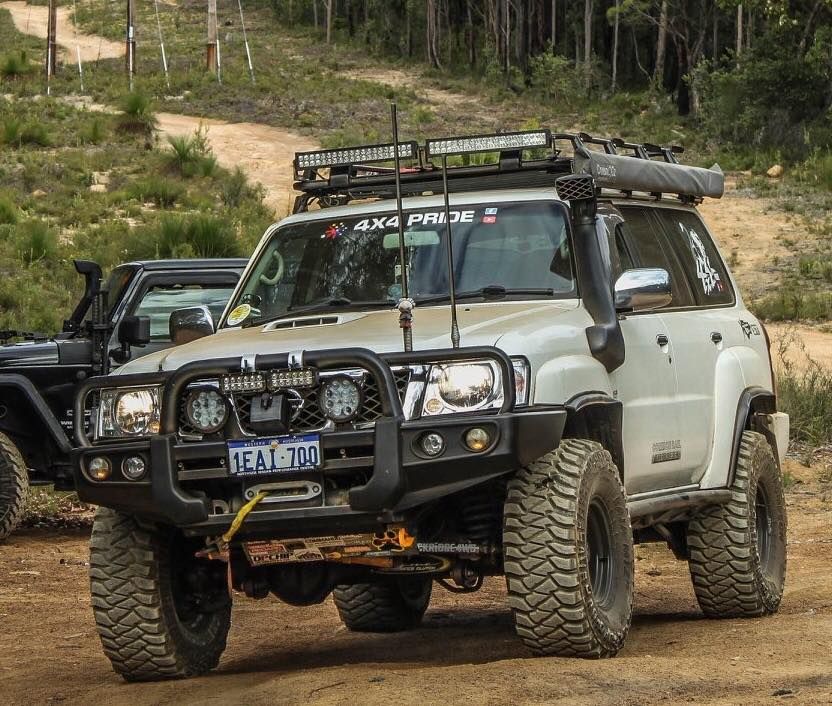 What is the Nissan Patrol's width?
The Nissan Patrol's width is between 1689mm and 1995mm. The 260 Patrol made from 1986 to 1993 has the shortest width at 1689mm, while the Y62 Patrol made from 2010 to date is the widest at 1995mm.
How big is a Nissan Patrol Safari Edition?
There's no difference in size with a standard patrol. A Nissan Patrol Safari edition has similar dimensions to a Nissan Patrol produced in the same year.
How much does a Nissan Patrol pickup cost?
With manageable issues, prices start at approximately $5,000 for a running Nissan Patrol pickup. Older models might be highly-priced, mainly because they are rare and restoring one isn't that easy. However, keep in mind that prices can go to over $30,000 depending on the year of manufacture, spec and any upgrades done
Why is the Nissan Patrol illegal in the U.S?
Not at all. The Patrol has been sold in North America since 1968 in one way or another, meaning that there are plenty of parts; stock, or aftermarket available.
How big is Nissan Patrol?
The Nissan Patrol is a full-size SUV with 3-row seating enabling it to carry 7 people. Most SUVs with third-row seating seat 2 people in the third row, but the Patrol sits 3 comfortably due to the ample space between seats due to its longer wheelbase.
What is the Nissan Patrol's height?
Early production models of the Nissan patrol have a 1720mm to 1980mm height, while the Y62 Patrol produced from 2010 to date is 1940mm tall.
How much does a Nissan Patrol cost?
A Nissan Patrol will set you back around $4,000 for one that is running but in need of some essential repairs. Later production models retail at around $7,000. However, it's still worth it as the Nissan Patrol is one of the Most capable SUVs regardless of age.
Which Nissan Patrol year to avoid?
2003 (Y61-1997-2016). Early production models of the Y61 Patrol are known to have the worst engine problems, including crankshaft failure, oil leakages, fuel pump failure and often blown gaskets.
Where can I buy a Nissan Patrol?
Finding a Y62 Patrol in the US might be difficult, and most are overpriced. But for other generations, you can find some for sale online listed on car sale websites and even Facebook marketplace.
Sources
https://en.wikipedia.org/wiki/Nissan_Patrol
https://www.zigwheels.ae/new-cars/nissan/patrol/faq/what-are-the-pros-and-cons-of-nissan-patrol
https://www.patrol4x4.com/threads/gq-vs-gu-pros-and-cons.405235/
https://www.patrol4x4.com/threads/diesel-gas-pros-and-cons.63882/
https://www.cargurus.com/Cars/2007-Nissan-Patrol-Reviews-c11660
https://www.breakeryard.com/car-parts/nissan/patrol-gr/common-problems
https://www.zigwheels.com.au/new-cars/nissan/patrol/faq
How to Import a Nissan Patrol
Read our ultimate guide, How to Import a Car from Japan.
Can you make this guide better? Are you a huge fan of the Patrol? If so, please contact us.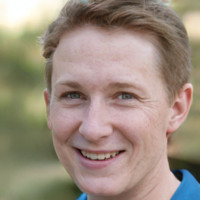 Latest posts by Christopher Weydert
(see all)