JDM cars are loved by everyone and disliked by a few who think they are overrated, mainly due to their inflated prices and issues that are unavoidable with most. Regardless, they are appreciated as they symbolize a time when car manufacturers built cars as they should be, uncomplicated and driver-focused. JDM car manufacturers still make great cars, but not like they used to in the 20th Century. Most of them that carry on old names are nothing close to their older counterparts; case in point, the Mitsubishi Eclipse Crossover.
Today JDM cars are some of the most sought-after cars in the automotive world, as a large percentage of car enthusiasts dream of owning a JDM car at least once in their car ownership journey. But not all can afford iconic cars such as the Mazda RX-7 or Nissan Skyline. Some are not even allured by such since everybody wants to own one. The feeling of having an R33 GT-R in your garage is underrated, but it's not as great as drifting in a Datsun 1200 pickup with an RB26 swap.
In addition to the Datsun 1200 pickup, there's the Subaru Brat and other not-so-frequently bought underrated JDM cars. Most of these cars remain unaffected by ever-increasing JDM car prices, making them the perfect garage addition for any JDM car enthusiast. So, which are some of the most underrated JDM cars?
Subaru Brat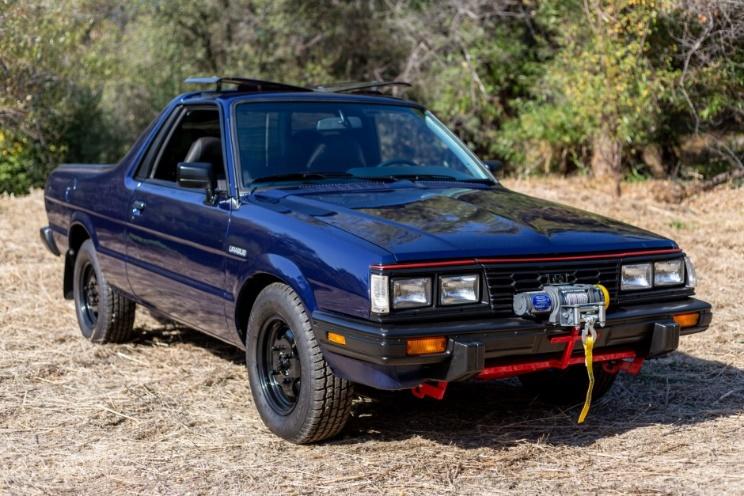 Sometimes car manufacturers make cars completely different from what they are known for, such as when Aston Martin made the Aston Martin Cygnet, considered a ridiculous exotic car. Subaru did the same in 1977 when they introduced the Subaru Brat, nicknamed the Japanese El Camino.
Throughout its production until 1994, the Subaru Brat carried different names depending on where it was produced. It was sold as the Subaru Brumby in Australia and the Subaru MV pickup in Canada and the United States. When new, the Subaru Brat had a $2,500 price tag which translates to roughly $9,000 today. Some are listed for around that price, but rare and low mileage units sell for 5-figure prices.
It's hard to convince anyone to buy one, but the Subaru Brat is perfect for anyone fascinated by weird cars. Due to its rear-facing jump seats, US road regulations classify it as a passenger, not a light pickup truck. The spare tire is mounted under the hood behind the engine as the engine is too small. But don't let its weirdness fool you. The Subaru Brat is well built to function as a light pickup truck, only that the engine is underpowered by today's standards and has full-time AWD.
The Subaru Brat is loved for its uniqueness as very few manufacturers made Utes, and Subaru is the only JDM manufacturer that made one. It's also reliable, fun to drive, and hard enough to handle bumpy trails hence the name Brat (Bi-Drive Recreational All-terrain Transporter. However, the Subaru Brat has its downsides, such as an underpowered engine and rust, like any other JDM car. If Ronald Reagan owned one, why shouldn't you?
Mitsubishi Airtek Turbo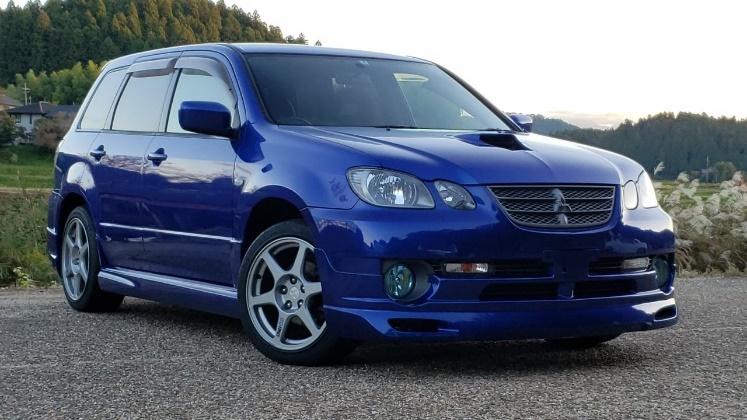 Mitsubishi introduced the Airtek in 2001 to compete against one of the best-selling Subarus at the time, the Subaru Forester. However, it didn't do well as they hoped it would, and production ceased in 2005. The Mitsubishi Outlander replaced the Airtek as Mitsubishi's flagship crossover. But from its looks, the Mitsubishi Airtek is more of a wagon than a crossover SUV, and so is the Subaru Forester.
So, what earns the Mitsubishi Airtek Turbo a spot on this list? It might have failed to match up against the Subaru Forester, but it's a better option for anyone who wants a JDM wagon that is not a Nissan Stagea. It's more like a knock-off EVO IX wagon but cheaper with some desirable aspects. For example, the Mitsubishi Airtek Turbo Shares the same 2.0-liter 4G63T engine as the Mitsubishi EVO, only that it's detuned and has an AWD platform; talk about a sleeper wagon.
Looks aren't great, especially on the front end, but you get used to it with time. Other than that, everything else on the Mitsubishi Airtek Turbo is just perfect. Also, expect high oil consumption and transmission faults in high-mileage cars. Mitsubishi Airtek Turbo prices start at approximately $5,000 in Japan. However, you can't import one to the United States, but you can do so in Canada.
View Mitsubishi Airtek Ads For Sale
Honda Orthia 2.0GX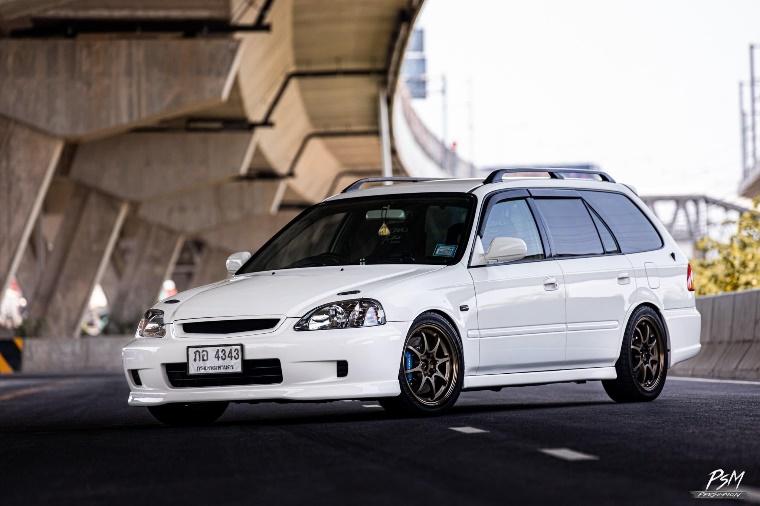 The Honda Orthia is among the best JDM cars that were never sold in the United States, specifically the all-wheel-drive Orthia GX with the 2.0-liter B20B. There's nothing too fascinating about owning one except that the Honda Orthia isn't a common sighting on US and Canadian roads, and it's basically a sixth-gen Civic wagon.
Hondas are known for their top-notch reliability, and Honda Orthia is no exception. The only major disadvantage is that no VTEC engine was offered in the Honda Orthia, but on the other hand, you can get the 2.0GX spec with a 5-speed manual transmission. But under the Hands of a good tuner and good aftermarket parts, it's easy to get the B20B to well over 500 horsepower. Sourcing parts shouldn't be difficult as it shares almost everything with the sixth-gen Civic, and swapping parts from other Hondas is easy.
View Honda Orthia Ads For Sale
Toyota Sera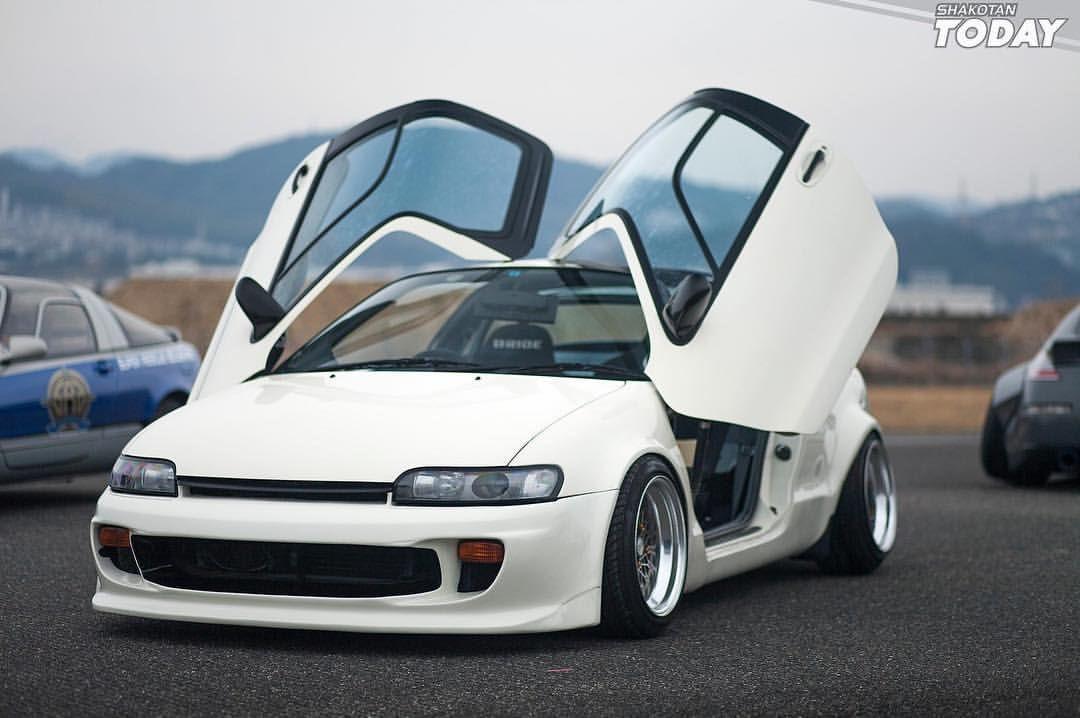 Sometimes wacky can be considered superior in its own way, which exactly describes the Toyota Sera, a two-door hatchback coupe manufactured between 1990 and 1995. It isn't desirable among tuners and performance enthusiasts like most JDM cars, but the butterfly doors with glass tops that merge into a T-top make the Toyota Sera an underrated JDM car. In some model years, the glass roof extends to the trunk lid. Considering its production period, the Toyota Sera was more of a concept car that Toyota decided to put into production.
Power is derived from a 1.5-liter 5E engine driving the front wheels mated to a 4-speed automatic or 5-speed manual transmission which means that the best chance you'll have at showing off your Toyota Sera is at a car show. However, Honda engine swaps are common, and you can also fit a 4A-GE in a Toyota Sera. Owners have complained of rust and door hinge failure, but other than that, the Toyota Sera is just as reliable as any other Toyota.
Nissan Laurel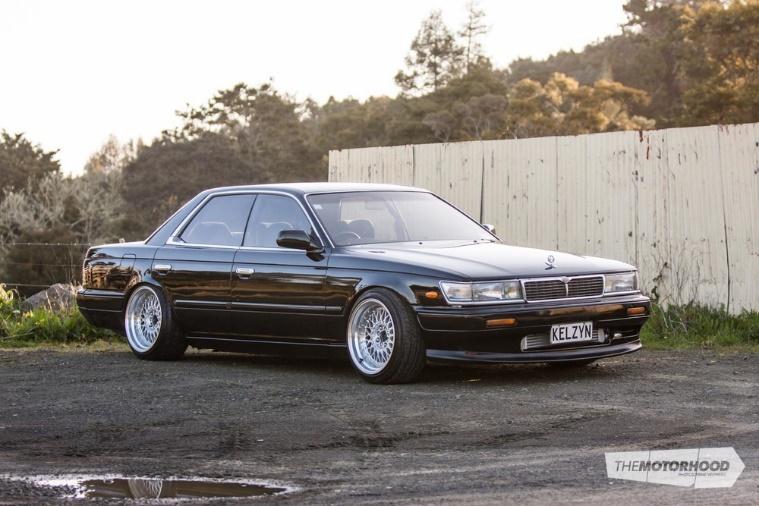 Nissan has arguably made the best JDM cars in the 1990s, some of which remain unknown to many as the Nissan Skyline and Fairlady overshadow them. Sedans, such as the Nissan Laurel, aren't frequently bought in the United States; thus, prices remain low due to the low demand. Also, the Nissan Skyline was produced as a Sedan which most buyers prefer to any other Nissan Sedan.
The Nissan Laurel sits just below Nissan's VIP sedans, such as the Cima, Cedric, and President, but it has something they don't have, RB series engines, mainly used in the Nissan Skyline. If you're new to Nissan engines, RB (Race Bred) engines are some of the best JDM tuner engines. However, not all production years have RB engines. You'll have a better chance at scoring an RB engine in a C33, C34, or C35 Nissan Laurel.
Unless the previous owner had done an engine swap, you'd not find a twin-turbocharged RB26 in a Nissan Laurel. Instead, you'll get a naturally aspirated or turbocharged RB20 or RB25, which are still great engines. Enthusiastic drivers will be disappointed when buying a Nissan Laurel since most were produced with an automatic transmission but swapping to a manual transmission is a piece of cake even for beginners.
Due to its front-engine and rear-wheel-drive platform, the Nissan Laurel makes the perfect drift car build. Thanks to the Nissan Skyline's broad aftermarket support, tuning and modifying a Nissan Laurel is a walk in the park. It's also a lowkey show car like most JDM sedans, as it looks mint, especially with polished chrome bits, nice wheels, and a metallic wrap or paint job.
View Nissan Laurel Ads For Sale
Mazda 626 Turbo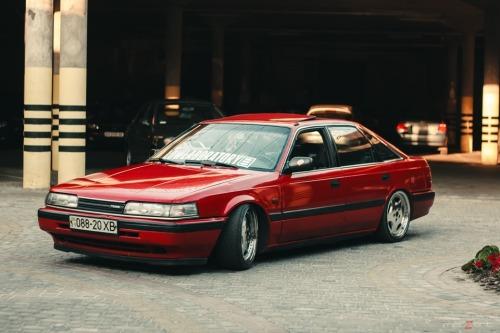 One of the most underrated JDM cars from the 20th Century is the Mazda 626 Turbo, also known as the Mazda Capella Turbo in Japan. It doesn't have a turbocharged Rotary engine like the Mazda RX-7 or Mazda Cosmo, which might be a good thing since rotary engines can be problematic and delicate, making a piston engine the better option. However, you can get the 12A or 12B engine in the first-gen Mazda 626.
Mazda first used a turbocharged engine in the third-gen 626, but the fourth generation is more desirable as some units were made with an all-wheel-drive platform, and the 2.2-liter engine is capable of higher power outputs. Front-wheel-drive variants are equally great cars, but the handling is slightly on the lower side. One thing that made the Mazda 626 Turbo stand out among its competition during production years is that it had four-wheel-steering, which was only available in a few Mitsubishis and Hondas. But very few 626s with 4WD are on the road today.
When buying a Mazda 626 Turbo, expect high oil consumption, electronics failure, tie rod failure, and rust as the most common issues. But such shouldn't stop you from owning one of the best Mazda cars, especially when everyone is rushing to buy a JDM car from the 1980s and 1990s.
Toyota Brevis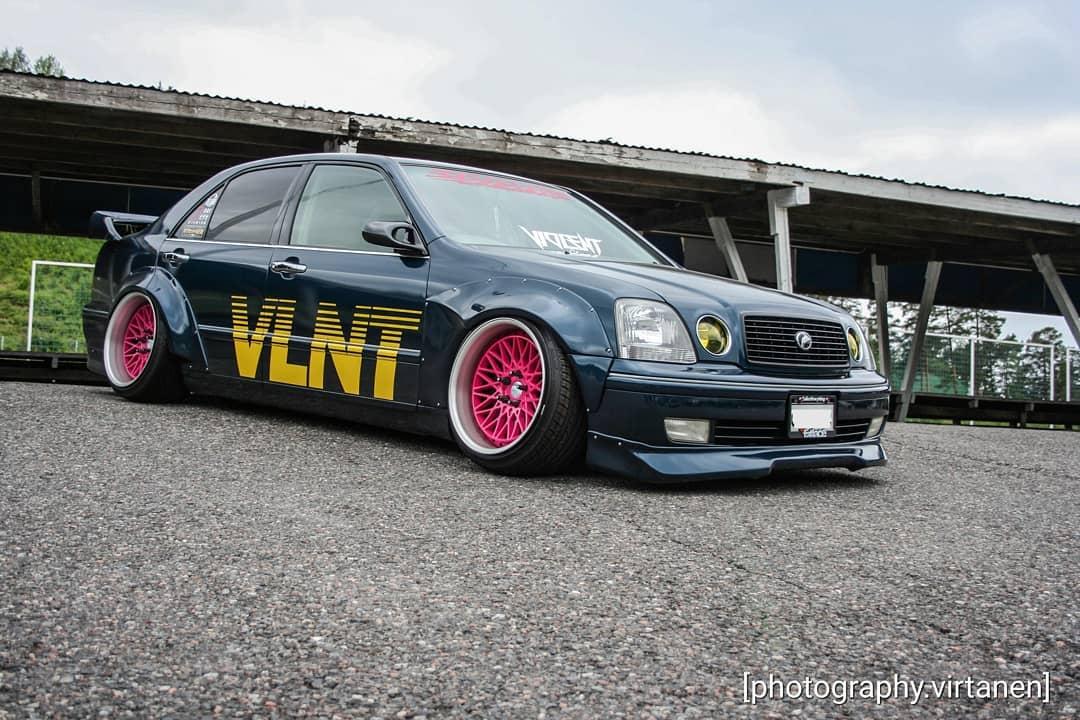 The Toyota Brevis is one of the little-known Toyota sedans lost in time; a car inspired the famously known Altezza/Lexus IS, also known as the gentleman's supra. However, Toyota Altezza prices constantly increase significantly for units with the 3.0-liter 2JZ. This is where the Toyota Brevis comes in.
There are other options with 1JZ or 2JZ engines, such as the Toyota Mark II and Toyota Chaser, but these, too, are becoming overpriced, and no one is willing to pay more than $20,000 for them. In contrast, Toyota Brevis prices start at around $3,000 in Japan, which brings total importation costs to less than $7,000 if you're importing one to Canada. Importing a Toyota Brevis in the United States is not legal as it was manufactured between 2001 and 2007.
Toyota never sold the Brevis outside of Japan, which is one of the reasons you should buy one. It's probably the first time you're learning of it while reading this post. But what makes it an underrated JDM car is the engine. The Toyota Brevis was sold with an NA 2.5-liter 1JZ or 3.0-liter 2JZ. No turbocharged engine options were offered during production, but all JZ engines are highly tunable. The Toyota Brevis is not that different from the Altezza. Thus, it shares the same common issues.
View Toyota Brevis Ads For Sale
Mitsubishi Galant/Legnum VR4 (4G63T engine)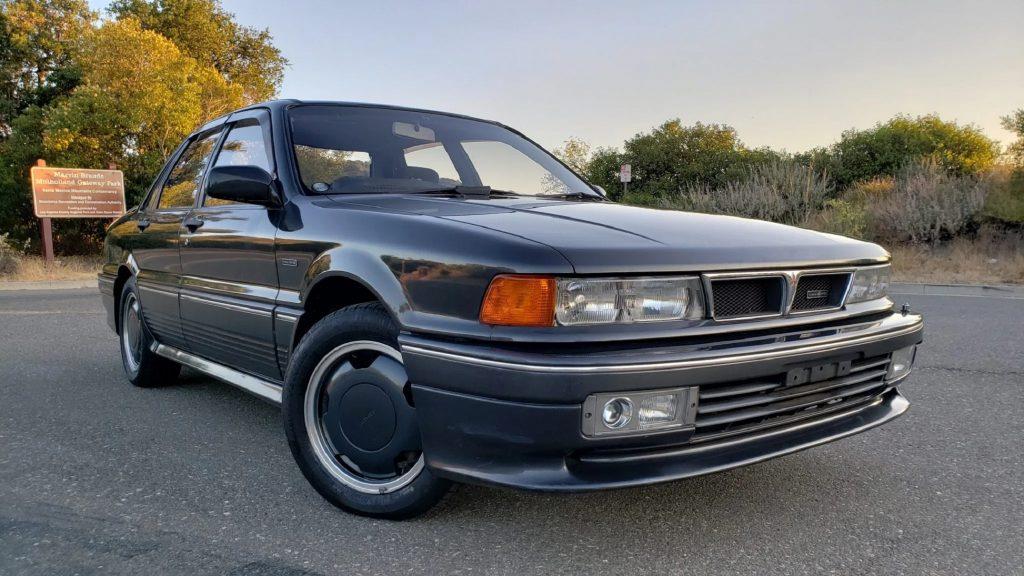 JDM car enthusiasts remember when Mitsubishi made some of the best JDM cars, sports cars, SUVs, and sedans. One such car is the Mitsubishi Galant, also known as the Mitsubishi Legnum, of which two variants are exceptional, the Galant VR-4 and AMG. As per Group A WRC regulations, Mitsubishi first made the Galant VR-4 in 1987 based on the sixth-gen Galant for homologation requirements. Later in 1992, they discontinued the 2.0-liter 4G63T and replaced it with a 2.0-liter twin-turbo V6 and a 2.5-liter twin-turbo V6 in 1996.
What makes the Galant unique is that it was the first car in which Mitsubishi used the 4G63T, and thus it's considered the EVO's godfather. The VR-4 is even better with an all-wheel-drive platform and unique tweaks such as Mitsubishi AYC (Active Yawn Control) system.
On the other hand, the Galant AMG was spec'd by AMG before they merged with Mercedes. There's not much difference between the sixth-gen Galant VR-4 and AMG, only that the Galant AMG has more luxurious touches such as wooden trims on the interior, an AMG body kit, AMG wheels, and badging. Production was limited to 500 units, all for the Japanese market. Would you buy a Mitsubishi Galant AMG or VR4 over a Mitsubishi EVO?
View Mitsubishi Legum Ads For Sale
View Mitsubishi Galant Ads For Sale
Read our Mitsubishi Galant Buying guide
Datsun 1200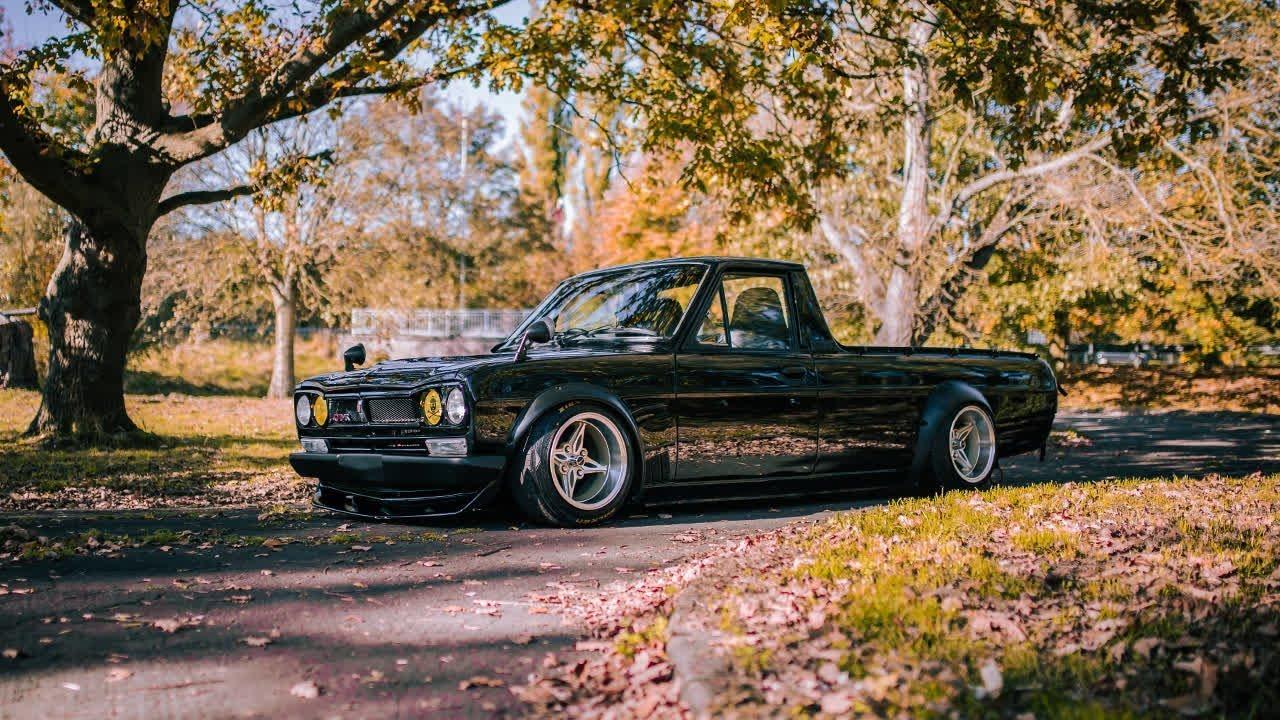 A Datsun 1200 pickup at the drift track or dragstrip will always look out of place until you peep under the hood and see an LS, RB, or any other crazy engine swap. Only at car shows will you find one with the original engine, as some owners love showing off well-built classic JDM cars with everything restored to new, maybe with a few upgrades such as aftermarket wheels and air or lowered suspension. You can't resist stopping and admiring a Datsun 1200 pickup once you come across one.
Originally the Datsun 1200 pickup was known as the Datsun Sunny pickup and later as the Nissan Sunny pickup; when Nissan scrapped the Datsun name and the Sunny name is associated more with sedans today. It doesn't feel correct to refer to the Datsun 1200 pickup as a Nissan Sunny pickup. The "1200" name is from the 1.2-liter (1200cc) engine, just like the Datsun 1000, which is also a great JDM classic car.
The Datsun 1200 pickup's front-engine rear-wheel-drive platform and the large engine bay make it a suitable engine swap project. But you'll have to deal with rust and upgrade the drivetrain. Due to its close resemblance to the Hakosuka Skyline, you can turn a Datsun 1200 pickup into a Hakosuka pickup by only swapping the front end to make a Hakotora.
Isuzu Piazza RS Turbo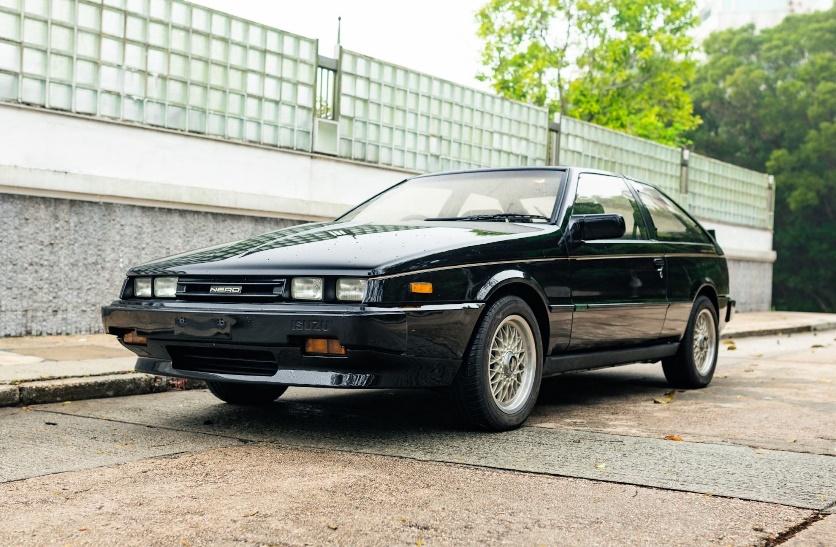 Isuzu is known for making trucks and pickups, but before they fully transitioned to trucks and pickup production, they also contributed to JDM sports car history. It started with the Isuzu 117 Coupe, then to the Isuzu Gemini and the Isuzu Piazza. However, Honda took over production rights to the Isuzu Gemini, leaving the Isuzu Piazza as the only Isuzu sports car from the golden 1980s and 1990s as it was produced from 1981 to 1993.
Like most sports cars, the Isuzu Piazza Turbo has a front-engine, rear-wheel-drive platform. However, the second-gen Piazza, also known as the Isuzu Impulse in North America, is front-wheel-drive. Power comes from a 2.0-liter turbocharged engine in the first-gen (JR120/130) Piazza Turbo, while the second-gen (JT22) has a 1.6-liter turbocharged engine.
Less than 13,000 Isuzu Piazzas were built; thus, current market prices aren't that pocket-friendly, starting at approximately $30,000. Most owners are reluctant to sell, especially if it's a first-gen you're looking for, and importing one from Japan is the best option.
View Isuzu Piazza Ads For Sale
Honda CRX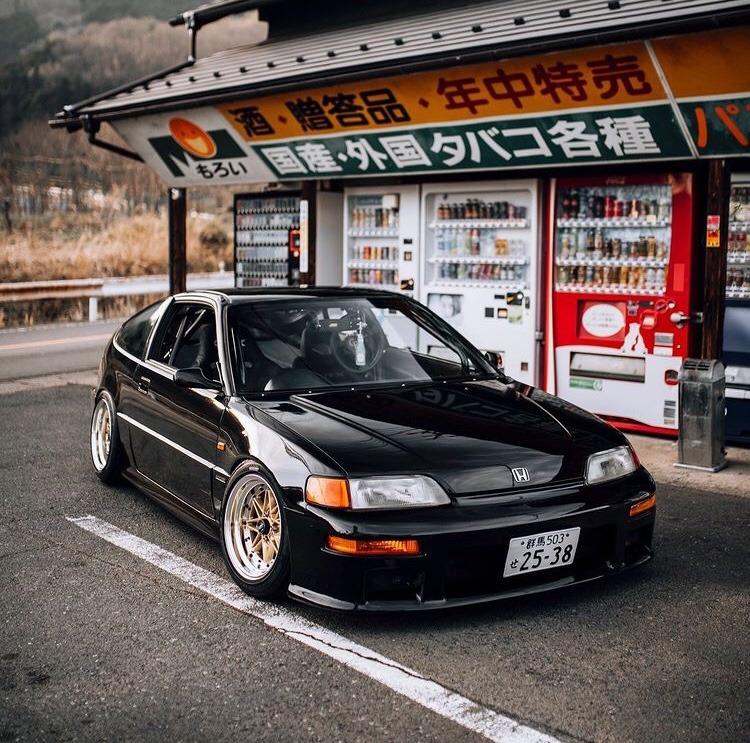 Anyone who buys a Honda CR-X wants a Honda Civic that isn't a Honda Civic if that makes sense. Some owners even get upset when you call their Honda CR-X a Honda Civic. Yap, they can be that petty. However, despite having a different name, the Honda CR-X has much in common with the Honda Civic. For example, the first-generation has the same engine and transmission options as the third-gen civic. The only difference is that the Honda CR-X was designed to be sportier than the Civic and was more of an experimental car, but it sold so well Honda had to continue producing it.
Today the Honda CR-X is loved due to its contrasting design to the Honda Civic, especially on the rear end, as Honda adopted the Kammback design invented in the early 1920s to enhance aerodynamics. If it didn't work, Ford couldn't have used the Kammback rear-end design on the MK1 GT40.
The first-gen CR-X has Honda E-series engines which are not that desirable, but the platform on which the car is built fits any Honda or 4-cylinder engine swap. On the other hand, the second-gen Honda CR-X has D-series engines which are pretty tunable. You can also get the second-gen with a 1.6-liter VTEC B16A1 engine, which is among the most tunable Honda engines but increases the car's price tag.
Mitsubishi Mirage Cyborg (4G93T/4G63T Engine)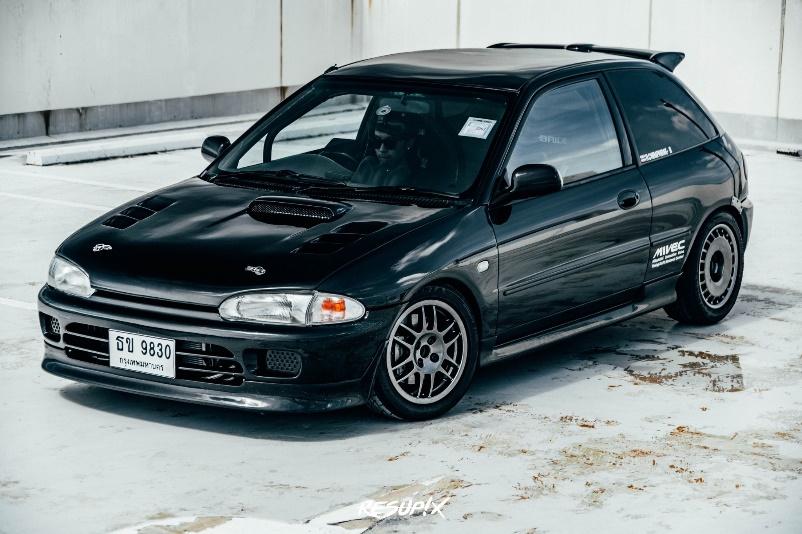 The Honda Civic is considered the best JDM hot hatch, and its tunability makes it stand out among the rest. But there are some only known to a few which are better than the Civic, one of which is the Mitsubishi Mirage Cyborg, also known as the Mitsubishi Colt Cyborg in export markets. Some might argue that the Toyota Starlet Glanza is also an underrated JDM hot hatch, but today all eyes are on the Mirage Cyborg. Even the name triggers something inside that makes you want to buy one.
Mitsubishi Produced the Mirage Cyborg only for the Japanese market as a performance spec of the fourth-gen Mirage. It takes inspiration from its predecessors, including the first-gen Colt turbo, Mirage 1600GT, and Lancer GS-R. Yes, they are all different cars, but they have the same front-wheel-drive platform, and some variants are all-wheel-drive. In the Mitsubishi Mirage Cyborg, you get a MIVEC 1.6-liter, turbocharged 1.9-liter, and 2.0-liter engines.
Prices for the Mitsubishi Mirage Cyborg start at around $10,000 for the base spec with the 1.6-liter engine. While turbocharged variants, especially with the turbocharged 2.0-liter engine, retail for prices above $15,000, which is quite a bargain since you're getting the holy grail of 4-cylinder engines.
View Mitsubishi Mirage Ads For Sale
Subaru SVX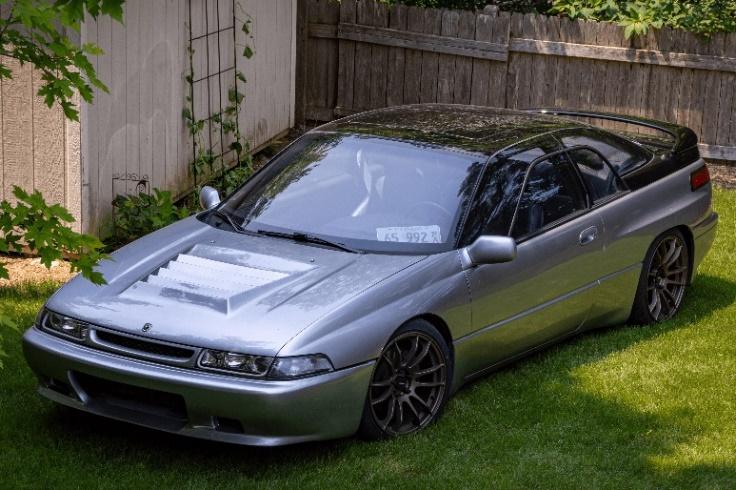 The Subaru SVX is one of the best cars Subaru made, but production never went large scale. It aimed to compete against sporty coupes, but the coupe market was diminishing in the late 1990s and early 2000s. Another reason the Subaru SVX was never a success is that it was heavy due to its 3.3-liter flat-six engine and more expensive than any other Subaru. Thus, it lacked a target market since most customers preferred the Subaru Legacy or Impreza WRX.
Built as a Grand Tourer Vehicle, the Subaru SVX has an adequately comfortable interior, luxury touches such as Alcantara seats, gauges integrated into the center console, and a glass top in high-spec variants. Such features might seem outdated, but in the 1990s, they were high-end. Only 24,379 SVXs were made, yet prices aren't that exorbitant as you can easily find one for less than $6,000, making it an easy-to-flip JDM car.
Honda SM-X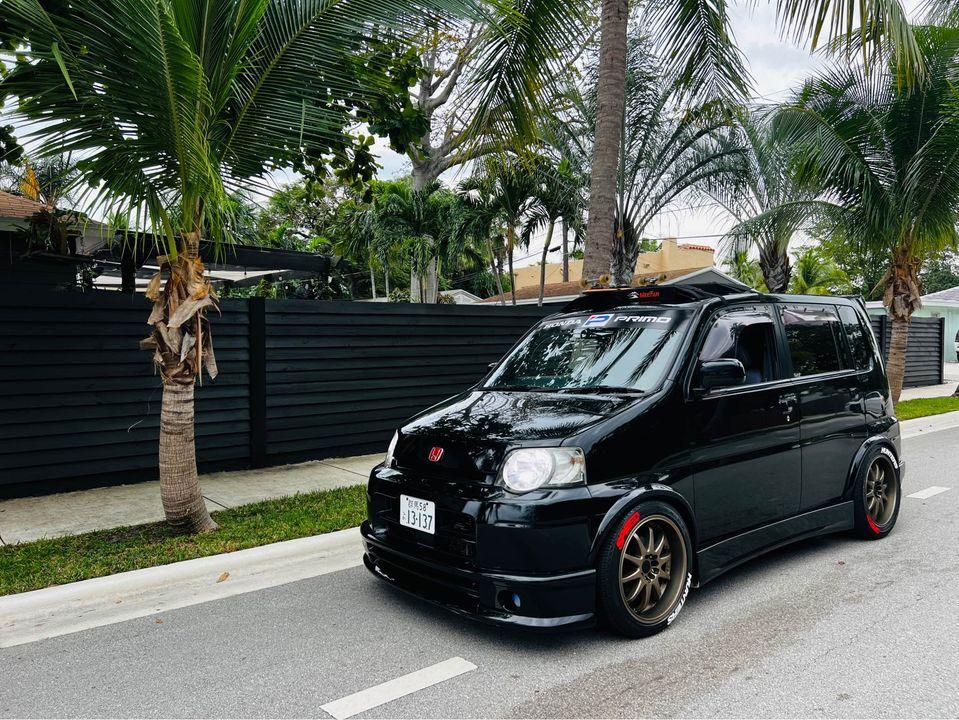 JDM minivans such as the Honda SM-X, dubbed the JDM Love Hotel, aren't that preferable among JDM car enthusiasts. There's nothing too captivating about them in all aspects, but a tastefully modified Honda SM-X might influence you to buy one. With a few cosmetic mods, it looks cool enough to attract a small crowd at a car show. It's not the car you build to race a K-series Honda Civic, but it is tunable as it has a 2.0-liter B20B under the hood. The only disadvantage is that it's non-VTEC.
By now, you're probably wondering why it's called the JDM love Hotel. Rumor has it that Honda designed the SM-X with a love-making cabin as all the seats can be lowered and recede flush with each other. They also named it the SM-X intentionally so that you can see the letter M as an E when turned anticlockwise. Which is the same direction in which the seats fold. Now you know.
Daihatsu Copen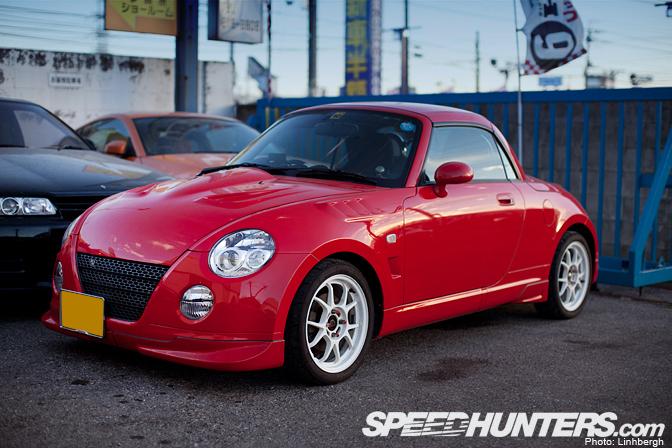 Kei cars are probably the most underrated JDM cars, and few people have noticed most of them yet. They are cheap, loads of fun to drive, and unique in that you might be ridiculed for owning one, but later on, people will notice how cool it is to own one. One such example is the Daihatsu Copen which is an alternative if you're looking for something similar to the Honda Beat but a little more modern and unique. James May might have had a problem with it as it seems "toyish," but other than that, it's perfect.
The Daihatsu Copen is what you'd describe as thrilling to drive but cruising with the Top down in the hot summer weather is one of the best feelings ever. Don't even think about racing a Mazda Miata, as that turbocharged 660cc engine will embarrass you a good one. Besides the underpowered engine, the Daihatsu Copen is non-problematic, the only major problem being roof hinge failure.
View Daihatsu Copen Ads For Sale
Read our Daihatsu Buying Guide
Honda Inspire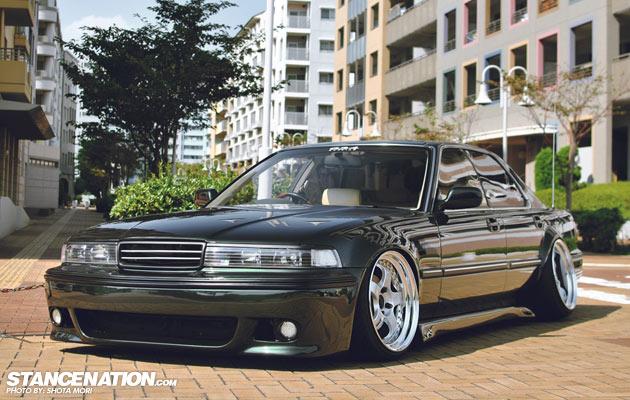 According to most car enthusiasts, five-cylinder engines are native to German manufacturers, especially Audi. But that's not the case, at least for a few Hondas like the Honda Inspire, among others. Honda was the first JDM manufacturer to manufacture a 5-cylinder engine and use it in a few of their sedans for the US and Japanese markets, first appearing in the Honda Vigor, also known as the Acura Vigor in the US.
Why is the Honda Inspire on this list, you may ask? One is because of the 5-cylinder engine, which is obvious. And also, it's an underrated JDM luxury sedan. Honda isn't known for luxury sedans. Toyota and Nissan reign in that category. JDM sedans also have distinctive looks, and the Honda Inspire is no exception. At a car show, when everyone is showing off their heavily tuned engines, open the hood and boast that Honda 5-cylinder engine.