Instagram is a great platform for a company to connect with its customers. This is especially true for the automotive industry. What's better than promoting your inventory for free on the internet?
We've compiled a list of our favourite JDM dealers to follow on Instagram.
Before you get started, be sure to follow us! @jdmbuysell
Don't see your favourite JDM importer/exporter on our list? Let us know in the comments.
---
1. @JapaneseClassicsLLC
Based out of Richmond, Virginia, JapaneseClassicsLLC has amassed over 367k followers. They claim to be the largest retailer of 100% federally legal Japanese domestic market vehicles. With over 1600 professional photos of their inventory and new cars being added daily, there is plenty of material to keep you glued to your screen.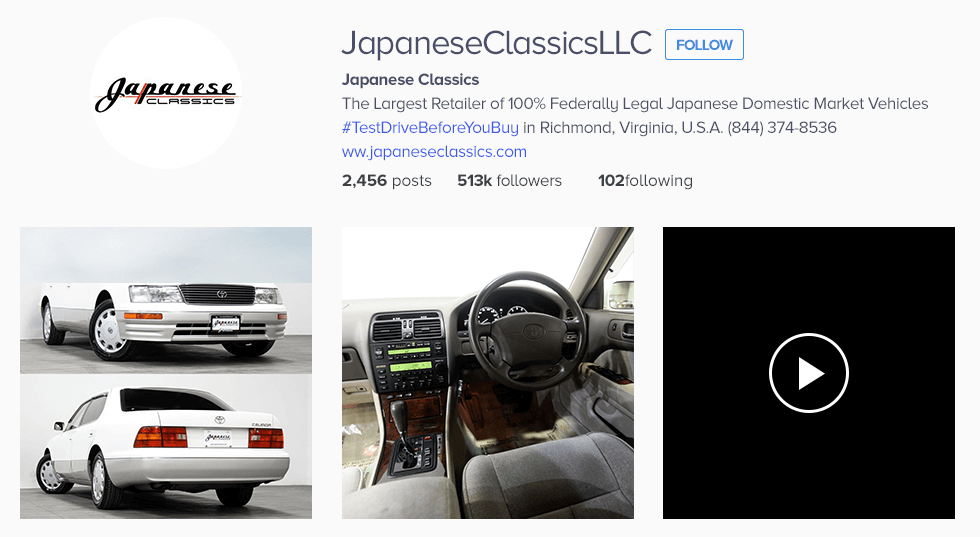 ---
2. @TopRankImporters
With over 100k followers and nearly 1000 photos, TopRankImporters is one of the biggest JDM vehicle importer accounts on Instagram. They have any Japanese car you can think of, from a Mitsubishi Delica all the way to GTRs. And with regular posts, you are sure to get your daily dose of JDM vehicles.
---
3. @b.pro.jdm
Based in Canada, B-PRO has been importing cars from Japan since 2011 and currently lists 342 vehicles available for sale. Specializing in sports cars and vehicles for "Canadian winters"!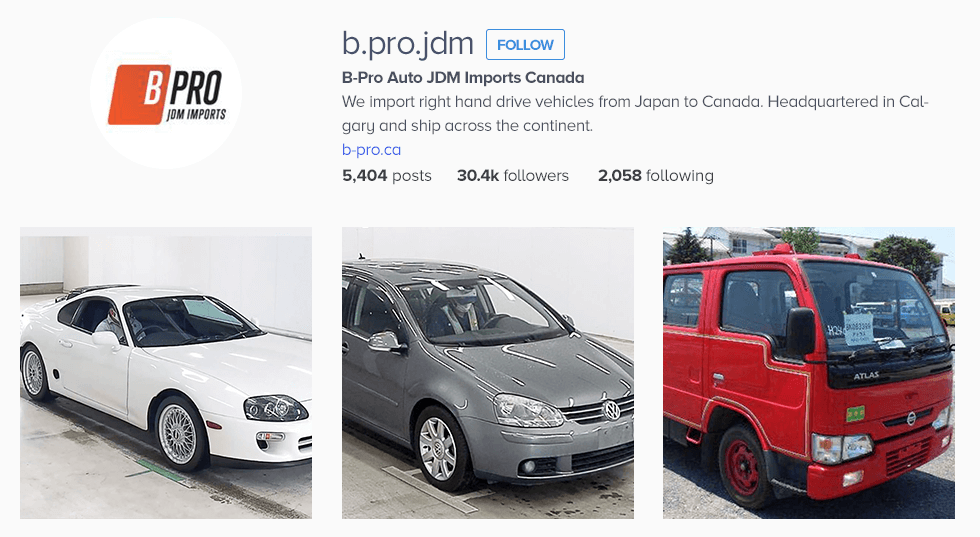 ---
4. @MontuMotors
Yet another importer based out of Tampa, Florida, Montu Motors has just over 90k followers on Instagram. They focus mainly on Skylines. So, whether you are after pars or the whole car, they got you covered. Their catalogue of over 2,600 photos is sure to keep you entertained for days on end.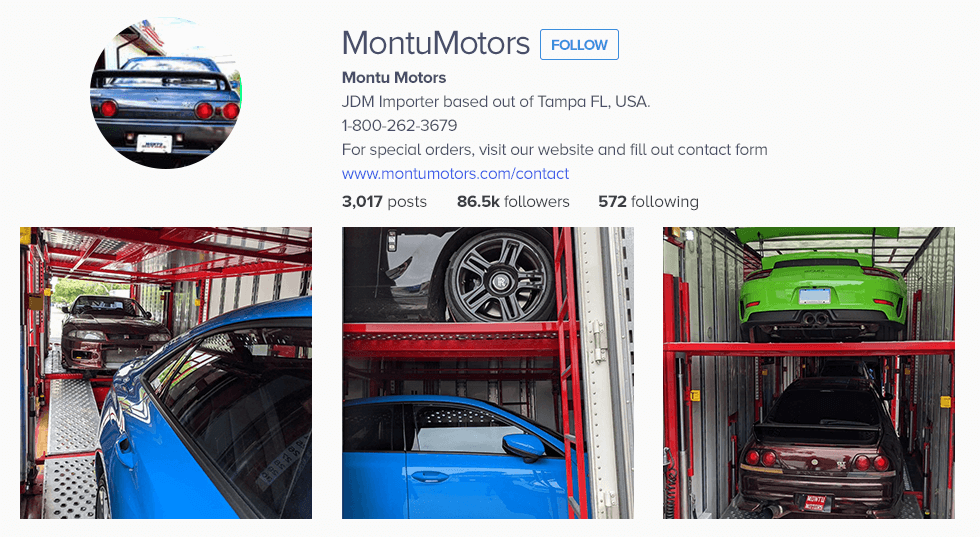 ---
5. @HarlowJapaAutos
This JDM importer page has just under 60k followers and is the number 1 importer dealer for imports in the UK. Their page is heavily influenced by Skylines, and with over 1,900 photos available for you to browse through, you're sure to spend hours drooling over some of the most iconic Japanese cars. Head on over to @harlowjapautos to see all of their inventory.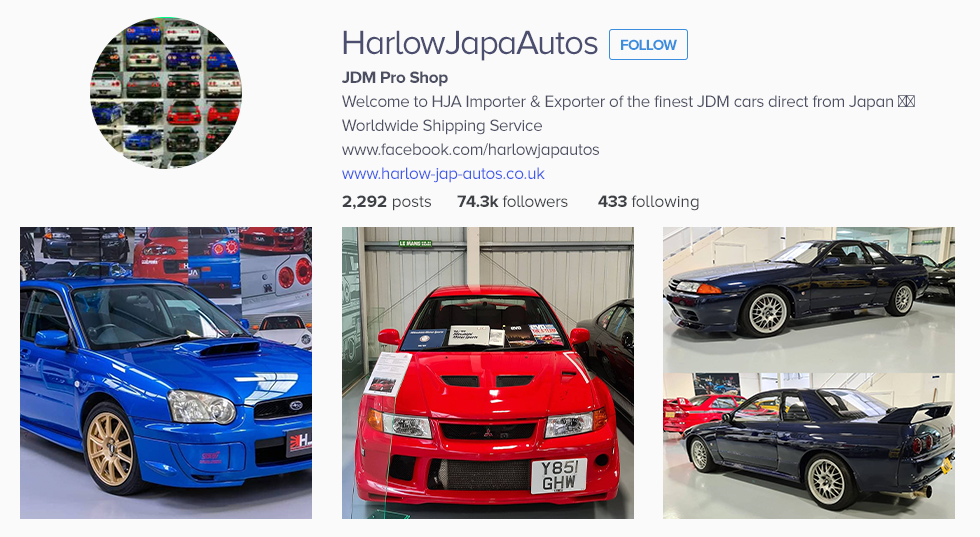 ---
6. @JDMsportClassics
This Michigan-based company has over 18k followers on Instagram and its account features some of the best JDM cars on the internet. From SUVs to sports cars, JDMsportclassics has a little bit of everything.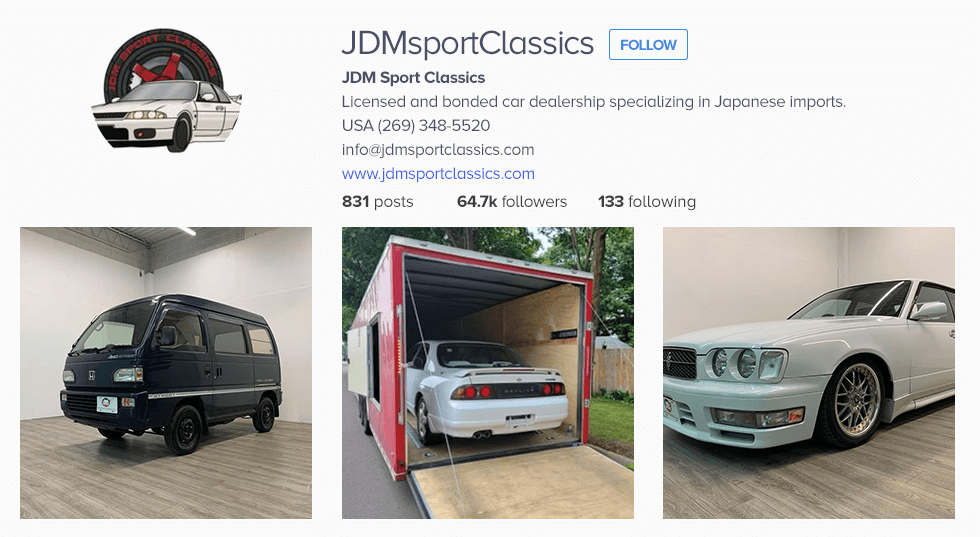 ---
7. @Dragint
Boasting around 8,500 followers, Dragint is one of South Florida's biggest JDM importers. They have been around for nearly 15 years and they build, race and, sell some of the finest cars that Japan has ever offered. With over 2000 photos, you won't get bored of their page anytime soon.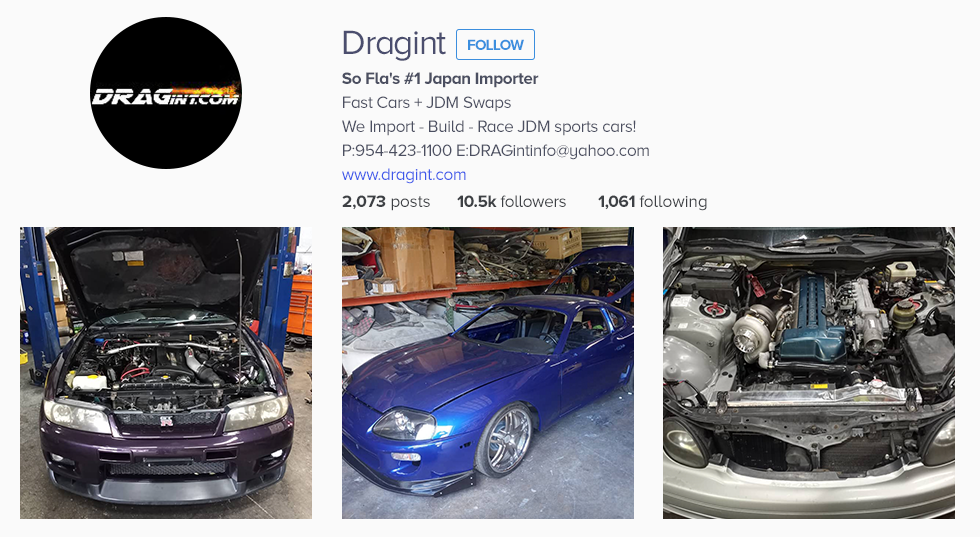 ---
8. @Ottoex
Ottoex is based out of Portland, OR. and they focus more on vans, RVs, and specialty vehicles. At the time this article was written, they had just over 2,200 followers due to the fact that they are not the average JDM dealer. If you are the outdoorsy type, be sure to head over to their Instagram page and browse their amazing inventory.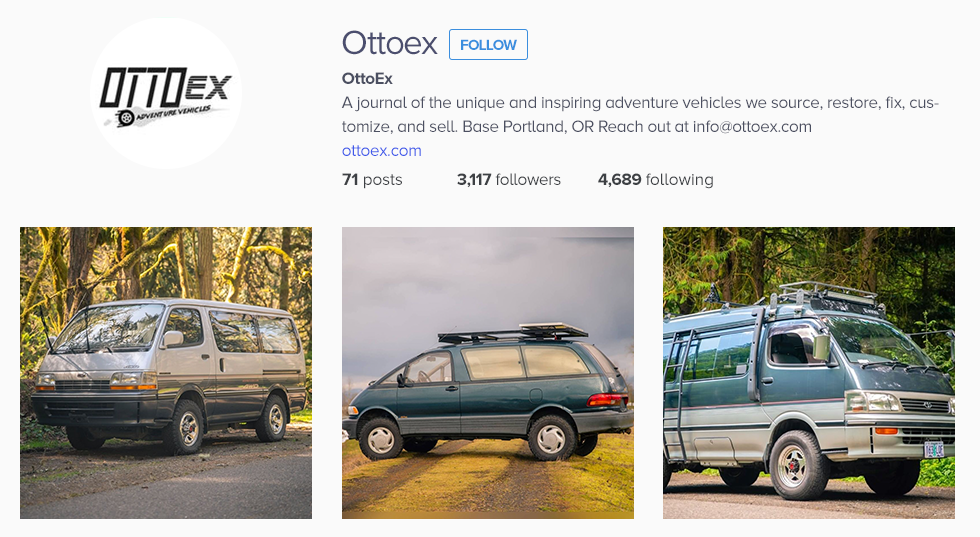 Don't see your favourite JDM importer/exporter on our list? Let us know in the comments.
FAQ
Which are some of the most reliable JDM importers in the US?
Toprank International Vehicle Importers, JDM Auto Imports LLC and AZ JDM Imports are some of the best JDM importers in the US. Others include The Import Guys, JDM Expo CO.Ltd and Kuruma Imports. However, some of these importers don't import cars to all states, and it's advisable to look up JDM importers in your state.