Japanese Domestic Model (JDM) cars have been making waves in the global auto market. The United States (US) is among the leading destinations of exported JDMs from Japan. Usually, JDMs are acquired either due to their good quality, classic appeal, or for collection purposes. Apart from these reasons, other factors steer car buyers and enthusiasts to choose JDMs over other cars.
Here's a round-up of statistics that will provide you with noteworthy takeaways about Japanese automobiles and other relevant information:
Auto Importation In The US
When it comes to trading, Japan and the US actively engage with each other. Importation aids in furthering the US auto industry. Mainly because automobiles comprise a huge part of Japan's imports. Based on the Office of US Trade Representative's 2020 data, Japan is the 4th largest exporter in the US. Vehicles were among the top goods that were being traded.
Japanese Cars Importation Increases By 1.5% Every Year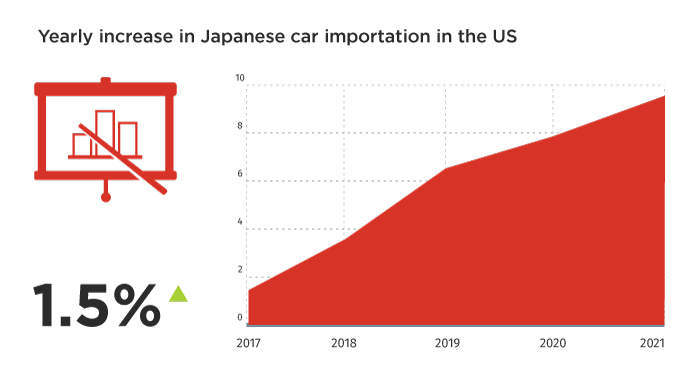 Auto importation in Japan rendered a high growth rate in 2017. Remarkably, it showed an annual global improvement of 5.2%. The boost in annual importation significantly affected the trading initiative between Japan and US. It paved the way for a 1.5% yearly increase in Japanese car importation in the US. (Source: S&P Global)
The Most Recent Total Import Value Reached More Than $43 Billion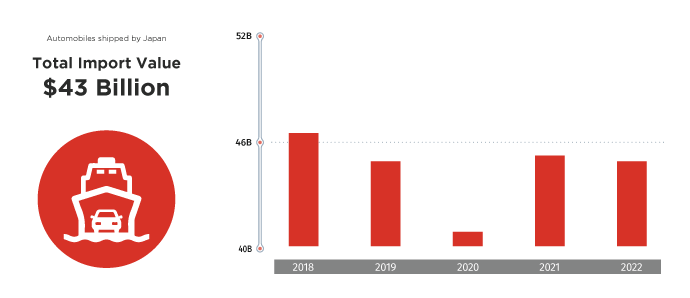 As the yearly import rate increases, the value of the automobiles shipped by Japan also ranges up. According to the United Nations COMTRADE database, the US received over forty billion dollars worth of vehicles as of November 2022. (Source: Trading Economics)
Japanese Car Exportation
The expansion of Japan's automobile industry internationally is being ushered by exportation. Shipping cars from one country to another allows for a broader market reach. Hence, putting emphasis on exportation is important.
Around $3.82 Million In Motor Vehicles Were Exported By Japan In 2021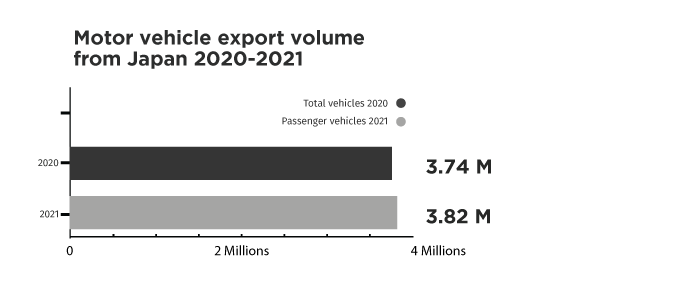 Previously, 3.74 million cars were exported It reached about 3.82 million in the succeeding year. Of these, 3.37 million are passenger cars. A top destination for the said cars in the US is North America. (Source: Statista)
$1.33 Million Motor Vehicles Were Shipped By Japanese Manufacturers In The US

Based on previous data, 2016 and 2017 have the highest number of exported vehicles from Japan at approximately 1.74 million units. There was a decrease in 2021, which amounts to 1.33 million. (Source: Statista)
Marketability
In 2001, the Fast and Furious film featuring JDM cars was released. The hype brought by the film resulted in a boost in JDMs popularity. It rendered a lucrative market in the US.
Japanese Car Manufacturers in the US Auto Industry Reached 43% by 2008

Eight Japanese automakers were able to surpass the market shares of the leading manufacturers in the US. GM, Ford, and Chrysler have a cumulative 42.4%, while Japanese carmakers have 43%. (Source: Facts and Details)
Japanese Brand Toyota Sold 1.9 million Vehicles in the US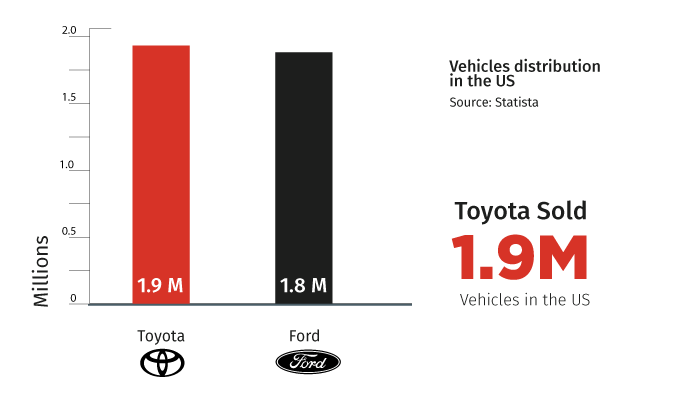 Toyota has sold more units than Ford in the US. The brand was deemed a top-tier car provider. Ford reached 1.8 million vehicles, while Toyota distributed 1.9 million cars. (Source: Statista)
Some JDM Cars Can Go More Than 250,000 miles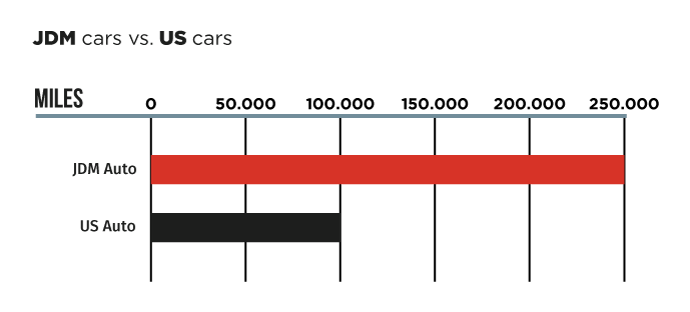 There is a discrepancy between the mileage of a JDM car and an American car. There are cars made by US automakers that roughly make it to 100,000 miles. However, Japanese vehicles can go beyond 250,000 miles throughout their life on the road. (Source: CoPilot)
The Largest Collection Of JDM Cars In The US Has About 1,000 Vehicles

Gary Duncan, the owner of Duncan Imports and Classics, collects JDM vehicles. He houses his collection in a warehouse with a 110,000 square foot size space. It serves as a museum and his dealership area. The collection includes classic cars and mini trucks. At present, his collection amounts to over $10 million. (Source: The Journal)
Japan's Auto Supply
There is an abundant provision of Japanese vehicles in the global market. Japan has a huge auto industry. As a result, the production of vehicles and auto supply is continuous.
7.85 Million Vehicles Were Manufactured In Japan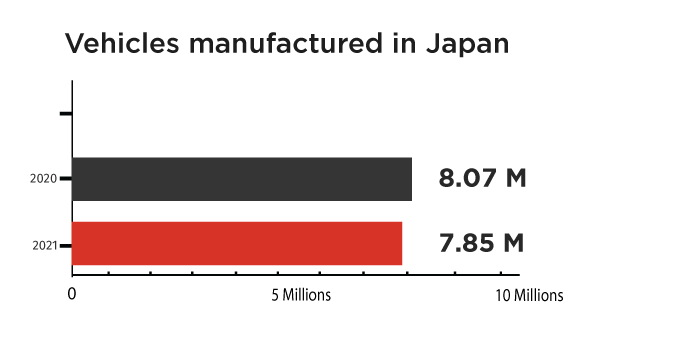 When it comes to production, Japan releases millions of cars annually. In 2021, it went beyond seven million. That is only the total count of manufactured cars within the country. In Japan, the so-called "industrial belt" is found on the east coast. You'll see many manufacturing facilities at Aichi and Shizuoka Prefectures. Most of the cars produced there are passenger cars. (Source: Statista)
16.46 million Japanese Vehicles Were Produced Outside Of Japan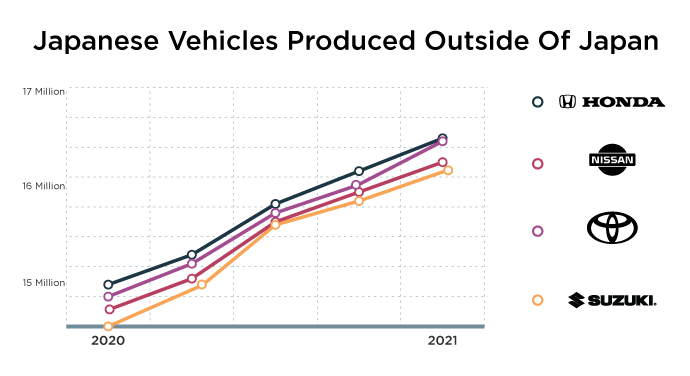 Aside from the in-country production, there are overseas production facilities for Japanese vehicles. There was a significant boost in production from 15.38 million in 2020 to 16.46 million in 2021. Every year, the production increases to more than a million. Some of the leading brands have more overseas production than in local settings. Examples of these brands are Honda, Nissan, Toyota, and Suzuki. (Source: Statista)
Approximately 32.5% Of The Auto Parts Found In The US Market Are From Japan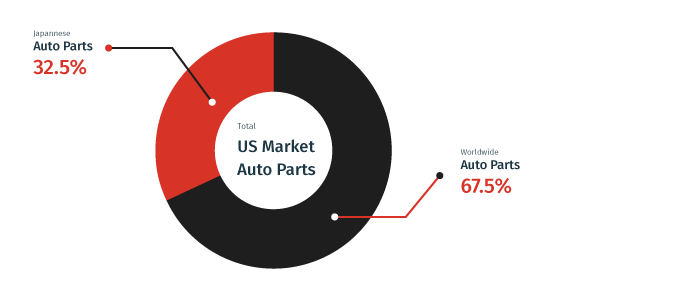 A considerable portion of the auto parts market in the US is comprised of Japanese products. The trade agreement between the two countries enables Japan to have imports that have non-specific quotas. However, US auto parts manufacturers and suppliers have to face a stricter Japanese market. If you own a JMD or any Japanese vehicle, you can get authentic auto parts even if you are in the US. (Source: The Yale Undergraduate Research Journal)
$4.94 Trillion Yen Sales Of Japanese Parts was Reached By Denso Corporation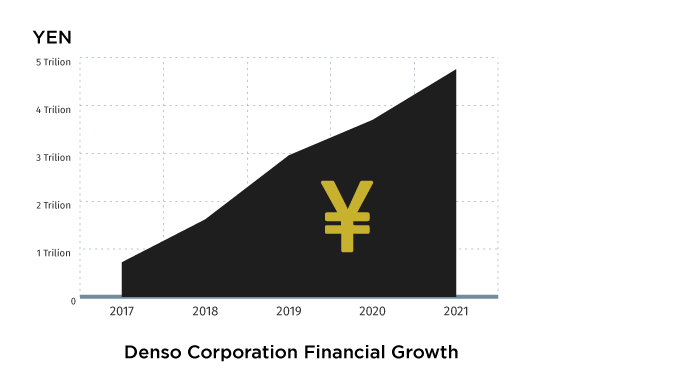 The top manufacturer of auto parts in Japan is Denso Corporation. It has reached a trillion yen worth of sales in 2021. Denso is part of Toyota Group, which owns other leading auto parts suppliers. (Sources: Statista & Car Expert)
Other Must-Knows
Apart from the data above, you must consider other information about JDM vehicles. In particular, the importation aspect. If you want to acquire a JDM vehicle that is not readily available in the US, you have come to the right place for research.
Importation Cost is $1,500 USD-$4,500 USD From Japan To The US
Acquiring a vehicle from Japan requires transport cost, which changes based on the port where a car will be delivered. You also have to pay federal taxes and duty fees. Duty fees depend on the car's value or price. Aside from costs, you must register and get a plate number before driving the imported car. There are times when Customs and Border Protection asks for documents. Of course, you can always do the easy way by buying from authorized suppliers or dealers who can arrange everything for you. (Source: Carused.jp)
25-Year-Old Vehicles Can Be Imported Into The US
Vehicles that are 25 years old or older can bypass DOT Federal Motor Vehicle Safety Standards (FMVSS). Hence, you can import a car even if it doesn't have the required car features like seatbelts and headlights. Counting the year starts at its manufacture date. However, you need to fill up Box 1 on the HS-7 Declaration form. The form should be received by Customs when you import it. (Source: US Customs and Border Protection & Carused.jp)
Take note that California imposes different regulations on JDM vehicles. It is a lot stricter to own a JDM in the said state. It should comply with California's emissions policies. You must also put a California BAR label for title and registration purposes. (Source: Top Rank International Vehicle Importers)
Conclusion
There are many things to like when it comes to Japanese vehicles. The roster of data that was provided here depicts the appeal of JDM vehicles. Notably, Japan has strong importation, exportation, marketability, and manufacturing capability. The auto industry is also competitive and has been thriving over the years. It goes without saying that, JDM vehicles are good investments and profit prospects.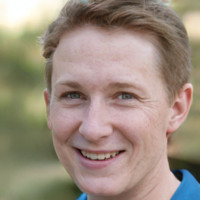 Latest posts by Christopher Weydert
(see all)