Getting your dream car is supposed to be a beautiful experience of joy, excitement, and happiness. The experience can be quite the contrary if you import a Japanese classic without a guide. That is why getting your dream car should be an experience filled with joy, excitement, and happiness. The experience can be quite the contrary if you import a Japanese classic without a guide. It is for that reason that I am sharing this piece of information with you. JDM car scams have been complained about all over the internet.
So, what happens when you want to buy a JDM car? When a Japanese classic car lover can save up the money to purchase his childhood dream car, it is crucial to recognize any loopholes that could lead to a scam so that you do not lose your hard-earned money.
What kind of JDM Import Scams are there?
One key piece of information is that only a small percentage of Japanese people resell cars themselves. To buy a used car from Japan, you will likely have to buy from a dealer. The downside of this is that there are a lot of dodgy dealers in the business. To avoid becoming prey. Some procedures need to be in place.
Do not believe everything your eyes tell you. Any dealer doing this scam is skilled in making every part of the car look clean to the naked eye in pictures and on virtual inspection. From cover up paint jobs, wrong translation of inspection reports, and lowering the mileage on the odometer. They are so good at hiding a laundry list of aesthetic and technical damage; you would think it's a Houdini trick by the time the car gets to you. It would be horrendous to buy a Japanese Classic sight unseen.
If you're lucky enough to spot any inconsistencies with what they're saying at any time, there would be a sure-fire ambiguous reason to give or a promise to get the issue resolved before shipping, but don't hold your breath!
Now, you might say -I'll never fall for this. It starts during email or text message communication. These dealers become extra friendly and sometimes personal. It is a way to loosen your guard, gauge your desire, and gain your trust. Losing your guard is for the scam to work because buying a JDM car is an emotional decision. Most buyers have an emotional connection to a particular Japanese classic. It could be either a childhood dream or nostalgia.
So, when they gain your trust, procedures are bypassed for word of mouth to accomplish the scam.
What to look out for when buying a JDM car
A classic JDM car for sale is a perfect candidate for a scam because it is not a new car that you can pick up and drive out of the car lot in a few minutes.
The truth is, Japanese classics are difficult to maintain and keep in good condition because they are old. Getting detailed information about the exact condition of your car is an unending nightmare. You're not guaranteed a warranty, and what's worse is that the life of your car is short. To soften these challenges, get your hands on a moderately used JDM by initiating the below steps:
Verify that the transcription of original documents from Japanese to English is correct.
Check for accurate mileage.
Get a physical inspection done or have a qualified professional in Japan perform the physical inspections on your behalf. Have them jack the up and inspect the underside, and check for rust spots. Make sure the underbody coating is in good condition. In most cases, dealers use this coating to cover rust spots without ever treating the rust. They spray over it. I urge you to rub your fingers across the underbody and see if any of it flakes off.
Keep an eye out for damaged chassis rails. If the chassis of the car is damaged, it may have been in an accident.
Make sure the engine is healthy by performing a compression test
Request auction sheet and inspection sheet for the grade rating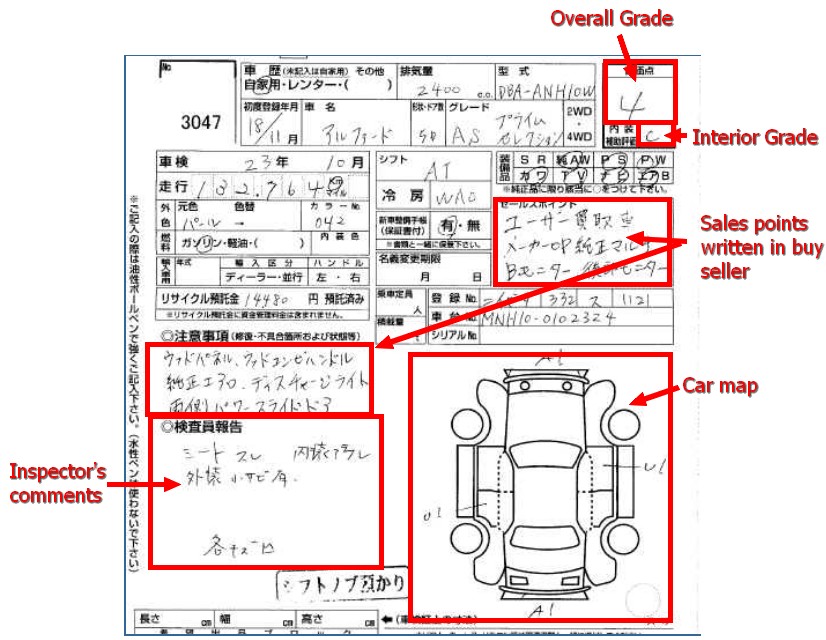 Note: Auction sheets are often misleading and/or manipulated. Sellers may bribe auction officials to provide a higher rating than deserved. Sellers may doctor auction sheets to change the grading.
While it is advisable to do physical examination of the car yourself, it may be impossible to do it from another country. Some people can provide this service for you in Japan. Visit our JDM exporter list to connect with a local dealer who may be able to provide assistance.
How to negotiate the best price
After inspecting or investigating the car you're interested in, you will likely find a list of issues with it; these cars are going on 15-25 years. Of course, it's highly unlikely that you'll find a car in perfect condition of that year and age. Except that you are importing the one that has been stored specifically for the collection.
First, create a list by writing down the things you found in the car you want that are not nice. After that, you should contact your dealer to express your interest. Then, you should contact your mechanic to determine how much it will cost to fix the issues on your list.
Secondly, look for a car up for sale (online) that matches your model and compare its issues and yours. Take note of the prices for the ones online that have a similar problem to yours. As a substitute, if you can't locate any car that has similar problems, you can use mileage instead.
Lastly, sum up the estimate from your mechanic and the average price of the cars you found online having similar conditions to yours and use the sum as a benchmark to negotiate for a discount.
If the offer you receive is cheaper than what is online, then accept the offer.
How to assess the condition of a JDM car before purchase
The Japanese have a complicated system for grading using JDM; the following is a table that lists the grades used by Japanese auction houses.
| | |
| --- | --- |
| GRADE | CONDITION |
| 6. or above or S | The vehicle is new or is less than 12 months old and has less than 10,000km. |
| 5 | A vehicle with remarkably low mileage, as if it were new |
| 4.5 | The car is slightly used and has an estimated mileage of about 100,000km |
| 4 | Vehicle in a used state with slightly visible issues |
| 3.5 | The vehicle is in good condition with visible issues |
| 3 | The vehicle is in typical condition with minor damages |
| 2 or 1 | The vehicle is in poor condition with noticeable damages, but it is still operational. |
| R | R represents a vehicle with significant repair or modification history. In some cases, R means that it still has damage from a collision. |
| RA | Vehicles that have undergone complete repair from minor accidents |
Japanese Auction House Grading Legend
How to verify a JDM Dealership is not a scam
The first step to identifying a genuine dealer is to visit their website, and check the company details and contact information, including browsing the inventory list and photos. In addition, visit their social media account, read the comments in the comment section, and read the customers' testimonials and service reviews on Facebook, Instagram, Twitter, and their website.
Make sure to check for regular posts, followers, subscribers, page likes, videos, and other information on the page. Search Google Map to confirm the address and company details of the dealer.
Take note of the invoice details, and make sure that payments are made to the Japanese bank accounts of the company, not to individual accounts.
Make sure the dealer communicates with you via a valid business email address. Companies prefer not to use general email accounts such as Gmail and Yahoo.
Note that scammers in Japan are impersonating legitimate businesses and government agencies with logos, names, and phishing emails. Before making any payment, compare invoice details with the company's information on the web. You're likely dealing with a scammer if all this information does not add up.
How to protect yourself against JDM import scams
The first is to ask for the official auction sheet or (and) the paperwork (registration history) from the Japanese Department of Transport. This document shows the last kilometres recorded by the Japanese Department of Transport. In Japan, there are car safety checks conducted every few years. The report to the Department of Transportation. So this shows the number of kilometres recorded every few years. It implies that you'll be able to see the history of every known record of the car's mileage on the odometer. So, nothing is going to be adjusted.
These documents are so important if the person selling the car doesn't have them, it is a big red flag. They should not be selling you a car in the first place.
Failure to produce these documents could show that they don't want you to find something dodgy about the car. In either case, you can search for "Japanese odometer check" on Google to find information about the car's registration or auction.
A registration or auction history is a report that tells you the overall grade of the car, the history of accidents, and the parts it had when sold. Pretty much all the information you can find about the car will be in that report. More importantly, the last known mileage recorded by the Japanese equivalent of the DMV, is their Transportation Department.
Conclusion
It is hard to understand this scam concerning JDM cars because there are many unknowns. Travelling to Japan to inspect it is considered a safer method, but that has its downside. A separate post will be dedicated to this topic. When it comes to buying a JDM, I recommend that you make sure to do your due diligence before spending your hard-earned money.
Recommended Reading: How to avoid scams on Craigslist