Toyota Land Cruiser Prado Buying Guide
In 1990, Toyota unveiled the Toyota Land Cruiser Prado, often known as the Toyota Prado, as a lighter SUV alternative to the 70 series Land Cruiser exclusively for the Japanese market. However, it was marketed in the United States as the Lexus GX based on the FJ120 and FJ150 Prado chassis but with engines borrowed from the Toyota 4Runner and Land Cruiser.
The Prado retained the body-on-frame chassis similar to the Toyota Land Cruiser but lighter, narrower with a shorter wheelbase. Toyota later made a two-door variant that became popular in later generations due to its excellent power-to-weight ratio and balanced chassis. Being cheaper than the Land Cruiser, the Toyota Prado caught up with the market since it offered Land Cruiser features and characteristics on a budget. Hilux buyers also shifted to the Prado, which had similar engine and transmission options, but the Prado was luxurious and offered better safety features.
Today, currently in its fourth generation, the Toyota Prado is one of Toyota's best-selling cars worldwide. So if buying a Toyota Land Cruiser Prado is within your sights, we have included everything you need to know in this guide, including what to look for when purchasing one and issues that might occur during ownership.
Pros and Cons
Pros
Superb Reliability and Durability
It's often said that if you prioritize reliability and durability in a car more than anything else, you should buy a Toyota and, in this case, a Toyota Prado. Buying one will guarantee you years of service with minimal maintenance regardless of the year of manufacture and the mileage on the car. This makes the Land Cruiser Prado popular among hardcore off-roaders, organizations, families, and general adventurers. But like most cars, the Land Cruiser Prado is not without fault, especially the first generation with the carbureted engines. However, issues are mainly caused by old age and abuse and are easy to rectify.
Which is the best model year to buy? Any Prado made after 1996 is an excellent option if you're looking for an SUV that can run hundreds of thousands of miles without any issues. Getting to 300,000 miles in a Toyota Prado is a cakewalk if well-maintained. However, due to importation laws, you are only limited to importing the first-gen (J70; 1990-1996) and second-gen (FJ90; 1996-2002) Land Cruiser Prado in the United States. Canadian residents can also import the FJ120 made between 2002 and 2009.
Cheaper Than The Land Cruiser
One of the reasons that the Toyota Prado caught up with the market quickly when first produced is that it was cheaper than the Toyota Land Cruiser. It also offered the reliability, comfort, and safety features that the Land Cruiser had. This is the same case today, not only with the newer models but also with used units. Importing a Toyota Land Cruiser from Japan will cost twice as much as a Toyota Prado, which costs around $15,000 after shipping, taxes, registration, and other involved costs. The only significant advantage of the Land Cruiser over the Prado is its slightly roomier cabin.
Low Maintenance Costs
Another advantage of the Toyota Prado over the Land Cruiser is its lower maintenance costs. You get more gas mileage and cheaper maintenance schedules. If replacement parts, specifically engine and suspension parts, are becoming difficult to find, you can use Tacoma, 4Runner, Hilux, or Lexus GX OEM parts which are easy to get from dealers. Aftermarket parts from these vehicles are also interchangeable, thus eliminating the worry of waiting for ages for parts to arrive.
You don't get catastrophic issues in a Prado, such as AHC suspension failure, that could deem the car unusable. Furthermore, working on a Toyota Prado is easier than working on a Land Cruiser since the Toyota Prado has an uncomplicated but strong build structure. All you need is some repair guides from YouTube or an article online, and you'll be fixing minor issues on countryside backroads easily.
Versatile and Practical
The Toyota Prado might be smaller than the Toyota Land Cruiser, but it's still practical and versatile in equal measure. It has the same 7-seating capacity, and with the third row not in use, you can carry enough bags for an upcountry fishing trip or some days exploring mountain backroads. Cabin comfort isn't as good as in the Land Cruiser, but there's enough headroom and legroom, and you might get some comfort features such as heated front seats and AC for the first and second-row seats in high-spec models.
One of the significant differences between the Land Cruiser and Land Cruiser Prado is the suspension. For example, ride comfort in the J70 Prado, mainly off-road, is slightly better than in the J80 Land Cruiser due to a shock absorber through spring suspension. Later in the second generation, Toyota Introduced a multi-link suspension with a double-wishbone front suspension for the Toyota Prado. This suspension setup feels bumpy on paved roads compared to the AHC suspension in the Land Cruiser, but it's a different case on bumpy trails.
Cons
Instability At Highway Speeds
Owning a Toyota Prado comes with its disadvantages, and one among the few is instability at highway speeds. This is due to the lighter body on frame construction and high ride height that raises the center of gravity. At highway speeds or when cornering, the center of gravity constantly shifts and increases body roll. If the car still has the stock suspension replacing the bushings and weak suspension components helps reduce the chances of the car rolling over. A suspension overhaul or, even better, an aftermarket suspension also does the same.
Uncomfortable Third-row Seat
The third-row seat in the Toyota Prado might come in handy when you have extra passengers, but it's not as comfortable as the first and second-row seats, as headroom and legroom are insufficient even for a middle-aged child. Deleting the seat and using the space as extra storage to install off-roading accessories is better since they take up some room when folded.
Poor Interior Build Quality
Toyota is often bashed for making some of the worst interiors on cars despite making some of the most reliable cars. One perfect example of the cars that receive this banter is the Toyota Land Cruiser Prado. The posh Interior was only reserved for overpriced high-spec units, the Toyota Land Cruiser and, later, the Lexus GX. Should you buy a Toyota Land Cruiser Prado, you'll have to endure the rattling and fading plastic trims, sunroof and door leaks, failing electronics, and worn-out fabric seats.
Common Issues
Weak Automatic transmission
If you are in the market for a Toyota Land Cruiser Prado, it's advisable to avoid buying older model years with the 4-speed automatic transmission, especially if the car has high mileage or signs of heavy use. It all starts when the car fails to go into gear, and as it worsens, slippage and grinding will occur, which signals that it's time for a replacement or a manual transmission swap.
The 4-speed automatic transmission in older Prados tends to overheat even under the lightest loads and when off-roading and towing if faulty. Sometimes, refilling the transmission fluid is all you need, and the transmission will be back to working like new. Also, some model years have a transmission fluid cooler built into the side of the radiator, which can get physically damaged and wear out due to old age, causing the transmission fluid to leak. If overheating persists after replacing the transmission cooler, replacing or rebuilding the transmission is the only option to keep the car running.
Engine failure
The diesel engines in the Land Cruiser Toyota Prado, specifically the 1KZ and 1KD engines, are prone to failure caused by overheating, which causes the cylinder heads to crack after rapid expansion and contraction. From owner forums, a faulty cooling system and the design of the cylinder heads make them prone to cracking, but poor maintenance is also an enabler. Replacing the radiator, coolant hoses, and thermostat will prevent overheating, but it won't help if the cylinder heads have already begun to crack.
Constantly checking the coolant level is the easiest way to diagnose whether the cylinder heads are cracked since coolant sips through the crack into the cylinders and the engine block. In the cylinders, the coolant gets combusted, producing white or grey smoke from the engine bay or exhaust. Coolant in the engine block mixes with the engine oil resulting in insufficient lubrication and white sludges noticeable during an oil change.
In other engines, such as the diesel 2L, 3L, and 5L engines and the petrol 5VZ engine, overheating is mainly caused by a rapidly wearing out timing belt and water pump, mainly if the car is frequently used. Replacing these together is recommended since they are in a synchronous drive. The timing belt drives the water pump; if either is faulty, the corresponding one will fail rapidly, causing the engine to overheat. It's also advisable to replace the OEM rubber head gasket to prevent oil leaks and starvation and adjust the valve clearance to avoid knocking, which would damage the pistons.
Excessive Oil Consumption
Diesel engines tend to consume more oil with age, and oil leaks start becoming something you need to get used to. However, oil leaks can be reduced if not completely stopped, but oil consumption will always be above average compared to a newer engine, especially if the engine is turbocharged. In a diesel Land Cruiser Prado, expect oil to leak from the head gasket, valve cover gasket, crankshaft seals, oil filter, oil pan gasket, or the oil pan itself if it has cracks or dents.
Valve cover gasket and head gasket oil leaks are the most common causes of excessive oil consumption, as oil leaks internally or externally depending on how bad the gaskets are. Suppose there are minimal oil leaks on the surface of the engine, but the engine is consuming oil heavily. In that case, you have an internal leak with oil leaking into the combustion chambers resulting in blue or gray smoke from the exhaust, which can be mistaken for regular smoke from diesel engines.
External leaks from the gaskets aren't that bad until you notice a drastic drop in oil pressure and oil puddles at the bottom of the car or the front and the back of the engine if the crankshaft seals are leaking. Oil puddles could also indicate oil leaks from the oil pan and heavy leakage from the gasket seals.
What To Look For
Buying a Land Cruiser Prado differs slightly from purchasing any other JDM car except for SUVs like its bigger brother, the Toyota Land Cruiser. Most buyers will advise you to start inspecting the car's exterior as it will tell you whether the vehicle has been abused and where it's often driven. Dents and scratches indicate that the car spends most of its time off-road, and most owners rarely care to fix such. The next place you should inspect when buying a Land Cruiser Prado is underneath the vehicle to check the quality of the frame, which tends to flex and bend a lot, and the suspension components.
However, when buying from a JDM imports car dealership, the car is probably imported, meaning you'll get minor to no dents or scratches. JDM SUVs are rarely used for off-roading in Japan, but it's always good to check underneath the vehicle for rust spots and welds that could indicate the car had been in a crash or had rust deep into the frame. Also, some come with aftermarket upgrades, especially suspension mods, which can fail due to poor quality or improper installation.
Most buyers will tell you to avoid buying a Toyota Prado with a petrol engine despite the numerous possible issues with diesel engines because petrol engines have a higher fuel consumption which is true. In addition, aftermarket support for the diesel engine is better, reducing repair and modification costs in case you decide to get more horsepower and torque from the engine. Generally, diesel engines are also more reliable and durable than petrol engines.
If the car ticks all boxes, ask the owner or seller to start the engine before the test drive. This will help detect hard start issues and check for minor problems, such as timing belt misalignment, which are easy to detect when idling rather than driving the car. Then during the test drive, listen for suspension, transmission, and transfer case noises that could indicate imminent failure and feel how the car responds when accelerating and braking.
Average Prices
Like most JDM SUVs, the Toyota Land Cruiser Prado isn't common in the United States, and some buyers might try and play this to their advantage. You shouldn't pay more than $15,000 for a clean first-gen FJ70 or a second-gen FJ90; aftermarket upgrades don't guarantee anything above $25,000. However, newer generations' prices might go up to $30,000 depending on the spec and year of manufacture.
Read our Toyota Land Cruiser: The Ultimate Guide
Comparable Alternatives
Models And Specifications
1990-1996 Toyota Land Cruiser Prado (FJ70)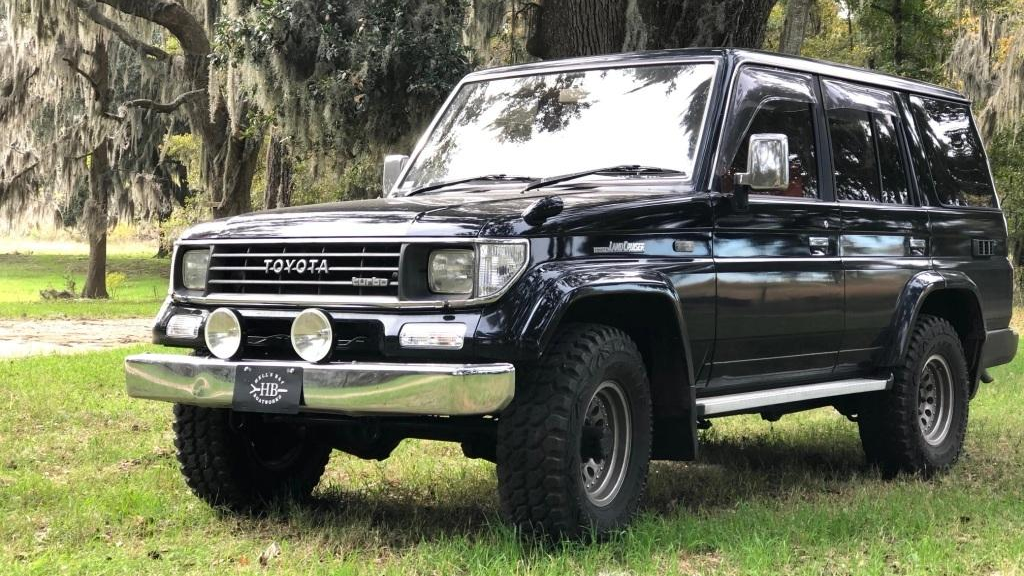 Toyota launched the first-gen Prado in 1990 based on the Land Cruiser 70 series body on frame chassis but with a different engine and suspension setup. There's no noticeable difference on the exterior except for an auxiliary rearview mirror mounted on the fender flare, square headlights, wider fender flares, and the OEM round fog lights mounted above the bumper in the Toyota Prado. Like the Land Cruiser 70 series, the Prado also got a short wheelbase variant with two rows of seats seating five, while buyers could opt for either two or three rows seating seven.
The 2.4-liter (2L-TE) and 2.8-liter (3l) diesel engines used in the first-gen Prado were lifted from the Toyota Hilux, while the 3.0-liter turbodiesel (1KZ-TE) and 2.4-liter petrol (22R-E) engines were retained from the Land Cruiser 70-series. A carbureted variant of the 2.4-liter petrol engine was the only new engine introduced, but it was only used in Prados sold in Gulf countries. Transmission options remained similar to the Land Cruiser, a 4-speed automatic and 5-speed manual transmission. In addition, the Prado JF70 got a coil suspension on the rear wheels similar to the Land Cruiser 70 series light and an electronic shock absorber on spring front suspension to improve offroad handling while retaining superior on-road driving comfort.
1996-2002 Toyota Land Cruiser Prado (FJ90)
1996 saw a major refresh on the Toyota Prado as it was no longer built on a Land Cruiser chassis, and Toyota dropped the square-body-like Land Cruiser exterior styling and the old suspension in the FJ70. The second generation Prado used a shorter and narrower chassis, over 300 pounds lighter than the Land Cruiser chassis, a coil over spring suspension, and modern and rounder styling. Despite the narrower and shorter chassis, Toyota retained the two body styles, a four-door long wheelbase, and a two-door short wheelbase.
Diesel engines remained similar to the first generation but with the addition of a naturally aspirated 3.0-liter (5L) and turbocharged 3.0-liter (1KD-FTV) engine. On the other hand, all petrol engines were discontinued and replaced with a 2.7-liter four-cylinder (3RZ-FE) and 3.4-liter V6 (5FZ-FE)engine. Transmission options for the second generation Prado were limited to a 4-speed automatic or 5-speed manual transmission, unlike the Land Cruiser, which got an extra 5-speed manual transmission option.
2002-2009 Toyota Land Cruiser Prado (FJ120)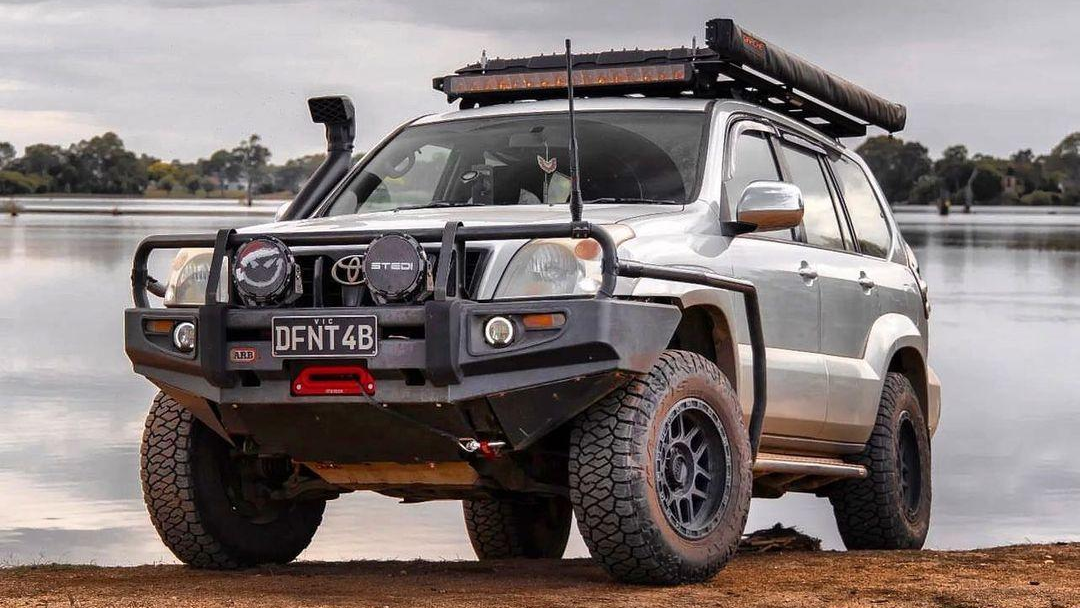 The third generation Toyota Prado was unveiled in 2002 with a new 2.7-liter petrol (2TR-FE) and a 4.0-liter VVTi petrol V6 engine (1GR-FE) to replace the 3.4-liter 5VZ-FE in 2004. Diesel engines remained unchanged except for the 2.8-liter 3L engine that was discontinued. Other powertrain changes include a 5-speed automatic and 6-speed manual transmission to complement the 4-speed automatic and 5-speed manual transmission.
During this generation, Toyota introduced more driver aids and luxury features in the Toyota Prado, such as hill climb and descent control, heated front seats, a sunroof, dual-zone climate control, and an adjustable air suspension in high-spec trims such as the Prado TZ-G. The FJ120 also got better safety upgrades than its predecessors, enabling it to win several awards in the markets it was sold in, including in the United States, where it was sold as the Lexus GX470 with the 4.7-liter 2UZ-FE V8 engine.
2009-Present Toyota Land Cruiser Prado (FJ150)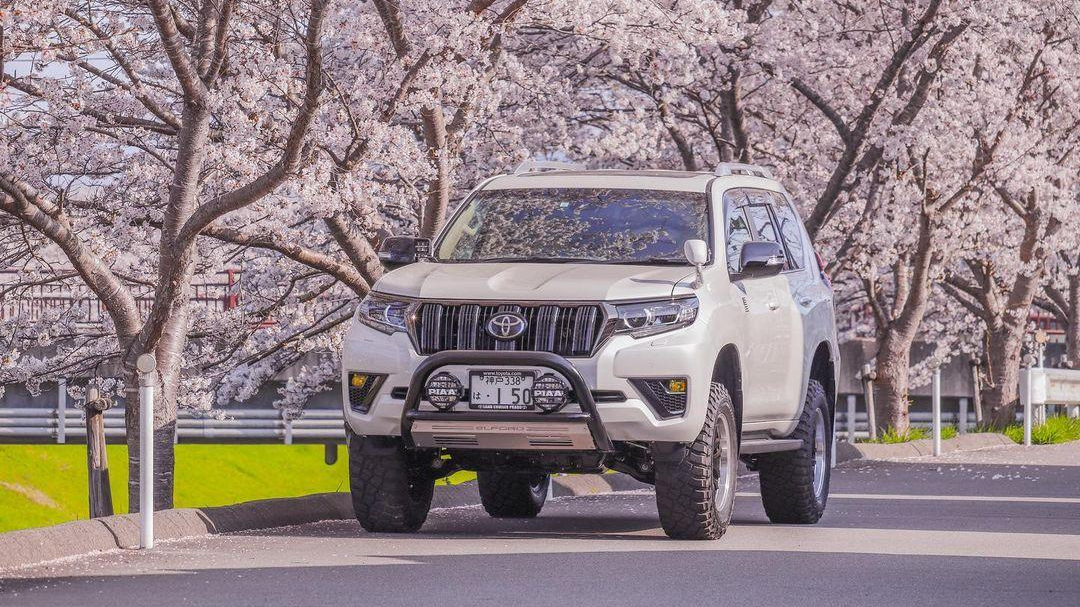 In late 2009, Toyota launched the fourth generation as a mid-size four-door and two-door SUV. It remains the longest-running generation as it is still in production today, with three facelifts between production years. It's also the most technologically advanced generation where most of the car's driving features, including off-roading driver assists and the four-wheel-drive system, are electronically controlled.
Engine options in the FJ150 include a 4.0-liter 1GR-FE V6, 3.0-liter 5L-E, and 3.0-liter 1KZ-TE retained carried over from the FJ120 to add to the petrol 2.7-liter 2TR-FE, 3.5-liter 7GR-FKS V6. Later in 2015, Toyota added a new 2.8-liter 1GD-FTV to the engine options. Diesel engine units are mainly sold with the 5-speed or 6-speed manual transmission, while petrol engines get the 5-speed or 6-speed manual transmission.
FAQs
What is the difference between a Toyota Land Cruiser and Toyota Prado?
The Land Cruiser has a broader and longer chassis; thus, it's heavier and has a longer wheelbase than the Toyota Prado. Furthermore, the Toyota Land Cruiser classifies as a luxury SUV with the best standard and optional luxury features. At the same time, the Toyota Prado, on the other hand, is more off-road oriented, with optional luxury features being reserved for top-spec trims.
Is the Toyota Prado a Land Cruiser?
Despite being referred to as a mini Land Cruiser, the Toyota Prado is a Land Cruiser, only that it's more off-road oriented than the Toyota Land Cruiser, which is more comfortable and luxury-oriented.
How long do Toyota Prado engines Last?
A Toyota Prado can last up to 310,000 miles (500,000km) with minimal issues if well-maintained and driven sensibly. After that, repairs become costly, so replacing the engine is the best option.
Can I import a Toyota Prado to the US?
Importing a first-gen Prado made between 1990 and 1996 and a second-gen Prado up to 1998 model years to the United States is legal.
Which is better, Toyota Land Cruiser or Toyota Prado?
Your budget, needs, and driving habits should determine your choice when buying a Toyota Land Cruiser or Toyota Prado if you can't have both. The Land Cruiser is a great all-rounder but expensive to buy and maintain. In contrast, the Toyota Prado is cheaper, has lesser maintenance costs, and handles better off-road. If you spend most of your time on paved roads, the Land Cruiser is a better option only if you're not on a budget. But if hitting the trails is a norm, a Prado on your driveway would be better.
Want to learn more? Check out our buying guide on the legendary Toyota Land Cruiser.