Suzuki Jimny Buying Guide
The Suzuki Jimny is small yet so versatile and hardy that it can decimate any full-size SUV. It's hard to believe such a small car could outdo a Toyota Landcruiser or a Nissan Patrol. Especially since most only have a 3-cylinder or 4-cylinder engine, which are incomparable to larger V8 engines. In Japan, the Suzuki Jimny is considered a Kei car. Still, some trims aren't since they have larger engines with over 660cc displacement.
Very few units were exported in the US sold as the Suzuki Samurai, especially in Canada. However, due to high demand and an increasing enthusiast group, importers and dealerships sell both old and new model years of the Suzuki Jimny. It's considered a miniature Jeep wrangler, and though some will not accept it, it's better than the Jeep wrangler by miles.
Production of the Suzuki Jimny began in 1970 based on the Hope Star ON360 and other Kei cars such as the Mitsubishi Colt 1000 and the Mitsubishi Jeep. Throughout production, it has maintained its 3-door body layout resembling a YJ jeep wrangler.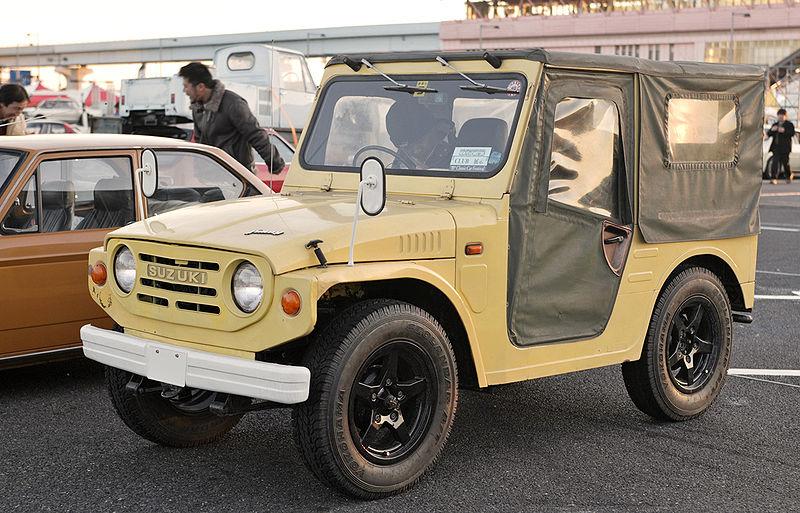 Built solely for reliability and offroad capability, the Suzuki Jimny isn't as luxurious as a Toyota Prado or Mitsubishi Pajero. Such cars were built to offer a mix of both worlds. You might overtake them on an uphill trail, but you must endure the rattling and bumpy ride, which will probably make you hit your head on the roof.
If you are considering buying a Suzuki Jimny, this guide is for you. We'll highlight the pros and cons, among other factors surrounding the Suzuki Jimny. You might even get convinced and get one immediately after reading this guide instead of saving thousands to buy a Toyota Land Cruiser Prado.
Pros and Cons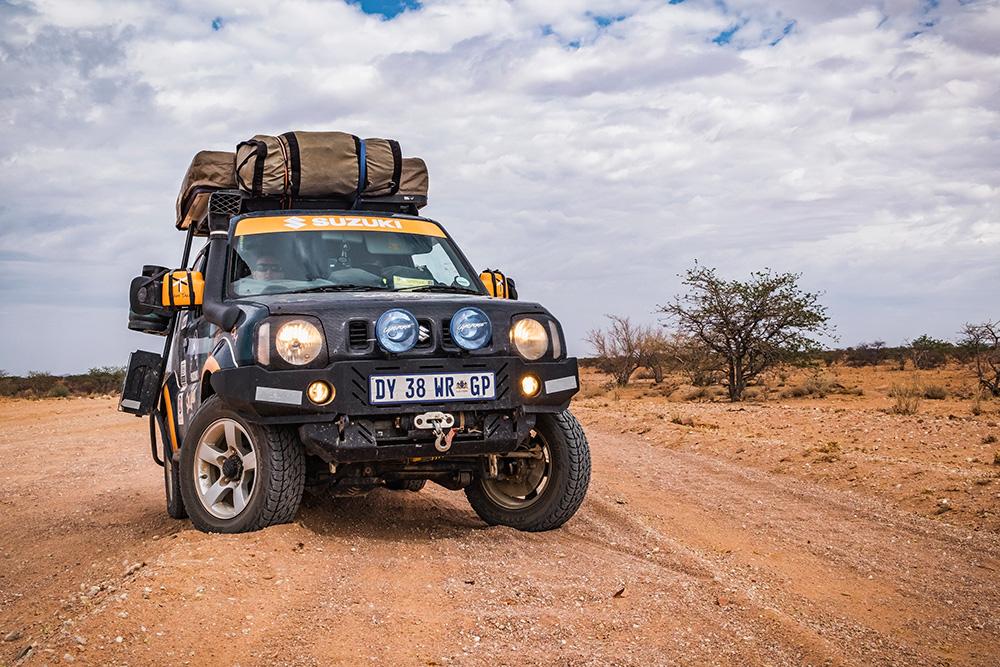 Pros
Great Off-Roader
You might ignore the Suzuki Jimny for its small size. It looks like an oversized Suzuki Alto. A Kei truck, such as a Suzuki Carry truck, is a better option when given a choice between the two. But someone who knows Jimny's true capability would never pick any other JDM car in its class.
For starters, the Suzuki Jimny comes factory-equipped with a four-wheel-drive system which is one of the critical factors to consider in an SUV regardless of size. You can crawl over rocks and climb steep slopes courtesy of the low-range gearbox.
High ground clearance is also a determinant of which terrains you can tackle in an SUV. The Suzuki Jimny has a 190mm-210mm ground clearance similar to the Mitsubishi Pajero and 10mm less than the Prado. Bumpy terrains are a piece of cake with such ground clearance, and it also increases wade depth if you install a snorkel.
You can dodge bushes and trees off-roading with a turning circle of fewer than 10 meters. Its short wheelbase and narrow body make it easy to maneuver tight corners. Though if parked among other large SUVs, it disappears into the crowd like a mountain goat among rocks.
Cheap
JDM dealerships sell the Suzuki Jimny for around $5,000, which is reasonable for a car as capable as itself. Locally used units cost less; sometimes, buying one is the best option rather than importing one. There's a chance you'll get one for less than $3,000 with upgrades that would cost more than the car's actual value.
Low Running and Maintenance Costs
If you are worried about fuel-guzzling SUVs with high maintenance costs, why not get a Suzuki Jimny which, regardless of its size, is just as capable? Fuel consumption is the primary concern with SUVs. A Suzuki Jimny will rarely consume less than 30mpg. Insurance is also less since most owners pay around $800 or less per year.
Regarding maintenance, the Suzuki Jimny is one of the cheapest JDM cars to maintain. One of the key determinants for an easily maintainable car is top-notch reliability. Most owners give the Suzuki Jimny an above-average reliability rating, even for older models. Nothing much goes wrong with a 540cc, 660cc, or 1.3-liter engine. And if it does, how hard can it be to diagnose and fix?
Fun To Drive
Smaller cars are fun to drive compared to larger ones, and the Suzuki Jimny is no exception. The ride uphill might be bumpy, but you'll have the most fun doing it compared to someone in a Landcruiser with air suspension. It almost feels like a roller coaster but one on wheels.
Wide Aftermarket Support
One of the main advantages of owning an SUV is the wide aftermarket support available regardless of the year of manufacture. Aftermarket components manufacturers still make parts for the FJ cruiser, which is older than the Suzuki Jimny. If aftermarket parts are unavailable, there are patent designs you can copy from or design some custom parts yourself.
When stock, the Suzuki Jimny can handle averagely rough terrain but rolling with the big boys will require some modifications. Larger tires are among the first mods you should start with before moving to others like heavy-duty steel bumpers and suspension parts. Suspension parts are known to fail in older models.
Great Daily Driven Car
Most people who buy large SUVs have a second daily driven car, but with a Suzuki Jimny, this isn't necessary. It makes more sense to daily a Jimny instead of a bulky Bronco or Wrangler. Of course, some do it, but is it sustainable?
Finding parking spots is also easier since the Suzuki Jimny takes no much space as a Prius, which is the most common car on town roads and parking lots.
Think about it. You can drive your Jimny to work on Friday, and instead of driving back home to switch cars for that weekend trail trip, drive directly to your destination. You better carry some camping clothing as no one goes camping with work attire.
Cons
Sluggish on Paved Roads
The Suzuki Jimny isn't the type of car you'd want to drive in the fast lane on the highway. Even variants with a 1.5-liter engine rarely reach 75mph, which is risky due to instability. The most power you can get on a Suzuki Jimny with a stock engine is 100 horsepower. Underpowered by today's standards. Its low speeds and acceleration can be solved but not by a huge margin.
Luckily there are aftermarket tuning and engine modification parts for Kei engines. These engines are also used in Kei sports cars like the Suzuki Alto Works RS and the Suzuki Cappuccino. Aftermarket or custom turbocharger kits won't add much horsepower as you'd expect but will make your Jimny quicker than your average base model Corolla.
Risk of Toppling Over At High Speeds
Due to its high ground clearance, short wheelbase, and height, the Suzuki Jimny's center of gravity is higher compared to a larger SUV. At low speeds, this is a non-issue. But when driving at high speeds, body mass constantly shifts, which might cause the vehicle to topple.
Driving over high bumps with either side more elevated than the other might also lead to toppling. The stock suspension might not handle much flex as it's only good for average off-roading. However, a lift kit is not necessary as much as you might need it. Better upgraded mechanicals is the best solution.
Cramped Interior
"The more, the merrier" when camping might not be possible in a Suzuki Jimny. It only seats two, and there's no provision for rear seat installation. The rear seats are supposed to be where the loading area is, which isn't too large either. This is the price you have to pay for loads of fun you'll have in your Jimny.
Towing a trailer isn't a great option since the Jimny can tow no more than 450kg, which might burden a 20-year-old 3-cylinder engine. The only option you have is kitting your Jimny with MOLLE storage equipment such as a roof rack and side body racks.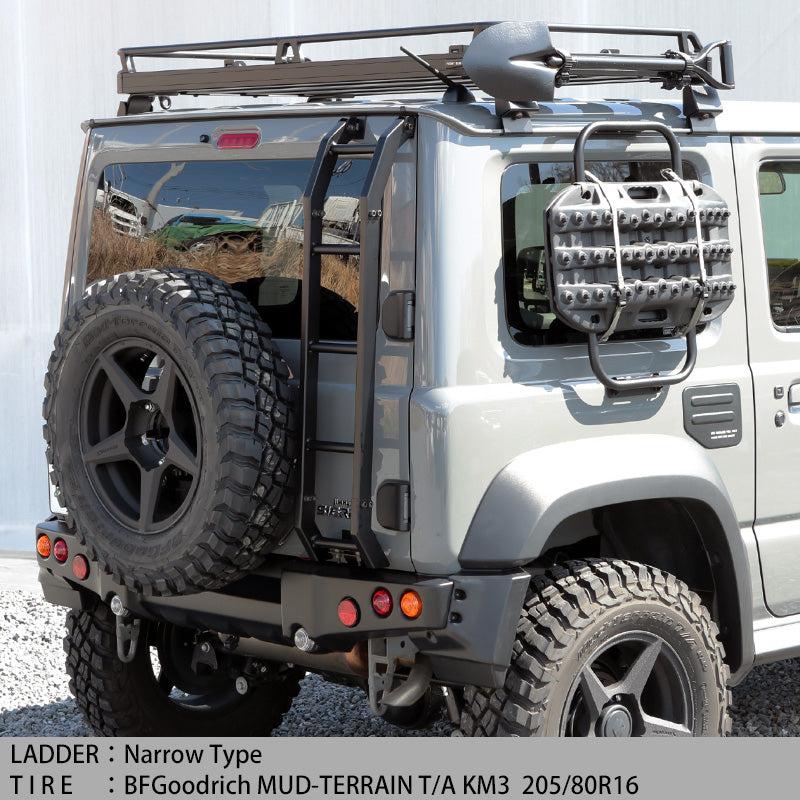 Common Issues
4WD System Failure
Testing out the 4WD system is paramount before buying a Suzuki Jimny. It's known to fail on older units, especially those frequently used. Early signs of 4WD system failure include the impossibility of shifting gears from 4WD-H to 2WD-H and vice versa.
Also, if you shift to 4WD-H and the front axle has no torque, the 4WD system is faulty. Suppose there's torque being transferred to the front wheels after disengaging 4WD. In that case, this is also bad regardless of how good it might seem since it works to your advantage when off-roading. Newer models have a 4WD system failure warning light, which light's up if there's a fault with the 4WD system.
A common fix to 4WD system failure in the Suzuki Jimny is switching the vacuum-operated free hubs to manually operated ones. You can also opt for a fixed hub used in older models. If not so, ensure the vacuum lines are always pressurized and repumped if not.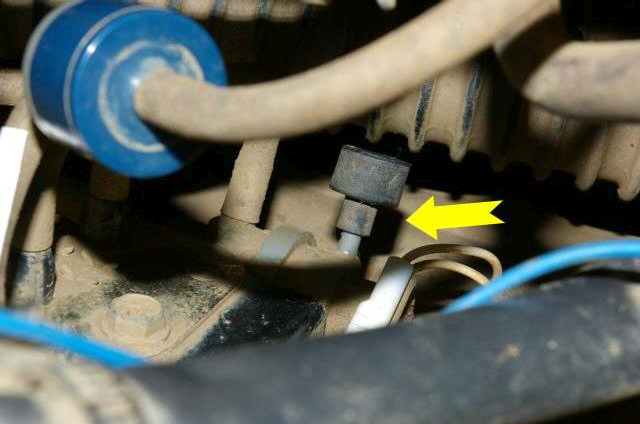 Timing Belt Failure (Replace After 70,000 Miles)
Timing belt failure on the Suzuki Jimny is a common issue in units with the 1.3-liter engine. On average, the timing belt needs to be replaced every 70,000 miles. The timing belt lasts longer on cars with similar engines since it can last for around 100,000 miles.
Signs of timing belt failure include failure to start, loss of power, misfires, and clunking noises under the hood. When replacing the timing belt, check the pulleys. The new belt won't last more than 50,000 miles if it's misaligned. It is also recommended to clean the pulleys with a degreaser before installing the new belt. Also, ensure the timing belt is tensioned to prevent slipping off.
Worn Out Fluid Lines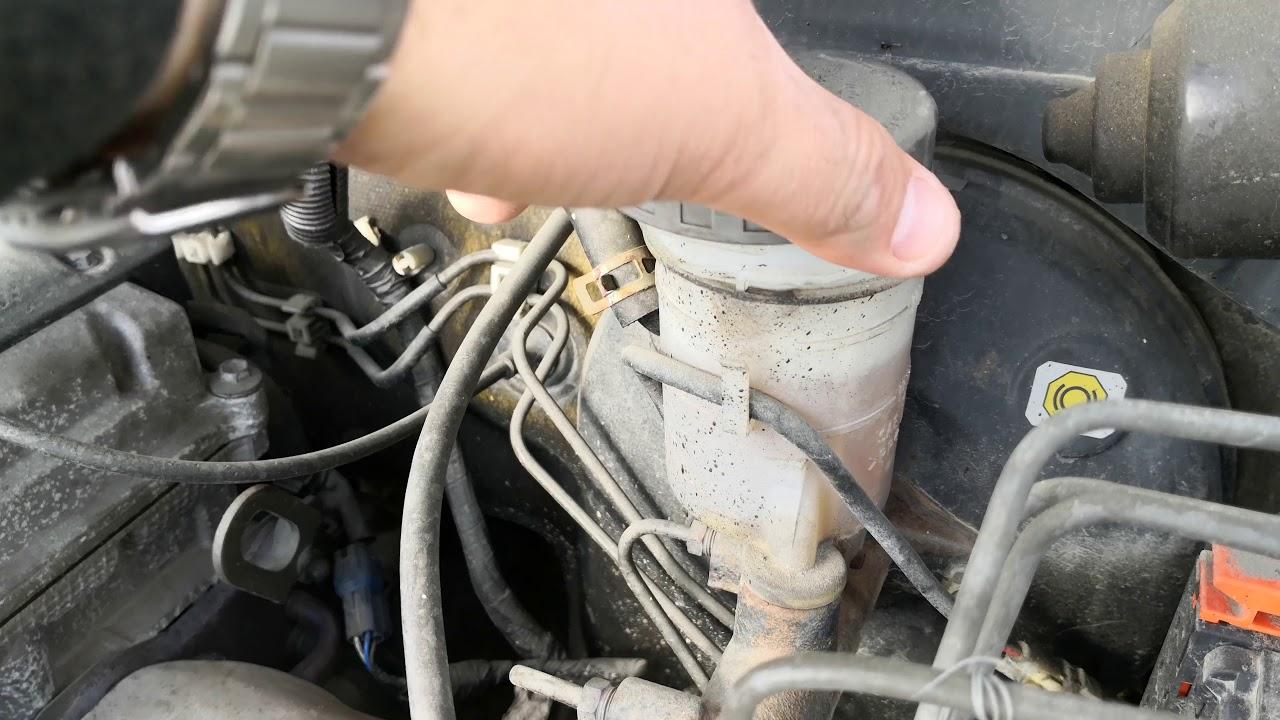 The braking and coolant lines on older units become brittle and crack with time. This causes leakages which affect the overall functionality of your Jimny. The engine will overheat under stress due to inefficient cooling putting it at risk of blowing up.
You need the braking system working at 101% before setting out on an overland expedition. If you notice that the brake pedal is spongy, the brake fluid lines are leaking, and there's low fluid in the braking system
Overhauling the lines is recommended since replacing halfway is a temporary solution. Also, check the condition of the radiator, thermostat, and any other components involved in engine cooling. If any of these are faulty or damaged, replace or fix them before setting out.
Worn Out Parts In The Front Axle
The suspension on the Suzuki Jimny might have been solidly built, but it can't last a lifetime. Thus, on older models, you'll experience a bumpy ride even when driving on the highway, commonly known as the death wobble caused by failing mechanicals on the front axle.
A couple of mechanicals failing causes death wobble in the Suzuki Jimny. These include the rod bushes, king pin bearings, and the tie rod ends. Early signs include increased steering angle, vibrations on the steering wheel, and uneven tire wear.
Replacing failing components is an easy temporary fix, but an axle overhaul would do your Jimny good. Off-roading will be as easy and smooth as ever, hopping over bumps like a young mountain goat.
Rust
Time and again, rust is inevitable on older vehicles, and the Jimny is no exception. Whether you decide to buy one depends on the rust's intensity and if removing the rust is in alignment with your budget. Common rust spots on the Suzuki Jimny include underneath (on the suspension mounts), wheel wells, behind the front bumper, and trunk floor. You should also check all welding points if there are signs of bodywork done.
Poor Interior Build Quality
The poor interior quality is why you'll not enjoy your Suzuki Jimny on long trips. There are no heated leather seats like you'll find in a Landcruiser. So, if you are driving up a mountain, you better keep the AC on, which will likely die on you. While at it, you'll also find rattling body panels annoying. The door panels might also rattle if not bolted properly.
The factory seats might also need some upholstery and the dash repainted to restore its original color. Another main disadvantage of the interior is that there are no cupholders. You'll have to improvise or hold your hot coffee to work. For models with a soft top, check for tears and cracks before buying.
Average Prices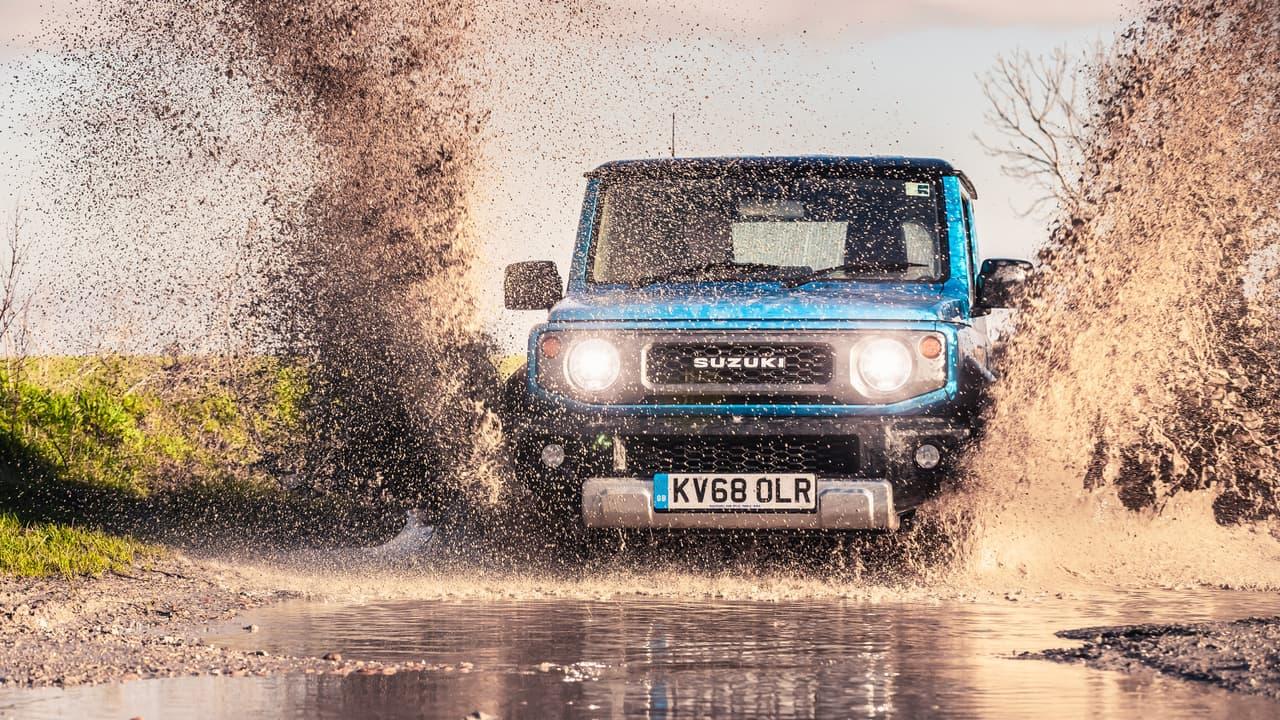 $4,000 isn't a bad price for a Suzuki Jimny since most sell for around $5,000. Older models sell for less than that, but you'll risk mechanical issues with such. But if you find one with upgraded parts and is well kitted, it might be the perfect Jimny.
What To Look For In A Suzuki Jimny
Every car has desirable and non-desirable features that owners consider before buying. Though some might be desirable to one buyer while others might not, the following are features to look for in a Suzuki Jimny.
To begin with, a Suzuki Jimny with a manual transmission is better than one with an automatic transmission. The latter tends to heat up under stress; thus, off-roading is off the plate if you have a Suzuki Jimny with an automatic transmission.
You get the Suzuki Jimny with a 4/5-speed manual transmission or a 3/4 -speed automatic transmission. If you still want a Jimny with an automatic transmission, you'll have to get a 1985 model year or later. All model years made before 1998 come with a manual transmission.
Mechanical-wise, older models seem like the worst options to buy when buying a Suzuki Jimny. However, unlike new models with a vacuum-operated free hub, they have a manual hub. The main advantage of a manual hub is it rarely fails. On the downside, you must service the hub often and get out of your Jimny whenever you want to use 4WD.
Most Jimnys come with only two seats. But some were sold with rear seats, which you can fold to increase load space. If having rear seats is a priority for you, find one with rear seats though it won't be an easy task.
Suzuki also made two turbocharged versions of the Suzuki Jimny. The first one, produced between 1981 and 1998, comes with a 4-cylinder 1.9-liter turbodiesel engine badged as the Suzuki Samurai Turbo. However, it's hard to find, like the Suzuki Jimny with a rear passenger seat. The other was produced between 1998 and 2022 and had a 660cc 3-cylinder turbocharged engine.
Comparable Alternatives
Models and Specifications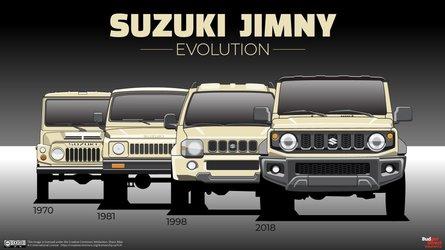 1970-1981 Suzuki Jimny (LJ10, LJ20, SJ10, SJ20)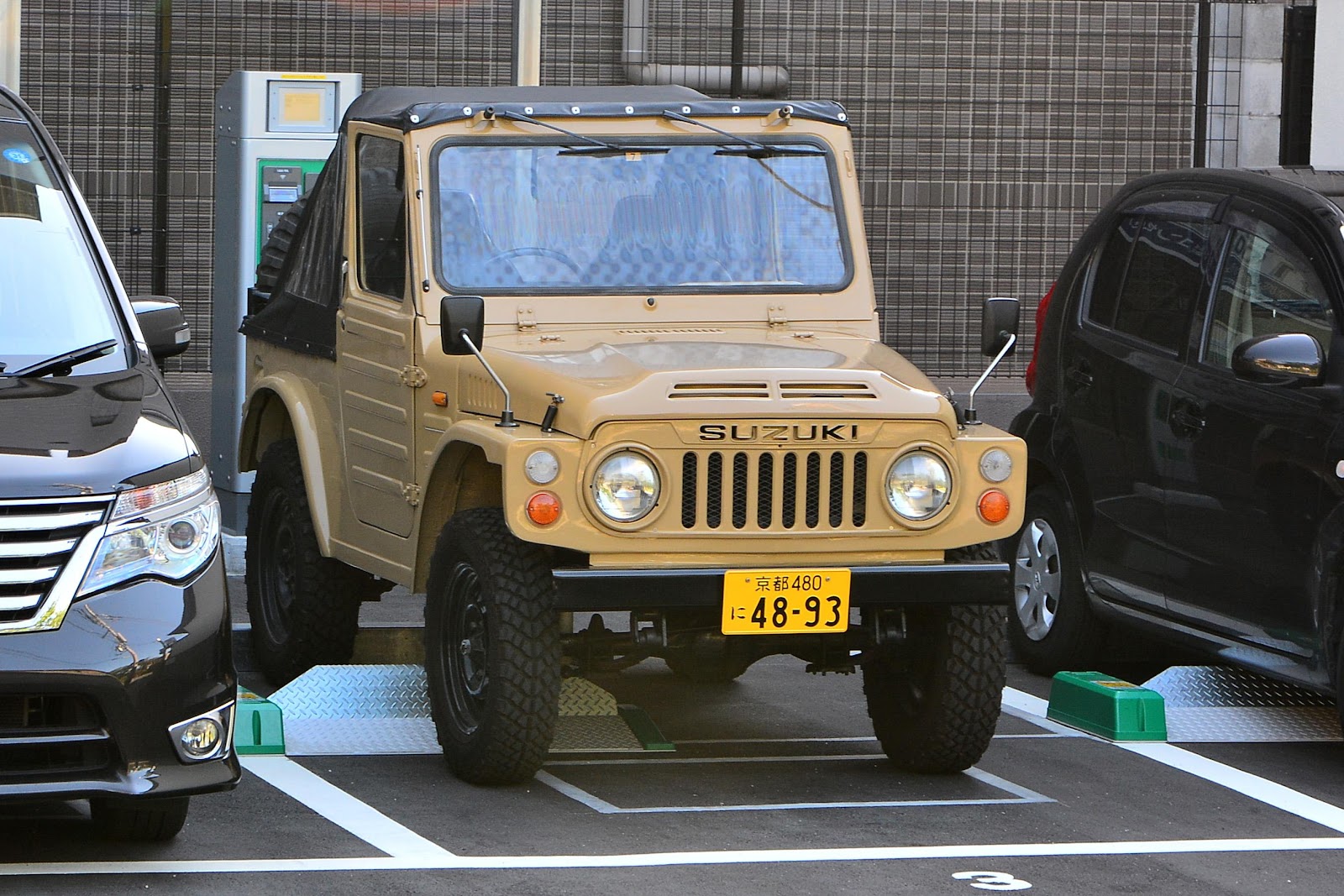 The first gen Suzuki Jimny was introduced to the Japanese market in late 1970, filling a constant demand for a small city truck. Units made before 1972 have the LJ10 chassis code and come with 360cc Kei engines.
In 1972 the Jimny LJ20 replaced the LJ10 and was sold with a water-cooled 360cc engine. The 360cc engine in the LJ10 is air-cooled. Another significant difference between the LJ10 and LJ20 is spare tire placement. It's mounted on the trunk floor in the LJ10 and the trunk door in the LJ20.
In 1975 Suzuki unveiled the SJ10 with a 540cc engine. Unlike previous model years, it was only made for the export market due to Japanese laws regarding Kei car engine sizes and emission regulations. The SJ20 Jimny later replaced the SJ10, which comes with a 780cc water-cooled engine. You get the SJ20 with a non-detachable hardtop.
Suzuki used a 4-speed manual transmission throughout the first generation of the Jimny. All model years are rear-wheel-drive, and some have a 4WD system. The first-gen Jimny was among the first Kei cars to feature a 4WD system.
1981-1998 Suzuki Jimny (SJ30, SJ413, JA, JB)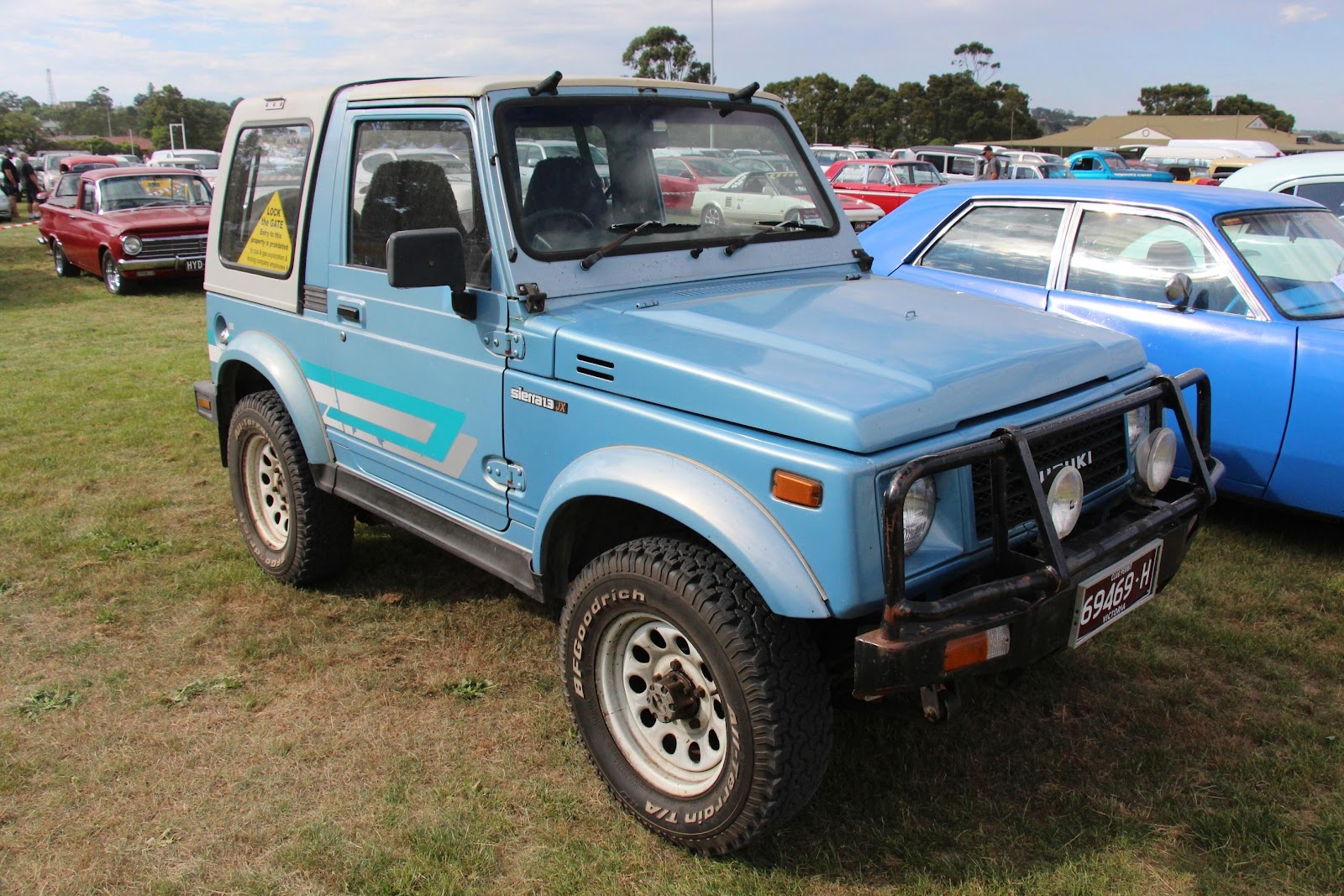 Suzuki first made the SJ30 in 1981 with the 540cc engine from the LJ10 engine. Kei car laws had been revised earlier in 1976, and cars with 540cc engines were considered Kei cars. Export models were equipped with 660cc engines and were lengthened. JDM units were shorter as Japanese road laws had strict regulations regarding Kei car dimensions.
The SJ40 was introduced in 1982 to replace the SJ20 for export markets. However, the 780cc engine was replaced with a 1.0-liter water-cooled engine, thus the name Suzuki Jimny SJ40 1000. Buyers could buy the SJ40 Jimny in Japan, but they faced higher road taxes. JDM models were fitted with smaller wheels than export models to prevent this.
In 1984 the SJ413 was released with a 1.3-liter engine mated to a 5-speed manual transmission. Later on, JA and JB SJ413 Jimnys were introduced. You get these with the same 1.3-liter engine in the SJ413 but upgraded interior and facelifted body panels. A new 3-speed transmission was introduced but failed and thus discontinued in 1998.
Suzuki also produced and sold the Jimny in other markets but under different model names. For example, in Pakistan, it was known as the Suzuki Patohar and the Maruti Gypsy in India. In the US, it was sold as the Suzuki Samurai.
1998-2022 Suzuki Jimny (JB23, JB33, JB43, JB53)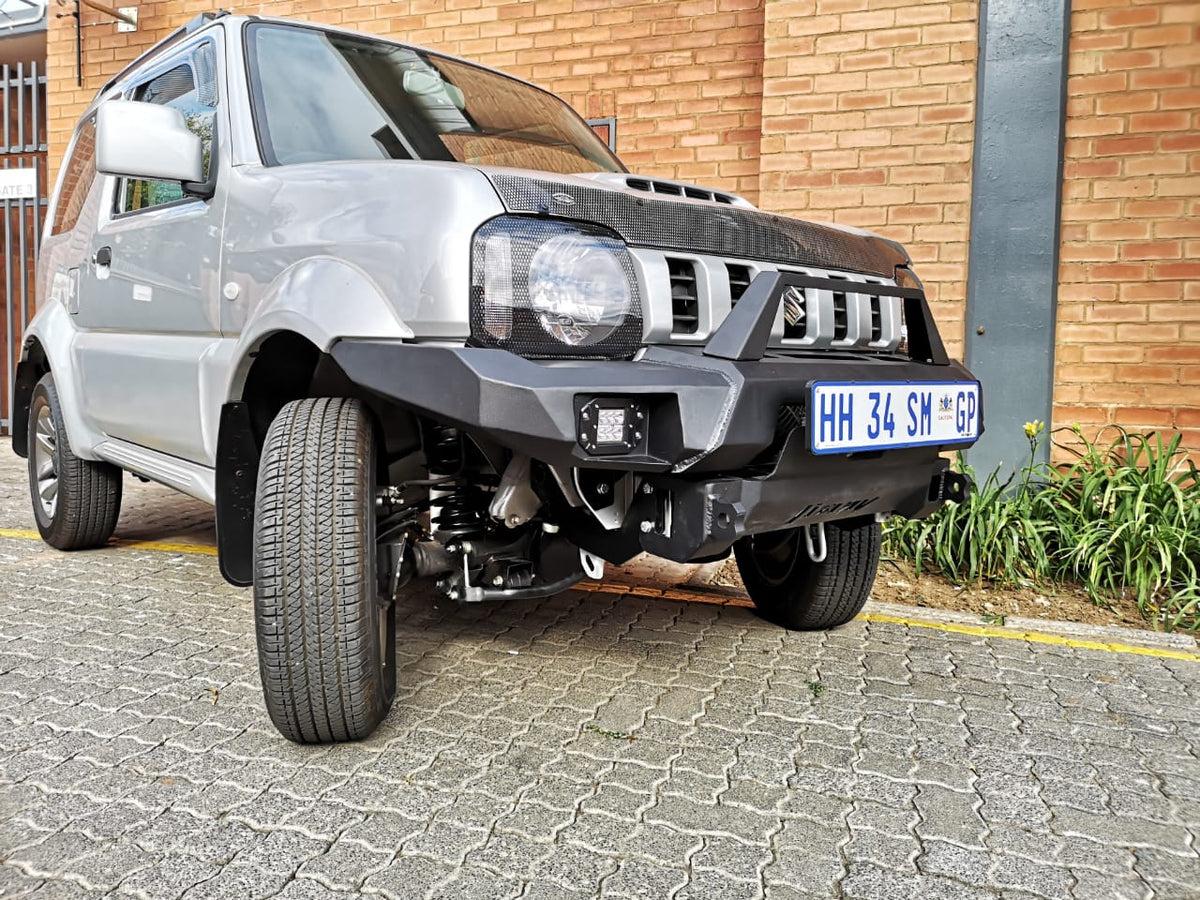 The third-gen Suzuki Jimny is the best model year to buy if you are looking to buy a Suzuki Jimny. Suzuki unveiled it at the 1997 Tokyo Motor show with features that could rival any crossover or full-size SUV. Production began later in 1997, and like other generations, you can get it with a removable hardtop or soft top. However, most JDM units come with a non-removable hardtop.
According to Japanese regulations, only the JB23 with a 3-cylinder turbocharged 660cc engine is considered a Kei car. For other markets, the Jimny was sold with a 1.3-liter engine (JB33 and JB43) and a 1.5-liter engine (JB53). You get the third-gen Jimny with a 5-speed manual or 4-speed automatic transmission.
Mazda badge engineered the Jimny and sold it as the Mazda Autozam Offroad under their Kei car unit, Autozam. It has the same features as the Suzuki Jimny but doesn't have the vacuum-operated hubs. Instead, you get the Autozam Offroad with manual hubs, which were optional on the Jimny.
2018-Present Suzuki Jimny (JB64W, JB74W)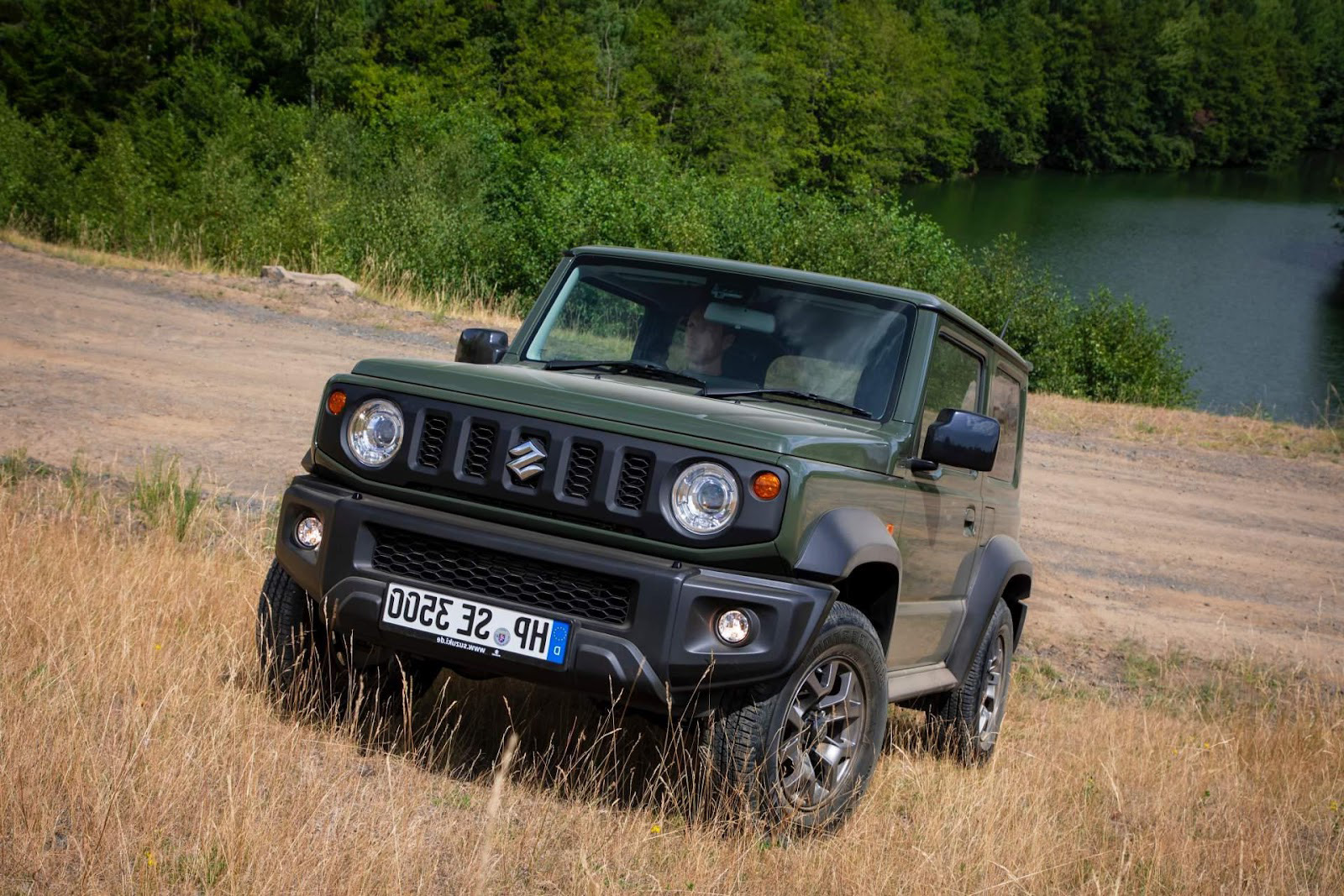 The Jimny entered its fourth generation in 2018 despite speculations that Suzuki was discontinuing it. Like its predecessors, it's produced following Japanese Kei car regulations. JDM units have a 3-cylinder turbocharged engine, while export units get a 1.5-liter engine.
However, no laws prevent Japanese buyers from buying a Jimny with a 1.5-liter engine. Like the third-gen Jimny, you get the fourth-gen Jimny with a 5-speed manual or 4-speed automatic transmission.
FAQ
Which engine is in a Suzuki Jimny?
The Suzuki Jimny is considered a Kei car and thus comes with various Kei car engines. These include a 360cc, 540cc, 660cc, and 800cc engine. However, some units that come with a 1.0-liter 1.3-liter, 1.5-liter or2.0-liter engine are not considered Kei cars.
Where can I buy a Suzuki Jimny in the US?
JDM dealerships are the first places you should visit when searching for a Suzuki Jimny. You can buy a locally used unit if you want to save some cash. Finding a Suzuki Jimny for sale is easy since it was sold in the US. It's also among the most loved JDM cars in the US.
Is a Suzuki Jimny fast?
Getting a Suzuki Jimny to 70mph is not as easy as it sounds. The most you can achieve is around 55mph. Adding a turbocharger might help, but if you kit your Jimny, the extra weight slows it down even more.
Can I turbocharge a Suzuki Jimny?
Getting a Suzuki Jimny to 70mph is not as easy as it sounds. The most you can achieve is around 55mph. Adding a turbocharger might help, but if you kit your Jimny, the extra weight slows it down even more.
Which model year Suzuki Jimny is the best?
Any Suzuki Jimny made between 1998 and 2022. When Suzuki Launched the third-gen Jimny in 1998, it came with a new ladder chassis for improved stability and a dual-ratio transfer case. Older models don't have these features, and a fourth-gen Jimny might be over-budget. This makes the third-gen Jimny the best option.
Can I lift a Suzuki Jimny?
Yes, aftermarket manufacturers make lift kits for the Suzuki Jimny just like any other SUVs. However, there are some factors you should consider before installing a lift kit. The main ones include the model year of your Jimny, driving habits, tire size, and extras that the lift kit has. 
How To Import A Suzuki Jimny
Read our Ultimate Guide on How to Import a Car From Japan