Suzuki Cappuccino Buying Guide
The Suzuki Cappuccino meets all the quintessential requirements of a sports car, just on a smaller scale. It is a mid-engine, RWD, two-seater sports car that has a 50/50 weight distribution. Being a Kei car, however, the Cappuccino had to abide by some strict rules the Japanese government had set out. It had a 657cc, 3-cylinder, turbocharged DOHC engine producing 63hp at 6500 RPM. It weighed just 725kg (1598 lbs.) thanks to the use of aluminum panels used by Suzuki.
Pros and Cons
Pros:
Very nimble
Turbocharged engine
Fun to drive
Can be turned into a convertible easily and quickly
Can be easily tuned
Cons
Storage space is almost non-existent
Small interior
Can be dangerous in wet conditions
RHD only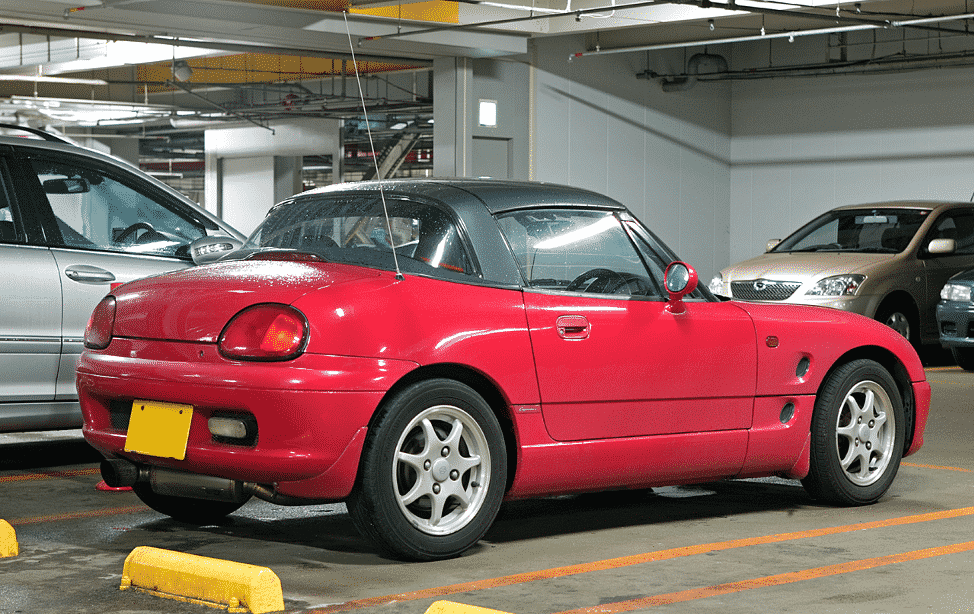 Common Issues with Suzuki Cappuccino
This little sports car has proven to be quite reliable over the years. But just like any other vehicle, it's not perfect. We have compiled a list of problems commonly found with the Cappuccino.
For beginners, the gearbox seemed to be plagued with weak synchros. This mostly affected second gear, especially when cold.
The good news is that Suzuki made the Cappuccino's engine almost bulletproof if maintained properly. It's a good idea to look for one with an extensive service history. Although rare, the turbos can fail, and that's why it's important to check for blue smoke coming from the exhaust.
Another issue is the brake callipers, especially the rear ones. This, however, is an easy fix. There are plenty of certified shops out there that will resolve this issue fairly cheaply.
Rust is another common problem found in the Cappuccino. Japan didn't salt their roads in the winter; therefore, auto manufacturers never put a big emphasis on rust protection or undercoating. Be sure to check for signs of rust in the usual places, like the wheel wells.
The aluminum roof panels are another thing to pay close attention to. Since they are usually stowed in the truck, the likelihood of them getting dinged up is quite high.
As a rule, you must always check the electronics of a vehicle before buying it. This is especially important on the Cappuccino as most of these cars were fitted with aftermarket alarms and fog lights for example. Most of the time these were installed quite poorly, making them much more susceptible to failure.
The last issue a potential owner should check for would have to be the interior. Especially if the car came equipped with faux leather seats. They do have a good reputation for durability, but if it comes time to retrim the seats, the bill can be overwhelming.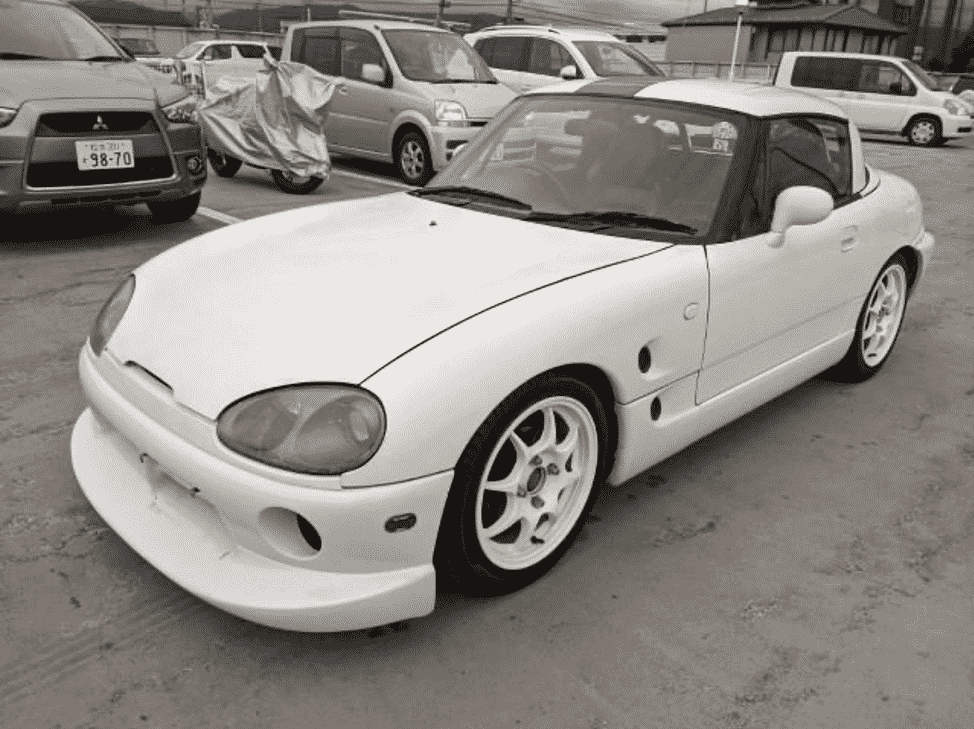 Average Prices
The average price of their fun little sports car stays consistently around $10,000, although some can be had for way less, while others can go as high as $20k!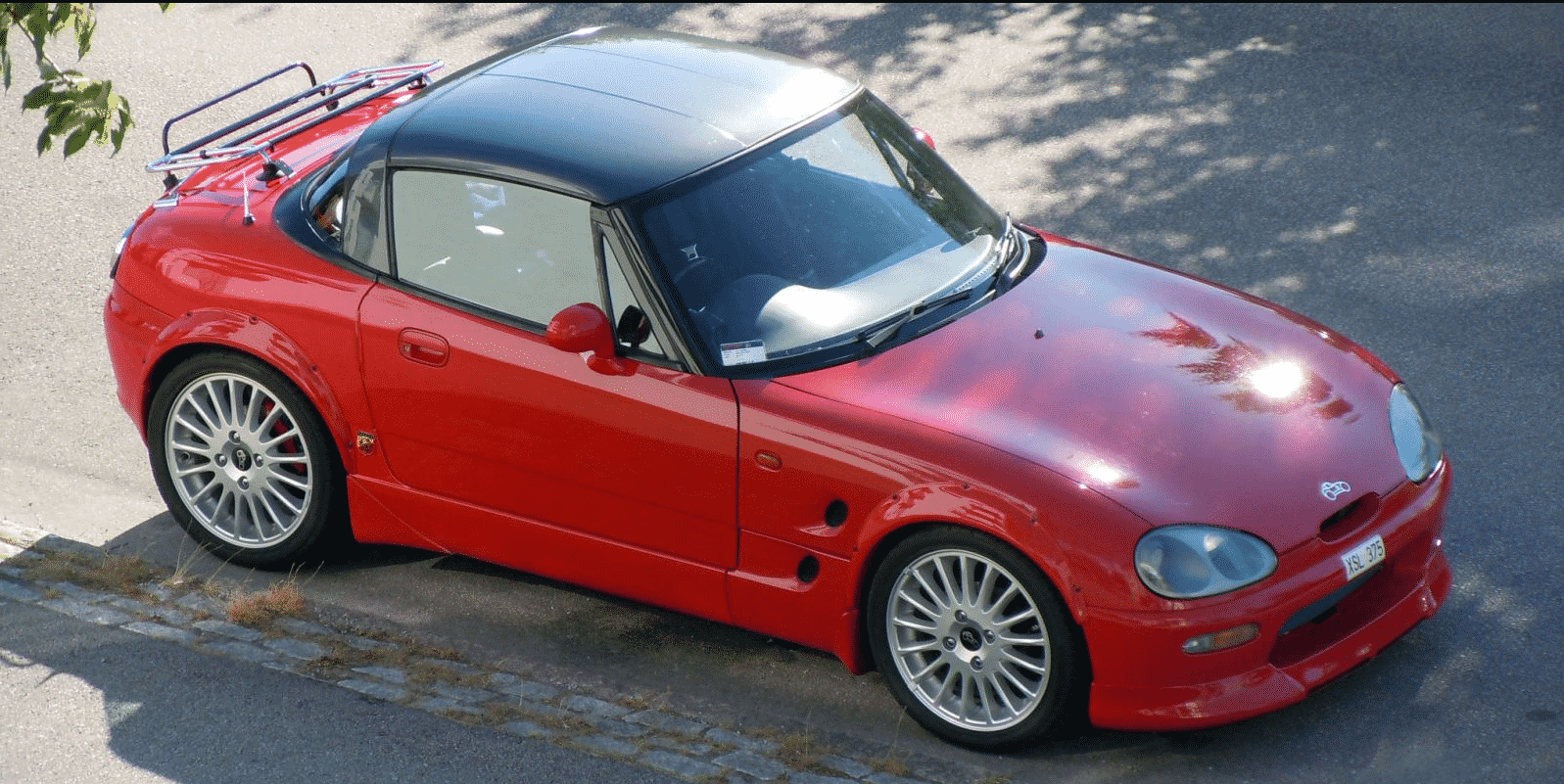 Comparable Alternatives
The Cappuccino is part of the holy trinity of the two-seater, RWD, and Kei cars. Its direct competitors are the Mazda Autozam AZ-1, and the Honda Beat. However, unlike the other two, the Cappuccino was a front-engine car. It was still considered a mid-engine sports car, thanks to the longitudinally mounted 3-cylinder motor.
Here is a list of the direct competitors that the Suzuki Cappuccino has:
As always, be sure to check out our other buyer's guides for the cars mentioned in this article.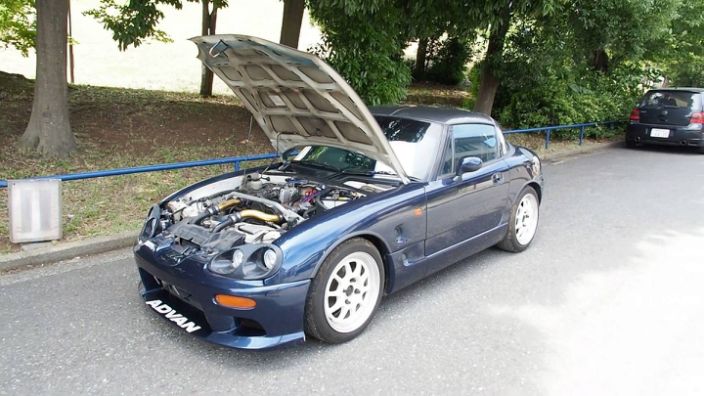 Models and Specifications
Even though the Cappuccino was released to the world in 1991, the idea goes all the way back to 1987 when Suzuki wanted to produce a new project car. Fast forward two years, and the first Cappuccino was unveiled at the Tokyo Motor Show. Official production started in October 1991, and by late November of that same year, the very first car rolled off the assembly line at Suzuki's Kosai plant. Within the first two years ('91-92), a total of just over 15,000 cars were produced. Nearly 90% of them stayed in Japan while the other 10% got exported to the UK.
Early on, Suzuki's execs were trying to get the Cappuccino in the United Kingdom. After 18 months of back and forth, along with several adaptations, the little car was finally allowed into the country. It was unveiled at the British International Motor Show in October 1992, and exactly one year later in October 1993, it was available for sale to its eager clients in England. Because the Cappuccino was such a hit in Japan, the initial order of 1,500 cars slated for the UK market was cut down to 1,182. The cars were available in only two colors: silver and white. Between 1993-1995, 1,100 of those cars were registered in England, while the remaining 82 were told to various European Countries.
In 1995, Suzuki revised the Cappuccino by introducing lighter engines which resulted in more torque. Lighter wheels and an optional 3-speed automatic transmission were also available. The manual transmission cars from both generations had an optional performance variation called the "BA" variant. These come loaded with an optional airbag for the driver, limited-slip differential, ABS for all four wheels and power-operated door mirrors.
In conclusion, the Suzuki Cappuccino is a blast to drive and is one of the best sports Kei cars that Japan has ever produced. It's not loaded with various sensors and numerous electronic aids like today's cars are. It's a bare-bones, mid-engine, pint-sized sports car designed for you to get in and have fun! We hope you enjoyed this article, and be sure to read all the other buyer's guides we have if you are in the market for buying your next JDM car.
FAQ
Are these cars really that much fun to drive?
Yes! If you've ever driven the MX-5 and thought that was fun, then the Cappuccino will blow your socks off
Is the Cappuccino a reliable car?
Absolutely. It is well documented that the Suzuki Cappuccino's engine is nearly indestructible if it had been maintained properly. 
Is it legal to operate a right-hand drive vehicle in North America?
Of course. Since the Cappuccino is now over 25-years old, it is completely legal to import them to the US.
Are parts hard to come by? 
Spare parts are not that much harder to come by than any other Japanese car that wasn't offered stateside. Most parts can be commonly found in Japan and then they will have to be shipped to you.
I am a bigger person. Will I fit? 
Anything is possible. That being said, if you are someone over 6-feet tall you might have a hard time getting in, and once in you might not be all that comfortable.
Is it easy to increase the power in the Suzuki Cappuccino? 
Yes! Being that it is a turbocharged engine, you can increase the power with a simple tune. And in some cases, power can be even doubled with a few simple supporting modifications.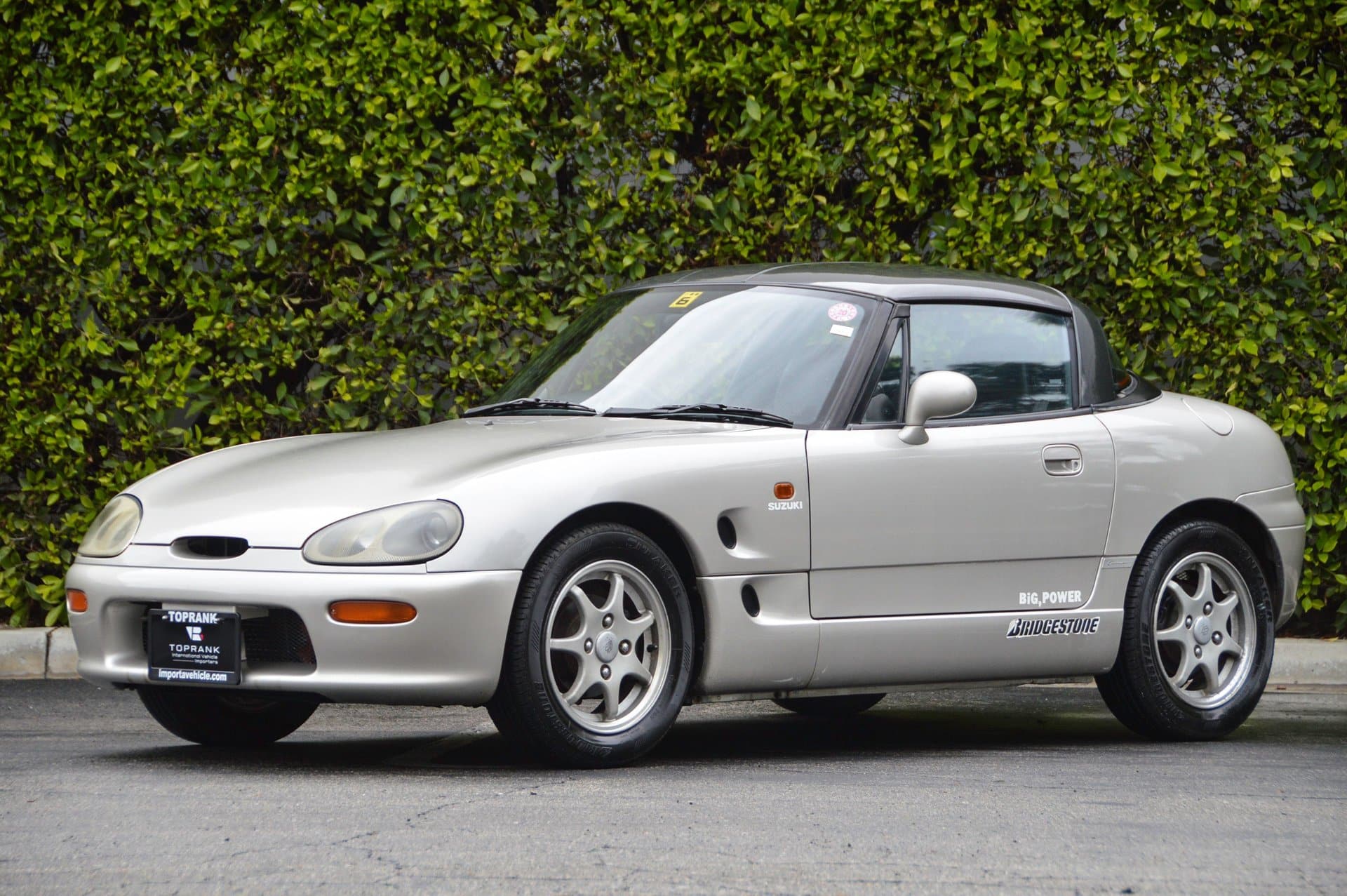 FAQ
How much does a Suzuki Cappuccino weigh?
The Suzuki Cappuccino weighs 1598 pounds (725kg), a characteristic of most small cars in the Kei car category.
Where can I buy a Suzuki Cappuccino?
You can buy a Suzuki Cappuccino from JDM car dealers or online listings. You can also import one since it is one of the cars that have been recently cleared to be imported to the United States.
How much does a Suzuki Cappuccino cost?
If you plan to buy a Suzuki Cappuccino, you should budget around $6,000 to $30,000, as most are listed within that price range.
What was the original price of the Suzuki Cappuccino?
When new, the Suzuki Cappuccino had a price tag of around $12,000 depending on options.
How much does a Suzuki Cappuccino cost when bought locally or imported?
Most Suzuki Cappuccinos are cheaper in Japan by around $3,000 than those for sale in the USA. So, if you are looking to import one, you should first compare prices between locally available units and units available for export in Japan.
How much does a Suzuki Cappuccino weigh?
The Suzuki Cappuccino weighs 1598 pounds (725kg), a characteristic of most small cars in the Kei car category.
How to drop the roof on a Suzuki Cappuccino.
Start by removing the three freedom panels covering the seats by unlocking the latches located on the edges. Then remove the quarter panels and store them in a drop-free storage place. You can drop the rear windshield if you want to by twisting the tab behind the seats in the middle, then push it down and lock it using the tab in the middle of the rear windshield.
Is it hard to swap an engine into a Suzuki Cappuccino?
This depends on the engine you want to put into your Suzuki Cappuccino. A 4-cylinder engine is the easiest to fit, but any engine with more than 6 cylinders requires extensive fabrication.
Sources
How to Import a Suzuki Cappuccino
Read our ultimate guide, How to Import a Car from Japan.
Can you make this guide better? Are you a huge fan of the Cappuccino? If so, please contact us.