1 - 36 of 49 Mitsubishi Delica ads
Mitsubishi Delica Buying Guide
Ever since 1968, the Mitsubishi Delica has been Mitsubishi's answer to the van and pickup truck. Its huge success has seen models being exported all over the world. The name Delica came from the English phrase, "delivery car". In other markets, however, the Delica was offered under different names. For example, in Europe, Jamaica, and New Zealand, it was known as the "L300" (later renamed the L400), while in Australia they called it the "Express" and "Starwagon". They kept it simple for the American market and named it the "Mitsubishi Van". This utilitarian vehicle did come in a passenger car version as well, and that was known as the "Delica Space Gear", which later became just "Space Gear" in Europe.
Currently, the Delica is one of Mitsubishi's longest running production vehicle spanning over half a century, and it is still in production to this very day. Since 1968, the Delica has been produced over five generations, each one being slightly better than the previous. While it has received numerous upgrades over the years, it is still a utility vehicle at its core, which people have become accustomed to. Drastically smaller than its American counterparts, the Delica was initially created for the tight streets of Japan. The European market also loved it due to its small size and reliability.
The Delica is the ultimate 4X4 van:
We have created this in-depth buying guide for you to give you as much information as possible before you go ahead and pull the trigger on this small practical little van.
Pros and Cons
Pros:
Surprisingly roomy
Turbo-diesel fuel economy
Great 4×4 capability
Cheap purchase price
Fits anywhere
Optional crystal light roof
Cons:
The engine can be undersized in certain models
It May be difficult to come across replacement parts
Relatively heavy due to the proper truck chassis
Difficult to work on (due to being a cab-over)
Uncomfortable seating position
Early models don't have the same safety standards as modern minivans
Common Issues
Although Japanese cars are well-known for their durability, they are not exempt from issues. Such is the case with the early versions of the Delica. Early model Delica's (L300) were known to have their front brakes fail at high speeds. This wasn't due to mechanical failure, but rather because the brake pads would overheat and become virtually useless.
Another issue that plagued the L300s was their slow, and trouble-prone, 2.5L diesel engines. We all know diesel to be more robust and reliable than their gasoline counterparts. This unfortunately was not the case with the Delica's 4D56 four-cylinder turbodiesel as it caused exhaust gas temperatures to rise to a level where it started cracking head gaskets. To make matters worse, the 4D56 is an interference engine, which means that if the timing belt snaps, the pistons and valves would meet in the most unfavourable of circumstances, thus destroying the engine.
Other issues that were reported, but not that common, were turbo failure and balance shaft belt failure. Most small diesel engines have a balance shaft to take away some of the vibrations from the unbalanced engine. If the belt that drives this balance shaft lets go, it can also cause significant damage to other parts of the engine.
Now, we are not trying to scare you off from buying your dream minivan; we are simply informing you of the common issues that are associated with these models so that when it comes time to purchase one, you know what to look for.
Average Prices
Due to the fact that Mitsubishi has been producing the Delica for over 50 years, prices can vary quite a bit. Of course, options, current state, and mileage play a very important role in the price. It seems like the 90s Delicas have developed a cult following here in North America, and some can be bought starting at just over $5,000, while a prime example can set you back as much as $25,000.
Comparable Alternatives
Thanks to the popularity of these Japanese minivans, other auto manufacturers have jumped at the opportunity to try and get a piece of the action. Below, we have compiled a list of other models like the Delica.
Models and Specifications
1968-1979 Mitsubishi Delica (T100, T121) First Generation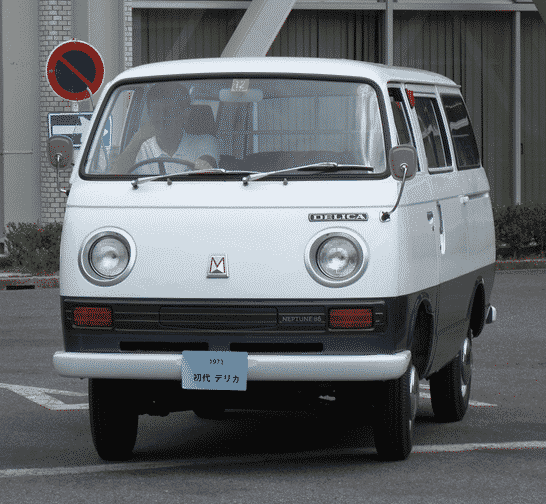 The first generation Delica rolled off Mitsubishi's assembly line in mid-1968 as a cab-over pickup and was given the chassis code T100. It came equipped with either a 1.1L or 1.4L gasoline engine with a top speed of 115km/h (71mph) and a total payload of 600kg (1,323lbs.). Given the size of the first Delica, those numbers were impressive. Luckily, a year later the famed automaker introduced a cargo and passenger van version due to increased demand for those body styles. Sadly, the passenger van was discontinued in 1974, after just seven years.
In 1971, the Delica received its first facelift. This included a smaller, more appealing grille and a new 1.4L engine that produced 86hp. The 1.1L engine was still available at that time, but shortly after it was phased out of production.
1974 saw the Delica receive yet another facelift. This time the front end was dressed up with a lot of plastic cladding and the addition of double headlights. Moreover, the name got changed to "Delica 1400" being as that was the only engine available at that time. Lastly, a longer wheelbase one-ton truck was added in 1976 and went by the chassis code T121.
1979-1986 Mitsubishi Delica (Colt 300) Second Generation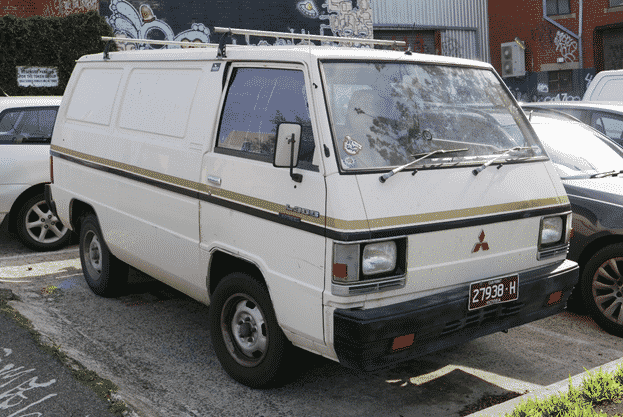 With the arrival of the second generation, the Delica saw major upgrades, both inside and out. Engine-wise, there were a total of nine engine choices. Four of those engines were gasoline and ranged from 1.4L to 2.0L. The remaining five were diesel versions which started from a 2.2L 16-valve turbodiesel and went all the way up to a 2.5L 8-valve turbodiesel. All engines were offered in an inline four-cylinder configuration only.
The width was also increased to measure a total of 1,690mm (67"), thanks to stricter regulations put in place by the Japanese government. The suspension wasn't forgotten either. A new independent wishbone suspension was introduced in the front, while the rear got leaf springs. A sliding side door alongside a one-piece gas strut was also available, which helped up the rear hatch.
1982 was the first year that four-wheel drive was available on the Delica. Mitsubishi took the 4WD system from the Pajero and adapted it to the Delica. People went crazy for this new feature, and for good reason too. It was a small, economical van that could now go essentially anywhere.
In Australia, Chrysler introduced the Delica under the name "Chrysler L300 Express" at the Adelaide motor show. The Philippines also go the van and named it the "Mitsubishi L300 Versa Van". It was available there until the beginning of 2012. In Indonesia, the Delica went by "Colt 300" and was only available with the 2.5L turbodiesel. A gasoline engine was offered for a short period of time, but due to poor demand, it was quickly taken off the market.
1986-1994 Mitsubishi Delica (L300) Third Generation
In June of 1986, the all-new Delica was unveiled to the world. The aerodynamic, rounded edges became affectionately known as the "soft cube" by Mitsubishi. Its increased safety and monocoque body also became very popular with the RV segment in Japan.
In 1990, Australia received a naturally aspirated diesel as an option and the "Delica Star Wagon" was simplified to just "Starwagon". Additionally, two wheelbases were now available to choose from, and the commercial version was now known simply as "Express".
As far as performance goes, Mitsubishi introduced a large range of both gasoline and diesel engines to choose from, adding up to a total of 11 engines. Out of those 11 engines, five were gasoline-powered and the rest were diesel. They ranged from a 1.4L gas engine all the way up to a 3.2L diesel specially made for the Chinese market. Combine that with the available two-wheel or four-wheel drive and the various body styles to choose from, and the possibilities were almost endless.
In China, the Delica was licensed by Hyundai under the name "Hyundai Grace" or "Hyundai H-100". In 1986, a version named "New Grace" was introduced and it was offered with a 2.4L gas or 2.5L turbodiesel inline-four. Both engines were from Mitsubishi.
What it's like to drive an L300 Delica:
1994-1997 Mitsubishi Delica (L400) Fourth Generation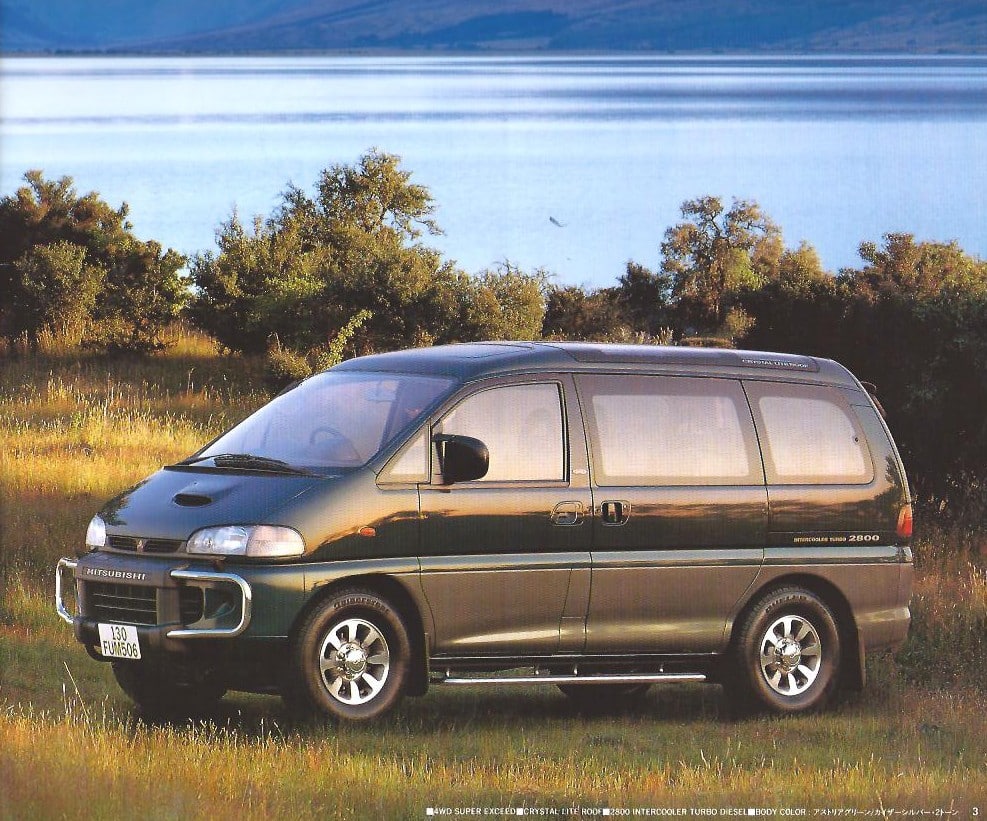 Mitsubishi's fourth-generation Delica received the most extreme and aerodynamic styling upgrade to that point. Unfortunately, no truck models were available for this generation, but they made up for it by introducing bigger gas and diesel engines as well as a more capable 4×4 system that Mitsubishi shared with the Pajero.
Offroading with the L400 Delica:
The passenger models were known as the "Delica Space Gear" in Japan and were available with six trim levels in both short and long-wheeled versions. Export markets saw the Delica nameplate completely disappear and replaced with the "L400" badge while passenger vans were simply known as "Mitsubishi Space Gear".
The Mitsubishi Delica is a popular off-grid / camping vehicle:
Australia still received the cargo and passenger versions with four available trim levels, while South Korea took the Delica and rebadged it as the Hyundai Starex. It was produced for a total of 10 years between 1997-2007.
2007-Present Mitsubishi Delica Fifth Generation
In late October 2006, Mitsubishi revealed that there will be a new version of the beloved Delica coming out. They named it the "Delica D-5", and it was unveiled at the 39th Tokyo Motor Show. The mono box minivan was an eight-seater, four-wheel-drive vehicle featuring a continuously variable transmission coupled with a 2.4L inline-four engine. It was put on sale on the last day of January 2007.
2013 saw the introduction of a 2.2L turbodiesel that produced a total of 177hp and 280ft. lbs. of torque. Mitsubishi claimed that this engine produced smooth acceleration all the way through the rev range, and it achieved a low compression ratio of only 14.9:1. The fuel mileage was an estimated 13.6km/L. Indonesia also got a taste of the D-5 Delica between 2014-2019.
A radically different facelift version was introduced in 2019 under the design language known as "Dynamic Shield", and it was most definitely dynamic. The inside now featured a 10.1" infotainment system alongside e-Assist. This version was first unveiled at the 2019 Tokyo Auto Salon.
Production Figures
| | | | | |
| --- | --- | --- | --- | --- |
| Year | Japan | Philippines | Taiwan | China |
| 1995 | 109,930 | n/a | n/a | |
| 1996 | 88,978 | n/a | n/a | |
| 1997 | 69,495 | n/a | n/a | |
| 1998 | 34,614 | n/a | n/a | |
| 1999 | 17,758 | n/a | n/a | |
| 2000 | 28,242 | 2,918 | 8,125 | |
| 2001 | 12,965 | 2,079 | 5,133 | 690 |
| 2002 | 17,456 | 2,925 | 4,192 | 600 |
| 2003 | 13,011 | 3,529 | 5,166 | 13,710 |
| 2004 | 16,432 | 2,826 | 3,862 | 16,074 |
| 2005 | 16,444 | 3,685 | 2,315 | 5,960 |
| 2006 | 16,041 | 3,992 | 1,160 | – |
| 2007 | 14,824 | 4,580 | 1,115 | – |
FAQ
What is the Mitsubishi Delica's maximum towing capacity?
The Mitsubishi Delica can tow loads of up to 3300 pounds on a braked trailer and 1300 pounds on an unbraked trailer. However, before you start towing, subtract the tow hitch weight and the trailer weight from the maximum towing capacity to know how much weight you should put on the trailer. The maximum tow hitch weight you can install on a Mitsubishi Delica is 130 pounds.
How to replace Mitsubishi Delica slider gaskets?
Slide-out the slider, then use a plastic scraper to remove the old slider gasket. Then remove the adhesive remnants on the contact point using an adhesive remover solution or any other alcoholic solution, provided that it does not remove the paint. If the new seal requires you to use adhesive, apply the adhesive on one side, then apply it to the next one after installing the seal on the side with glue. If the new seal is push-on, it does not require adhesive to install. You have to push it into the pinch weld using a plastic seal. However, you should apply adhesive on the outer edges and corners to prevent moisture and air from leaking into the pinch weld.
How much does a Mitsubishi Delica weigh?
Depending on the manufacture and drive configuration year, a Mitsubishi Delica weighs between 4500 and 5000 pounds. Early production and front-wheel-drive Delicas are the lightest.
Where to find a Mitsubishi Delica L400 in the US?
Apart from physically visiting car shops and searching for a Mitsubishi Delica, you can also search online listings for one. There are dedicated Mitsubishi Delica listings in the United States, such as DelicaUSA.com, which sells Mitsubishi Delicas.
Why is the Mitsubishi Delica rare in the US?
The Mitsubishi Delica was never sold in the United States throughout its production years. However, if you want to buy one, the Delica is legal for import to the US.
How much does a Mitsubishi Delica cost?
Prices for the Mitsubishi Delica start at around $5,000, increasing depending on the year of manufacture, model, and if there are modifications done. If you are looking for a budget camper van that doubles as an off-roader, the Mitsubishi Delica is the perfect van for the job.
How fast is a Mitsubishi Delica?
Older models will top out at around 75 miles per hour. In comparison, newer models, specifically models produced from the third generation, will do 86 miles per hour at maximum speed.
What is a stepper motor on a Mitsubishi Delica?
The Stepper Motor reduces the amount of air directed to the engine by lowering idle speed. It does this by lowering the REVs, and sometimes you'll think the car is not running.
Is the Mitsubishi Delica stable?
The Mitsubishi Delica is not a car you'd want to drive at speeds above 65mph. At low speeds, it's stable, but when driving fast, the center of gravity is constantly moving, which easily imbalances the car. The Delica also has a high ground clearance which raises the center of gravity. Vehicles with a high center of gravity tend to topple over at high speeds when cornering or when one side is higher than the other.
Is the Mitsubishi Delica reliable?
The Mitsubishi Delica was built to be rugged, so the durability of parts is guaranteed. Both petrol and diesel engines will average 17mpg to 23mpg, which is not bad for a 4×4 4500-pound touring van.
Which is the best year Mitsubishi Delica?
1987-1990 Mitsubishi Delica Star Wagon with a 2.5-liter turbodiesel engine. This model is the most rugged Delica ever made with offroad tires and wheels, wider wheel arches, 4WD, steel bumper, and spotlights. However, it was only sold in Japan, but there were some units imported to the United States.
Sources
How to Import a Mitsubishi Delica
Read our ultimate guide, How to Import a Car from Japan.