Honda Integra Buying Guide
The Honda Integra is one of the most underrated JDM sports cars produced from.1985 to 2006. As most JDM enthusiasts would know, the Honda Integra was built as a coupe, with few sedan units being made in the first 3-generations of its production. In 2006 it was discontinued, with Honda citing fewer sales for the coupe model, the only model available for the fourth-gen Integra, the last generation.
Later in 2012, Honda re-introduced the Integra badge, but it was not on a coupe, sedan, or SUV. The Integra badge was used on Honda's 2-wheel scooter lineup comprising the Honda NC-750D Integra and NC-700D Integra. These are still in production, and Honda still produces them after revealing the fifth-gen Integra in 2021.
Disappointingly the new Integra is only sold as a liftback sedan with no other body styles. The 6-speed manual is excellent, especially because most manufacturers only manufacture cars with automatic transmissions. Still, if Honda made the Integra a coupe, it would be better.
Since the Honda Civic coupe can be hard to come across, the Integra should be the next option on your list. These cars have similar engine, transmission, and drivetrain options. The only notable difference is that the Integra has a sportier look than the Civic Coupe. Most Integras with an automatic transmission have a torque convertor that the Civic wasn't equipped with at production.
The Honda Integra was also introduced when Honda discontinued the D series engines. Unlike Civics, most Integras either have a B-series engine or a K-series engine, which did not have these engines as standard. Generally, the Integra was Honda's flagship sports car as the NSX was more of a Supercar than a sports car.
Pros and Cons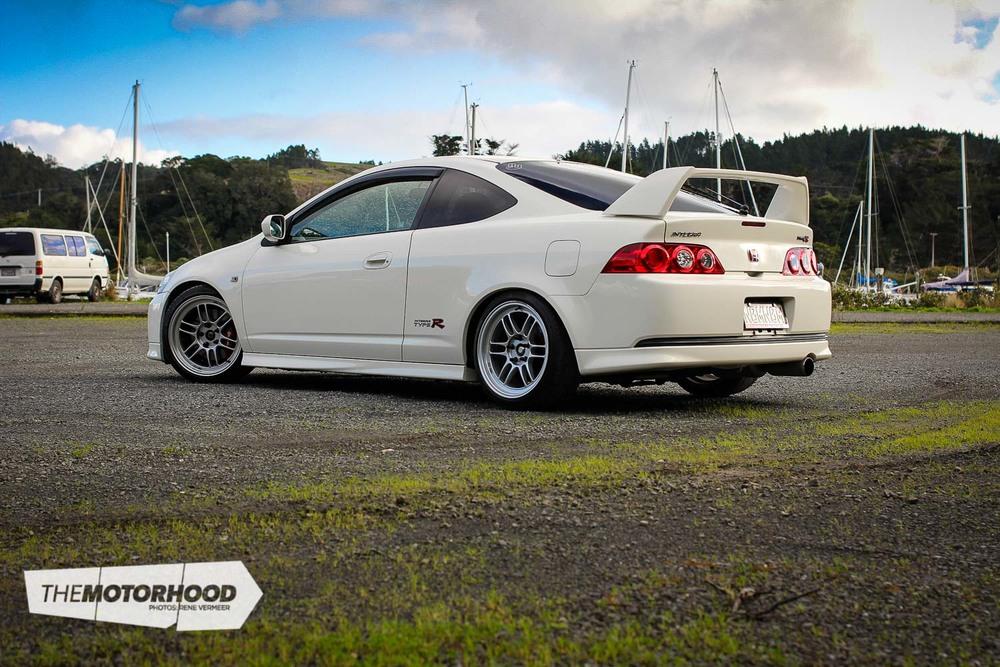 Pros
Wide Aftermarket Support
Suppose you are looking to do a Honda Integra build. In that case, the availability and cost of parts shouldn't bother you unless you want custom-made parts for your Integra. Whether it is body panels or suspension performance parts, you'll get them quickly and cheaper than you can get NSX parts or Skyline parts. OEM parts are also available, but you'll have to import them yourself or through an agent if you want such.
But OEM parts are more expensive than aftermarket parts, depending on what you plan to get. For example, OEM Type R wheels cost more than aftermarket replicas, and you can also get better-looking aftermarket wheels. Some OEM parts are also of lower quality than aftermarket parts. So unless you are willing to risk the durability of such parts, it is recommended that you go for aftermarket parts.
Aftermarket parts manufacturers are not limited. You can get anything literally from them, including RWD or AWD conversion kits and turbocharger kits, the most sought-after mods for Honda Integras.
Affordable
Integras are not the cheapest JDM sports cars, but they are more affordable than other sports cars in the same class. But your budget should be in line with your dream Integra's expectations.
If you plan on buying one as a project car and plan to make everything custom, you should buy a salvage title with an engine and transmission. Salvage title cars are cheap. Suppose you find one that has already passed inspection and is legal to drive on the road. In that case, you are in luck, as legalizing a salvage title car can be difficult in some states.
The Honda Integra was manufactured and sold in the USA as the Acura Integra. It had more sales than any other car in its class, and since there aren't many on the road, you might find one grounded somewhere in a yard or someone's parking lot.
Such cars are usually cheap, and you are doing the owner a favour by taking the car out of their hands. These are usually sold for under $3,000, which is less than you can buy a running Integra.
Still, buying a running Integra is an option if you want to avoid searching for parts, making it legal, and garage hours fixing one. If you wish to buy such, budget for around $6,000 or more. Depending on the year of manufacture, mileage, and the spec.
Great Engine Options
Like its smaller brother, Honda Civic, the Honda Integra also uses D-series, B-series, and K-series engines. But most of these engines used in the Civic had SOHC technology instead of the more superior DOHC technology. The Integra also comes with two other engines, a 1.5-litre EW5 and a 1.6-litre ZC engine with DOHC technology used only in the first-gen Integra, 1985-1989 (AV)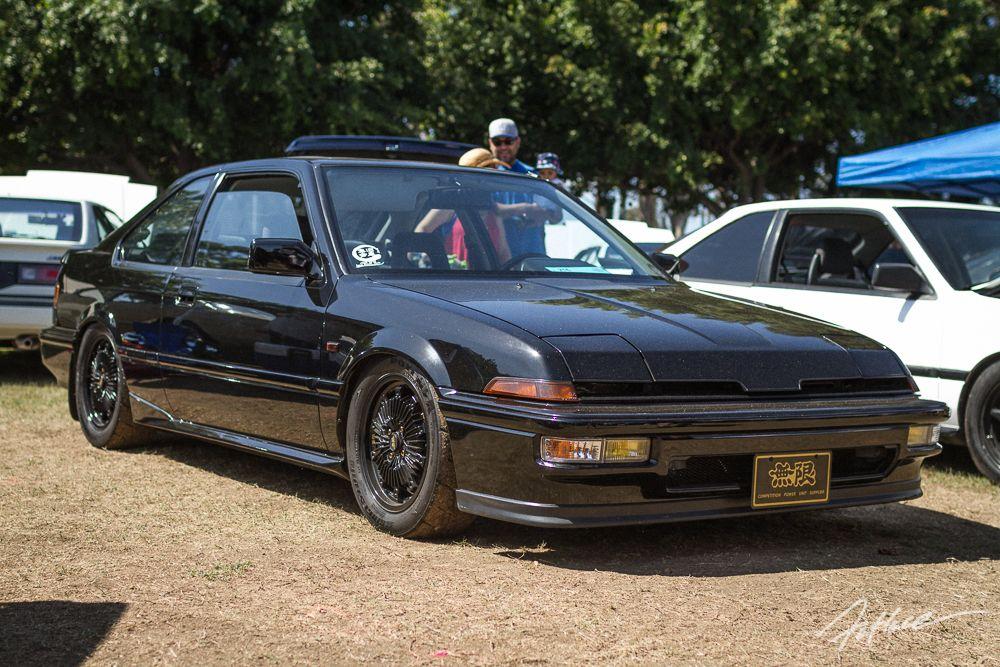 The K-series, B-series, and D-series engines are undeniably the best Honda engines. They are capable of making around 400 horsepower with stock internals. If you debate whether to get a Silvia with an SR20 engine or an Integra and you are not manufacturer bound, you should get an Integra.
You'll get an Integra for less than buying the Silvia and building it on a budget. When it comes to 4-cylinder engine builds, Honda engines reign over any other engines as they are cheaper to acquire, build and tune. Tuner parts such as turbocharger kits, fuel injectors, and custom cylinder heads are more affordable.
You'll rarely find an Integra with ridiculous power outputs. But if you want to make 1000-horsepower from a D, B, or K series engine like Civic owners do, you can easily do it if you have the guts and financial muscle.
Large Trunk Space
Suppose you are looking for a JDM sports car with ample trunk space where you can fit your fish freezer box when going for a fishing expedition for the weekend. In that case, the Integra is the car for you. Few people rarely do this, as you'll mostly find them at JDM car meets, drift events, or cruising down the highway, but why not try something different sometimes.
You can fit basically anything in the trunk of your Integra even without lowering the rear seats. Unlike most older JDM sports cars, the roofline recedes directly to the trunk, thus maximizing the cargo space. If you have a large load or want to take your dogs with you, lower the rear seats and have enough space.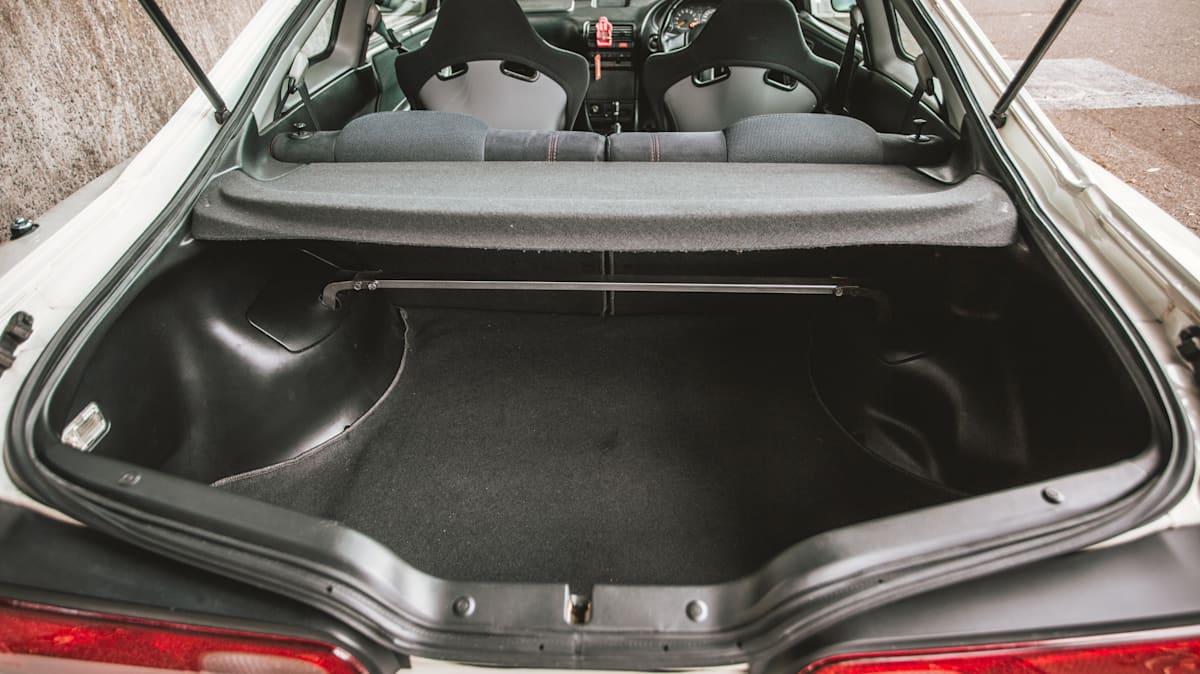 The rear seats are also spacious due to the receding roofline, which most sports cars lack, especially those made in the 1980s and the 1990s. You can easily fit two grown adults or mount a baby seat on the rear seat of your Integra without knee hurting complaints when doing a long drive with your friends.
Low Maintenance and Running Costs
Like any other Honda built in the 1980s through the 1990s to the 2000s, the Honda Integra has a simple build, thus making it easy to identify the cause of a repair and fix it. But maintenance does not really lie in whether you know how to repair your car. Parts wear out, and you'll also need to fuel it.
When entering the US market and other markets worldwide, Honda's main marketing strategy was to make fuel-efficient and reliable cars. This started with the Civic and was passed on to every other Honda, including the Integra.
You'll easily get around 25mpg from your Integra when stock, whether VTEC or non-VTEC. Adding a light tune and other supporting mods will result in a 5mpg-10mpg loss, which is still great for a 25-year-old Honda.
Parts are easy to find, and you can get them for pretty cheap, but if you prefer some unique touches, you can make some custom-made ones yourself.
The Integra makes the perfect first car regardless of your age or the age you plan on gifting it to. Not only because of its simple build and low running costs, but it's also better than the Civic mainly because of its sportier and "not so old" look.
Great Looks
There's something about Honda's that you'll come across one with ridiculous cosmetic modifications. The most you'll see done on Hondas, including Integras, is some wheels, a paint job, and bumper modifications or swaps. Not body kits or wide wheels. Sometimes you'll find an OEM replica wing and some aero diffusers at the front and back. However, these are rarely functional, and most owners install them just for aesthetics.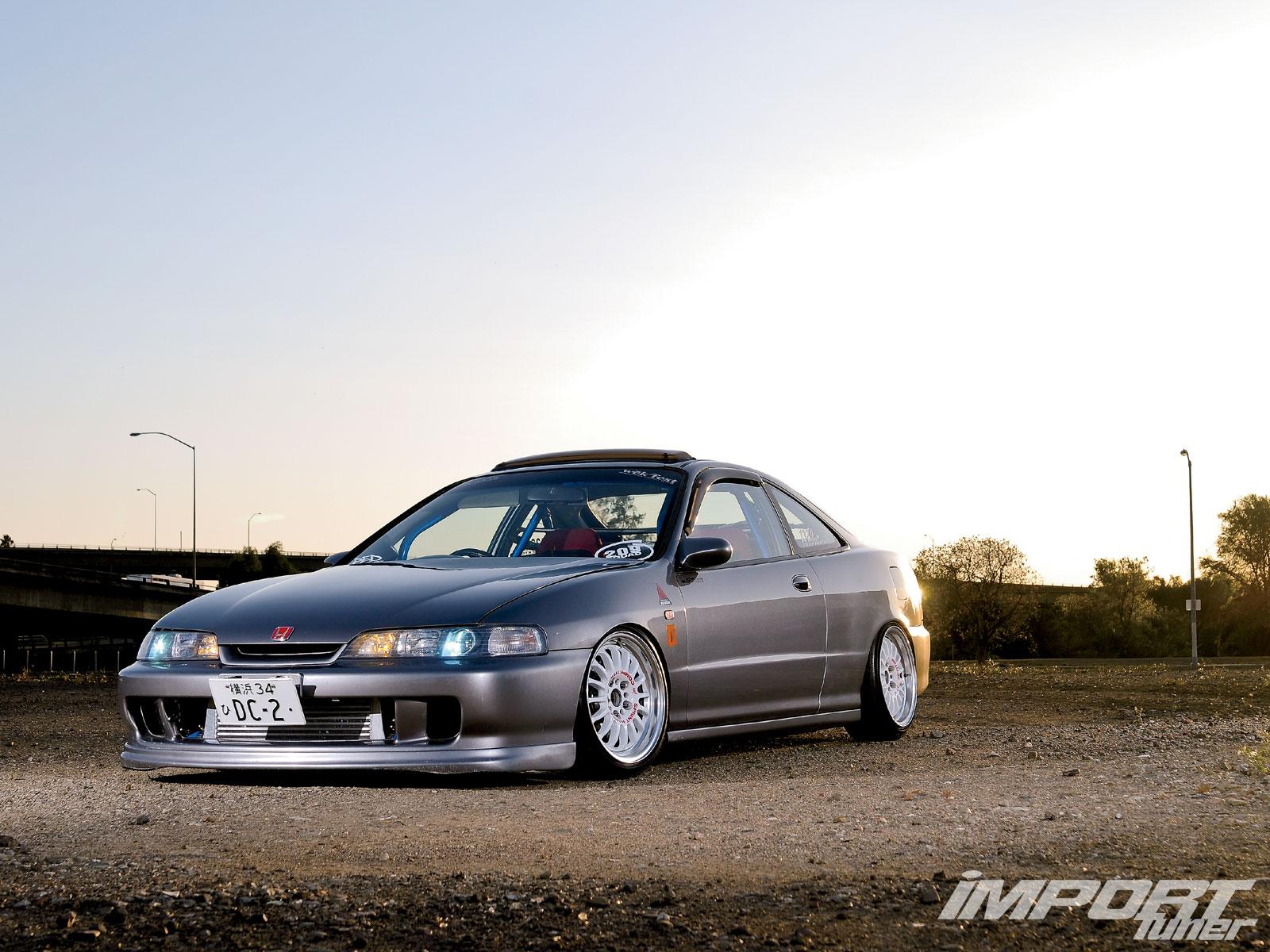 Cons
Poor Interior Quality
If you enjoy your Integra, upgrading the interior is the first mod you should consider. By 20th Century standards, the Interior of the Integra is perfect, but dial the clock today. You can't put a coffee cup in the cupholder or keep your phone anywhere in the car. Due to old age, bolts start falling off, and the plastic on the doors and dashboard starts warping.
Theft (easy to break into)
One of the reasons you might have trouble getting insurance for your Integras is that these cars are easy to break into. In some states, the Honda Integra and the Honda Civic top the list for the most stolen JDM cars. This can be blamed on Honda's simple build. It can be said that they took it too far. Still, suppose you own any JDM car. In that case, whether it's a Skyline, Integra, or just an EK Civic, it's your responsibility to ensure its safety.
The door locks on an Integra sometimes fail, and you should consider replacing them and installing an alarm system. But this doesn't stop thugs from breaking in, as they can disable the alarm system and break the windows to get in.
The best way to prevent your Integra from being stolen is to park it in a safe parking area. Even if it means parking away from home, school or workplace, at least you'll be at peace that your car will not be stolen or vandalized.
Front-wheel-drive (rather than AWD considering it to be better than the Civic, has DOHC, which the civic doesn't have)
Unlike most sports cars in its class, the Honda Integra is front-wheel-drive. Most drivers will pick an AWD Silvia or a Honda S2000 if they are Honda Fanatics. Not that FWD is bad. Sometimes handling can be challenging at high speeds or when cornering as the front wheels control the car's motion and propulsion. The front suspension and tires also wear out quicker in a front-wheel-drive car
Common Issues with Honda Integra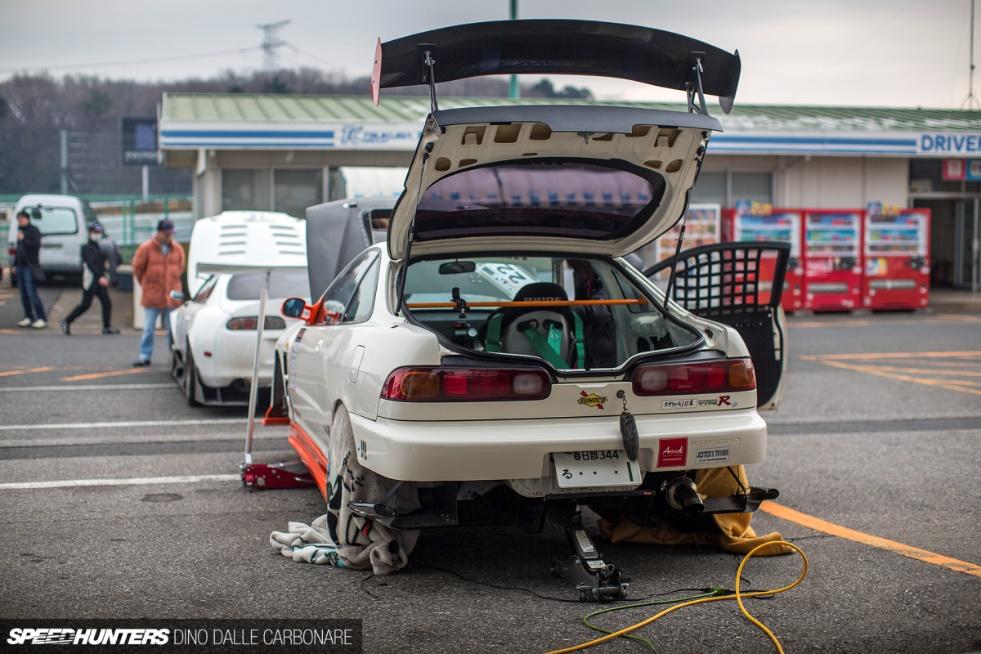 Electronic Components Failure
If you have worked on older Hondas or owned one, you probably know that electronics on these cars often fail. Sometimes the headlights will turn off when you hit a bump, or the AC will fail when driving in the winter. Such failures happen randomly, and fixing one will probably lead to the failure of another.
One of the reasons Integras are easy to break into is electronic door locks failure. Most drivers will fail to check the passenger door after locking the car, making it easy for someone to gain entry. The key fob might be working, but the door locks might be jammed, and you should check all doors after locking.
Suppose you have noticed that the electronic door locks are jamming. In that case, you are better off locking and unlocking your Integra manually using the ignition key.
Apart from the door lock failure, the door and trunk handle also jam, especially when pulled too hard or when someone bangs the door after entering. You should consider removing the door lining and reworking the handles and wiring.
Leaking Taillight Gasket
The taillight gasket prevents any moisture from getting into the taillight bulb housing. It also prevents water from getting into the trunk. If either of the taillight gaskets is leaking, you'll have foggy taillights and water in your trunk.
It is recommended that you remove the entire taillight assembly and the gasket. Before installing a new gasket, fill the taillight housing with water to check for cracks that allow moisture to accumulate. Then clean the contact surface before installing a new headlight gasket,
Quarter Panel Rust
Older Hondas do really have a rust problem. On the Civic, rust occurs on the rear axle. On the NSX, it's the engine bay, and on the Integra, you are most likely to find rust on the quarter panel. Sometimes the rust spreads to the rear bumper it sags off, which is another common problem on Integras.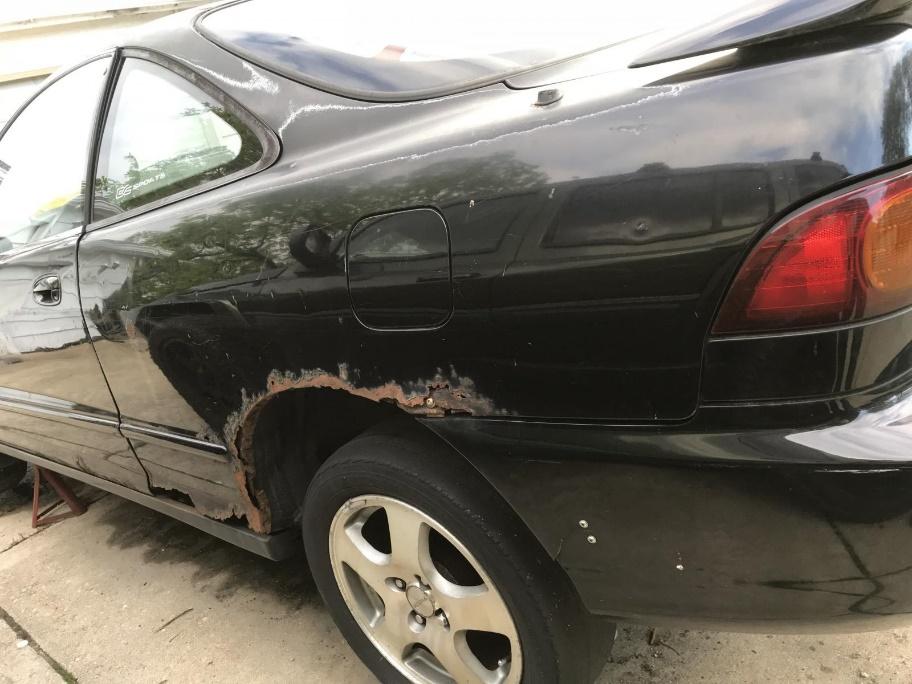 If the rust is just surface rust, you can sand it off and then paint it, which shouldn't be too difficult even for a 16-year-old teenager. Besides, where will he learn how to work on his car. But if the rust extends deeper and spreads to the rear bumper or the doors, use this as a bargaining point if you are sure you can fix the rust.
Oil Leaks
Oil leaks are not on Honda engines' plate of issues, but it's inevitable due to old age and constant use. If you notice oil leaks on your Integra's engine, it might be leaking from two main places. Either the Valve cover gasket or the cam seal.
The Cam seals prevent engine oil from leaking onto the timing belt cover. Cam seals are made out of rubber. Depending on the mileage and driving habits, they wear out and are meant to be replaced. It is recommended that you replace the cam seals at around 60,000 miles, but if you have a faulty camshaft, they could last for lesser mileage.
Oil Leaking from the valve cover gasket is common in most engines. Still, it happens more than usual in old Honda engines such as the D16. Before replacing the valve cover gasket, you should check the valve cover gasket if it's warped on the contact point.
A warped valve cover creates a space between the engine block where hot engine oil leaks. You should also check if the engine block is warped, although this rarely happens. If none is warped, install the gasket. You don't need to use a sealant when replacing the gasket, but glue the gasket onto the valve cover if it's available.
Average Prices
As said earlier, Integras are not the cheapest JDM sports cars, especially top-of-the-line models such as the Integra Type-R and GR-S. But when compared to other alternatives such as the Nissan Silvia, you'd instead get an Integra and save yourself a few thousand dollars.
Comparable Alternatives
Models and Specifications
1985-1989 Honda Integra (AV)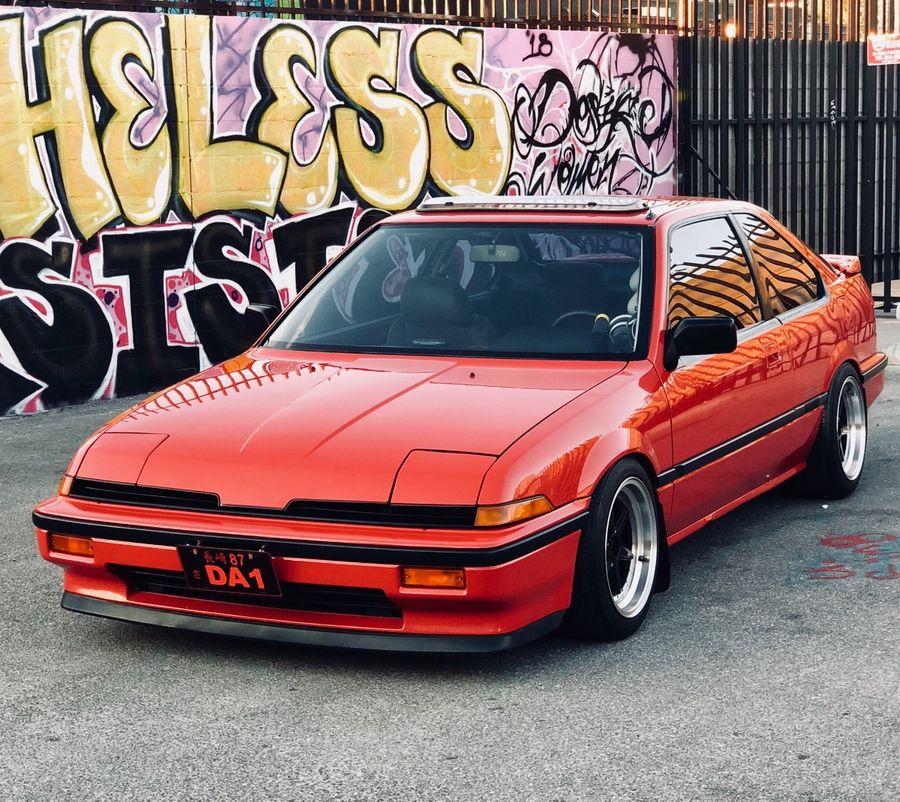 The Honda Integra debuted in1984 and went on sale in Japan and other markets worldwide later in 1985. You get the first-gen Integra with a 1.5-litre (EW5 and D15) or a 1.6-litre engine (ZC and D16), making 90 to 120 horsepower.
Later in 1986, Honda established its luxury and performance manufacturing unit in North America to compete against Lexus and Infiniti, Toyota's, and Nissan's performance units. The first two cars to roll out of Acura's production line were the Acura Legend based on the Honda Legend coupe and the Acura Integra.
There's no difference between the JDM first-gen Honda Integra and the Integra made by Acura. Both have the same engines driving the front wheels via a 5-speed manual or 4-speed automatic transmission. Honda also opened an Acura production line in Japan but later, in 1991, added the NSX to Acura's lineup.
Honda built the Integra to be a sportier car than the Civic, but they still wanted a car that could sell more than the CRX despite the higher price. This is one of the reasons why the CRX was discontinued in 1991.
Base models, badged EX or LX, were made just like the Civic base models and come with the 1.5-litre EW5 and 1.6-liter ZC engines. Suppose you find an Integra with plastic black bumpers, no AC and other comfort features. In that case, it is most likely an early production model or a base-spec model.
Higher trims (EX15, EX16) either have the D15 or D16 engines coupled to a manual transmission unless you get a European spec Integra. Most Integras sold in European countries have the EW5 and ZC engines without body-coloured bumpers.
The first-gen Integra was sold as a sedan, liftback coupe, or coupe body configuration. There's not much difference between the liftback coupe and the standard coupe. Except that the coupe has sportier touches with a wing similar to that found on sedans. However, the sedan was only sold in Japan.
1989-1993 Honda Integra (DA5-DA9, DB1-DB2)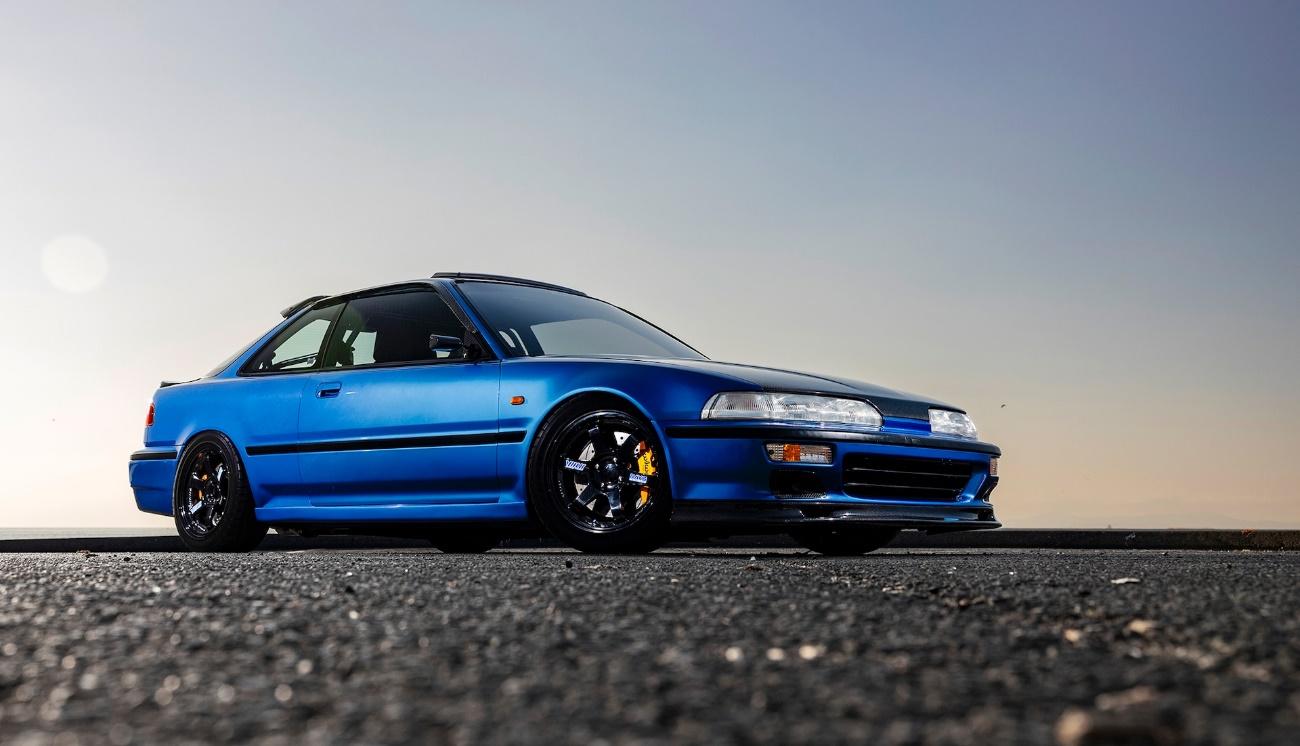 The Second-gen Integra was unveiled when Honda was in its final stages of making the first VTEC engine, the 1.6-litre D16A. When production started for the second-gen Integra, the B16A was used on various specs, including the Integra RSi and the XSi. Honda discontinued the D-series engines used in the first-gen Integra. However, the 1.6-liter ZC engine was still used in European and JDM Integras.
The base-spec Integra had a de-tuned version of the 1.6-litre DOHC D16A engine in the US. While in Japan, it was sold with either a B16, B17, B18, or a 1.6-litre ZC engine. Integras with the 1.6-litre SOHC ZC engine are badged as RX/RXi, or ZX, ZXi.
The second-gen Integra is also front-wheel-drive and comes with either a 4-speed automatic or 5-speed manual, just like the first-gen Integra. In 1990 Acura started manufacturing the Integra sedan from the Civic sedan platform. The Integra Sedan was now manufactured or exported outside Japan.
Acura also diversified the Integra lineup in the North American market, introducing the Integra RS, LS, and GS with the 1.6-litre VTEC D16 engine. Later on, they made the most hardcore Integra for the second generation and slapped a 1.7-litre VTEC B17 engine which made around 170-horsepower at production. Only around 5000 units were made, all badged as the Integra GS-R.
1993-2001 Honda Integra (DB6-DB9, DC1-DC2, DC4)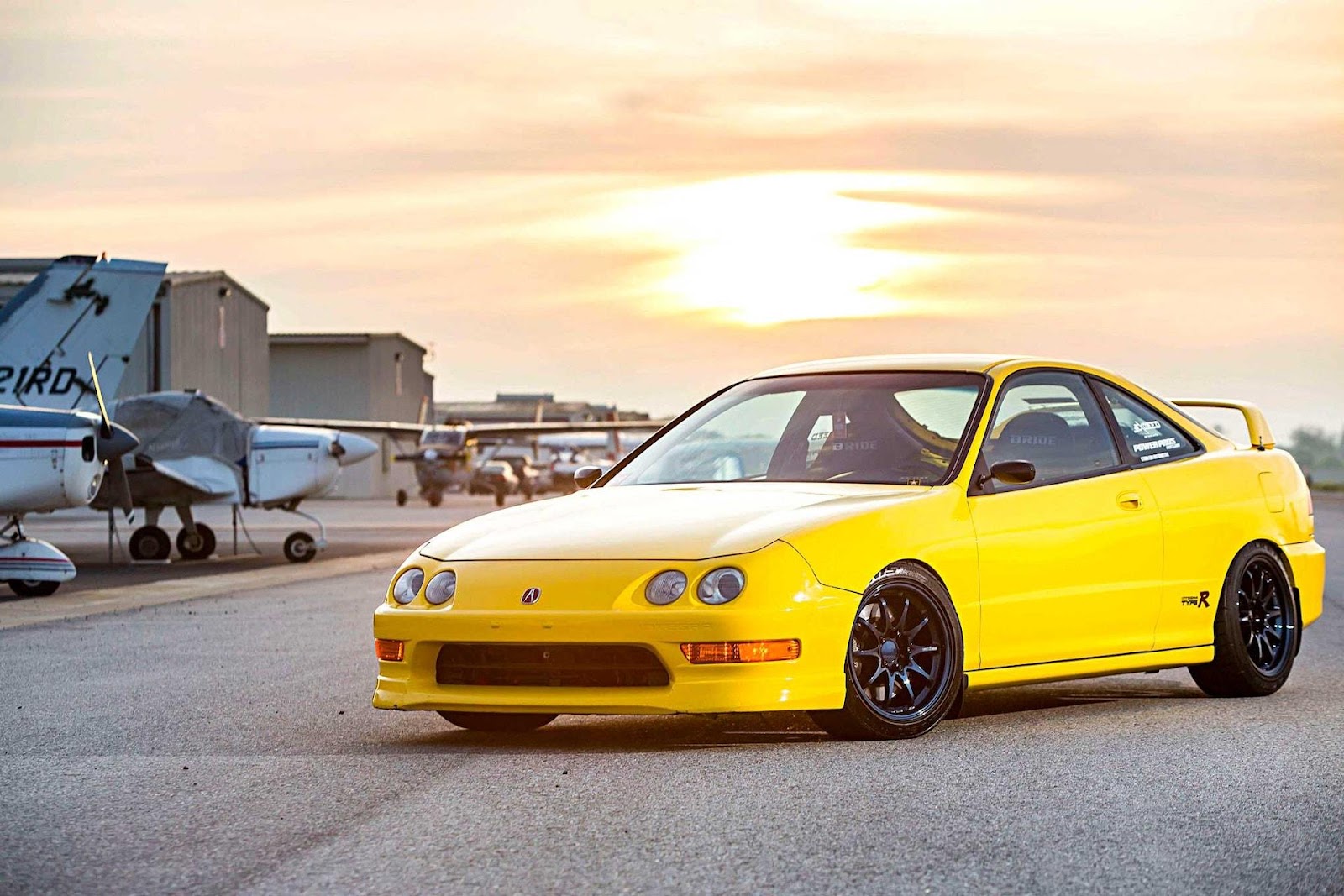 The third-gen Integra was unveiled in 1993 in Japan. Later in the year, Acura unveiled it for the North American market. When it was first released, the new dual headlight set-up was not as appealing as Honda hoped it would be, especially in Japan.
This did not stop both Honda and Acura from making the Integra with the "spider eyes" headlight set-up until 1995 when the front end was facelifted to resemble the second-gen Integra. But this was only for the Japanese market as other markets received the Integra with the spider eyes headlights, and Acura was still using the same set-up for the North American market.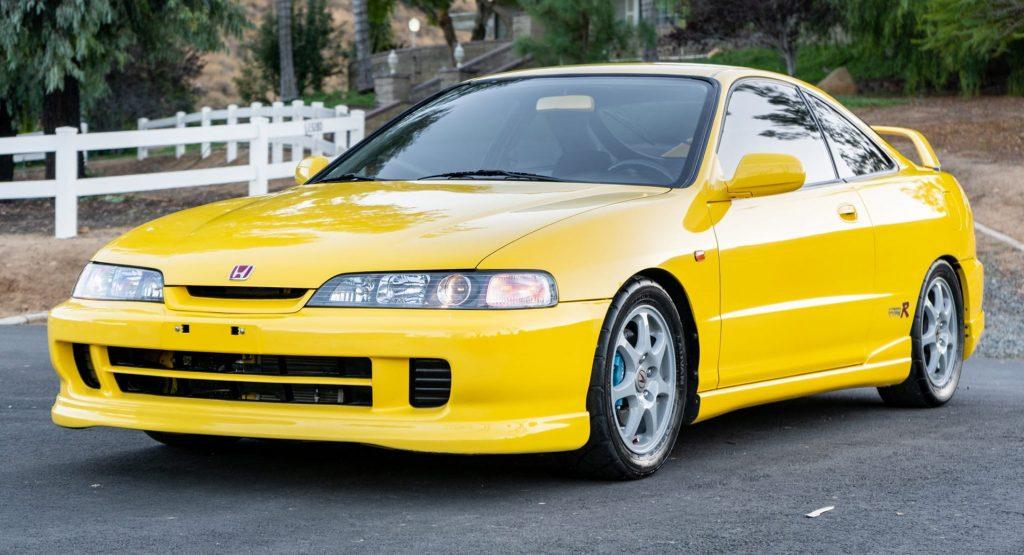 After 1999 the Honda Integra was only sold as a coupe in all markets as Honda discontinued the Sedan model in 1998. Base spec models come with a 1.6-litre SOHC ZC engine in the first-gen and second-gen Integra and the Honda Civic. However, it was also discontinued in 1998 after the sedan was discontinued.
Acura did not use the 1.6-litre ZC engine for the base spec Integra. Instead, they used a 1.8-litre DOHC engine (B18B1) on the RS, LS, SE, and GS models for Japanese and other markets worldwide. At the time of production, Honda was still using the 5-speed manual and 4-speed automatic transmission for all its cars driving the front wheels except the NSX, which was rear-wheel-drive.
Like the Civic Type R, the Integra Type R debuted in 1997 and went into production in 1998, featuring a 1.8-litre B18C engine driving the front wheels via a 5-speed manual transmission. At the production time, the third-gen Integra was the second most powerful Honda, with around 180 horsepower.
2001-2006 Honda Integra (DC5)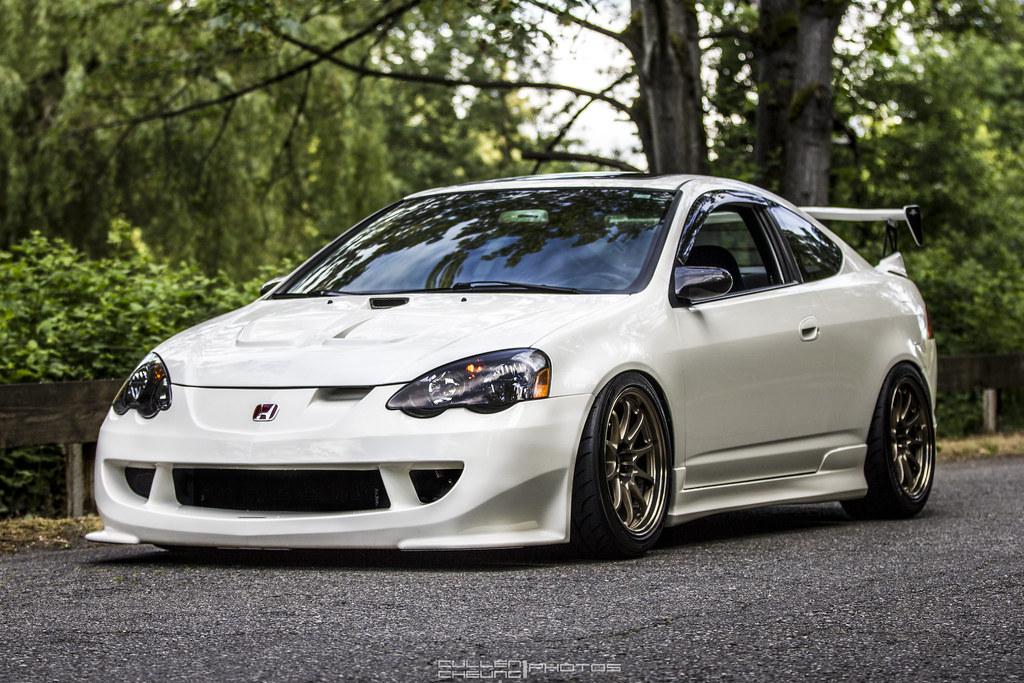 Arguably the fourth-gen Integra is the best-looking. It features various versions of the 2.0-litre K20 engine, making 160 to 220 horsepower depending on the production year. Base trim models have the 2.0-litre K20A3 engine, which was the least powerful driving the rear wheels via 5-speed or 5-speed automatic transmissions. The new 6-speed automatic transmission was only used on the Type-R spec.
Before Honda announced that they'll discontinue the Integra for all markets, they released the fourth-gen Integra Type R.
It comes with a 2.0-litre K20A VTEC engine which made around 220 horsepower at production. The interior was redone, and if you are lucky, you might find one with its OEM Recaro bucket seats. New aluminum alloy wheels and new tires were also installed. Honda really went out with a bang. They also installed Brembo brake callipers, an LSD, sport suspension, and a variable back pressure exhaust system.
FAQ
Is the Honda Integra the same as the Acura Integra?
es. The Acura Integra was produced and sold by Acura for the North American Market. Acura is Honda's luxury and performance division established in 1986 when Honda started making the first-gen Integra.
Is the Honda Integra Fast?
Not really; it depends on your definition of "Fast." Rebuilding the engine to its former glory and upgrading some parts might give you a winning chance over some modern cars.
Can I modify a Honda Integra?
Yes. Most engines found on Integra can handle quite an amount of power with stock internals, provided that they are in good condition. You could start with a cold air intake and exhaust, then slowly move to custom engine upgrades, turbocharger kits, and transmission upgrades. You can also upgrade the suspension, brakes, wheels, and tires. Only you can limit yourself to the modifications you want on your Integra.
Is a Honda Integra reliable?
Honda doesn't miss when it comes to making reliable cars. Reliability is measured according to the fuel economy, the durability of parts, and ease of maintenance. Apart from the occasional interior wear and tear and the rust on the quarter panel, there's nothing major you should worry about. A Honda Integra will easily average 25mpg, which is better than most cars you see on the road today.
Can I convert a Honda Integra to RWD or AWD?
Yes. This is a common modification among Integra owners who plan on increasing the engine's power output. If you plan to use your Integra on any track motorsport, upgrading to RWD or AWD gives you a winning chance.
What size engine can fit in a Honda Integra?
Other 4-cylinder engines can easily fit in an Integra's engine bay with few modifications. But if you want to install larger 6-cylinder or 8-cylinder engines such as a 2JZ or an LS3, extensive fabrications will require time and money.
How to Import a Honda Integra
Read our ultimate guide, How to Import a Car from Japan